Photography: Owen Raggett
When hunger beckons, let our list of new restaurants and menus in Singapore be your 2021 guide. Bookmark this page for monthly updates – you know you want to!
As much as we enjoyed ordering in from our fave establishments last month, nothing beats dining out! As the Covid restrictions are slowly lifting, we're happy to welcome brand new restaurants entering the dining scene in Singapore. Eat your way through the city with our July edition of Hot New Tables!
Hot new restaurants in Singapore: July 2021 edition
Firangi Superstar
Firangi Superstar is the latest dining concept by The Dandy Collection. Located along Craig Road, the modern Indian restaurant evokes a certain cinematic quality across all its four rooms: Officer's Club, Old Railway Room, Elephant Palace and Jungle Lodge. Taking inspiration from cities like Kashmir, Chennai, Bombay and Rajasthan, the restaurant is brought to life with well-thought-out interiors and furniture — it's essentially a love letter to India.
The theme extends to the menu, taking a creative approach in creating the dishes. For instance, the cheekily-named This Is Not Aloo Gobi ($16) features cauliflower served three ways: as couscous, tandoor-charred florets and incorporated into a coriander puree. There's also the Prata Waffle??? ($24), which offers Madras-style fried chicken with curry leaves and garlic sitting atop a waffle-pressed prata and served with butter chicken sauce and jaggery syrup. Meat lovers can tuck into the Indian Saddle (from $14), a delicious slab of lamb porterhouse marinated in spiced yogurt.
What's a restaurant by The Dandy Collection without an impressive cocktail programme? Sip on creative concoctions that spotlight Indian flavours, including Cashew Mai Tai ($20), a twist on the classic drink with raisin white rum and cashew orgeat. Or try the Fenugreek Manhattan ($25), a herbal tonic of ghee cognac, fenugreek vermouth and bourbon.
Firangi Superstar, #01-03, 20 Craig Road, Singapore 089692
Yen Social
Brought to you by the same folks behind Yen Yakiniku, this new yakiniku joint specialises in dry-aged beef. At the wheel, Taiwanese chef Jones Chen has worked in the famed Da Wan Yakiniku Restaurant in Taipei for eight years. So you know you're in good hands. Look forward to top-notch cuts with the right balance of texture, flavour and marbling. Menu highlights include whisky dry-aged wagyu ribeye ($58), beef rib finger cubes ($20) and curated sharing platters (from $109) for the perfect communal dining experience. Don't forget to wash it all  down with a super selection of sake, whisky and shochu.
Yen Social, #01-25/26, Duo Galleria, 7 Fraser Street, Singapore 189356
Alleybar
This Emerald Hill fave is back on our radar with its new food and drinks menu. A perfect excuse to take in the gorgeous architecture! From Peranakan swing doors at the entrance to hand-woven lanterns illuminating the space to the sleek 15-metre brass bartop, Alleybar is where old meets new.
Executive chef Chan Kar Meng, who sharpened his knife at Red Tail Bar by Zouk and one Michelin-starred restaurant Jag, helms the kitchen. Start your meal with light bar bites like oysters ($26) topped with sherry mignonette, ginger flower ponzu and lemon, and burrata ($23) with beetroot, tomatoes, hazelnut and parma ham. But leave space for mains like the decadent lobster roll ($32) or pita pockets ($23) that come in three flavours: massaman pork, 'philli' cheesesteak and soft shell crab.
Want a cocktail to go with your food? The Untold Edition showcases a trio of tipples made with the age-old technique of milk clarification. Inspired by the classic pina colada, The Ghosted Colada ($22) ditches the flashy colour palette for a romantic purple hue spiked with Plantation 3 Stars Rum. For something more potent, The Unseen Sour ($22) fits the bill. Made with fresh lemon juice, Bulleit bourbon and sugar syrup, the drink comes with a crimson red layer of merlot. The creativity even extends to our national drink, the Singapore Sling. As its name suggests, The Invisible Sling ($22) opts for a more alluring look with just a tinge of pink.
Alleybar, Peranakan Place, 2 Emerald Hill Road, Singapore 229287
Dopo Teatro
Italian meets Japanese at this new establishment. The menu is embellished with a medley of Italian antipasti, salads, pasta, but the highlight has to be the hand-stretched pizzas. The dough is fermented for 36 hours and baked at 320 degrees. The result? A tangy, airy and crisp crust. Go for the unagi pizza ($26) topped with smoked eel, kebayaki mayo, bonito flakes, spring onion and mozzarella. For something 'gram-worthy, the Ika Sumi ($28) fits the bill. This squid ink pizza is topped with the bright colours of tomato, prawns, clams, squid and ice plant, a contrast against the alluring jet-black crust. Other noteworthy dishes include the binchotan smoked salmon and ikura pizza ($24), caesar salad with soft shell crab ($19) and paccheri pasta with Japanese octopus ragu ($25).
Dopo Teatro, #01-11, Esplanade Mall, 8 Raffles Avenue, Singapore 039802
Casa Restaurant by Remy Lefebvre
Known as a dining hotspot, the historic Chijmes welcomes a new player: Casa Restaurant by Remy Lefebvre. Step through the glass-doored entrance and you'll be welcomed by the 35-seater dining space awash in hues of blue, sage green and ivory. The interior is an extension of the locale with its arched mirrors, oar-like shutters and spoked fanlights.
Chef Remy helms this concept. Inspired by the natural environment from his travels across Africa, Brittany, Normandy and Spain, the menu showcases clean flavours, fresh ingredients and the art of woodfired cooking. Go on a gastronomic journey with the four-course Discovery Menu ($118), six-course Experience menu ($198) or the eight-course Carte Blanche menu ($258).
You'll choose from a selection of 16 dishes, including gambas (smoked Mediterranean prawn with Japanese influence), dry-aged wagyu beef with seasonal vegetables, and grilled line-caught cod. On weekends, indulge in a boozy multi-course brunch affair ($198) featuring snacks, vegetable-focused plates, meat and fish platters and an array of desserts.
Casa Restaurant by Remy Lefebvre,  #01-20, Chijmes, 30 Victoria Street, Singapore 187996
---
Hot new restaurants in Singapore: May 2021 edition
Heart of Darkness
It seems like just yesterday that Heart of Darkness moved to Keong Saik, but these folks have already doled out a refreshed menu. Revolving around Vietnamese cuisine and soul food, it offers a smorgasbord of bar bites and sharing mains.
Start light with the fruit and vegetable platter ($38) – think of it as a healthy spring roll stuffed with the likes of aubergine, grapes and strawberries. Or you can sin your way through dishes like bahn bao ga ($14), dumplings filled to the brim with minced chicken; and calamari ($18), a whole squid on a bed of sriracha mayo. We paired the seafood with Kato Kichibee "Born" Gold Junmai Daiginjyo. It's a smooth sake that complements the fried goodness of the squid.
We also tried a selection of meat that'll make carnivores roar with jealousy. The crispy pork belly ($22) is marinated in beer for three days before it's sous vide overnight and deep fried. The result? A perfectly crunchy crackling we can't get enough of. Up next, cacao pork ribs ($32) and black angus prime rib ($42). The pork is fall-of-the-bone tender, and the cacao BBQ sauce lends a sweet, smoky taste. Meanwhile, the steak acts as the perfect final act to our savoury course. We suggest you pair it with the Pierre Cotton Orange Carbonique 2019 to bring out the natural flavours of the beef.
The evening came to an end with a duo of taro coconut panna cotta ($12) and Black Shadows Expresso Martini Stout. The former is made with Director's Cacao Nib Porter soil and the latter is a creamy boozy tipple that has hints of chocolate, coffee and hazelnut.
Heart of Darkness, 1 Keong Saik Road, Singapore 089109
Mirazur
Hailing from France, three Michelin-starred restaurant Mirazur will be making its way to our sunny island for a three-month pop-up residency. It'll take over the space at Kin and Clan Cafe in Mandala Club, formerly known as Straits Clan.
Chef-owner Mauro Colagreco and his team will bedazzle diners with a six-course lunch ($388) or a nine-course dinner ($488). The menu centres around the lunar cycle, a culinary philosophy practised in Menton. The four rotating menus, Roots, Leaves, Flowers, and Fruits, will feature ingredients at their prime according to the moon's different phases. For instance, the lamb confit is served with a mille-feuille of salad leaves and seaweed from the Leaves menu, while the umami dish of fish, black garlic and liquorice is a reflection of the earthy, dark Roots menu.
The theme also extends to the space as Clan Cafe will transform into a lunar garden lobby. From porous textures that look like the moon's surface to reflective surfaces that glimmer like the sea under moonlight, the Mirazur experience will be one-of-a-kind.
Mirazur, 14 May – 11 August, Mandala Club, 31 Bukit Pasoh Road, Singapore 089845
Iko Restaurant & Bar
The moniker is a play on words. In Japanese, it means 'let's go'. And if it's read backwards, it refers to the word 'okinami', which means 'offshore wave'. So what can you expect at this new Neil Road establishment? Modern Japanese plates served against a funky backdrop. We're talking about neon lights, a 9m mural of ocean waves and groovy tunes playing in the background.
The dinner menu is divided into six categories: Raw, Cold, Small, Robata, Rice and Noodles, and Sweet. Start your meal with the uni ($28) which is presented as a parfait with purple cauliflower pudding, dashi jelly and, of course, a generous dollop of buttery uni. Under the Cold section, you'll be surprised to see burnt aubergine ($12), but the charred vegetable is cooled down with a sesame yoghurt sauce. Next, work your way through mains like pork loin ($36), angus short ribs ($38) and Japanese black cod ($38), which is cured in saikyo miso for up to 72 hours.
Wash it all down with intriguing tipples from the bar programme. We hear there's a vegan sake, gin made with Japanese tea leaves and hojicha-infused whiskey, just to name a few.
Iko Restaurant & Bar, 65 Neil Road, Singapore 088897
Basque Kitchen by Aitor
Probably one of the first places to introduce Basque cuisine on our sunny island, the eponymous restaurant has moved from its Amoy Street locale to the historic Fullerton Waterboat House. Still helmed by chef Aitor Jeronimo Orive, the new spot boasts a pintxos bar and lounge, a 38-seater main dining hall, an eight-seater private dining room and an exclusive members-only space.
The restaurant is outfitted by design agency Grey Matters and inspired by the four elements of earth, eater, fire and air. Think along the lines of charcoal stained oak floorboards, plush velvet banquettes and a semi-open kitchen, all wrapped in hues of warm orange and oaky tones with accents of gold and copper.
Food-wise, tuck into artisanal Sanfilippo anchovies served with tomatoes and flatbread, goose barnacles with sous vide abalone, wagyu burger and oysters from the a la carte menu. But we'll be coming for the lunch ($158) and dinner ($248) tasting menus. Charcoal-grilled meat and seafood take centre stage with dishes like blackspot bream and razor clams, beef loin served with truffle jus, and sea anemone paired with bomba rice and sea succulents. Round off your meal with a selection of over 600 wines curated by Vincent Jaureguiberry, who has worked with award-winning restaurants locally and abroad.
Basque Kitchen by Aitor, #02-01/02/03, The Fullerton Waterboat House, 3 Fullerton Road, Singapore 049215
Permata Singapore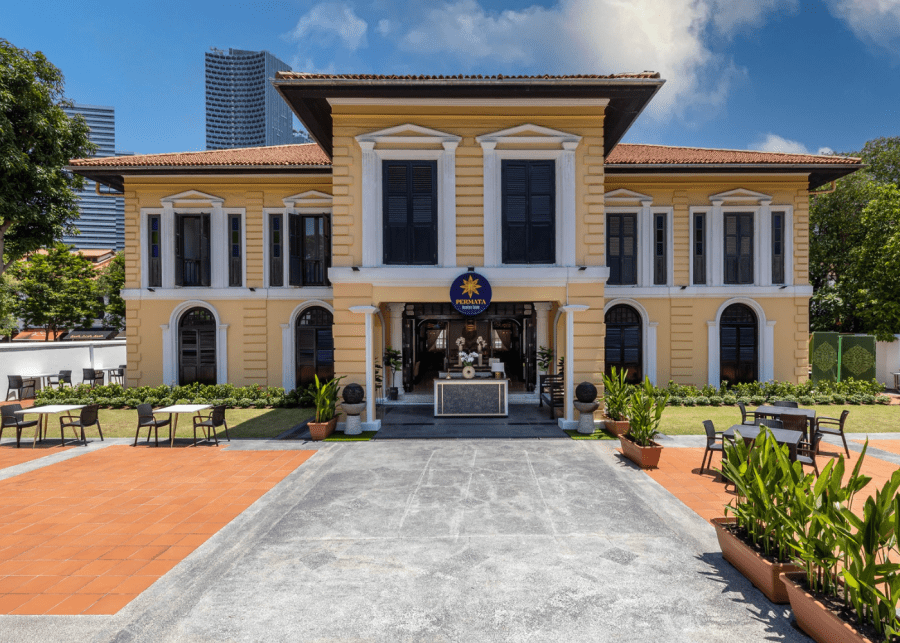 Kampong Glam welcomes a new buffet concept that spotlights Nusantara cuisine. Housed in the majestic palace of Gedung Kuning (right next to the Malay Heritage Centre), Permata takes up the first floor with an amazing spread of 60 Malay and Indonesian dishes. Get ready for a feast fit for a king!
We started our meal (lunch from $42; dinner from $52) with ulam, a traditional Malay salad featuring a medley of cucumber, pomegranate, coriander and pennyworth. Feel free to zhush it up with prawns, mussels and langoustine from the seafood on ice station. Next up, a plate of blue rice with ayam binjai (boneless chicken leg in a sweet and spicy gravy), wagyu beef rendang and belimbing lamb. All the protein picks marry well together in taste, almost reminiscent of nasi kandar. Other noteworthy dishes include tempoyak ikan patin (catfish cooked in durian gravy) and roti jala (a savoury crepe) with chicken curry. Spice things up with six different sambal varieties, including sambal hijau and belachan.
Last but not least, end your meal on a sweet note. Look forward to traditional kuehs alongside western-inspired sweet treats. Our faves have to be the gula melaka cake, buah keluak brownies (so, so good!) and pulot hitam, which is naturally sweetened with dates.
Permata Singapore, 73 Sultan Gate, Singapore 198497
There you have it! Our May edition of hot new restaurants in Singapore.
---
Best new restaurants in Singapore: April 2021 edition
Clos Pasoh
Tucked away on the second floor of a heritage building, Clos Pasoh is the newest kid on the Bukit Pasoh block. If you're wondering about the origins of its name, Clos means 'walled vineyard' in French while Pasoh is a nod to its location. Modelled after a brasserie, the space is embellished with earthy tones, lush foliage and rattan dining chairs (by Singapore designer Ong Shunmugam).
Co-owner and chef Louis Pacquelin is at the helm, plating out 'new school French' dishes. "New school French is a shift from fine dining. My menu remains true to the brasserie dishes that inspired me, but I have reinterpreted them to broaden their appeal to include another generation of diners as well as non-French diners," he explains.
Take the tete de veau, for example. Traditionally, it features a whole calf's head with ravigote sauce. But chef Pacquelin switches things up. The head is presented in a crispy dumpling and paired with fresh wasabi. Other noteworthy dishes include pot eu feu (beef stew, $138), lobster bisque ($29), and poireaux vinaigrette (marinated leeks, $18). What's a brasserie without the mention of vino? Here, the wine list boasts up to 1,500 labels. We say, pick a bottle and unwind at the terrace overlooking the vicinity.
Clos Pasoh, Level 2, 48A Bukit Pasoh Road, Singapore 089859
Edomae Omakase pop-up by Capital Kitchen
Combining music and sushi, Edomae Omakase pop-up is the newest concept by Capital Kitchen. The dining space is helmed by Chef Ryoichi Nakatani, and you're invited to a one-of-a-kind omakase experience with Edomae sushi taking centre stage. This style of sushi dates back to the 1800s and involves intricate curing techniques and precise knife skills, which sushi maestro Nakatani has mastered in his decades-long culinary career.
The 12-course omakase menu ($250) features fresh ingredients flown in from Toyosu Fish Market in Tokyo. Expect the likes of zuke maguro (soy-marinated tuna), monkfish liver simmered in red wine, and isobe-yaki (grilled mochi in soy sauce) with charcoal-grilled scallop, sea urchin and caviar. For the perfect liquid companion, take your pick from a selection of premium sakes and whiskies.
All of this is set against the backdrop of Capital Kitchen's music programmes for an electric dining experience. The music set rotates from Sin City (hip-hop and R&B) and Asian Persuasion (local and Asian artists) to classic Zouk events like Total Recall and Reload. While we might not be able to throw shapes on the dancefloor, this is the next best thing.
Edomae Omakase pop-up by Capital Kitchen, throughout April, Wed-Sat, 6pm-10:30pm, #02-05, The Cannery, 3C River Valley Road, Singapore 179022
Fukui
The local dining scene welcomes another omakase restaurant along Mohamed Sultan Road. Located in a shophouse and spanning 3,000 square feet, Fukui takes inspiration from the titular prefecture of Japan. Step into the restaurant and you'll notice the intimate 12-seater sushi counter set against the undulating silhouettes of mountains found in that coastal region.
It's led by chef Nick Pa'an, who has worked at the now-defunct Santaro Japanese Restaurant. The omakase menu (from $88 for lunch and $188 for dinner) revolves around seasonal produce and ingredient-focused plates. Here, the kitchen makes sauces like ponzu and shoyu from scratch and brings out natural flavours of the fish through traditional straw fire cooking techniques. Get ready for your taste buds to be titillated!
Fukui, 25 Mohamed Sultan Road, Singapore 238969
Hashida Singapore
Chef Kenjiro 'Hatch' Hashida's namesake restaurant makes a comeback with a new space at Amoy Street. The new Hashida is a beautiful amalgamation of old and new, with three private dining rooms adorned with different themes. At its core, Hashida is an omakase restaurant. But during lunchtime, you can opt for set meals (from $120) that feature deftly crafted sushi and fresh sashimi. During our visit, we were treated to a series of exquisite plates over seven courses, from chawanmushi to don topped with uni to melt-in-your-mouth sushi.
Hashida Singapore, #01-01, 77 Amoy Street, Singapore 069896
Kitch
Conceptualised by Les Amis Group, Kitch is its first cloud kitchen to bring together five dining brands (with more to come) under one roof. Have your fill of local dishes like nasi lemak ($12.50) and laksa ($12.50) from Lemak Boys or an array of porridge varieties from Mui Kee Congee.
Also look forward to two new brands: Peperoni Pronto and Yujin Bowls. The former is an offshoot of Peperoni Pizzeria where you can have pizzas in XXL portions ($55). Meanwhile, the latter is a spinoff from Yujin Izakaya, specialising in hearty Japanese salmon bowls like aburi mentaiko ($14.90). Last but not least, One Prawn Noodle has partnered with the F&B group to bring you bowls of slurp-worthy ramen noodles. It's all available for takeaway and delivery, so you can mix and match dishes to your liking.
Kitch, order online
The Priority Club
The Priority Club is a new virtual restaurant that delivers unique pastas and pizzas to your doorstep. Fronted by chef Don Hanif, who has worked with the Da Paolo group for a decade, the culinary team pushes the boundaries with pizzas (from $16.90) topped with truffle mac and cheese, Japanese curry chicken and fries, spiced chicken and garlic yogurt, and paneer and spinach. For pastas (from $14.90), graze on the likes of Wild Card Mala Chicken, Sleight of Tom Yum and Taco-cchi Blanche, which features taco minced beef in cream sauce. Did you hear that? It sounds like a house party is in order.
The Priority Club, order online
Kin
It's all about heritage cuisine at Kin, with head chef Damian D'Silva combining the best bits of Chinese, Malay, Indian, Eurasian and Peranakan food. The restaurant's new menu is served with a side of nostalgia, giving you comforting dishes that'll take you right back in time. A highlight, nangka rendang ($28) stars jackfruit that's been braised for seven hours in a blend of coriander, fennel, cumin and garam marsala in coconut water. Daging sambal hijau ($42) is another must-try, as the crisp green chilli cooked with beef has a welcome kick to it. Of course, no Kin feast is complete without the ever-popular pork knuckle debal ($68), a flavour bomb of roast pork and smoked pork knuckle with a rempah of shallots, onions, ginger and dried chilli.
Kin, 31 Bukit Pasoh Road, Singapore 089845
And there you have it, our hottest new restaurants in April!
---
Best new restaurants in Singapore: March 2021 edition
Fat Belly Social Steakhouse
Brought to you by the folks who gave us Fat Belly, this new concept champions communal dining over good food and wine. So grab your squad and graze on sharing plates like grilled octopus ($30), spicy crispy pig's ear ($15) and roasted Japanese scallops ($28). Then, go all out with sharing plates that centre on the lesser-known but flavourful cuts of steak. Think along the lines of angus flat iron ($108) and wagyu zabuton ($210). End the night with a glass of wine: there are over 70 labels to choose from.
Fat Belly Social Steakhouse, 21A Boon Tat Street, Singapore 069620
Happy Ending Pizza Parlour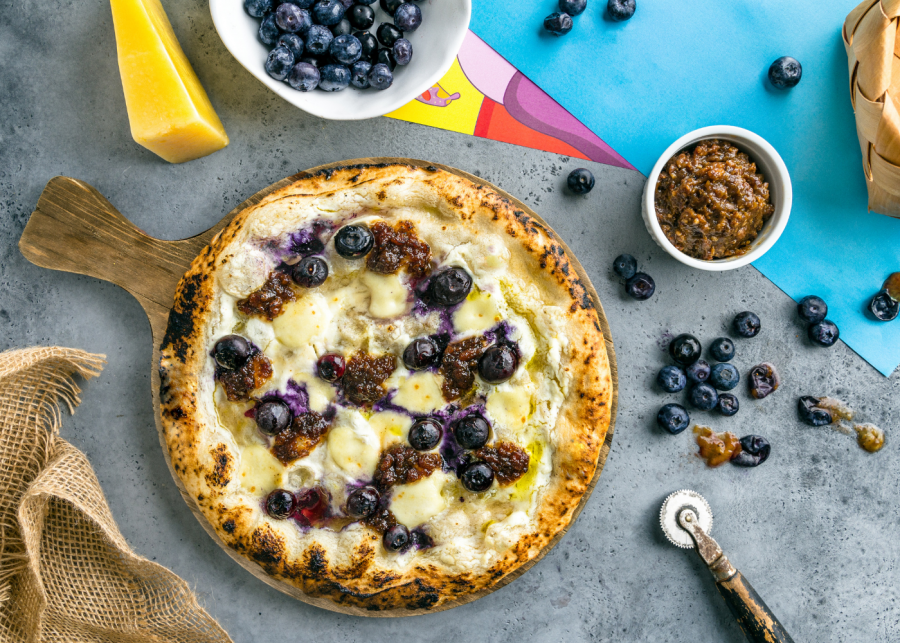 If you're all about that pizza lifestyle, this pizzeria is bound to put a smile on your face. A first of its kind in Singapore, Happy Ending Pizza Parlour will have you demolishing every part of the pie, including the leftover crust. Choose from eight flavours like smoky BBQ, chilli crab, bacon jam and cooling ranch to pair with your crust. That's not all. The creativity extends to the flavours with creations like a mala-based beef pizza ($28) and a bacon and blueberry jam-flavoured pizza ($26). For traditionalists, opt for classic flavours like pepperoni ($23) and Hawaiian ($27). Round out your meal with sweet treats like tiramisu ($8) and chocolate fudge cake ($8).
Happy Ending Pizza Parlour, #01-35, Citygate, 371 Beach Road, Singapore 199597
Sommer
Helmed by Lewis Barker who has worked in the kitchens of Bacchanalia and Vianney Massot, Sommer is the newest brand under the Ebb and Flow Group. The 28-seater restaurant is equal parts contemporary and cosy with floor-to-ceiling windows, charcoal grey hues and warm wood panelling, along with an open kitchen where the action takes place.
The menu pays homage to nature's creativity through a series of modern European plates. Expect the likes of smoked mackerel on toast, glazed foie gras, roasted langoustine, dry-aged Irish duck and oysters with green chilli ponzu. Depending on your mood, either select the four-course Inspiration menu ($168) or the six-course Experience menu ($228), and chef Lewis will impress you with his culinary flair.
Sommer, #01-02, The Sail @ Marina Bay, 2 Marina Boulevard, Singapore 018987
Nusantara
The CBD crowd now has a new lunch spot: Nusantara. Its moniker takes after the ancient Javanese term for the Indonesian Archipelago, so expect iconic dishes from the region. Using recipes from his grandmother and mother, chef Firdauz Nasir dishes up authentic Nusantra cuisine sans preservatives and MSG. The menu is pretty straightforward. All you have to do is take your pick from mouth-watering rice bowls like asam pedas ($10.90), beef rendang ($10.90) and ayam kicap buah keluak ($8.90). Then, pair your meal with a choice of sides such as sayur lodeh and sambal goreng.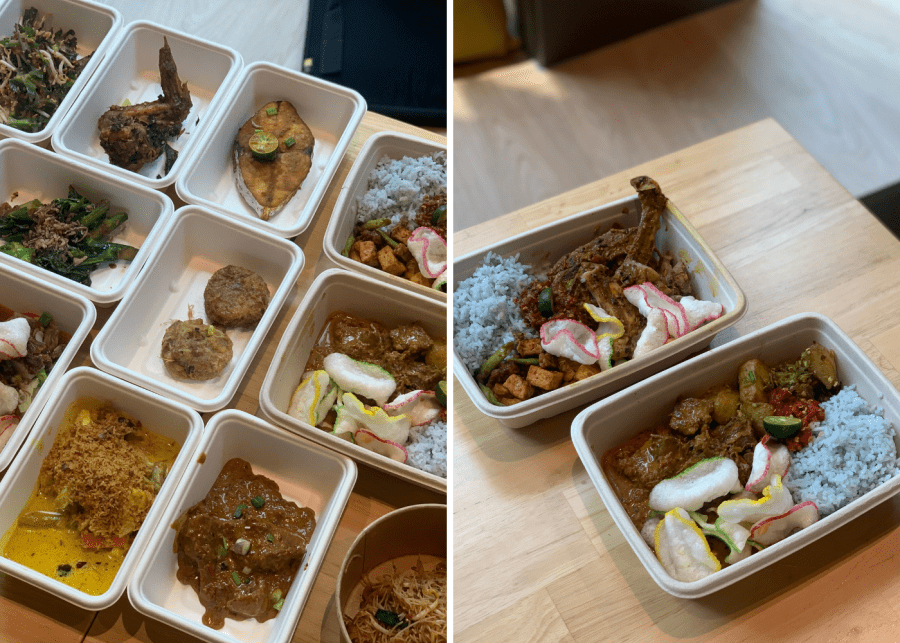 Tempted by other dishes on display? Well, we don't blame you 'cause we tried over 10 different dishes. We highly recommend the rempah fried chicken ($12/4 pieces), bergedil ($1.50), itik gulai (slow-roasted duck in coconut gravy) and gado gado ($7.80). In addition, there's also a decent selection of dishes for vegans and vegetarians alike. Plus, you get to pick from six types of sambal, including a piquant durian-infused variation.
While you're there, bag yourself a couple of sardine and potato curry puffs ($1.80) and mashed banana fritters ($1.80) – trust us, you won't regret it. Complete your hearty meal with a creamy cup of kopi kelapa (coconut coffee). It's safe to say that one visit won't be enough to try all of the flavourful dishes!
Nusantara, #02-16/17, Frasers Tower, 182 Cecil Street, Singapore 069547
Takeshi-san
Joining the long list of restaurants in the Holland Village enclave is the newly-opened sushi restaurant, Takeshi-san. During our visit, we were treated to an exclusive five-course meal featuring modern and classic dishes.
We started our meal with the salmon and hotate served carpaccio-style ($12), and the creamy chawanmushi ($12) topped with luscious uni. Then, we worked our way through the innovative Mexican roll ($15) stuffed with panko shrimp, cucumber, cream cheese and topped with breadcrumbs. Up next, the umami-flavoured scallop pasta ($24) which features capellini in mentaiko sauce, topped with dried sakura ebi.
The showstopper of the day? The 'gram-worthy premium kaiden set ($26). An assortment of sushi (eel, salmon belly and the like) is presented on a mini wooden staircase. It really takes the meaning of elevated dining to another level! Last but not least, we ended our meal on a sweet, heady note with a trio of dessert wines: Chardonnay juice infused with milk liqueur, shochu infused with black tea and umeshu.
That's just the tip of the iceberg as the menu is pretty extensive. Also, judging from the customer footfall, we highly encourage you to make a reservation before popping by.
Takeshi-San, 38 Lor Mambong, Singapore 277694
---
Best new restaurants in Singapore: February 2021 edition
Jomo
The Jomo Group makes its mark in the dining scene with its eponymous restaurant at Holland Village. Situated at the end of Lorong Mambong Road, Jomo houses a retail store and a breezy alfresco area on the ground floor, and a restaurant and bar on the second. Think of it as a place where you can unwind amongst friends and family over good food and drinks.
Just so you know, there are over 250 wines and spirits to choose from and four beers ($8/pint) on tap. Come hungry as the menu is adorned with fuss-free western classics that will fill you right up. For instance, tuck into crispy pork belly ($8), juicy Angus beef burgers ($14) and beer-battered fish and chips ($16). Feeling peckish? The gut-busting 1.2kg meat platter ($88), which offers ribs, sausages and the like, will undoubtedly satisfy. Swing by on Sundays as Jomo teams up with Australian butchery Sidecar Handcrafted for a full-on family BBQ.
Jomo, 48 Lorong Mambong, Singapore 277699
Yum Sing!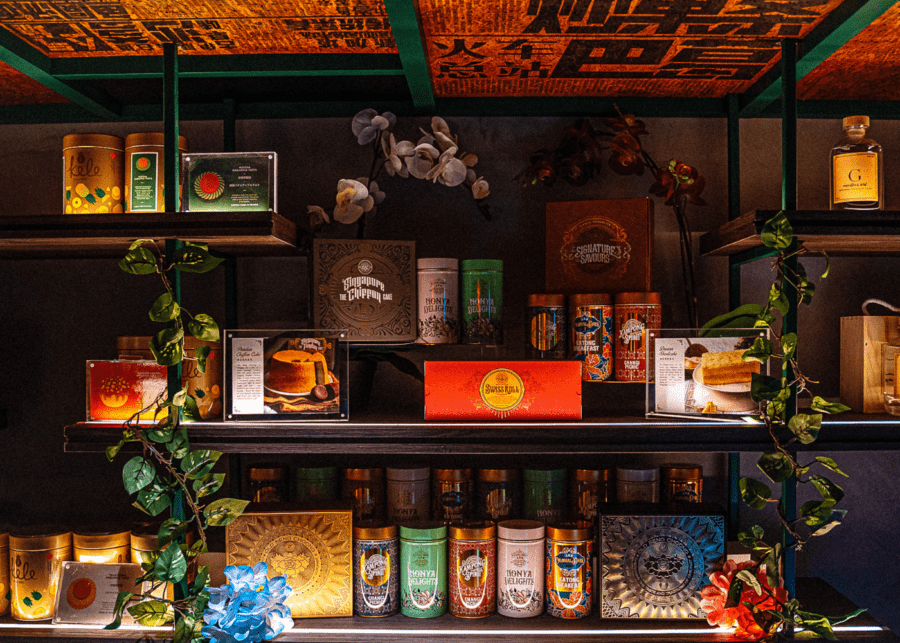 A brainchild of Putien restaurant founder Fong Chi Chung, Yum Sing! celebrates all things Singapore, from its vibrant food culture to its rich history. Located in the heart of Clarke Quay, the 128-seater restaurant will transport you to 60s Singapore. Drop by the retail boutique store which displays iconic Singaporean snacks – a reference to the traditional provision shops. The ceilings are plastered with old school newspaper advertisements and look out for the graffiti art in the dining area. Plus, the dazzling neon lights illuminate the space, creating the perfect speakeasy backdrop.
Must-try dishes include coffee pork ribs ($10), bak kut teh, ($10) and char kway teow ($10). And for the ultimate Singaporean feast, don't leave without trying the famous chilli crab ($78) and Hainanese chicken rice ($10). The very Singaporean theme also trickles down to the bar programme. Expect concoctions like Yum Sling ($18), a potent twist on the famous Singapore Sling. For something cheeky, try the Kaya Toast Cocktail ($18), which actually offers a slice of the classic kaya toast. All in all, if you're looking for a nostalgic dining experience, Yum Sing is where it's at.
Yum Sing, #01-06/07, 3B River Valley Road, Clarke Quay, Singapore 179021
Persea
Calling all keto dieters! Now you've got a new place to hit up for your low-carb needs at Ann Siang Road. Persea is dedicated to providing healthy and tasty fare. And also, the menu is pretty seasonal so expect only the freshest produce.
This time 'round, it's all about Mediterranean flavours. Graze on cauli-hummus ($10) and greek-style burrata ($24) for starters. Then fill up on prawns with sumac crème fraiche ($20), and chicken with garlic yogurt and cauliflower tabouleh ($24). End your low-carb meal on a sweet note with rosemary basque cheesecake ($16). Nit-picky about your macronutrient intake? Don't worry, the carb value of all the dishes is listed on the menu. Oh, did we also mention that you can sip on sugar-free cocktails? Guess you can have your cake and eat it after all.
Persea, 23 Ann Siang Road, Singapore 069703
Moonbow
The lush enclave of Dempsey Hill welcomes a new entrant: Moonbow. Helmed by local chef Heman Tan, the restaurant doles out modern European plates with an Asian influence, wrapped up in pastel hues of champagne and gold for a romantic ambience.
Fall in love with dishes like wagyu carpaccio with purple mustard and truffle shoyu ($28) and pork jowl steak with salted egg curry sauce ($38). Another highlight has to be the chargrilled chicken leg with garlicky crumbs and bearnaise sauce ($38). Opt for the four- or five-course meal to get a little taste of everything. Its brunch line-up is worth waking up early for. Think the likes of scotch egg and tomato bruschetta ($21), bangers and mash ($24) and avo eggs benedict ($24).
Moonbow, #01-21, Block 10 Dempsey Road, Singapore 247700
Zuzu Kitchen
Accountant by day, pizza connoisseur by night, Julien Li has recently launched his home-based omakase experience ($75 per pax) Zuzu Kitchen. First, a little background on Julien. Originally from Mauritius, the circuit breaker pushed him to explore his love affair of pizza by making his own from scratch. After a few experiments with a run-of the-mill kitchen oven, he has mastered the art of pizza-making. Moreover, his kitchen is now equipped with a top-grade pizza oven.
Pizza snobs would be glad to know that the dough is hand kneaded three days in advance. Plus, the flour is shipped directly from Naples. Look forward to pizza creations like pumpkin salami and rougaille garlic prawn. Other dishes like watermelon salad and panna cotta are also expected to make an appearance. Psst: you can bring your own bottle of vino at no additional corkage fee.
Reservations can be made via Instagram or directly at 96722121, open every Saturday
---
Best new restaurants in Singapore: January 2021 edition
Picanhas'
Picanhas' is the new kid on the block at Club Street. And if the moniker is anything to go by, steak is at the heart of this halal establishment. Picanha is actually a cut of beef from the rump cap muscle popularised in Brazil. Therefore, expect lots of simple but fresh flavours. Take your pick from two signature dishes: queen of steaks ($21) and picanha don ($16). The former features tempting steak slices drizzled with brown charcoal butter. The latter is a rice bowl where the namesake steak lies atop a bed of butterfly pea-infused rice. The place might not offer boozy concoctions but surely you can find creative mocktails on the menu, including the Kyoho Sangria made of lychee, chrysanthemum, honey and non-alcoholic vino.
Picanhas', 90 Club Street, Singapore 069458
Restaurant Euphoria
Head over to Tras Street and step into chef Jason Tan's Euphoria where vegetables take centre stage. Even the interiors by JTAW Design (founded by chef Jason and his partner) evoke a modern indoor garden. Think sleek gold brass furnishings, hints of greenery sprouting from the ceilings and a fascinating chandelier that's an abstract ode to an onion. Yes, that's the first indication of chef Jason's fondness for onions. Be prepared to shed happy tears when you tuck into his gastro-botanica six- ($208) or eight-course ($258) menu.
For the uninitiated, gastro-botanica is a specialty cuisine created by chef Jason himself. It was introduced during his time at Michelin-starred Corner House. Here, he elevates the vegetable-forward cuisine with the introduction of essences. Drawing inspiration from French culinary techniques, he has created meatless base sauces made from botanical reductions and extractions.
One of the highlights has to be flower-shaped Oignon Jamboree. It features onions served five ways – pickled, pureed, parfait, oil and broth. With the addition of legumes essence and caviar, the dish has a well-layered flavour profile and dare we say, it can stand on its own as an entree. For carb lovers, there's the Mochishire, a cross between mochi bread and Yorkshire pudding, paired with an addiction onion dip.
For hearty proteins, you get creations like torched Maine lobster served with artfully plated carrots. Visually and taste-wise, the orange vegetable steals the show. It is brined before it's sliced into ribbons, confit in beurre noisette and topped with candied orange zest. The result? A subtle sweet carrot mille crepe. Also, look forward to the succulent lamb neck. You'll get an opportunity to pick from a selection of hand-forged Damascus steel knives to cut through the meat. Don't forget the locally sourced patin fish, which is prepared in a European style with legumes emulsion and sauteed squid strips.
The creativity continues with desserts, particularly the photogenic petit fours. Think of it as a pandora's box where you're treated to saccharine gems like bandung mochi and nutmeg madeline. Oh, and for the full Euphoria experience, go for the wine pairings, we say.
Restaurant Euphoria, 76 Tras Street, Singapore 079015
Masaaki
Kyoto-raised chef Masaaki Sakashita, who has helmed the kitchens of Ishi and Hashida Sushi, brings his culinary expertise to his newest venture: Masaaki. The South Beach Avenue spot is outfitted by Takenouchi Webb, showcasing a stunning collision of contemporary design and oriental glamour. For instance, look out for the walls draped in soft pink Gucci wallpaper illustrating beautiful white cranes. Plus, a cascading wave of washi sheets hang from the ceiling, and the centrepiece of the dining room is a wood counter crafted purely from a 250-year-old hinoki.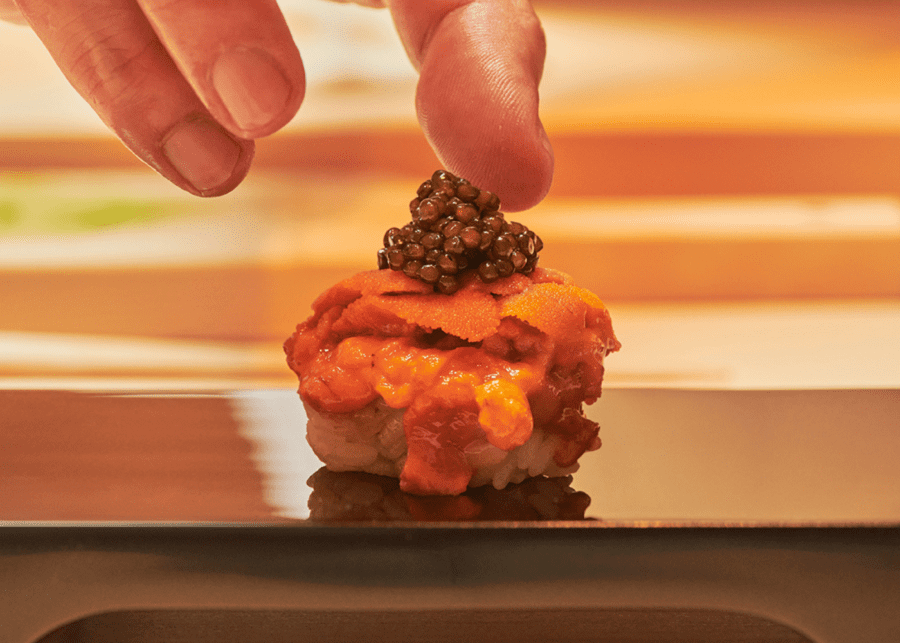 What's on the menu? Sushi served omakase-style. Using only the freshest ingredients, each dish is a reflection of chef Masaaki's skills and Japanese culinary ethos. Sit at the counter for a visual feast. Expect to see live crabs meeting the flames from the charcoal hearth in the open kitchen and the intricate art of sushi-making. Just swing by during lunch ($120/7-course, $250/9-course) or dinner time (from $280) and let Masaaki treat your palate and senses.
Masaaki, B1-17, South Beach, 26 Beach Road, Singapore 189768
Socieaty
Les Amis Group has brought all its stellar dining concepts under one roof at the new multi-concept restaurant, Socieaty. Trust us when we say you will be spoilt for choice. The combined menu features over 100 dishes like pizza, pho and Japanese fare from names like Peperoni Pizzeria, NamNam, Tenjin and Sushi Jin. For local favourites, there are comforting bowls of porridge from Mui Kee Congee, and Lemak Boys will satisfy you with nasi lemak and laksa. For desserts, tuck into Tarte by Cheryl Koh's tarts in seasonal flavours.
Socieaty, #01-01A, One Farrer Hotel, 1 Farrer Park Station Road, Singapore 217562
Kotuwa
Chef Rishi Naleendra adds a third restaurant under his belt (the other two being Cloudstreet and Cheek Bistro) with the opening of Kotuwa. Kotuwa is named after the Sri Lankan capital's central business, hence this kitchen's modus operandi is pretty clear.
Championing Sri Lankan cuisine, the menu is embellished with bold flavours. Isso Devil ($34) offers stir-fried prawns with ginger, green chilli and tomatoes. Meanwhile, hoppers ($4) is a rice and coconut pancake, and kottu roti (from $18), comprises chopped-up godhamba roti with a choice of chicken or jackfruit. Another highlight has to be the Sri Lankan crab curry, which follows the secret recipe passed down from chef Rishi's mother. All we know is that the crab is cooked in a medley of spices and the dish is served with crab crackers and custom-made bibs. But we ain't complaining! Vegetarians can tuck into a selection of plant-based eats like stir-fry beetroot ($16) and butternut squash cooked in coconut gravy ($16).
Undoubtedly, the cocktail programme also follows suit with the Sri Lankan theme. We're talking about innovative concoctions fit for royalty. Sip on Queen of Jaffana ($20), a mix of tequila, green chilli, tamarind, Cointreau and citrus. Or try Queen of the Rise-East, made with coconut washed gin, vermouth and Campari. There's also Princess of Galle, an interesting blend of vodka, lemongrass, curry leaves, ginger beer, black pepper and turmeric.
Kotuwa, Wanderlust Hotel, 2 Dickson Road, Singapore 209494