Tuck into Brazilian steak at Picanhas'. Photography: Picanhas'
When hunger beckons, let our list of new restaurants and menus in 2021 be your guide. Bookmark this page for monthly updates – you know you want to!
As the saying goes, new year, new me. The dining scene hasn't looked better, given the fact that it has been hit badly by the Covid-19 pandemic. But let's not dwell on the past, shall we? For our first 2021 edition of Hot New Tables, we've got a slew of brand new dining concepts. If you're looking to eat healthier, we suggest you bookmark this page for February. And in case you missed out on last year's hottest restaurants, we've left it here just for you.
Best new restaurants in Singapore: January 2021
Picanhas'
Picanhas' is the new kid on the block at Club Street. And if the moniker is anything to go by, steak is at the heart of this halal establishment. Picanha is actually a cut of beef from the rump cap muscle popularised in Brazil, so expect lots of simple but fresh flavours. Take your pick from two signature dishes: queen of steaks ($21) and picanha don ($16). The former features tempting steak slices drizzled with brown charcoal butter. The latter is a rice bowl where the namesake steak lies atop a bed of butterfly pea-infused rice. While the place might not offer boozy concoctions, you can find creative mocktails on the menu, including the Kyoho Sangria made of lychee, chrysanthemum, honey and non-alcoholic vino.
Picanhas', 90 Club Street, Singapore 069458
Restaurant Euphoria
Head over to Tras Street and step into chef Jason Tan's Euphoria where vegetables take centre stage. Even the interiors by JTAW Design (founded by chef Jason and his partner) evoke a modern indoor garden. Think sleek gold brass furnishings, hints of greenery sprouting from the ceilings and a fascinating chandelier that's an abstract ode to an onion. Yes, that's the first indication of chef Jason's fondness for onions. Be prepared to shed happy tears when you tuck into his gastro-botanica six- ($208) or eight-course ($258) menu.
For the uninitiated, gastro-botanica is a specialty cuisine created by chef Jason himself. It was introduced during his time at Michelin-starred Corner House. Here, he elevates the vegetable-forward cuisine with the introduction of essences. Drawing inspiration from French culinary techniques, he has created meatless base sauces made from botanical reductions and extractions.
One of the highlights has to be flower-shaped Oignon Jamboree. It features onions served five ways – pickled, pureed, parfait, oil and broth. With the addition of legumes essence and caviar, the dish has a well-layered flavour profile and dare we say, it can stand on its own as an entree. For carb lovers, there's the Mochishire, a cross between mochi bread and Yorkshire pudding, paired with an addiction onion dip.
For hearty proteins, you get creations like torched Maine lobster served with artfully plated carrots. Visually and taste-wise, the orange vegetable steals the show. It is brined before it's sliced into ribbons, confit in beurre noisette and topped with candied orange zest. The result? A subtle sweet carrot mille crepe. Also, look forward to the succulent lamb neck. You'll get an opportunity to pick from a selection of hand-forged Damascus steel knives to cut through the meat. Don't forget the locally sourced patin fish, which is prepared in a European style with legumes emulsion and sauteed squid strips.
The creativity continues with desserts, particularly the photogenic petit fours. Think of it as a pandora's box where you're treated to saccharine gems like bandung mochi and nutmeg madeline. Oh, and for the full Euphoria experience, go for the wine pairings, we say.
Restaurant Euphoria, 76 Tras Street, Singapore 079015
Masaaki
Kyoto-raised chef Masaaki Sakashita, who has helmed the kitchens of Ishi and Hashida Sushi, brings his culinary expertise to his newest venture: Masaaki. The South Beach Avenue spot is outfitted by Takenouchi Webb, showcasing a stunning collision of contemporary design and oriental glamour. Look out for the walls draped in soft pink Gucci wallpaper illustrating beautiful white cranes. Plus, a cascading wave of washi sheets hang from the ceiling, and the centrepiece of the dining room is a wood counter crafted purely from a 250-year-old hinoki.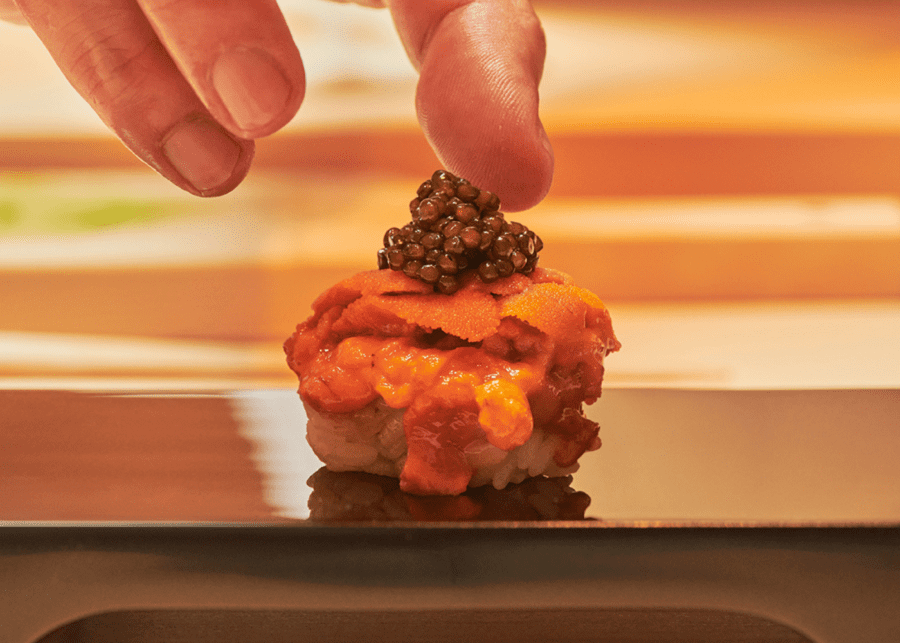 What's on the menu? Sushi served omakase-style. Using only the freshest ingredients, each dish is a reflection of chef Masaaki's skills and Japanese culinary ethos. Sit at the counter for a visual feast. Expect to see live crabs meeting the flames from the charcoal hearth in the open kitchen and the intricate art of sushi-making. Just swing by during lunch ($120/7-course, $250/9-course) or dinner time (from $280) and let Masaaki treat your palate and senses.
Masaaki, B1-17, South Beach, 26 Beach Road, Singapore 189768
Socieaty
Les Amis Group has brought all its stellar dining concepts under one roof at the new multi-concept restaurant, Socieaty. Trust us when we say you will be spoilt for choice. The combined menu features over 100 dishes like pizza, pho and Japanese fare from names like Peperoni Pizzeria, NamNam, Tenjin and Sushi Jin. For local favourites, there are comforting bowls of porridge from Mui Kee Congee, and Lemak Boys will satisfy you with nasi lemak and laksa. Desserts are sorted out by Tarte by Cheryl Koh with tarts in seasonal flavours.
Socieaty, #01-01A, One Farrer Hotel, 1 Farrer Park Station Road, Singapore 217562
Kotuwa
Chef Rishi Naleendra adds a third restaurant under his belt (the other two being Cloudstreet and Cheek Bistro) with the opening of Kotuwa. Named after the Sri Lankan capital's central business, this kitchen's modus operandi is pretty clear.
Championing Sri Lankan cuisine, the menu is embellished with bold flavours. Isso Devil ($34) offers stir-fried prawns with ginger, green chilli and tomatoes. Meanwhile, hoppers ($4) is a rice and coconut pancake, and kottu roti (from $18), comprises chopped-up godhamba roti with a choice of chicken or jackfruit. Another highlight has to be the Sri Lankan crab curry, which follows the secret recipe passed down from chef Rishi's mother. All we know is that the crab is cooked in a medley of spices and the dish is served with crab crackers and custom-made bibs. But we ain't complaining! Vegetarians can tuck into a selection of plant-based eats like stir-fry beetroot ($16) and butternut squash cooked in coconut gravy ($16).
The cocktail programme also follows suit with the Sri Lankan theme. We're talking about innovative concoctions fit for royalty like Queen of Jaffana ($20), a mix of tequila, green chilli, tamarind, Cointreau and citrus. Or try Queen of the Rise-East, made with coconut washed gin, vermouth and Campari. There's also Princess of Galle, an interesting blend of vodka, lemongrass, curry leaves, ginger beer, black pepper and turmeric.
Kotuwa, Wanderlust Hotel, 2 Dickson Road, Singapore 209494
Start 2021 with a bang at these new restaurants!