Celebrating a special occasion or simply treating your loved one to a memorable date night in Hong Kong? Here are some of our fave romantic spots
A lot of people enjoy having a date night just cuddling up with each other and watching their favourite 90s movies and trashy TV shows – you're not spending money and you're not wearing make-up – great! But sometimes it's still nice to go out and make some cool memories together. Whether you want to spend time over casual dinner and drinks, celebrate an anniversary at a fine dining restaurant or if you're up for some outdoor activities, here are the best romantic spots to help take date night in Hong Kong to another level.
Romantic spots for date night in Hong Kong
Aqua
Nothing is more romantic than enjoying fine food while overlooking the breathtaking view of Victoria Harbour at Aqua, which sits atop One Peking building on the 29th floor. Enjoy Japanese and Italian cuisine accompanied with wine and other tipples from around the world in a magical dinner experience with your loved one. Or if you want to have your meal earlier in the day, head to the restaurant in the afternoon for their lunch or brunch instead. Just add a lovely bunch of colourful gerberas, and your date will definitely feel special.
Aqua, 29/F, Penthouse, 1 Peking Road, Tsim Sha Tsui, Kowloon, Hong Kong, p. 3427 2288, 尖沙咀北京道1號29樓
Catch a movie at Broadway Cinematheque followed by coffee at Kubrick
Any good movie on at the theatre that you would like to watch with someone? If so, head to Broadway Cinematheque in Yau Ma Tei and catch your favourite movie followed by a cup of coffee at Kubrick. The bookshop café is attached to the cinema, where you can browse lots of books from different genres, enjoy their collection of art and discuss the movie you've just watched – or anything, really! – over coffee.
Read more about best cinemas in Hong Kong.
Broadway Cinematheque, 3 Public Square Street, Yau Ma Tei, Hong Kong, p. 2388 0002, 九龍油麻地眾坊街3號駿發花園
Chi Lin Nunnery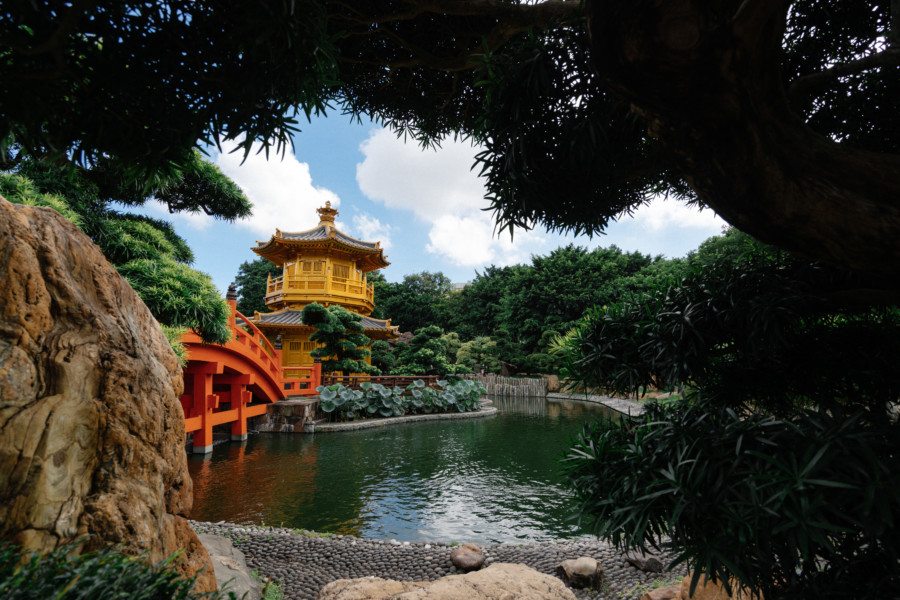 If you want to have a peaceful walk with your loved one, Chi Lin Nunnery is the best place to be. The large temple complex is renovated in Tang dynasty style and features a series of temple halls, treasure Buddhist relics, soothing lotus ponds and a beautiful garden for you to walk around.
Read our full story on Chi Lin Nunnery.
Chi Lin Nunnery, 5 Chi Lin Drive, Diamond Hill, Kowloon, Hong Kong, p. 2354 1888, 九龍鑽石山志蓮道5號
Couple's spa at Lush
Looking to plan a relaxing date night in Hong Kong? At Lush in Central, you can experience a couple's spa treatment, where you and your partner can enjoy either a deep-tissue rub down or a body scrub treatment inside a 1940s English treatment room. The experience will be a perfect retreat from your busy schedules, and will leave you both feeling relaxed. Maybe not the best first date spot though!
Check our guide to affordable massages in Hong Kong or see our full review of Lush Spa.
Lush, G/F-4/F, Soho Square, 21 Lyndhurst Terrace, Central, Hong Kong, p. 3915 0638, 中環擺花街21號Soho Square地下至4樓
Foxglove
Disguised as an umbrella shop, this speakeasy-inspired bar can be accessed through a secret doorway at the back of the boutique and you will need to touch a specific umbrella handle at the shop to enter. Stepping into Foxglove, you'll be mesmerised with their interior that resembles first-class airplanes and vintage cars; it kind of reminds us of movies like Kingsman. With the impeccable service, tasty food and delicious cocktails, this should definitely be your next romantic destination, especially when the band starts playing.
Check out our favourite live music venues in Hong Kong.
Foxglove, 6 Duddell Street, Central, Hong Kong, p. 2116 8949
Garden Meow Café
Looking for a romantic yet homely place to have meal with your dates? Head to Garden Meow Café and get ready to be transported to vintage paradise. Old school ornaments adorn the whole interior of this cafe, which serves Taiwanese food like Drunken Chicken with Cold Noodles, Manchu Noodle Soup, and Ginger and Wine Sauce Chicken with Rice along with a selection of Taiwanese beers. Staying true to its name, the place also features lots of cat images on the neon sign, glass cups and posters, making it an even better place to have a date if you two are cat lovers; meow! Oh, and don't miss the seating out the back where you can snuggle up and drink tasty tea together.
Read the full review of Garden Meow Café.
Garden Meow Café, HG01-HG05, G/F, Block B Hollywood, PMQ, 35 Aberdeen Street, Central, Hong Kong, p. 2818 5438, 中環鴨巴甸街35號元創方B座Hollywood地下HG01-HG05號舖
Hong Kong Space Museum
A visit to a museum is not only educating and entertaining, we think it can also be romantic in a way – think Ross and Rachel from Friends! At the Hong Kong Space Museum, you can experience stargazing inside the hemispherical projection dome. The museum also produces Sky Show every year which is displayed using the digital planetarium projection system, so you can finally have a date night in Hong Kong under the stars.
Hong Kong Space Museum, 10 Salisbury Road, Tsim Sha Tsui, Kowloon, Hong Kong,  p. 2721 0226 九龍尖沙咀梳士巴利道10號
Layback Café & Bar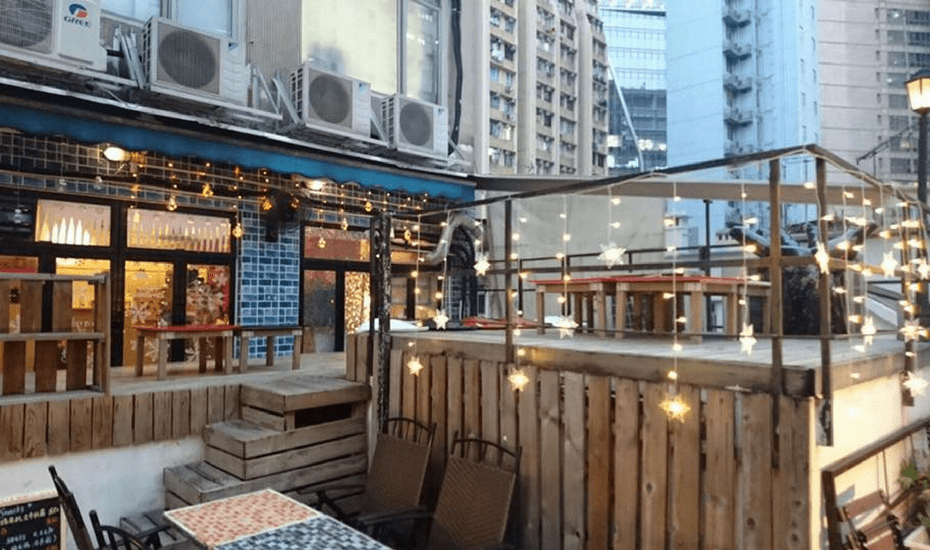 Layback is perfect for those who want a laid-back date night in Hong Kong. Located in Tsim Sha Tsui, Layback Café & Bar has an ambience that is pretty much summed up by its name. Romantic yet laid back, the café is the perfect place to be if you're looking to have a casual dinner date under stars with your S.O. accompanied by twinkling lights and a bottle of wine in a cosy outdoor setting. Don't feel like having your meal outside? Don't worry because they also have an indoor area if you prefer to have a warmer atmosphere under the roof. Best part is that you can B.Y.O!
Layback Café & Bar, Room B, 4/F, Granville House, 41C-41D Granville Road, Tsim Sha Tsui, Hong Kong, 尖沙咀加連威老道41號C-D嘉威大厦4樓B室
Le Boudoir
Get transported to the olden days of France at Le Boudoir… Kind of! Serving cocktails and other fine liquors, the lounge exudes a romantic vibe with its Belle Époque interior design, dangling chandeliers, velvet couches and baroque wallpaper in warm tones of red. The bar has just been revamped by artist Szabotage, so wow you date with the fun LED paintwork that gets switched on after dark. The staff here are fabulous too, so definitely a place to impress someone.
Le Boudoir, B/F, 65 Wyndham Street, Central, Hong Kong, p. 2530 3870, 中環雲咸街65號地庫
Picnic on top of IFC Mall
We think a picnic on top of IFC Mall is one of the coolest places to have a date night in Hong Kong. In between all the exclusive bars and restaurants, there's a public outdoor area with chairs and tables that you can use to have your own picnic. Prepare something nice from home, bring your own bottle of wine and enjoy them here overlooking the million-dollar-view of Hong Kong skyline in the afternoon or at night. Plus, all that effort is sure to score you points!
Check our compete list of picnic spots in Hong Kong.
IFC Mall, 8 Finance Street, Central, Hong Kong, p. 2295 3308, 中環金融街8號國際金融中心商場
Sampan ride around Aberdeen Harbour before dinner at Jumbo Floating Restaurant
Home to the Jumbo Kingdom Floating Restaurant, Aberdeen Harbour is a quirky romantic spot to have a date with your partner. Hire a sampan for around $50, and then go exploring through the number of boats moored in the harbour. Sit back and relax as the driver takes you to some picturesque spots for you to take the ultimate romantic pictures together, then head over to the floating restaurant Jumbo Kingdom for some tasty Cantonese treats.
Jumbo Kingdom, Shum Wan Pier Drive, Wong Chuk Hang, Hong Kong, p. 2553 9111, 黃竹坑深灣碼頭徑
Upstairs at Belon
Is there anything more romantic than dripping candles in a wine bottle? The answer is no. Head to Belon and go upstairs through the restaurant, and you'll find a stylish and secluded lounge bar: Upstairs at Belon. Decorated in warm woods and traditional Afghan-style rugs, the space can only accommodate 18 guests, giving you enough room for privacy to have a chat over the tasty cocktails. It's one of our fave romantic spots for date night in Hong Kong.
Upstairs at Belon, 41 Elgin Street, SoHo, Hong Kong, p. 2152 2872, 中環蘇豪伊利近街41號地舖