Life is better with baos! (Photography: Little Bao Diner via Facebook)
Wondering where to eat in Causeway Bay? CWB isn't all about shopping, check out its diverse range of coffee shops and cheap local eateries to satisfy any food craving
It's no secret that Causeway Bay is proud of its mega malls, designer flagship stores, indie fashion and Korean fashion. After a money-spending spree at all of your favourite stores – your tired feet and hungry bellies are bound to need a refuel – there are also a range of restaurants and dessert havens for food lovers to explore. From Hong Kong desserts to wallet-friendly eats, we'll share with where to eat in Causeway Bay for maximum satisfaction!
1. Little Bao Diner
A little bao here and a little bao there – it's gonna be a tough one to pick from the a-la-carte menu! There are two vegetarian baos available, one of them being the trendy impossible meat. If you're craving a sweet bao, the miniature dessert versions won't disappoint, but be warned, if you take too long to Instagram your ice-cream bao, it WILL melt in a split second! We're also fans of their shrimp tacos, burrata, and the chicken poppers. And for drinks, the yuzu leaf cocktail is the bomb!
Little Bao Diner, G/F, Opposite the Victoria Park, Shop H1, 9 Kingston Street, Fashion Walk, Causeway Bay, Hong Kong, p. 2555 0600
2. Pizza Maru
This Korean eatery always has a crowd waiting to dig in and it's understandable why. The Maru Blue Mussel Pot and Korean Crab Tian are much-loved seafood dishes with a Korean twist that you need to get knocked over. Plus, the honey yuzu garden greens sets others salads to shame with its savoury flavours. For pizzas, you can opt for premium, classic, or Chicago style if you want to go all-out on the crust (and cheese!). And of course, the Korean Fried Chicken corner cannot be missed!
Pizza Maru, Hysan Place, 13/F, 500 Hennessy Road, Causeway Bay, Hong Kong, p. 2318 1012
3. Drunken Pot
For a sizzling meal with stunning harbour views, head up to Drunken Pot, a fabulous hotpot restaurant with a cult following. If you're keen to go all out, get the ultimate 5-in-1 hotpot feast: a pot featuring five lip-smacking broth bases such as Sichuan-style spicy soup; nourishing papaya soup; traditional beef brisket in clear broth; Boston lobster in tomato soup; and creamy Teochew-style satay soup. This is definitely one of our fave places to eat in Causeway Bay.
Read our full review of Drunken Pot.
The Drunken Pot, 27/F, V Point, 18 Tang Lung Street, Causeway Bay, Hong Kong, p 2323 7098, 銅鑼灣登龍街18號V Point 27樓
4. Aladin Mess
Spent all your dough on a shopping spree? Refuel at Aladin Mess for wallet-friendly eats. The halal-certified eatery serves Indian and Pakistani food, serving delicious delicacies like chicken tikka, garlic naan and fresh mango lassi. 
Find out why Aladin Mess made it onto our list of fave halal restaurants in Hong Kong.
Aladin Mess, 60 Russell St, Causeway Bay, Hong Kong, p. 2808 0250, 銅鑼灣羅素街60號富興大廈2樓
5. Kampoeng
This Indonesian fusion resto teleports you with its village themed interior design and food served on a banana leaf. We love their sets as you can taste a little bit of everything on a single plate! The beef rendang with mixed platter and rice, and fried sea bass in Indonesian style have us coming back on the regular.
Kampoeng, B/F, Causeway Bay Commercial Building, 1-5 Sugar Street, Causeway Bay, Hong Kong, p. 2488 1492

6. Hungry Korean
Looking for a hefty Korean feast? The Hungry Korean is a great budget-friendly option for fast-food Korean cuisine. The casual canteen serves dishes like bibimbap, japchae, kimbap, and of course, kimchee. You might just want to avoid this place at peak lunch hours as it can get pretty busy.
Hungry Korean, Shop D, G/F, Jardine Center, 50 Jardine's Bazaar, Causeway Bay, Hong Kong, p. 2698 4777, 銅鑼灣渣甸街50號渣甸中心地下D舖
7. Via Tokyo
Mad about matcha? Get lost in matcha heaven at Via Tokyo, a Japanese dessert café specializing in green tea everything. Think Matcha Eclair, Matcha Mielle Feuille, Matcha Lava Cake, or our personal favourite, their Matcha Affogato. If you need to cool off after a serious shopping session, try their amazing Japanese soft serve in delicious flavours like royal milk tea and black sesame.
Via Tokyo also makes it to our list of best matcha desserts in the city.
Via Tokyo, Shop 1A-1B, G/F, Leishun Court, 106-126 Leighton Road, Causeway Bay, Hong Kong, 銅鑼灣禮頓道106-126號禮信大廈地下1A-1B號舖
Cedele (CLOSED)
Cedele is our go-to in Causeway Bay when we're in the mood for comfort food with a healthy twist. The bakery-slash-café serves delicious grain salad bowls with offerings like quinoa with miso mirin salmon and fresh veggies, and freshly-made deli sandwiches. If you're craving something sweeter, Cedele does guilt-free desserts justice–if you don't believe us, just give their Pandan Coconut Cake and Coconut Walnut Cake a try.
Cedele also made it to our list of healthy eating spots in the city.
Cedele, Shop C, G.F, 58-64 Paterson Street, Fashion Walk, Causeway Bay, Hong Kong, p. 2110 0490, 銅鑼灣Fashion Walk 百德新街58-64號地下C舖
ChangLe Vegetarian Restaurant (CLOSED)
If you think all that char siu in Chinese cuisine means that vegetarians and vegans have to miss out, then think again. ChangLe is a vegetarian-friendly restaurant in causeway Bay serving meat-free eats with a specialty in Sichuan and Hunan cuisine. Come to the restaurant for servings of BBQ "pork", braised mock sea cucumber and abalone, and mock chilli shrimp made with konjac. Your tastebuds will be stunned.
Check out our picks for the best vegetarian restaurants in the city.
ChangeLe Vegetarian Restaurant, 7/F, L Square, 459-461 Lockhart Road, Causeway Bay, Hong Kong, p. 3679 3238
Atum Desserant (CLOSED)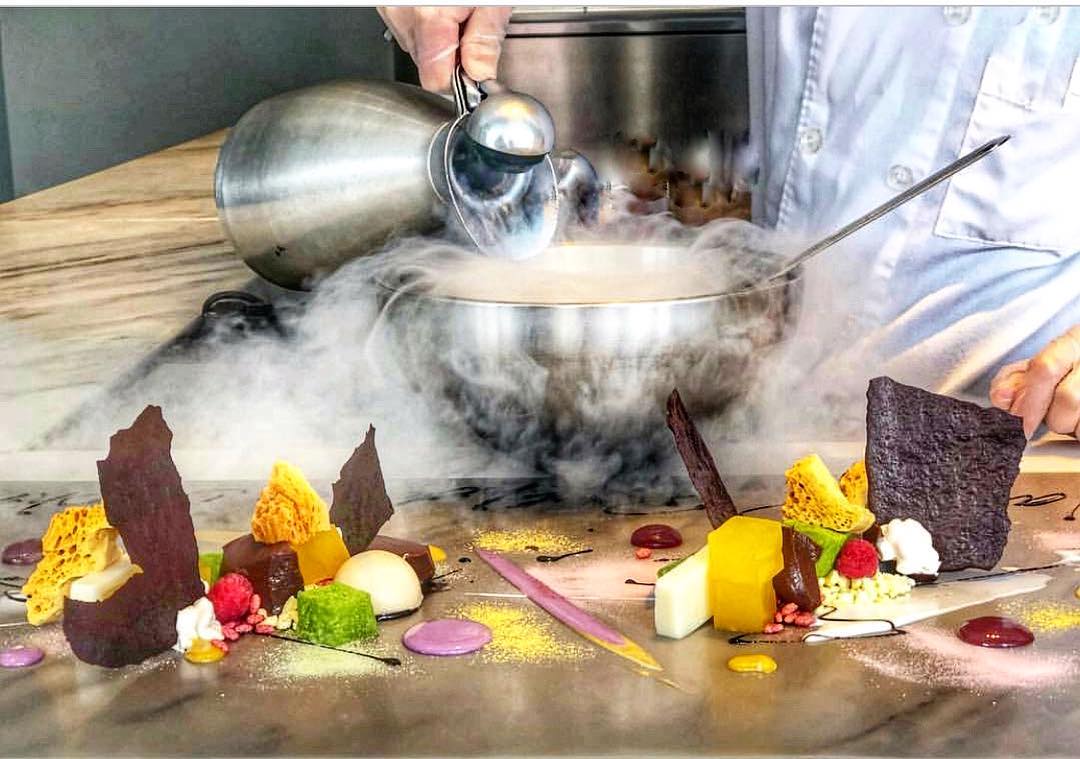 Hungry for next level sugary treats? Atum Desserant is an innovative little spot that serves incredible desserts made right on your table. Their signature "Improvisation" mat is a must-order, though make sure you are not flying solo while ordering this gigantic dish. Your personal dessert artist will proceed to transform an empty mat by throwing down elements of sauce, cake, panna cotta, ice cream, chocolate, and other sweet components to turn it into an edible piece of art. If you're wondering where to eat in Causeway Bay, this has to be on your list.
Atum Desserant, 16/F, The L. Square, No. 459-461 Lockhart Road, Causeway Bay, Hong Kong, p. 2956 1411, 銅鑼灣駱克道459-461號The L. Square 16