Lay back and relax at these spas (Photography: Andrea Piacquadio via Pexels)
From jade stone massages to pollution lift facials and eco-friendly spas, these are the best spas in Hong Kong – places we visit when we're in need of a little balance.
It's always the right time for a pampering session. Whether you've been hitting the hiking trails too hard and need a rub down, or if you wanna detox after one too many drinks at the best happy hours in Hong Kong, we can always get behind scheduling in a massage, facial, or skin treatment at one of the best spas in Hong Kong. Find out why we visit the spots below on the regular. #RelaxDeeply
These are some of the best spas in Hong Kong
1. EstheClinic
In need of some pampering? Head to French-owned beauty clinic EstheClinic for your well-deserved time off. An all-rounded medispa that offers body and facial treatments, as well as hair removal services, you can count on EstheClinic to give you the very best spa experience in Hong Kong. Using cutting-edge technology and cosmeceuticals, EstheClinic treats stretch marks, acne, and dehydrated skin. What's more, the processes are painless, non-invasive, and give lasting results. So, sit back, relax, and just rely on the professionals at EstheClinic to take care of all your needs.
Psst – here's a 50% discount on your first session at EstheClinic!
EstheClinic has locations in Central and Sai Ying Pun.
2. Elu Spa
An urban retreat in the heart of Central, Elu Spa offers luxury treatments that will definitely relax you. Working with leading brands such as Aromatherapy Associates, Eminence and C Lab & Co, we tried the Ultimate Aromatherapy Experience and we were in heaven. What we love about this spa is the welcoming modern vibes coupled with the friendly and experienced staff. On top of that, you can head in for a couples escape, book spa parties for the kids, and there are also a range of specialist treatments for men on offer. The herbal teas and the blueberries are added bonuses.
Elu Spa, 7/F, 46 Lyndhurst Terrace, Central, Hong Kong, p. 2668 1381
3. Chuan Spa
Set inside Cordis, Hong Kong in Mong Kok, Chuan Spa is an amazing oasis of calm and tranquility. We think it's one of the best spas in Hong Kong for a number of reasons, so sit back and get ready for it. The service here is just amazing, with a friendly and professional team who are just world-class, this coupled with the fact that they integrate the five elements of Earth, Wood, Fire, Metal, Water into their treatments makes them firm favourites.
Read about our experience with the couples spa treatment at Chuan Spa.
Chuan Spa, Level 41, Cordis, 555 Shanghai Street, Mong Kok, Hong Kong, p. 3552 3510
4. Joyce Beauty Facial Treatment Suites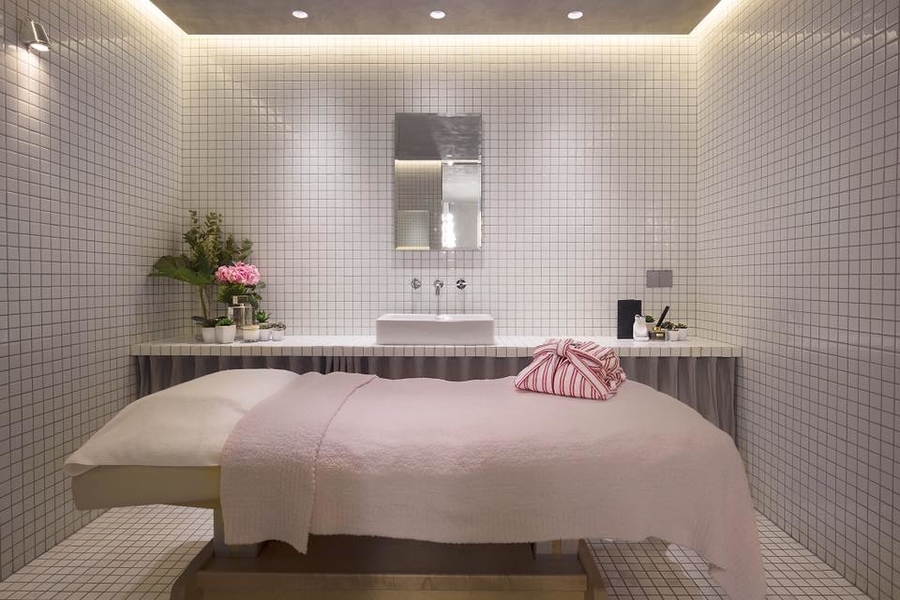 Joyce Beauty Facial Treatment Suites is a Central haven for lovers of high end skincare with a fashion flare. Using luxury products, such as Omorovicza and 111Skin, the facial menu is full of temptations. The facialists are experts, giving exuberant treatments better than most hotel spas, and the plush Balenciaga robe is a dream!
Joyce Beauty Facial Treatment Suites, 1/F, New World Tower, Central, Hong Kong, 2869 5816
5. Angsana Spa
Located inside Hotel Icon, this is definitely one of the best spas in Hong Kong for total relaxation. The Angsana Spa signature massage is a one-way ticket to pure bliss, from the butterfly pea tea served pre-treatment to the wonderful massage services. Walk in, float out.
Angsana Spa, Level 9, Hotel Icon, 17 Science Museum Road, Tsim Sha Tsui East, Kowloon, Hong Kong, p. 3400 1052
6. Emmanuel F
As well as offering hair and makeup services, Emmanuel F in Central has an amazing selection of organic and eco-friendly spa treatments. Enjoy one of their signature facials, or get comfy on the ergonomic spa beds and let the massage therapists work on your tight spots. We think this is one of the best spas in Hong Kong, as they integrate sustainable interior design and practices into their studio to lessen their impact on the earth.
Emmanuel F, G/F, 176 Wellington Street, Central, Hong Kong, p. 2167 8280
7. The Spa at Four Seasons Hong Kong
No list of best spas in Hong Kong would be complete without including the Four Seasons. From the Vitality Lounge, that includes relaxing pools that all guests at the hotel have access to, to the beauty treatments available to the public, this is the ultimate spot for exceptional service and complete pampering. Our absolute fave is the wonderful Jade Stone Therapy Massage, in which the stones emit negative ions to help boost your immune system – perfect for busy people in Hong Kong. Their Executive Grooming Facial for men is also super popular.
The Spa at Four Seasons Hong Kong, 8 Finance Street, Central, Hong Kong, p. 3196 8900
8. Float Massage
Opened in September 2021, Float Massage is a spa in Hong Kong that is inspired by nature, the five elements, and Southeast Asian craftsmanship. Using essential oils made by esteemed aromatherapists, the Signature Five-Elements Aroma Spa helps boost your immune system, alleviate stress, improve sleep, and aid the digestive system. Feel free to drop by for a 30-minute escapade over lunch and take a nice break!
Float Massage has locations in Tin Hau and Sai Wan Ho.
9. Sense of Touch
Walk into any Sense of Touch spas in Hong Kong and you'll come out glowing and rejuvenated (at a good price, too!). At the Central branch, you can try the award-winning Cheers to Beers treatment by dipping into a dark ale beer bath – which we also tried. Sense of Touch even offers Male Grooming for the fellas who want to get a bit of pampering done. There are programmes for everyone from kids to mothers-to-be, to brides-to-be. In addition, the waxing and laser hair removal at Sense of Touch is top-notch, providing a full service restoration for your body and mind.
Sense of Touch is the Gold Award winner for Best Facial Spa in Hong Kong in our Love Local Awards 2022!
Sense of Touch has multiple locations across Hong Kong.
10. The Mandarin Spa
The Mandarin Spa at the Mandarin Oriental is the ultimate oasis for relaxation and rejuvenation. If you want to treat yourself to some five-star pampering, the aromatherapy massages, swimming pool, and the Mandarin Salon are waiting for you. The popular Wellness Retreats are also perfect for when you just want to get away from the hustle and bustle of the city. Looking for a complete body transformation? The Mandarin Spa also offers an eight-week intensive Body Transformation Programme that utilises the fitness centre with a personal trainer.
The Mandarin Spa, Mandarin Oriental, Hong Kong, 5 Connaught Road Central, Central, Hong Kong, p. 2825 4888
11. Asaya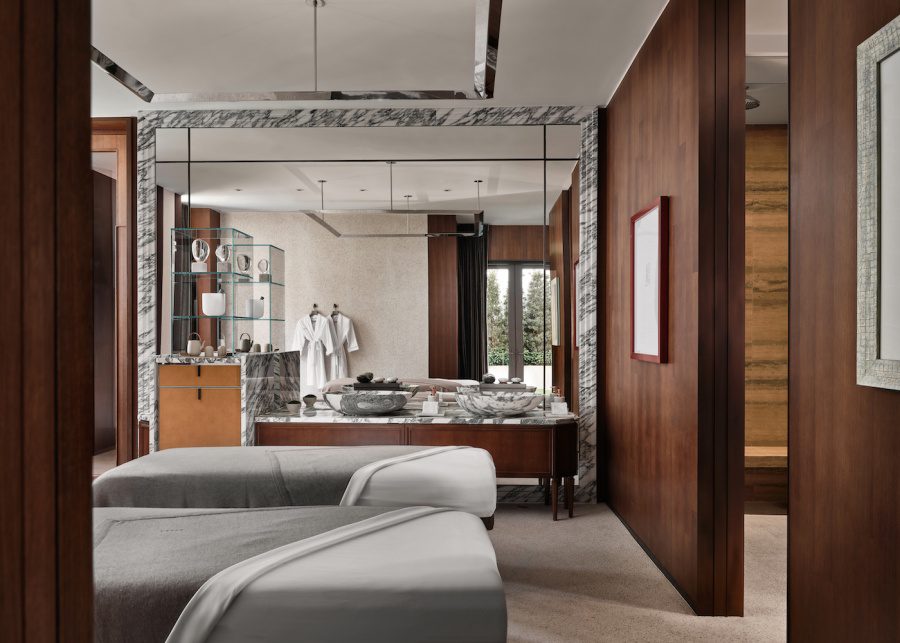 At Asaya in the Rosewood Hotel, wellness is a carefully curated experience. Asaya Wellcations are the star here, with programmes that include a one-night stay at an Asaya Lodge. These signature Asaya Lodges are designed to help create a lasting regenerative and contemplative impact on you. You can book anything from facials to Creative Corporate Training, so come for the wellness treatments, and you'll leave newly restored.
Take a look at why Asaya also makes our list of the best hotel spas in Hong Kong.
Asaya, 6/F, Rosewood Hong Kong, Victoria Dockside, 18 Salisbury Road, Tsim Sha Tsui, Hong Kong, p. 3891 8588
12. Iyara Day Spa
Get a relaxing Swedish massage at Iyara Day Spa to give yourself a day of pampering. In addition to body scrubs, wraps, and massages, there are services exclusively for men that include manis and pedis. What's more, if you're looking for something extra special, you can try the signature ear candling with face and neck lymphatic drainage massage. The gentle and non-invasive therapy can gently clear out your ear while you enjoy a relaxing rub-down.
Iyara Day Spa has locations in Central and Mid-Levels.
Flawless Spa (closed)
Looking for an urban sanctuary with a boutique vibe to get pampered at? Flawless Spa in Central is the place to relax. They work with amazing brands, including the wonderful Aromatherapy Associates, offering treatments like the Pollution Lift to cleanse and brighten your skin, skin needling and a selection of massages to help you de-stress and sleep better (the Ultimate Aromatherapy Associates 90-minute massage is a winner!) We also love getting our nails done here, with obligatory glass of bubbly, of course. It's definitely one of the best spas in Hong Kong.
See why we think Flawless Spa is also one of the top nail salons in Hong Kong.
Flawless Spa, 4/F Sea Bird House, 22-28 Wyndham Street, Central, Hong Kong, p. 2869 5868, 中環雲咸街22-28號四寶大廈4樓
Lush Spa (closed)
If you want to relax somewhere a little different to your average spa, then Lush Spa may be for you. Nestled away on Lyndhurst above the beloved store, sit treatment rooms where little bits of magic unfold. Choose to relax with colour or sound therapy, or even indulge in a treatment inspired by the cosmos, one thing's for sure if you're on the hunt for the best spas in Hong Kong, this has to be on your list.
Lush also makes some of our absolute favourite cruelty-free makeup products in Hong Kong.
Lush Spa, G/F-4/F, Soho Square, 21 Lyndhurst Terrace, Central, Hong Kong, p. 3915 0638