You can easily spot monkeys near country parks in Hong Kong (Photography: DSD via Pexels)
Ever had the experience of encountering a wild boar or a long-tailed Macaque while hiking? What if we told you that these guys aren't the only wild animals in Hong Kong?
If you've lived in Hong Kong for a while now, you'll know the jungle part of concrete jungle is quite literal. Hong Kong's wild animals are mostly hidden, but the minute you get your hiking shoes on and set out and about, that's when the fantastic beasts start to show up. Whether it's monkeys looking for a treat at Shing Mun, or cows out for a chill day at Tap Mun, there's more from where that comes from. Here's where you can find wild animals in Hong Kong.
Indigenous wild animals in Hong Kong and where to find them
Wild animals in Hong Kong: Mammals
1. Pink dolphins
Though the numbers of pink dolphins have been drastically declining over the years, more conservation efforts have been put in place to protect our friendly and unique dorsal finned pals. The pink colour is a result of underdeveloped blood vessels, not a lack of pigmentation.
Where to spot: Head over to Lantau. Once you reach Tai O, there are boat tours that take you close to the dolphin's habitat. However, these boat tours actually pose a threat to these creatures and it's quite rare to spot them as they swim away when boats near them.
2. Leopard cat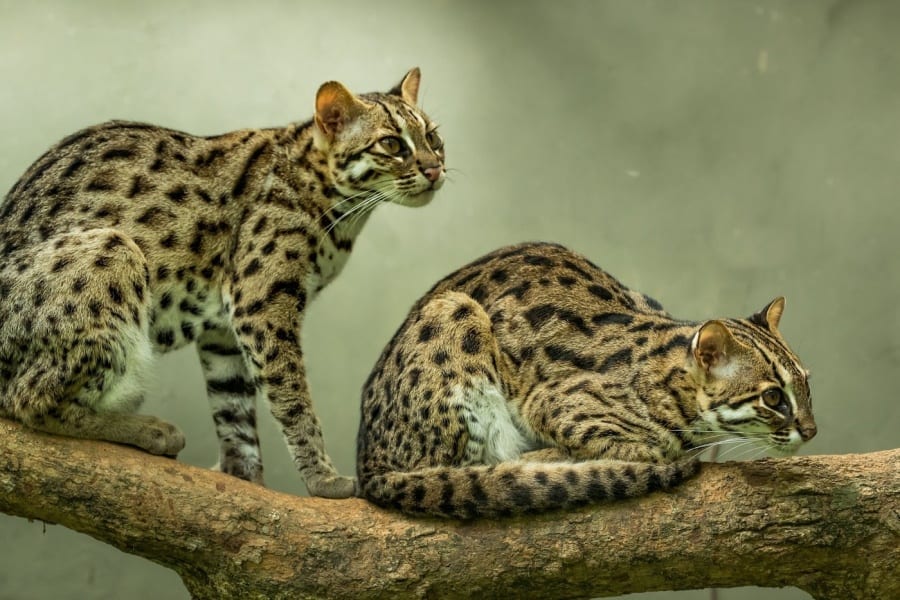 The beautiful leopard print on this wild cat may send one off guard thinking they've actually come face to face with a leopard. These cats are much smaller than a leopard but definitely bigger than your average pet cat. You'll find them residing in woodlands and rainforests, but it's very rare to spot one during your leisurely hike. The colour and pattern of their fur camouflage so well, it's so easy to miss them.
Where to spot: Kadoorie Farm and Botanic Garden in Tai Po, aside from the wild.
3. Mask Palm Civet
The masked palm civet is also known as the gem-faced civet (Paguma larvata). They can get quite large, with the adult body up to 70cm or more, and a tail of another 60cm. The baby-faced cuties don't attack humans but there were conspiracies that they played a role in spreading SARS. Having said that, if you do ever come across one (it's RARE), be wary because they can spray a pungent gas like skunks. This breed of civet is less in numbers compared to others, and they are nocturnal.
Where to spot: Your best chance is to camp overnight at Mai Po Nature Reserve.
4. Bat
Long gone are the days where you thought bats can only be found inside deep, dark caves. Bats are common in both rural and urban areas in Hong Kong (we've even spotted one flying around an urban park in Sha Tin!)
Where to spot: If you're looking to spot the rarer kind (Greater Bamboo bat), you can find them only at the Plover Cove Country Park. Also, the Leschenault's Rousette can be found in water tunnels in Nam Chung, Tung Tze, and Shek Kong (be alarmed; you'll find a whole chunk nestled together)
5. Wild boar
The wild pigs are Hong Kong's largest native terrestrial mammals, and arguably the heaviest too – they can weigh all the way up to 200 kilograms! As feral as they may be, they aren't afraid to get comfortable around humans. Recently, a young wild boar was spotted transiting on the MTR and even occupying a priority seat! If provoked or threatened they may become aggressive and may attack humans, but they're chill as long as you are.
Where to spot: Mostly on Hong Kong island (near The Peak or Aberdeen Country Park), it's become more common to spot them these days.
6. Feral cows and water buffalo
Moo-ve over; the water buffalo and cows are here! It's no surprise to see feral cows and water buffalo chilling at the beautiful beaches in Lantau. They barely get in your way and there are certain zones that's filled with cattle, it's pretty fascinating really. At times they may hover over for a little nibble if they see food laid out (only the greens attract them).
Read our full guide to Lantau.
Where to spot: Pui O beach, Cheung Sha Beach, Tap Mun (we're not quite sure how they got there), Ngong Ping, and parts of Clear Water Bay.
7. Pangolin
The Chinese Pangolin is critically endangered as it often falls victim to poaching and illegal wildlife trade. Its scales are often used in Traditional Chinese Medicine, however use of pangolin meat or scales is now illegal as an effort to conserve this species.
Where to spot: It's very rare to spot the Chinese Pangolin as they're nocturnal and sleep inside burrows during the day. The slim chance lies in the farthest rural areas in Hong Kong like Tai Po.
8. Crab-eating Mongoose
One way to immediately tell the mammal you just encountered is the crab-eating mongoose is its long and tapering bushy tail. They are usually active in the mornings and evenings and are pretty impressive predators. They're pretty good swimmers and hunt along the banks of streams and close to water. Do they eat crabs? Yes. But they'll eat just about anything they catch including fish, snails, frogs, rodents, birds, reptiles, and insects.
Where to spot: Lin Ma Hang, Sha Tau Kok, Pat Sin Leng, Ma On Shan, and Plover Cove Country Parks.
9. Rhesus Macaque and Long-tailed Macaque
Over the years, due to heavy human feeding, the population of wild monkeys in Hong Kong has increased dramatically. And if you live in a mountainous area, there are even chances of wild monkeys making an uninvited entrance to your flat (no we aren't kidding!) Of course, it's common sense to not bring out food with you when you know you'll be seeing monkeys around. These guys are more skilled than we think and they'll sneakily devour your snacks before you can!
Where to spot: Kam Shan, Lion Rock, and Shing Mun Country Park.
Wild animals in Hong Kong: Amphibians and reptiles
10. Burmese Python
Hong Kong's largest snake species can stretch up to a staggering eight metres long, though more commonly observed closer to four metres when mature. They are not venomous but will attack when they feel provoked and leave dangerous bites, relatively calm otherwise.
Where to spot: Sai Kung and the New Territories, or the reptile enclosure at Kadoorie Farm and Botanic Garden
11. Green Turtle
Hong Kong has green turtles?! Yes, yes, it does. Sea turtles are endangered, not only in Hong Kong but elsewhere in the world. The Wild Animals Protection Ordinance has increased its efforts to protect our beloved sea turtles.
Where to spot: Their only nesting ground is the sandy beach Sham Wan at Lamma Island. However, the beach is restricted to access from 1 April to 31 October every year to allow the turtles to breed.
12. Romer's Tree Frog
Romer's tree frogs are endemic to Hong Kong and are the smallest amphibians recorded in the territory. They like damp areas that are well-wooded areas near small streams or other water sources suitable for breeding. This frog usually sits on low bushes, buries itself in fallen leaves, or rests on bare ground and its body colour provides a perfect camouflage to stay undercover from predators.
Where to spot: Lantau Island, Lamma Island, Po Toi Island, and Chek Lap Kok.
13. Hong Kong Newt
The Hong Kong warty newt is the only species of salamander found in Hong Kong. Its body colour ranges from light to dark brown, with patches of orange markings scattered on the ventral side, no one newt has the same patterns as another. Fun fact: they turn over and lie on their belly and play dead when a predator is near.
Where to spot: Unpolluted mountain streams; Tai Mo Shan, Shing Mun, Tai Tam Reservoir, and Tai Ho Stream.
Wild animals in Hong Kong: Birds
14. Little Egret
You probably have seen these white winged-fellas from afar in coastal areas and mangroves. Little egrets are sociable birds and are often seen in small flocks. Since they're mostly hovering over the water, their diet mainly consists of fish, crustaceans, and small reptiles.
Where to spot: Coastal areas of Hong Kong and mangroves. Very common to spot them at the Hong Kong Wetland Park.
15. Chinese Bulbul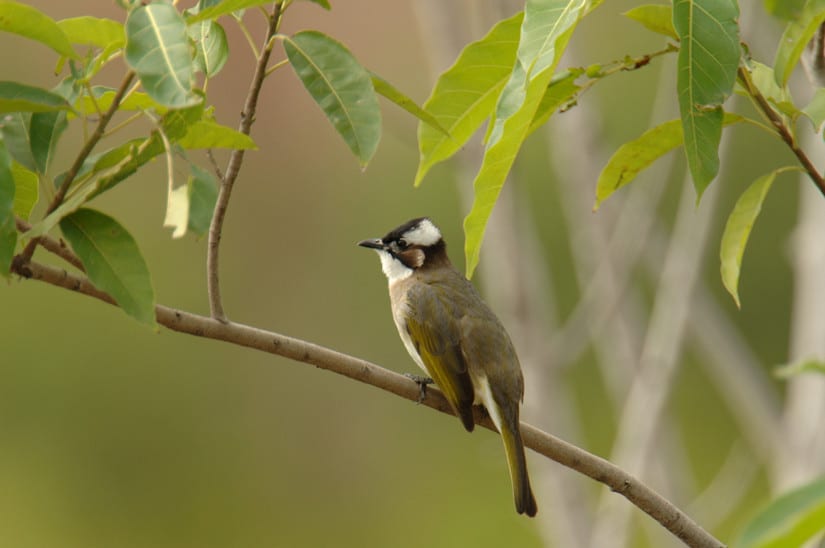 Ever sat around in a park and caught a quick glimpse of an elegant bird with a large white patch covering the nape and the sides of its black head? That's the Chinese Bulbul. They're always chirping and jumping from branch to branch in urban parks but you do have to be quick if you plan on capturing them in pictures.
Where to spot: Often seen in woodland in the countryside, urban parks, and wooded areas.
16. Black kite
No, not the beer brewers, the birds! Despite the name, these birds are dark brown rather than black. The black kites are so well-adjusted to the urban life that they'll comfortably glide above the skyscrapers just as much as they would over the countryside. While the kites breed in Hong Kong in the spring, the majority migrate here from northern parts of China in the autumn.
Where to spot: The Peak, Sai Kung Pier, and most urban areas.