Discover unique speakeasy experiences at hidden spots like Maggie Choo's
There's something about knowing a secret that no one else knows… We're spilling the beans on the best speakeasy bars in Hong Kong – tried and tested!
It's no secret that Hong Kong has a fair share of drinking establishments. From beer bars to gin bars to wine bars, you could probably throw a stone and hit one of the many watering holes around town. However, there are some drinking lounges that are harder to find than others. In fact, the speakeasy-style bar has become a popular theme in Hong Kong over the past decade. Inspired by the illicit businesses from when alcohol was illegal during the Prohibition era in the US, this style of "secret" bar has become a well-used novelty all over the world. Common signatures of these hidden bars are concealed entrances, lack of signage, and even cryptic buttons or switches. We've created a list of some of the most creative speakeasy bars in Hong Kong for you to find – hunting them down is half the fun!
Uncover the finest speakeasy bars in Hong Kong
1. Room 309
Located in The Pottinger Hong Kong discreetly next to The Envoy, Room 309 is a twist on the hotel room. You can gain access to this secret bar by going to the third floor and getting a key card from the "Reception". Prepare for an intimate experience with expert bartenders whipping up imaginative cocktails. In addition to seasonal offerings (such as the Hakuryu Sake collaboration until October 2023), make sure to try some of the R309 Golden Key Classics as well as the Invisible Cocktails – creative concoctions that are all clear.
Room 309, 3/F, The Pottinger Hong Kong, 74 Queen's Road Central, Central, Hong Kong
2. Please Don't Tell (PDT)
Although we're going directly against the directions of its name, we can't help but sing our praises for Please Don't Tell (PDT), a speakeasy located in The Landmark Mandarin Oriental. To gain access to this bar-within-a-bar, simply head to the vintage telephone booth on the mezzanine level of MO Bar. A collaboration with the New York City bar of the same name, here you'll find many classic cocktails from the original PDT as well as Hong Kong-specific twists. Snag one of the 25 available seats to nibble on a delicious array of hot dogs while sipping on signature cocktails like the Wonka's Tonic.
PDT makes it to our list of best cocktail classes in Hong Kong, too!
Please Don't Tell (PDT) (inside MO Bar), The Landmark Mandarin Oriental, 15 Queen's Road Central, Central, Hong Kong, p. 2132 0110
3. The Poet
When you come to a blue wall with a chrome gold door on Staunton Street, flick the switch on the right to gain entry to The Poet. The sleek interior is decorated with backlit circular mirrors and marble tables, evoking the intimate and mystical vibes of a classic cocktail bar. With a menu with a wide variety of wines, whiskies, gins, and signature cocktails, you'll always have something new to sample at The Poet. In fact, be sure to stop by regularly for its frequent bartender guest shifts to experience inventive drinks by new faces.
The Poet, G/F, 13 Staunton Street, Central, Hong Kong, p. 9880 1550 (Whatsapp only)
4. Lockdown
While many may not want to reminisce about the infamous period of pandemic restrictions, Lockdown chooses to celebrate the 852's resilience in those uncertain times. Freshly opened in September 2023 by Laura and Agung Prabowo, the minds behind Penicillin and Dead&, Lockdown aptly draws parallels to the Prohibition era in America. Joining the list of speakeasy bars in Hong Kong with quirky entrances, you'll have to locate an inconspicuous door next to a display "toilet" to enter this bar. Inside this 30-seat drinkery is the first ever special rotating bar station developed by Agung himself. Browse the cocktail menu featuring 25 creative concoctions split into three categories: Experimental, Vintage, and Remastered. Don't forget to try some bites inspired by indigenous Asian cuisine as you watch the master mixologists at work.
Lockdown, G/F, 27 Hollywood Road, Central, Hong Kong
5. The Green Door
Newly opened in June 2023, New York-style cocktail lounge The Green Door is now part of the litany of speakeasy bars in Hong Kong. Weave through a bustling wet market to find this cosy bar inspired by Alice in Wonderland. This 36-seater offers meticulously crafted drinks like the Marie, a twist on a traditional Bloody Mary. In addition to the creative cocktail menu, The Green Door has an enticing range of bar bites, too. Complete your experience with some French Fries or even a Sirloin Steak for a filling meal.
The Green Door, LG/F, Welley Building, 97 Wellington Street, Central, Hong Kong
6. Maggie Choo's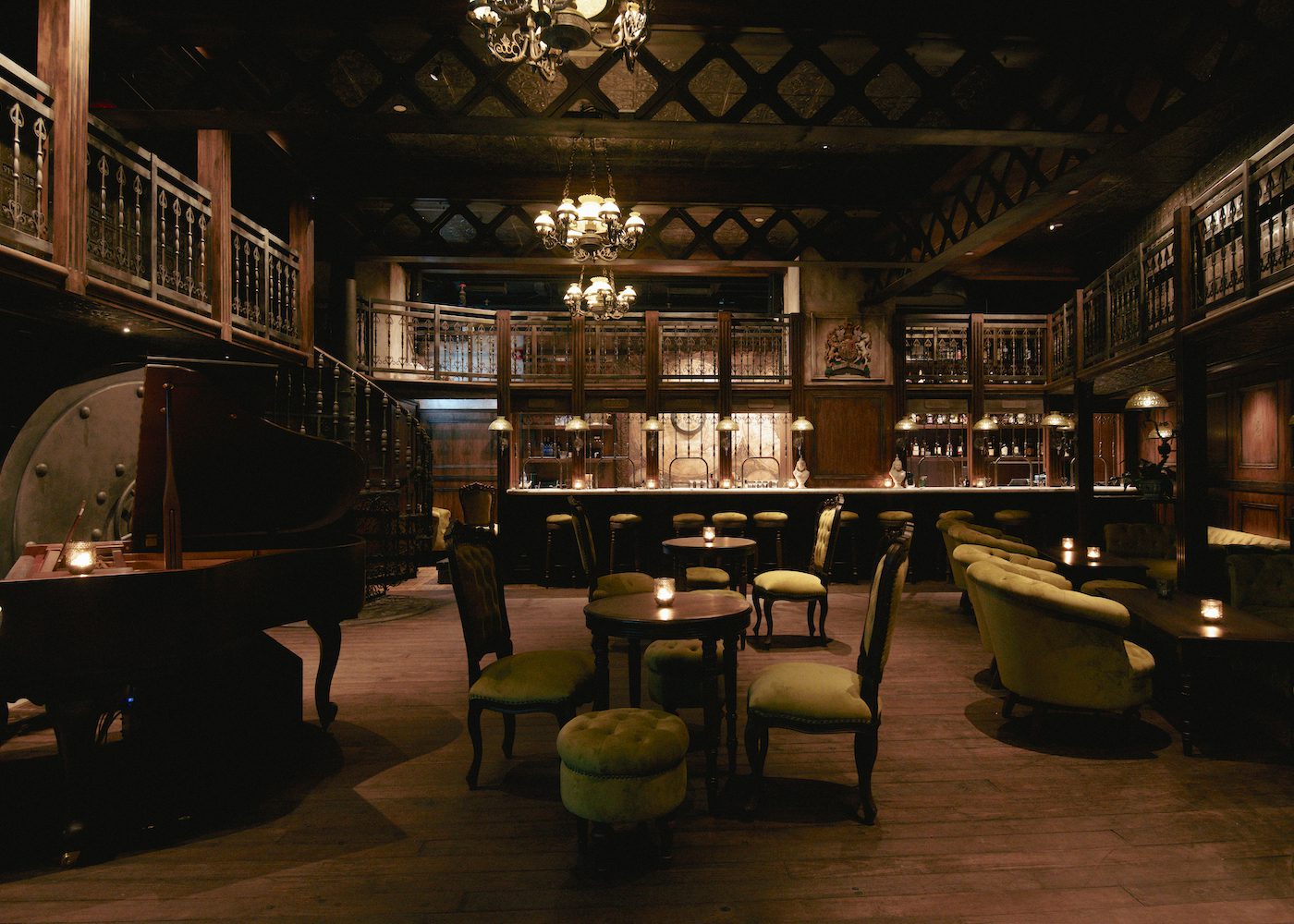 Get transported to the old-world glamour of the Far East when you step into Maggie Choo's. Part cocktail bar and part cabaret, this hidden gem is fronted by one of the numerous antique shops dotted on Hollywood Road. From the mind of Ashley Sutton – the creative force behind spaces like Iron Fairies, The Mixing Room, and Dragonfly – Maggie Choo's brings a fictional abandoned bank to life. Complete with an antique-style vault door and two iron spiral staircases, guests can order cocktails from the bank teller counter bar. Dancers will captivate the crowd throughout the night, backed by a rotating roster of jazz and blues acts. Enjoy the ambience and sip on a cocktail inspired by classic elixirs as a reward for locating the purposefully placed button that grants you entry to this uninhibited speakeasy.
Maggie Choo's, G/F, Chinachem Hollywood Centre, 1-13 Hollywood Road, Central, Hong Kong, p. 6250 6000
7. Mizunara: The Library
Far from a traditional speakeasy, Mizunara: The Library is modelled on a Ginza whiskey bar and features a tranquil outdoor Japanese Garden terrace. Tucked away in a nondescript building in Wan Chai, this unassuming hideaway holds over 700 whiskey labels from Scotland, Japan, India, and more. Sink into plush chairs and order a custom cocktail featuring your favourite whiskey.
Mizunara: The Library, 4/F, Kiu Yin Commercial Building, 361-363 Lockhart Road, Wan Chai, Hong Kong, p. 3571 9797
8. Mostly Harmless
In a discreet upstairs space in SYP, omakase cocktail bar Mostly Harmless comes from the creative mind of accomplished bartender Ezra Star. It's one of the most promising new bars in Hong Kong, making its first entry onto the list of Asia's 50 Best Bars 2023 at No. 33. You'll find the white-tiled interior of this unassuming bar covered in guest names and cocktail offerings, scribbled on by magic markers. The menu changes almost daily based on the haul of seasonal ingredients collected from local farms. The relaxed atmosphere of Mostly Harmless easily invites multiple returns, as you'll get to sample something new with each visit.
Mostly Harmless, 2/F, 110 Queen's Road West, Sai Ying Pun, Hong Kong
9. Heya
One of the few sake speakeasy bars in Hong Kong, Heya is a snug 18-seater hideout situated on a floor of Winner Commercial Building on Lockhart Road. With over 30 different labels of sake, you can order by the glass or by the bottle to sample all the diverse flavours of these Japanese rice wines. Another calling card of Heya is the ever-changing Cantonese soups on the menu that'll provide an interesting pairing for your choice of sake for the night.
Heya, Unit 4A, Winner Commercial Building, 401-403 Lockhart Road, Causeway Bay, Hong Kong, p. 3188 9201
10. Diplomat Social Club at The Diplomat
The Gold winner of "Best Bar in Hong Kong" in our Love Local Awards 2023, The Diplomat is a whimsical bar that presents reimagined cocktails in a space reminiscent of a classic neighbourhood bar. This watering hole also provides the ultimate bar-within-a-bar experience with the Diplomat Social Club. An invitation-only speakeasy, this pink VIP room serves not only cocktails, but also Champagne which can be specially summoned upon pressing a special button on each table. While visiting The Diplomat is exciting enough, definitely try to snag a coveted invite if you know a member of the Diplomat Social Club!
The Diplomat, LG/F, H Code, 45 Pottinger Street, Central, Hong Kong, p. 3619 0302
11. Dr. Fern's Gin Parlour
One of the speakeasy bars in Hong Kong with a less conventional location, Dr. Fern's Gin Parlour is concealed within the glitzy shopping mall Landmark Atrium. Venture into the basement level to find two subtle doctor's office doors. It may take a second try to enter through the right door, but inside you'll find a gin parlour where Dr. Fern treats ailments with botanicals and a hefty dose of gin. With over 200 bottles, this hidden bar's menu offers choices that are far from your typical G&T. Fresh herbs, botanicals, and bitters complement the premium gins and refreshing tonics, providing you with the perfect "prescription" for your maladies.
Dr. Fern's Gin Parlour, Shop B31A, Landmark Atrium, 15 Queen's Road Central, Central, Hong Kong, p. 2111 9449
12. Stockton
Venture down an alleyway and up a staircase towards a lightbulb for Stockton, the ultimate secret whiskey bar. As you adjust to the dimly lit surroundings, you'll spot some antique trinkets as well as the oddly mounted animal head along the walls. Perfect for a chilled date night, Stockton is a great place to drape across the leather furniture while nursing a tipple. While the whiskey lovers will enjoy the large catalogue of labels, those who prefer to cut down on hard liquor can enjoy the innovative cocktails. Although most drop by Stockton for its drinks, don't discount its food menu too, which is full of flavourful bar bites.
Stockton, 32 Wyndham Street, Central, Hong Kong, p. 2565 5268
13. Frank's Library at Foxglove
One of Hong Kong's worst kept secrets is Foxglove, a bar behind an inconspicuous door of an "umbrella shop" of the same name. A premier live music venue, this luxurious lounge serves elegant craft cocktails as well as delicious dim sum. But wait – are you ready for some speakeasy-inception? Inside Foxglove is an even more secretive bar called Frank's Library. Behind a velvet curtain and, with the right press of a button on a fake elevator control panel, is a private den for 20 where you can order exclusive cocktails. Make sure to book ahead for a seat at these two popular bars, so that you won't be left high and dry on a night out.
Frank's Library, Foxglove, 2/F, Printing House, 6 Duddell Street/G/F, 18 Ice House Street, Central, Hong Kong, p. 2116 8949
14. The Wise King
Nestled in the belly of Soho past a discreet door off Staunton Street, The Wise King is a hidden cocktail bar inspired by King Alfonso X of Castile and the decadent age of the 13th century. It takes its cues from the age of tapas and ostentatious drinking cultures. Surrounded by lavish decor in an interior fit for Spanish royalty, you'll be kept well-fed and buzzing throughout the night with tasty bites and libations. Seasonal menus with creative concoctions are often on hand, but be sure to ask if the Negroni is available – The Wise King is considered by many to have one of the best iterations of the drink in Hong Kong.
The Wise King, B/F, Soho, Tsung Wing Lane, 25 Staunton Street, Central, Hong Kong
15. The Wilshire
You may have gone to the popular Mexican joint 11 Westside a dozen times without realising that there's a bar hidden within the premises. Located covertly at the rear of the restaurant with the flip of a switch, The Wilshire has walls lined up with bottles from top to bottom, along with a well-placed pool table at the centre of the bar. Special craft cocktails are available from the small menu, as well as the option to request your favourite classic drink from the bartender. This intimate watering hole will definitely provide a unique experience to cap off your night in Kennedy Town.
Exploring the neighbourhood? Check out our friendly guide to Kennedy Town.
The Wilshire, 11 Westside, 1/F, 11 Davis Street, Kennedy Town, Hong Kong
16. The Old Man
Concealed in an alley off Aberdeen Street is The Old Man, an Ernest Hemingway-inspired speakeasy and a jewel in the crown of Hong Kong's bar scene since its opening in 2017. An upcycled mosaic portrait of Hemingway and the capital I-shaped bar helps give the space a captivating ambience reminiscent of the great writer himself. Seasonal specialty cocktails with traces of literary flourish are routinely created by the talented mixologists. Step into this one-of-a-kind drinking den for some adventurous tipples and perhaps a rousing discussion of The Old Man and the Sea.
The Old Man, LG/F, 37-39 Aberdeen Street, Central, Hong Kong
17. Maison Lecercle
Once known as the XX, Rosewood Hong Kong's Maison Lecercle retains its status as one of the most exclusive speakeasy bars in Hong Kong by being strictly invitation-only. Serving rare spirits, fine wines, and a curated menu of cocktails crafted from the finest ingredients, this members-only experience is sure to be something special. For the lucky few who score an invite with the right connections, enjoy it for the rest of us!
Maison Lecercle, 5/F, Rosewood Hong Kong, Victoria Dockside, 18 Salisbury Road, Tsim Sha Tsui, Hong Kong
18. Ping Pong 129 Gintoneria
If you're wandering the streets of Sai Ying Pun looking for Ping Pong 129 Gintoneria, just keep your eyes peeled for a bright red door. This old ping pong hall turned Spanish gin joint is a local fave due to its selection of international gins, retro vibes, and red neon-heavy decor – perfect for the 'gram. At Ping Pong 129 Gintoneria, you can spend a night huddled at one of the wooden tables with a group of friends, sharing some small plates along with a mean G&T. While the prices are a little higher here, you could factor in the complete experience as part of the expense.
Ping Pong 129 Gintoneria, L/G, Nam Cheong House, 129 Second Street, Sai Ying Pun, Hong Kong, p. 9835 5061