You're worked hard. Treat yourself <3 (Photography: The St. Regis Hong Kong via Facebook)
Escape the frenetic pace of the city and get some good old me-time at the best hotel spas in Hong Kong.
Those of you planning for a day-off or a hotel staycation (sorry, quarantine doesn't count!), seize the chance to kick back and relax. We're talking about taking advantage of your unlimited access to the spa facilities, and endless choices between facials, manicures and pedicures, among other services. If you like the sound of luxurious massages and heavenly waterbed lounges, you're in the right place! Here's our guide to the best hotel spas in Hong Kong.
We can't get enough of the best hotel spas in Hong Kong
1. Asaya, Rosewood Hong Kong
A wellness concept unlike any other in Hong Kong, we can't get enough of Asaya at Rosewood Hong Kong. Set amid a beautifully designed space in Tsim Sha Tsui, step outside of frenetic Hong Kong and into a sanctuary of calm here. Whether you're looking for the best facial in Hong Kong or an exceptional massage, you won't be disappointed. Be sure to book in for time in the Bath House too so you can enjoy the recliners in the jacuzzi.
Read our full review of Asaya Hong Kong.
Asaya Hong Kong, 6/F, Rosewood Hong Kong, Victoria Dockside, 18 Salisbury Road, Tsim Sha Tsui, Hong Kong, p. 3891 8588, 尖沙嘴梳士巴利道18號Victoria Dockside香港瑰麗酒店6樓
2. The Ritz-Carlton Spa, Ritz-Carlton Hong Kong
Following in the footsteps of its sister outlets around the world, The Ritz-Carlton Hong Kong takes back its spa outlets, which were previously managed by ESPA, to bring not only a brand new concept, The Ritz-Carlton Spa, but also new treatments with lines like MDNA Skin, Nubo and 111Skin.
The menu in Hong Kong specifically pays tribute to the venue's status as the world's highest spa by offering experiences that allow guests to feel they are 'in the clouds'. If that's what you're looking to experience, look no further than the Perfect Harmony treatment, a 100-minute long luxurious facial and a body massage, leveraging on the powerful effects of the scarce Montecatini clay by MDNA Skin. But if you're desperately seeking that all-important Hollywood glow, the spa's Velvet Red Carpet Facial is a real skincare saviour, with NuBo's cutting-edge technology in the White Diamond Ice-Glow Mask redefining facial contours and instantly rehydrating the skin. It's definitely one of our favourite hotel spas in Hong Kong.
The Ritz-Carlton Spa, 116/F, The Ritz-Carlton Hong Kong, International Commerce Centre, 1 Austin Road West, Kowloon, Hong Kong, p. 2263 2040, 九龍柯士甸道1號環球貿易廣場香港麗思卡爾頓酒店116樓麗思卡爾頓水療會所
3. MiraSpa, The Mira Hong Kong
While there may be many hotel spas in Hong Kong, there's nothing quite like MiraSpa. It's a 21st century spa concept built around an urban sanctuary which offers an exciting and fresh range of results-oriented treatments. Featuring handpicked spa brands including Parisian cosmetologist Anne Semonin and the New York-based Somme Institute range as well as The Refinery – UK's grooming standard for men. Moreover, we've been huge fans of the MDT5 Vita Fusion Facial by Somme Institute. This treatment uses precious jade stones to stimulate lymphatic drainage while a glycolic serum smoothes out texture and tone leaving you with a more luminous facial complexion.
Check out why we love staying at The Mira Hong Kong.
MiraSpa, B3/F, The Mira Hong Kong, Mira Place, 118-130 Nathan Road, Tsim Sha Tsui, Hong Kong, p. 2315 5500, 尖沙嘴彌敦道118-130號美麗華廣場 The Mira Hong Kong B3層
4. The Oriental Spa, The Landmark Mandarin Oriental Hong Kong
Hotel spas don't get any more luxurious than this! Forbes Five Star rated, The Oriental Spa is a calming oasis in the heart of the city – perfect for the time-pressed to get a quick beauty fix. A standout on their extensive spa menu is the Jet Lag Cure – an indulgence to clear the mind and uplift the spirit of any harried traveller or even cures holiday blues! It's essentially an intensive rebalancing body treatment designed to help fight the symptoms of jet lag from water retention and stiff muscles, to dehydrated skin and insomnia.
Wanting to look good from head to toe, we'd suggest the popular Pedi:Mani:Cure Studio by Bastien Gonzalez, which is much more than your average mani-pedi. Expect tools that resemble dental instruments – but fear not, therapists are professionally trained and ensure you won't experience any discomfort. The result is incredible: healthy-looking nails that are so shiny you won't even need to wear any polish afterwards. When it comes to hotel spas in Hong Kong, it doesn't get much better.
The Oriental Spa, The Landmark Mandarin Oriental Hong Kong, 15 Queen's Road Central, Hong Kong, p. 2132 0188, 香港中環皇后大道中15號置地廣場香港置地文華東方酒店東方水療中心
5. The Athletic Club and Spa, The St. Regis Hong Kong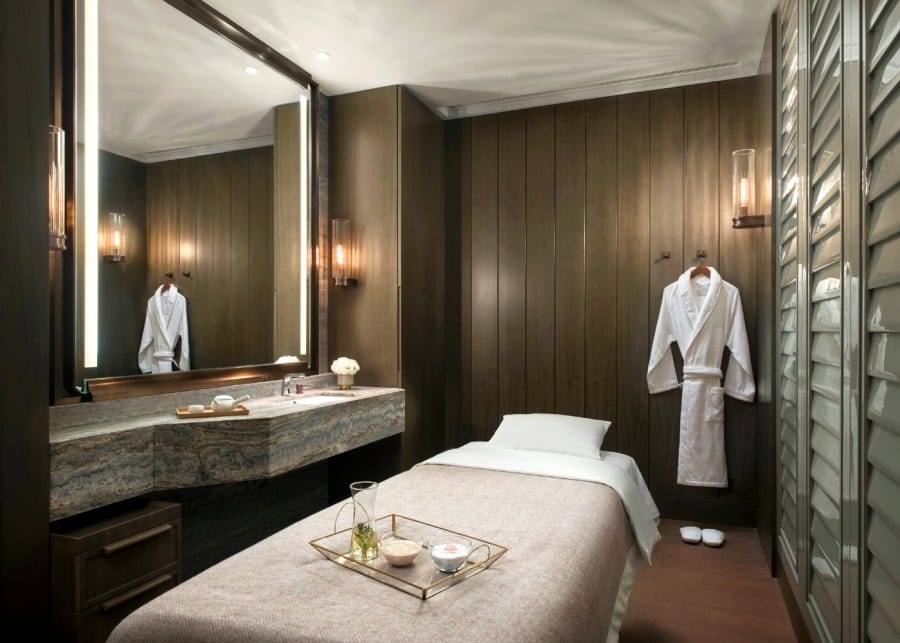 Feel the pressures of the day melt away at St. Regis' Athletic Club and Spa. Aiming to provide a personalised experience for all its guests, the Spa offers results-driven treatments using high performance products. Choose from a wide range of facials, body scrub, massages, and eye treatments. Alternatively, sweat it out at the steam room, or at the Club's fitness classes.
The Athletic Club and Spa, 7/F, The St. Regis Hong Kong, One Harbour Drive, Wan Chai, Hong Kong, p. 2138 6998, 灣仔港灣徑1​號香港瑞吉酒店1號7樓水療中心
6. Chuan Spa
Located at Cordis Hong Kong, Chuan Spa is renowned for its epic treatments that are inspired by the elements: Earth, Wood, Fire, Air, Water. Book in for their signature Chuan Harmony Massage and you'll be unwinding in no time, plus they have a range of facials, scrubs, and Traditional Chinese Medicine therapies for you to try. Best of all, afterwards, there's a relaxing room with stunning views where you can unwind with tea (or champagne!) and a selection of healthy treats.
Chuan Spa, Level 41, Cordis Hong Kong, 555 Shanghai Street, Mong Kok, Hong Kong, p. 3552 3510, 旺角上海街555號香港康得思酒店41樓「川」水療中心
7. Plateau Spa, Grand Hyatt Hong Kong
If time doesn't permit you to travel, you have come to the right place, as this is one of the best hotel spas in town. Plateau Spa offers a holistic, retreat-like staycation and is Hong Kong's first residential spa. Depending on the treatments chosen, spa therapists will utilise products from any of three proven ranges: Omorovicza luxury skincare products, exclusive to Plateau in Hong Kong, harness the healing and anti-aging power of Hungary's mineral-rich waters; Carita is an extremely popular French anti-aging skincare brand founded in 1937; and Thalgo, that works to identify, extract and concentrate the benefits of marine water, mud and algae to develop its spa and beauty products.
Those of you wishing to turn back the clock, go for the Cinetic Lift Expert, seen as a viable alternative to cosmetic surgery, and the first to combine ultrasound, micro-currents and LED lighting for visible results after just one treatment – say goodbye to fine lines and wrinkles.
Plateau Spa, Grand Hyatt Hong Kong, 11/F, 1 Harbour Road, Wan Chai, Hong Kong, p. 2584 7688, 灣仔港灣道1號香港君悅酒店11樓靜水沁園水療中心
8. The Peninsula Spa, The Peninsula Hong Kong
The Peninsula Spa will help restore your body and mind with its bespoke treatments that take place in a peaceful and lavish environment. The Spa has 14 rooms, including six treatment rooms and one exclusive room for couple spa sessions. Go for The Peninsula Spa's signature treatments, such as the Peninsula Time, the Qi Balancing Meridian Massage, or the Ultimate Radiance Aesthetic Facial, which uses products from the prestigious Margy's Monte Carlo. On top of these, the Spa has a variety of treatments that focus on wellness, radiance, or performance. It offers aromatherapy experience showers and cooling ice showers, too.
The Peninsula Spa, 7/F, The Peninsula Hong Kong, p. 2696 6682, 尖沙咀梳士巴利道半島酒店7樓半島水療中心
9. Spa at Four Seasons Hotel Hong Kong
Whether you're looking for facials, sports therapy, or pre- and post-natal massages, the Spa at Four Seasons Hotel has you covered. Can't decide on what you want? Narrow down the list with the Spa's holistic healing rituals, which are curated spa and wellness packages. Among the various sets, the Reawakening Ritual is ideal for combatting stress-induced insomnia. Another signature is the Empowerment and Nurture Ritual, featuring chakra balancing, meditation, as well as a Lomi Lomi Full Body, Head and Facial Massage.
If you're going to the Spa as a couple or a group, revel in a bubble bath with a glass of champagne in hand with the Double Serenity ritual. Don't forget to check the Hotel's e-shop for exclusive wellness offers from time to time!
Spa at Four Seasons Hotel Hong Kong, 8 Finance Street, Central, Hong Kong, p. 3196 8888, 中環金融街8號香港四季酒店
10. Health Club and Spa, Island Shangri-La Hong Kong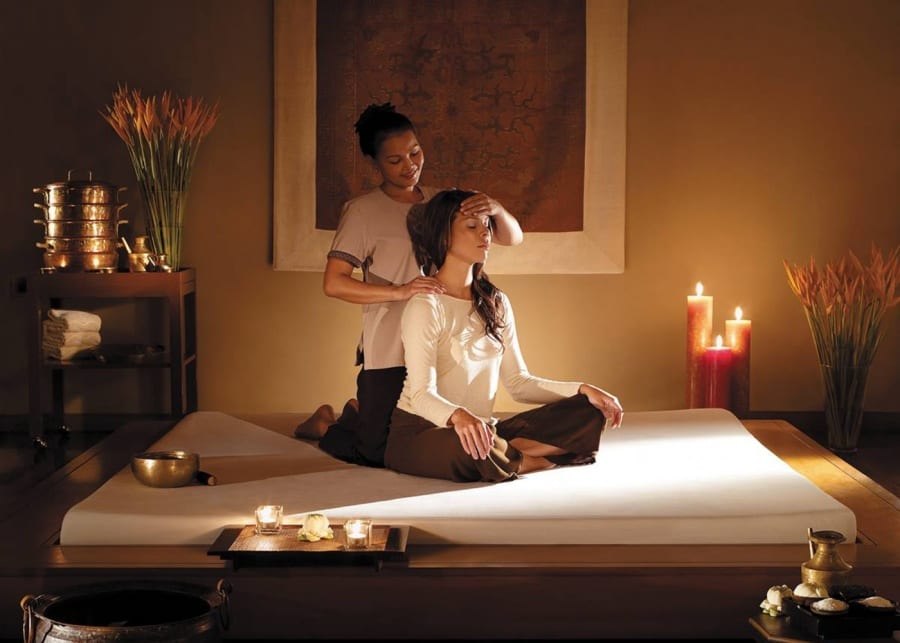 Leave yourself to the hands of the professional team at Island Shangri-La's Health Club and Spa. These skilled therapists will tailor massages, facials, and body treatments to your very needs. From the Signature Asian Blend Massage, to sports massages that relieve your deep tissues, neck, and back, the deluxe treatments at Island Shangri-La will refresh your body and spirit. There are also other luxurious wellness facilities in the hotel, including indoor and outdoor hot whirlpool baths, a solarium, as well as sauna and steam rooms.
Health Club and Spa, 8/F, Island Shangri-La Hong Kong, Pacific Place, Supreme Court Road, Central, Hong Kong, p. 2877 3838, 中環法院道太古廣場港島香格里拉大酒店8樓
11. Angsana Spa, Hotel Icon
Drawing on Hotel Icon's sleek design and natural approach from sister brand Banyan Tree Spa, we give a huge thumbs up to their idea of bringing  nature indoors. The spa's aesthetic beauty is interspersed with bamboo and charming Asian artworks showcasing bamboo motifs, and treatments place special emphasis on the use of natural ingredients such as native flowers, fruits, and you guessed it, bamboo!
The Bamboo massage is an absolute must-try as the bamboo's smooth texture and its natural ability to retain heat is designed to soothe tense muscles and is suitable for guests who experience persistent muscle aches and pain. Spa aficionados can also look forward to the body conditioning treatments celebrating the use of natural and indigenous ingredients such as Avocado Smoothie.  Rich in vitamins, mineral and natural oils, this creamy mask moisturises the skin and is especially suitable for dry skin. Latte Barley is a perfect treat for coffee lovers. The aromatic coffee cleanses and lightens blemishes while barley nourishes and softens the skin.
Take a look at our full review of Hotel ICON.
Angsana Spa, Hotel Icon, 9/F, 17 Science Museum Road, Tsim Sha Tsui East, Kowloon, Hong Kong, p. 3400 1052, 尖東科學館道17號唯港薈9樓悦椿Spa
12. The Spa at Base Camp, Kerry Hotel Hong Kong
'Back to Basics' is the concept behind The Spa at Base Camp. Book in a facial, massage, or body treatment to rejuvenate your core. Or, improve your health and performance by taking up one of the Journeys at Base Camp, such as the Look Good, Feel Good package. This includes a private personal training session, followed by a massage as a reward for your workout. For a completely relaxing experience, opt for the Total Body Makeover journey, which features a full-body scrub to exfoliate and hydrate your skin, plus a massage and a Gold Hydralifting Facial.
The Spa at Base Camp, 4/F, Kerry Hotel Hong Kong, 38 Hung Luen Road, Hung Hom Bay, Hong Kong, p. 2252 5888, 紅磡灣紅鸞道38號香港嘉里酒店4樓Base Camp水療中心
13. Bliss Spa, W Hong Kong
Known to be super stylish, the W Hotel has an equally chic wellness centre to match. Bliss Spa is home to Hong Kong's highest outdoor harbour-view swimming pool (called the Wet Deck, on the 76th floor), as well as various luxury heat and water facilities. Besides its signature packages, Bliss Spa provides an extensive range of facials, massages, body scrubs and wraps, pregnancy care treatments, and more. The Spa also doesn't shy away from using machines for its treatments, so for those who'd like to experience more advanced facial, slimming, and firming therapies, Bliss Spa would be the perfect place.
Bliss Spa, 72/F, W Hong Kong, 1 Austin Road West, Kowloon Station, Hong kong, p. 3717 2797, 九龍站柯士甸道西1號香港W酒店72樓Bliss水療中心
I-Spa, InterContinental Hong Kong (closed)
The feng-shui-inspired I-Spa rates high on any spa-goers list and why not, when it's got the most stunning outdoor pool facility in Hong Kong. With a range of top-notch treatments, they use the latest technology for a slimmer, more toned and sculpted body and face with the newest model of the LPG Endermologie Integral M6 and K-Lift Age Management treatment. The former treatment specifically targets the stubborn hip and thigh areas, while The Cellu M6 body technique uses motorised rollers to help reduce cellulite and enhance firmness. The treatment ends with a firming contour moisturiser to hydrate the skin.
Alternatively, transform your skin with the modern age management treatment, the "K Lift" Youth Accelerator Facial which includes a deep cleansing and exfoliating multi-acid peel for the face and neck. Here, LED red light and impulse micro currents are utilised for an hour to help awaken cell functions, accelerate the skin's repair mechanism and trigger DNA regeneration. The treatment concludes with the infusion of essential nutrients into the deep layers of the skin using cutting-edge transdermal delivery technology.
I-Spa, InterContinental Hong Kong, 18 Salisbury Road, Kowloon, Hong Kong, p. 2721 1211, 尖沙嘴梳士巴利道18號香港洲際酒店