Skip the carbs, load up on flavour with this tuna from Clarence's keto menu
Enjoy exceptional food coupled with outstanding service and loads of ambience at our favourite fine dining restaurants in Hong Kong for wooing and other activities.
When it comes to food in Hong Kong, the choice is limitless, but that definitely doesn't mean it's all good. From the affordable options like street food and yum cha, to the more luxurious free-flow brunches, we're all about finding food that tastes absolutely amazing, no matter the cost. If you're looking for something a little more intimate where you can get guaranteed great service alongside wonderful food, we've put together a list of our top picks for fine dining restaurants in Hong Kong. You know you're worth it!
Our top picks for fine dining restaurants in Hong Kong
1. Clarence
French cuisine gets a contemporary twist at Clarence, the stunning new restaurant from Chef Olivier Elzer of L'Envol. Clarence playfully celebrates French classics using lighter Asian cooking techniques like charcoal grilling, steaming and teppan. Signature dishes include the Japanese-inspired Yakifrenchy skewers and mains like skate wing with endive comté salad. Health-conscious diners will also love Elzer's new keto menu capped at just 1,088 calories.
Clarence, 25/F, H Code, 45 Pottinger Street, Central, Hong Kong, p. 3568 1397
2. Whisk, The Mira Hong Kong
Located in the heart of Tsim Sha Tsui, Whisk is a Michelin-recommended restaurant that showcases innovative French-Japanese cuisine. Using fresh, seasonal ingredients, menus are curated by Chef William Lau, including the six- or ten-course "Finesse" dinner tasting menu; an omakase dinner experience; and the "Taste of Craft" lunch menu. Highlights in the "Finesse" menu include Hirame, served with shishito pesto, raisins, and capers jam; the chargrilled A4 Saga Wagyu Ribeye; and – our favourite – Lobster made with tomato confit and cognac. For autumn 2022, you'll find other seasonal items such as Shiitake et Girolle – a tart made with fresh girolle, Japanese shiitake, and truffles.
Whisk, 5/F, The Mira Hong Kong, Mira Place, 118 Nathan Road, Tsim Sha Tsui, Hong Kong, p. 2315 5999
3. Hansik Goo
You might've tried all the Korean fried chicken and K-BBQ joints around town, but have you gone for Korean fine dining in Hong Kong? We had our first taste at Hansik Goo, a Michelin-starred establishment helmed by Chef Mingoo. We love the restaurant's unpretentious ambience, with simplistic but elegant interiors enhanced by warm wood. The menus at Hansik Goo change seasonally, but they always stay true to authentic ingredients and techniques. This summer, Hansik Goo highlighted the Korean Feast, which provides a fun and elevated Korean BBQ experience.
Our top tip: be sure to try the cheongju at Hansik Goo. This clear, refined rice wine is rarely consumed in Hong Kong and believe us when we say we can't go back to soju after this!
Hansik Goo, 1/F, The Wellington, 198 Wellington Street, Central, Hong Kong, p. 2798 8768
4. Arcane
To say that we are obsessed with Shane Osborn's Arcane is an understatement; it's undoubtedly one of our fave fine dining restaurants in Hong Kong. Serving modern European cuisine, the seasonally led dishes are presented a la carte, alongside daily specials and a set lunch menu crafted with the freshest produce from Japan, France, and the UK. Dishes at Arcane pair perfectly with the amazing selection from its 1,200-bottle wine cellar – another highlight of the restaurant.
Those who prefer to dine al fresco can sit at the terrace that is designed as an English tropical garden surrounded by a fresh kitchen garden, which grows 30 different types of herbs, fruits, and vegetables featured on the menu. This is a great place to take people who love plant-based cuisine, too, as they always have a number of vegetarian dishes on the menu and can cater to different dietary restrictions. Thank you, Shane!
Check out our full thoughts on Arcane and see why we're in love with the vegan menu at Arcane, as well.
Arcane, 3/F, 18 On Lan street, Central, Hong Kong, p. 2728 0178
5. Arbor
Inspired by nature and serenity, Arbor welcomes guest in a relaxing bohemian ambience that invokes the feeling of the forest and offers panoramic views of the city from its home in H Queen's. A perfect place for fine dining, business meetings, leisurely drinks or even celebrations, the restaurant serves innovative French cuisine and offers three- to four-course lunch and brunch, as well as three different nine-course menus for dinner. The seasonal dishes are made using French gastronomy techniques and premium ingredients mainly from Japan by Chef Erik Räty, and we just can't get enough of his thoughtful flavour combinations and wonderful plating skills.
Find out why we fell in love with Arbor.
Arbor, 25/F, H Queen's, 80 Queen's Road Central, Central, Hong Kong, p. 3185 8388
6. Hue
Located at the Hong Kong Museum of Art, Hue offers exceptional views of Victoria Harbour which can only be outdone by the restaurant's modern Australian cuisine. This isn't stuffy fine dining – immerse yourself in the relaxing vibes at Hue while savouring flavour combinations that will dazzle the palate. We recommend trying the seafood dishes, though be sure to stay for dessert. It's also a great option for sundowners.
Read our full review of Hue.
Hue, 1/F, Hong Kong Museum of Art, 10 Salisbury Road, Tsim Sha Tsui, Hong Kong, p. 3500 5888
7. China Tang Landmark
Originally from London, China Tang is the perfect place if you'd like to indulge in some Chinese fine dining. Led by three-Michelin-starred chef Albert Au Kwok Keung, the restaurant, which is located at the Landmark Atrium, serves Beijing, Sichuan, and Cantonese cuisine, including dim sum that is offered throughout the day. The interior also offers an authentic Chinese ambiance, complete with the hand-painted and hand-embroidered wallpaper, Chinese paintings, antique books, and other decorative pieces. Aside from its open dining area, the restaurant also has six private rooms for a larger party – there's even one that has its own kitchen and restroom!
China Tang Landmark, Shop 411-413, 4/F, Landmark Atrium, 15 Queen's Road Central, Central, Hong Kong, p. 2522 2148
8. VEA
Sitting on the 30th floor of The Wellington, VEA offers an eight-course tasting menu that changes regularly to keep things interesting. Led by Chef Vicky Cheng, the restaurant features 25 counter seats that run along the length of its open kitchen, providing guests with an intimate dining experience. Combining French flavours, colours, and techniques with beautiful plating, the meal also comes with a choice of wine and cocktail pairings that helps elevate the taste of the dishes and makes the experience even more special. This is our pick of fine dining restaurants in Hong Kong if you love experimental cuisine.
VEA, 30/F, The Wellington, 198 Wellington Street, Central, Hong Kong, p. 2711 8639
9. Above & Beyond
Soaring high atop Hotel Icon, Above & Beyond has earned recognition as a top destination for Chinese fine dining and wine pairings in Hong Kong. Signature dishes like Crispy Chicken, Wok-fried Lobster with Egg White and Black Truffles showcase Above & Beyond's culinary excellence. Beyond the refined a la carte selections, diners can indulge in the restaurant's gourmet dim sum as they steep fine Chinese teas.
Read our full review on Above & Beyond.
Above & Beyond, 28/F, Hotel Icon, 17 Science Museum Road, Tsim Sha Tsui East, Hong Kong, p. 3400 1318
10. Gaddi's, The Peninsula Hong Kong
Inside The Peninsula Hong Kong, Gaddi's is one of the longest standing French restaurants in Hong Kong. Following the less-is-more approach, the restaurant offers the best French produce, such as lobster, duck, and seafood that are prepared with a modern twist and changed seasonally. The space is also much loved thanks to its elegant dining room that boasts some of the hotel's most prized collectibles, and that's why it's one of our fave fine dining restaurants in Hong Kong.
Gaddi's, 1/F, The Peninsula Hong Kong, 22 Salisbury Road, Tsim Sha Tsui, Hong Kong, p. 2696 6763
11. 8½ Otto e Mezzo Bombana
Italian food lovers should definitely head over to 8½ Otto e Mezzo Bombana if looking to experience the ultimate fine dining restaurant in Hong Kong for Italian fare. While you may have to wait a couple of months to get a seat, the food will definitely be worth the wait, with delightful pastas and indulgent risottos around every turn. And if you won't take our word for it, 8½ Otto e Mezzo Bombana by Chef Umberto Bombana is the only Italian restaurant outside of Italy to be awarded the coveted three Michelin stars!
8½ Otto e Mezzo Bombana, Shop 202, 2/F, Landmark Alexandra, 18 Chater Road, Central, Hong Kong, p. 2537 8859
12. Pazzi Isshokenmei
At Pazzi Isshokenmei, dining is an artful blend of passion and precision. As the name hints, with "pazzi" meaning mad in Italian and "isshokenmei" meaning utmost effort in Japanese, Pazzi embraces bold fusions. Hand-selected ingredients shine in creations like the Tokyo Burrata, combining ripe Japanese peach and tomato with creamy Italian burrata. The sleek H Queen's restaurant also delights guests with unique experiences like the "Treasure Chest" – a vintage cart wheeled tableside for hand rolling sushi with premium ingredients.
Pazzi Isshokenmei, 2/F, H Queen's, 80 Queen's Road Central, Central, Hong Kong, p. 2555 0666
13. Man Wah, Mandarin Oriental Hotel, Hong Kong
Located on the 25th floor, Man Wah is a Michelin-starred Cantonese restaurant situated inside Mandarin Oriental. Man Wah serves both a la carte and set menu for dinner and has an additional menu of dim sum during the day. Aside from the food, the restaurant also has everything it takes to be labelled as one of the best fine dining restaurants in Hong Kong, the space adorned with original paintings on silks, lacquered enamel, and gold-plated ceiling lamps that resemble birdcages. Enjoy the stunning views of Victoria Harbour and the sparkling Hong Kong skyline as you sample some of the finest Cantonese cuisine in town.
Man Wah, 25/F, Mandarin Oriental, Hong Kong, 5 Connaught Road, Central, Hong Kong, p. 2522 0111
14. Amber, The Landmark Mandarin Oriental, Hong Kong
Led by Chef Richard Ekkebus, Amber is a two-Michelin-starred restaurant serving contemporary French cuisine. Seafood is thehighlight of the menu, featuring dishes made with Korean abalone, uni, langoustine, and Mieral Bresse pigeon breast. The restaurant also sources its ingredients from different areas across the globe, including line-caught fish from Japan, blue lobsters from Brittany, and dragonfruit from China. Moreover, Amber stocks up on over 980 artisanal, old world wines that you can choose to pair with your dishes.
Amber, 7/F, The Landmark Mandarin Oriental, The Landmark, 15 Queen's Road Central, Hong Kong, p. 2132 0066
15. Caprice, Four Seasons Hotel Hong Kong
Located at Four Seasons Hotel, Caprice is a two-Michelin-starred restaurant which serves classic French dishes fused with flavours from around the world. Headed by Chef de Cuisine Guillaume Galliot, the restaurant serves both a la carte and set menu for lunch and dinner, as well as an extensive selection of wines. The signature dishes include Laksa with King Crab, Confit Egg, and Sudachi Lime; and Racan Pigeon from Maison Bellorr.
Caprice, 6/F, Four Seasons Hotel Hong Kong, 8 Finance Street, Central, Hong Kong, p. 3196 8860
16. Whey
Managing to nab one Michelin star within a year of opening in Hong Kong, we think Whey is one of the most promising fine dining restaurants in Hong Kong. Not only does Chef Barry Quek successfully bring together his international experience with his Singaporean roots, but the menu also demonstrates a high level of commitment to supporting local farms and businesses in its use of ingredients. The Curry Laksa Konjac Rice with lobster and sambal is one of our favourite dishes due to its unique texture and aroma. The deconstructed 'Bak Kut Teh' New Territories Pork Rib also stood out to us as an innovative rendition of the Singapore-Malaysian classic.
Whey, UG/F, The Wellington, 198 Wellington Street, Central, Hong Kong, p. 2693 3198
17. Écriture
This Michelin two-star French restaurant is sleek and futuristic with its metallic tables and chairs, not to mention the frameless windows that show off an exceptional panoramic view of Hong Kong Island. Écriture whisks diners away on a voyage of sensory and gastronomic discovery with its French-Japanese fusion. Treat your taste buds to the Japanese bamboo shoot, caviar, and uni tart. To truly experience everything Écriture has to offer, you can pair your meal with a generous eight glasses of quality wine.
Écriture, 26/F, H Queen's, 80 Queen's Road Central, Central, Hong Kong, p. 2795 5996
18. Chaat
True to its name, which means "to lick" in Hindi, Chaat's contemporary Indian cuisine is so irresistible you'll be tempted to lick the plate clean. Helmed by acclaimed chef Manav Tuli, the Rosewood Hong Kong restaurant reimagines street food classics from across India with finesse. Signature dishes like the black pepper chicken tikka showcase Chaat's flair for elevating traditional flavours using premium ingredients and techniques like tandoor ovens. The spice-infused cocktails further complement the food's rich aromas and tastes. Since its opening, it has earned a reputation as one of Hong Kong's most coveted reservations!
Chaat, 5/F, Rosewood, Victoria Dockside, 18 Salisbury Road, Tsim Sha Tsui, Hong Kong, p. 3891 8732
19. Roganic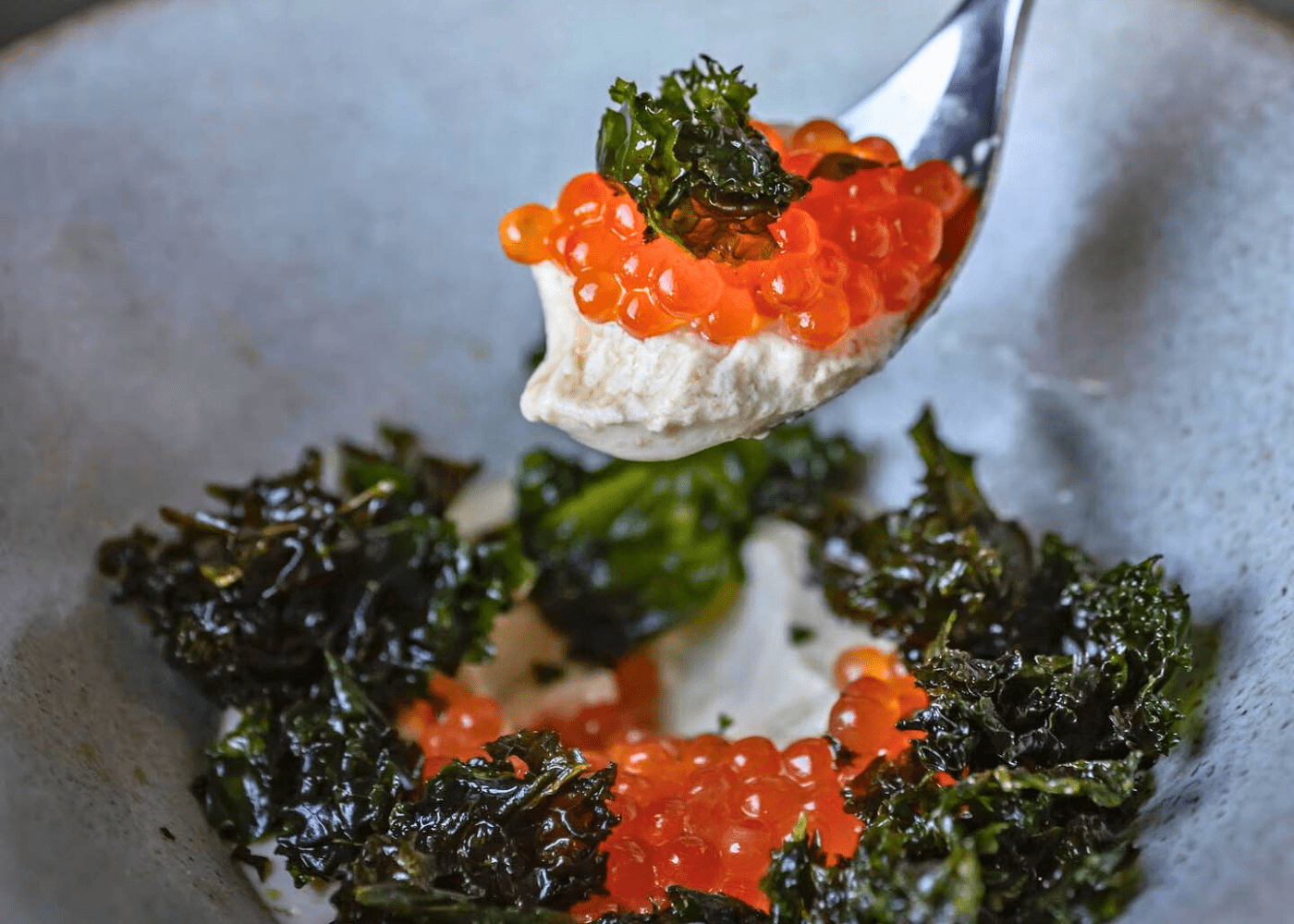 Roganic is one of our firm favourites when it comes to fine dining in Hong Kong. With a focus on local and sustainable ingredients, this restaurant presents a city-centric take on a farm-to-table dining experience, offering contemporary British cooking. In 2020, Roganic Hong Kong was awarded a Michelin Green star, less than ten months after opening (impressive, we know!) as an acknowledgement of the restaurant's efforts towards sustainability. In addition to the Green star, Roganic has also been given one Michelin star in 2022. As Chef Simon Rogan assimilates his cooking style with the local scene, it's no surprise to see innovative dishes like Hong Kong pea tart, wah kee farm pork, and sea urchin custard here.
Roganic, Shop 08, UG/F, Sino Plaza, 255 Gloucester Road, Causeway Bay, Hong Kong, p. 2817 8383
20. Restaurant Petrus, Island Shangri-La Hong Kong
Boasting scenic views of Victoria Harbour, Restaurant Petrus sits atop Island Shangri-La on the 56th floor, and presents a refreshing interpretation on contemporary French cuisine. The restaurant is also famous for its impressive list of wines, which has won numerous awards throughout the years. They cater to all diets, and we particularly love the vegetarian options.
Restaurant Petrus, 56/F, Island Shangri-La Hong Kong, Phrase 2, Pacific Place, 88 Queensway, Admiralty, Hong Kong, p. 2820 8590
21. Mono
With only 30 seats in the restaurant, long-time fans may mourn that Mono is no longer a 'hidden gem' in Hong Kong, now that it's been awarded a Michelin star for 2022. That said, the certified outstanding quality of Mono is more the reason for you to pay it a visit. Led by Chef Ricardo Chaneton, Mono offers inventive Latin American cuisine, which is crafted using sustainably sourced ingredients. Groove to some Latin vinyl music while enjoying the seasonal tasting menu at Mono. Psst – we've only ever heard good things about Mono's brioche, so make sure you've got space in your stomach for that!
Mono, 5/F, 18 On Lan Street, Central, Hong Kong, p. 9726 9301
22. Épure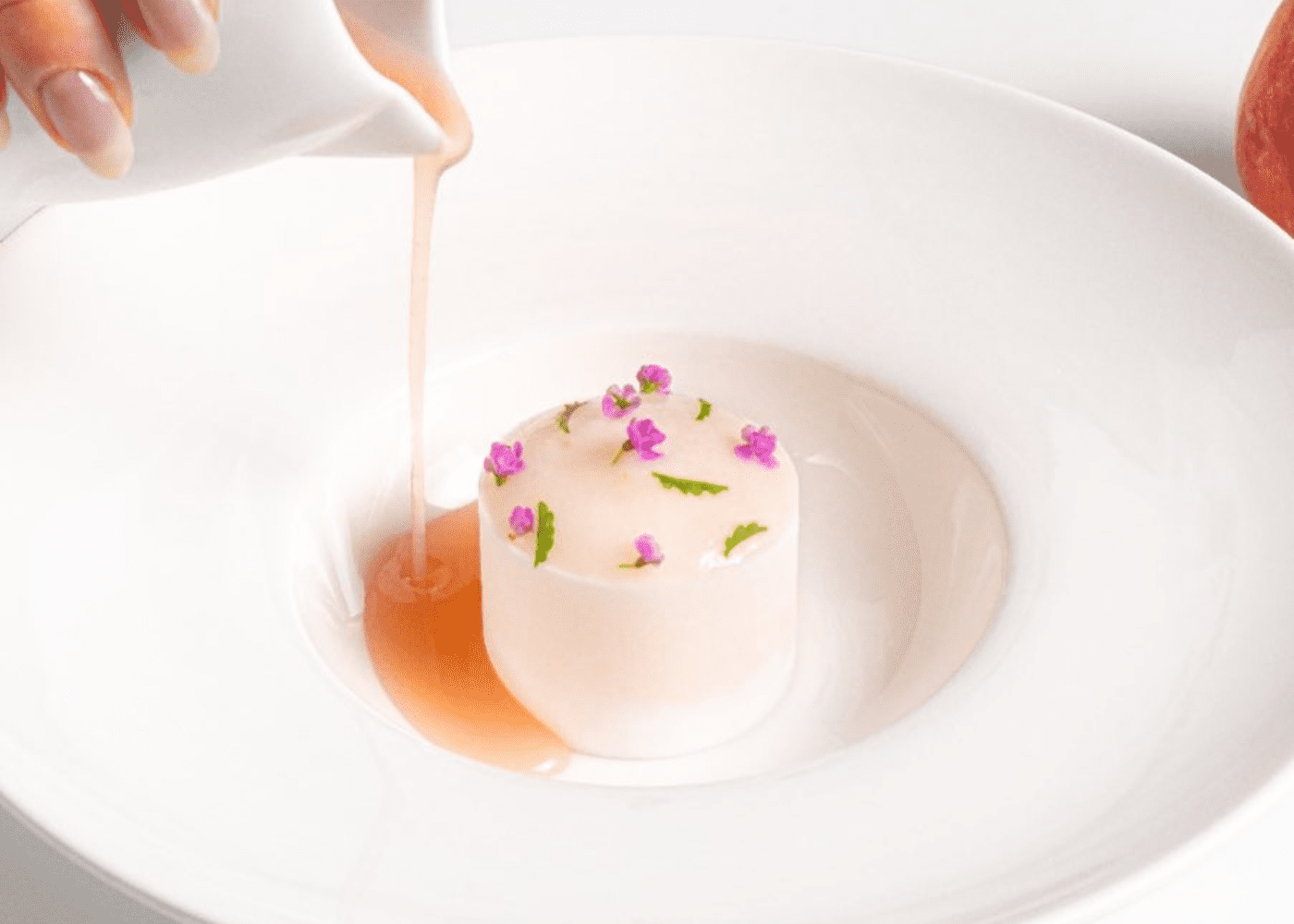 Headed by Chef Nicolas Boutin, Épure serves contemporary French cuisine using the finest seasonal ingredients from France, along with an impressive collection of vintage wines to pair. Inspired by nature, the interiors are adorned with murals of King Louis XIV's hunting forest. It also offers views of its French garden, Cafe Epure, where guests can enjoy cocktails and French nibbles while overlooking the views of Victoria Harbour and the Hong Kong skyline. Though anything you order at Épure will be heavenly, don't forget to try the cheese cart!
Épure, Shop 403, 4/F, Ocean Centre, Harbour City, 3-27 Canton Road, Tsim Sha Tsui, Hong Kong, p. 3185 8338
23. T'ang Court, The Langham Hong Kong
It's an incredible feat for T'ang Court at The Langham to be able to retain its three Michelin stars for over a decade – but it also comes as no surprise. This restaurant illustrates the Tang Dynasty, the golden age of ancient China, not only with its lavish furnishings, but also its deliciously authentic Cantonese dishes. Menu highlights include Braised Bird's Nest with Shredded Abalone, Chicken, and Conpoy; Braised Mixed Seafood with Bean Curd in Hot and Sour Soup; and more. Don't miss out on the signature dim sum at T'ang Court, too!
T'ang Court, 1/F and 2/F, The Langham Hong Kong, 8 Peking Road, Tsim Sha Tsui, Hong Kong, p. 2132 7898
24. Tenzushi
If you follow the omakase community 'concern group' on Facebook, you'd be no stranger to Tenzushi. This Japanese fine dining restaurant in Hong Kong is notorious for being one of the most difficult restaurants to book in Hong Kong – and for good reason. Not only does the restaurant use the finest seasonal ingredients, but its menu is also the creative culmination of its artisanal chefs. With its consistent quality, you can always trust the team at Tenzushi to deliver the best omakase and fine dining experience.
Tenzushi, Shop 13, 2/F, J Senses, 18 Ship Street, Wan Chai, Hong Kong, p. 5533 9263
[This article was originally published in June 2020 and updated in 2023 by Catherine Pun.]