Discover endless fun you can have in the water! (Photography: EpicStockMedia via Canva Pro)
Find out where to learn sea kayaking, windsurfing, and paddle boarding. Here's our guide to water sports in Hong Kong.
At Honeycombers, we like conquering different hiking trails, as well as exploring the beautiful island around Hong Kong. But if you're an adventurous soul and want to do more than just hitting the best beaches in the city, we've put together a list of the most exciting water sports in Hong Kong. If you've always wanted to go sailing, surfing or paddle boarding, well, here's where to start!
Here's where to learn water sports in Hong Kong
1. Sailing: Royal Hong Kong Yacht Club
Always dreamed of sailing around the world (or at least the Hong Kong harbour) but don't know your port from your starboard? Learn the ins-and-outs of sailing by taking a course at Royal Hong Kong Yacht Club. The water sports centre offers adult and youth sail training courses where experienced sailors will teach you the safe practices of sailing. Learn the ropes via private or group classes, and take note that you must be an experienced swimmer before you can enrol.
Royal Hong Kong Yacht Club, Kellett Island, Causeway Bay, Hong Kong, p. 2832 2817
2. Windsurfing: Cheung Chau Windsurfing Centre
Take a day trip to Cheung Chau island to learn the joys of windsurfing. The Cheung Chau Windsurfing Centre is located within a laid back cove with gentle waves that make it excellent for beginners. The centre is founded by Mr. Lai Gun, known as the "Godfather of Windsurfing" in Hong Kong, who coached his niece to become an Olympic Gold Medalist. Never touched a windsurf board in your life? Not to worry – courses are run by certified instructors who take you through a full-day of coaching, providing land and theory simulation before hitting the water in the afternoon.
Cheung Chau Windsurfing Centre, No. 1 Hak Pai Road, Cheung Chau, Hong Kong, p. 2981 8316
3. Paddle boarding: Hong Kong Surf & Stand Up Paddle Board Association
Test your balancing skills and give your core a good workout on a stand up paddle board. Yes, this might be one of the hardest water sports in Hong Kong, but like any activity all it takes is a little bit of practice. Hong Kong Surf & Stand Up Paddle Board Association has beginner classes that are two-hours long, and those who complete the course and have fallen in love with the sport can advance into Intermediate and Advanced programs. You'll get the hang of it quickly.
Hong Kong Surf & Stand Up Paddle Board Association, Unit 31, 3/F, Shing Yip Industrial Building, 19-21 Shing Yip Street, Kwun Tong, Hong Kong, p. 3502 1823
4. Surfing: Surfing Hong Kong
Always wanted to learn how to catch a wave but felt too intimidated? Don't be – Antony Dickson, who has surfed some of the best swells in the world since the 1970s, will teach you all the basics in a one-hour class at Surfing Hong Kong at Big Wave Bay Beach. On-shore, you'll learn how to paddle safely, prop yourself up, and keep your balance all before you head out into the ocean. Definitely one of the coolest water sports in Hong Kong to master.
Surfing Hong Kong, Big Wave Bay Beach, Shek O, Hong Kong, p. 6485 1673
5. Kayaking: Hong Kong Aqua-Bound Centre
Ease into kayaking in good hands with Hong Kong Aqua-Bound Centre. Before going into the water, you'll get a kayak and safety lesson, which will help you get the hang of the sport as soon as you paddle into the kayak tour. In the protected waters of Stanley Main Beach, embark on a three-to-four mile round trip to see the sights of Stanley Peninsula. A knowledgeable kayak guide will be with you the entire time to help you improve your skills and tell you about the surrounding region.
Hong Kong Aqua-Bound Centre, Hoi Fun​g Path, Stanley Main Beach, Hong Kong, p. 8211 3876
6. Kiteboarding: Hong Kong Kiteboarding School
Conquered windsurfing, wakeboarding, surfing, and waterskiing? For an extra adrenaline rush, try kiteboarding for a change. This extreme water sport takes some time to master, but Hong Kong Kiteboarding School will have you gliding through the waves in no time. Instructor Davy Tang will guide you through the challenging sport safely in a solo class or with some buddies. Once you've got the hang of it, you can learn more advanced techniques like jumping.
Hong Kong Kiteboarding School, Shui Hau Wan, Lantau Island, Hong Kong, p. 9288 4571
7. Diving: Splash Hong Kong
Hong Kong may not be the first place that comes to mind when you think of diving the deep blue sea, but if you want to get PADI Certified before your next trip to Indonesia or Thailand, Splash Hong Kong will get you fully licensed in 30 hours. Training first takes place in a confined swimming pool, where divers learn all about diving safety, followed by open water dives around Sai Kung, and a basic-diving theory test that you can take at home.
Splash Hong Kong, Ko Fu House, 58-72 Fuk Man Road, Sai Kung, New Territories, Hong Kong, p. 2792 4495
8. Jet Skiing: Wake2Chill
Hop aboard a jet ski and ride through the waves in style. At Wake2Chill, you can rent jet skis by the hour and venture speedily out to sea. First-timers will undergo a 10-minute health and safety tutorial before riding with a member of staff. If you're a seasoned jet skier and hold a grade two operating licence, you can drive freely out to the sea alone after a 15-minute training session on basics and safety measures.
Wake2Chill, Tseng Tau Village Pier, Three Fathoms Cove, Sai Sha Road, Sai Kung, Hong Kong, p. 6888 0483
9. Wakeboarding/Wakesurfing: Wakeboard Hong Kong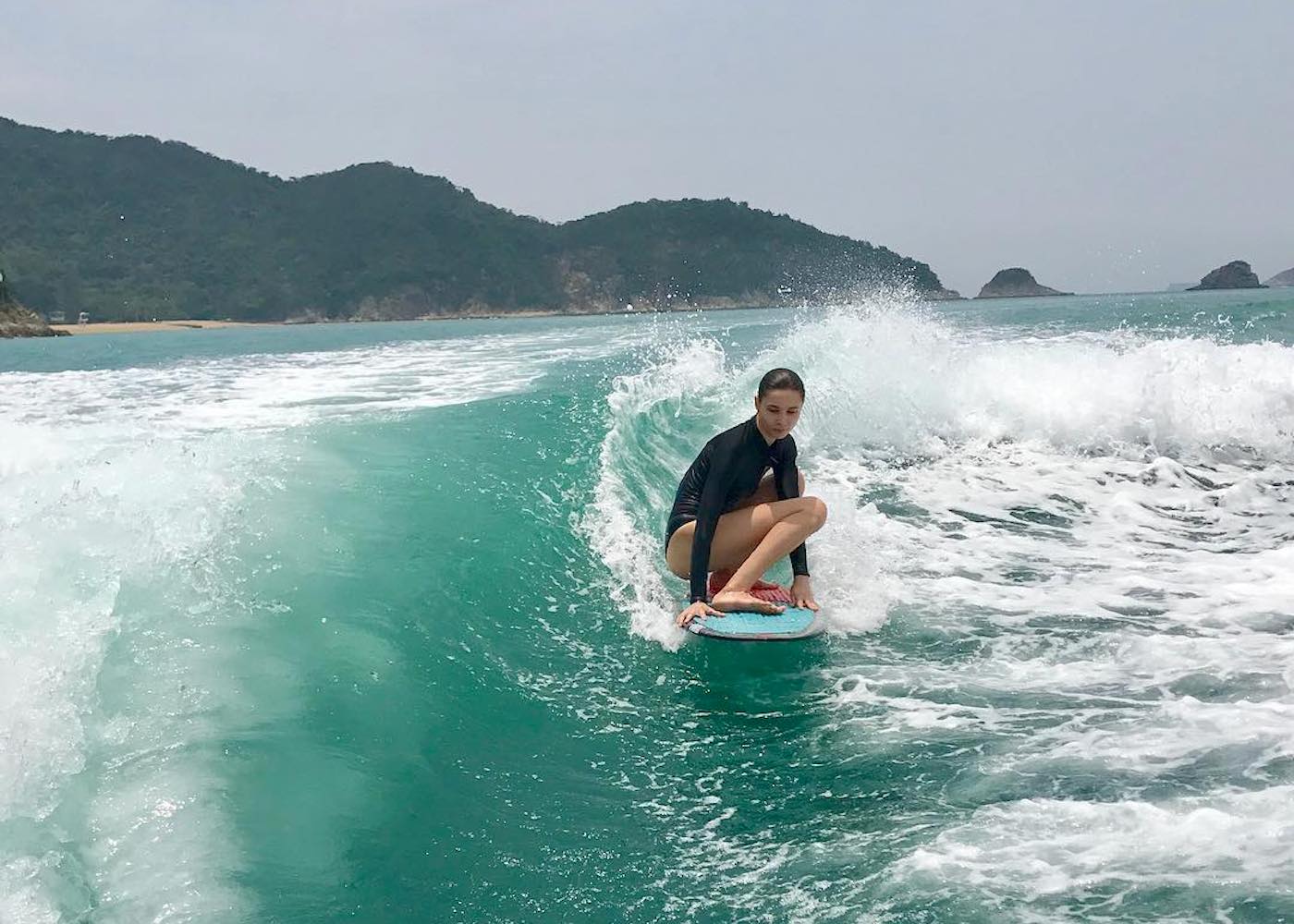 Whether you're a beginner or a skilled boarder, Wakeboard Hong Kong will bring out the inner wakeboarder or wakesurfer in you. In every session, you will be guided through the ins and outs of wakeboarding or wakesurfing before you take a ride. For the Friends & Family Package you get two hours of safe fun with an instructor and a boat. Wakeboard Hong Kong even offers Corporate and School Packages for some out-of-the-box water sports adventures with a big group.
Surf up with our complete guide to wakeboarding and wakesurfing.
Wakeboard Hong Kong, 101 Tai Tam Tuk Village, Tai Tam Tuk, Hong Kong, p. 9638 2069
[This article was originally published in September 2018 and updated in 2023 by Min Ji Park.]