You can find a diverse range of alternative rock bands, indie musicians, jazz ensembles, techno and deep house DJs at these live music venues
For those of you who are fans of underground gigs or wanting to discover different Hong Kong bands – whether it be alternative rock, psychedelic, techno or hardcore music – there is actually a growing number of live music venues in Hong Kong. We've put together a list of the best live houses and event spaces, so you know where to go for a great night of rock'n'roll or a soothing live jazz session.
Top live music venues in Hong Kong
Lobster Bar & Grill
Located inside the swanky Island Shangri-La in the heart of Admiralty, Lobster Bar & Grill is the perfect place to unwind after a long day at work. Enjoy a bespoke cocktail and one of their signature seafood platters as you take in the sweet stylings of the house band from 9pm every evening.
Lobster Bar & Grill, Level 6, Island Shangri-La, Supreme Court Road, Hong Kong
Lost Stars Livehouse Bar & Eatery
Lost Stars Livehouse Bar & Eatery is one of the cosiest live music venues in Hong Kong. Not only do they serve delicious tapas and drinks, ranging from tortillas to garlic and mushroom linguine, they also have different local bands and artists as frequent musical guests, including Hong Kong band Lil' Ashes who are big fans of the space. It's definitely one of the best places to eat if you fancy an evening with great food and live music!
Lost Stars Livehouse Bar & Eatery, G/F, Shop 506, Phase 1, Square Mile, 11 Li Tak Street, Tai Kok Tsui, Hong Kong, p. 2337 6728, 大角咀利得街11號利奥坊一期地下506號舖
Mihn Club
Mihn is a cool live music spot for people to express themselves freely whilst dancing along to different types of late-night rave music and groovy electronic beats. All races, genders and sexual identities are welcome in this community. Just remember, no photos are allowed at Mihn!
Mihn Club, 279 Des Voeux Road, Central, Hong Kong, 中環德輔道中279號宀 Club
The 50s Bar & Restaurant
Hidden away in the heart of Wan Chai, this is one of our fave places to enjoy a night of sing-along classics with a great crowd. Go for dinner and drinks, and stay for the band that plays classics from the 50s, 60, 70s and beyond. They even take requests, and you can guarantee you won't leave without hitting the dance floor.
The 50s Bar & Restaurant, 9/F, QRE Plaza, 202 Queen's Road East, Hong Kong
Peel Fresco Music Lounge
At this lounge in SoHo, you'll be able to catch a range of local and international acts from every genre. From Canto pop to poetry, jazz to indie rock, be sure to follow along on Facebook to see what's happening here every week.
Peel Fresco Music Lounge, 49 Peel Street, SoHo, Hong Kong
SaiCoeng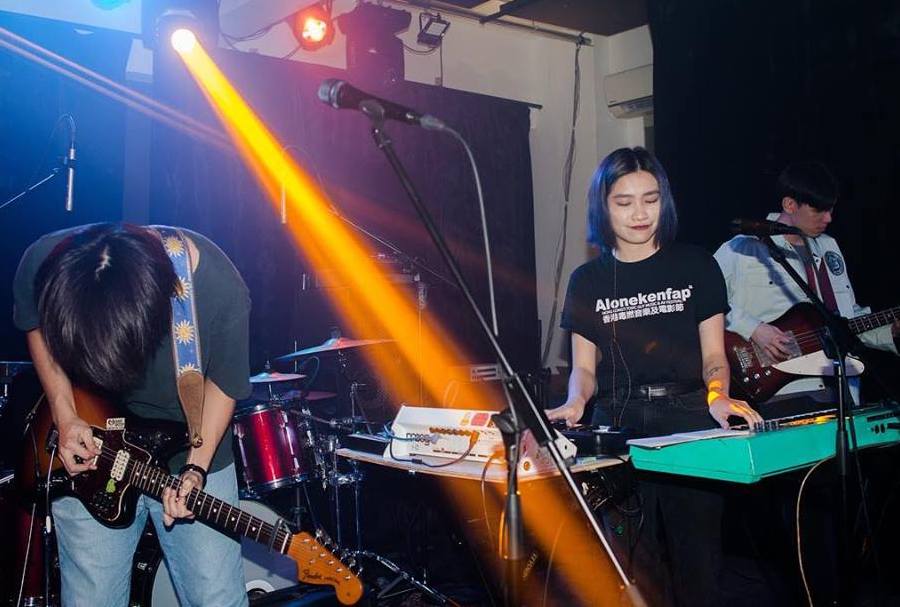 Opened in November, 2018, SaiCoeng (meaning "tiny venue" in Cantonese) is one of the latest live music venues in Hong Kong. It's a joy to find an array of local underground bands playing at SaiCoeng, making it one of the loveliest places to discover talented local acts in the city.
SaiCoeng, 8 Wah Sing Street, Kwai Hing, Hong Kong, 葵興華星街8號細場
Mudita
Looking for a comfortable lounge and club for your late-night outings? Mudita is a new concept lounge that offers live jazzfunk music along with a selection of international and local music acts. Have a tasty cocktail and enjoy the evening.
Read more about Mudita.
Mudita, G/F, 24-30 Ice House Street, Central, Hong Kong, p. 2810 9902, 中環雪廠街24-30號順豪商業大廈地舖
Social Room
Located in the heart of Central, Social Room is a creative and vibey space dedicated to enhancing the underground experience. They have a relaxed bar area with seating, as well as a large dancefloor area with a raised stage and DJ boot for audience of all kinds. From techno and deep house to experimental music, you will be amazed by the underground artists and DJs that they invite.
Social Room, Won Hing Building, 74-78 Stanley Street, Central, Hong Kong, 中環士丹利街74-78號旺興大廈3樓
MOM Livehouse
Hidden in the basement of Seven Seas Shopping Centre in North Point, MOM Livehouse is an edgy space that can hold up to 200 people standing. If you're into alternative rock, indie pop, shoegaze or folk music, you will often find great gigs here featuring a large number of both local and internationally-renowned indie bands and singer-songwriters.
MOM Livehouse, B39, Seven Seas Shopping Centre, 117-121 Kings Road, North Point, Hong Kong, 炮台山七海商業中心地庫B39號鋪
Salon 10
Not only is Salon 10 a cosy restaurant and bar, it's also a beloved social club for frequent gig goers. There are often live music events happening late at night, featuring techno, house, underground EDM and jazz music. It definitely qualifies as one of the coolest secretive spots in Central!
Salon 10, 10 Arbuthnot Road, Central, Hong Kong, p. 2801 6768, 中環亞畢諾道10號
Hong Kong Fringe Club
Hong Kong Fringe Club is a modern cultural space for theatre performances, live music events and art exhibitions. Constantly inviting jazz ensembles and classical orchestra to play in the house, Hong Kong Fringe Club is perfect for those who would love an enticing performance of live jazz music after a hectic day of work, such as their well-received Big Band Night series.
Hong Kong Fringe Club, 2 Lower Albert Road, Central, Hong Kong, p. 2521 7251, 中環下亞厘畢道2號
TTN (This Town Needs)
Hidden Agenda, formerly known as the most prominent underground live music venues in Hong Kong, was forced to shut down due to legal argument with the government. Having changed its name now, TTN (originated from the slogan This Town Needs Live) wants people to rethink what Hong Kong lacks and needs under this political climate. You can find everything from hardcore, rock to post-rock gigs at the amazing TTN.
TTN, 1/F, Ocean One, 6 Shung Shun Street Yau Tong, Kowloon, Hong Kong, 九龍油塘崇信街6號Ocean One 1樓
STUDIO
As a welcoming jazz bar and lounge in Central, STUDIO is ideal for fans of jazz, R&B and neo-soul music to have an after-work gathering while enjoying some soothing jazz tunes. Live music usually runs from 9pm until midnight, and resident and international DJs will continue entertaining you for the rest of night.
STUDIO, On Hing Building, 1 On Hing Terrace, Central, Hong Kong, 安慶台1號安慶大廈
Volar
Being one of the hottest nightclubs in Central, Volar often presents an array of famous techno DJs and pioneers of electronic dance music to perform in the house. Visitors are guaranteed a great time dancing and sweating on the dancefloor.
Volar, B/F, Ho Lee Commerical Building, 38-44 D'Aguilar Street, Lan Kwai Fong, Central, Hong Kong, p. 2810 1510, 中環蘭桂坊德己立街38-44號好利商業大廈地庫
Foxglove
Foxglove is a classy establishment in Central offering French bistro flavours on their menu. Not only are we fans of their weekly Happy Hour promotions, their wonderful live jazz evenings (starting from 9 or 10pm several nights a week) are also not to be missed.
Foxglove, 2nd Floor Printing House, 18 Ice House Street, Central, Hong Kong, p. 2116 8949, 中環雪廠街18號印刷行2樓
SAAL
Most known for their Friday Escape! Live and Kill Jazz series, SAAL is a multi-purpose event space in Kwun Tong that holds underground gigs, workshops and poetry nights. Having invited a diverse range of up-and-coming experimental artists and bands to perform, it's becomes a hotspot for people to discover new music, especially noise music.
SAAL, Room D, 3/F, King Wan Industrial Building, 54 Hung To Road, Kwun Tong, Hong Kong, 觀塘區鴻圖道景雲工廠大廈3樓D室
Grappa's Cellar (now closed)
From internationally-renowned rock bands to comedians, restaurants and bar Grappa's Cellar is home to many live music events and comedy nights. Don't miss out on one of the coolest live music venues in Hong Kong while enjoying the best of Italian dining.
Grappa's Cellar, Basement 1, Jardine House, 1 Connaught Place, Central, Hong Kong, p. 2521 2322, 中環康樂廣場1號怡和大廈地庫1號舖