Are you ready to rock 'n' roll? (Photography: The Iron Fairies Hong Kong via Facebook)
You can find a diverse range of alternative rock bands, indie musicians, jazz ensembles, techno, and deep house DJs at these live music venues.
There are tons of things to do in Hong Kong, especially at night – and one of our fave activities is to chill out to some nice music at a dive bar on a Friday eve. Whether you're into jazz, alternative rock, or techno, there'll be a place for you in the city to jam out to a live performance. For those of you who are craving underground gigs or wanting to discover different local bands, check out our list of the best live music venues in Hong Kong.
Rock out at the best live music venues in Hong Kong
1. Lost Stars Livehouse Bar & Eatery
One of the cosiest live music venues in Hong Kong, Lost Stars Livehouse Bar & Eatery not only serves delicious tapas and drinks, ranging from tortillas to garlic and mushroom linguine, it also has different local bands and artists as frequent musical guests, including Hong Kong band Lil' Ashes who are big fans of the space. It's definitely one of the best places to eat if you fancy an evening with great food and live music!
Lost Stars Livehouse Bar & Eatery, G/F, Shop 506, Phase 1, Square Mile, 11 Li Tak Street, Tai Kok Tsui, Hong Kong, p. 2337 6728
2. The Wanch
Reopened after a relocation and expansion in May 2022, we're thrilled to have The Wanch back on the live music scene! The unofficial home of live music in Hong Kong since 1987, The Wanch has been an integral part of the city's history. It's given a platform to homegrown talents and hosted numerous international acts – even renowned musicians like Slash (lead guitarist of Guns N' Roses) have visited this place! What's more, The Wanch now has a dedicated kitchen, serving gastropub-inspired fare for lunch and dinner, so feel free to enjoy a pint and steak while tuning in to the live performances on stage.
The Wanch, 1/F, Henan Building, 90 Jaffe Road, Wan Chai, Hong Kong, p. 3692 5933
3. Mihn Club
Cheers to Mihn Club, a super cool space for live music in Hong Kong where you can express yourself freely, while dancing to different types of late-night rave music and groovy electronic beats. All races, genders, and sexual identities are welcome in this community. Showcasing international acts as well as nurturing local talent, Mihn Club has a no-photo policy inside the club, so be sure to hang on to your memories!
Mihn Club, 4/F, Loon Kee Building, 279 Des Voeux Road Central, Sheung Wan, Hong Kong, p. 5918 3870
4. The Aftermath
Not just a bar but a tight arts and culture community for many homegrown artists, The Aftermath showcases different forms of live entertainment almost every night. With stand-up comedy, live music, cabarets, and poetry performances, talent from all walks of life is nurtured here. Fuel your night with craft beer and signature cocktails at The Aftermath.
The Aftermath, LG/F, Sunny Building, 57-59 Wyndham Street, Central, Hong Kong
5. Ned Kelly's Last Stand
Ahh, the good ol' Ned Kelly's. Established in 1972 by Tom Parker, this classic pub has now provided live music to Hong Kong for over 50 years – and its fanbase is standing as strong as ever. Many famous musicians have performed at Ned's over the years, including Sergio Mendez Band, Jimmy Rogers, Kenny Ball & His Jazzband, Winifred Atwell, Rosemary Clooney, and more. On most nights, you'll find the stage lit up by resident bands like Dennis James & The Jamestown Five, Ken Bennett & The Kowloon Honkers, and Colin Aitchison & The China Coast Jazzmen. If you're down for a pint and friendly vibes, Ned's is the place to be.
Ned Kelly's Last Stand, 11A Ashley Road, Tsim Sha Tsui, Hong Kong, p. 2376 0562
6. Social Room
Located in the heart of Central, Social Room is a creative and vibey space dedicated to enhancing the underground experience. With seating by the bar as well as a large dance floor, stage, and DJ booth, this is the place where you can let your hair down and dance to yourheart's content. From techno to deep house to experimental music, you'll be amazed by the underground artists and guest DJs at Social Room.
Social Room, 3/F, Won Hing Building, 74-78 Stanley Street, Central, Hong Kong, p. 2915 0373

7. Grappa's Cellar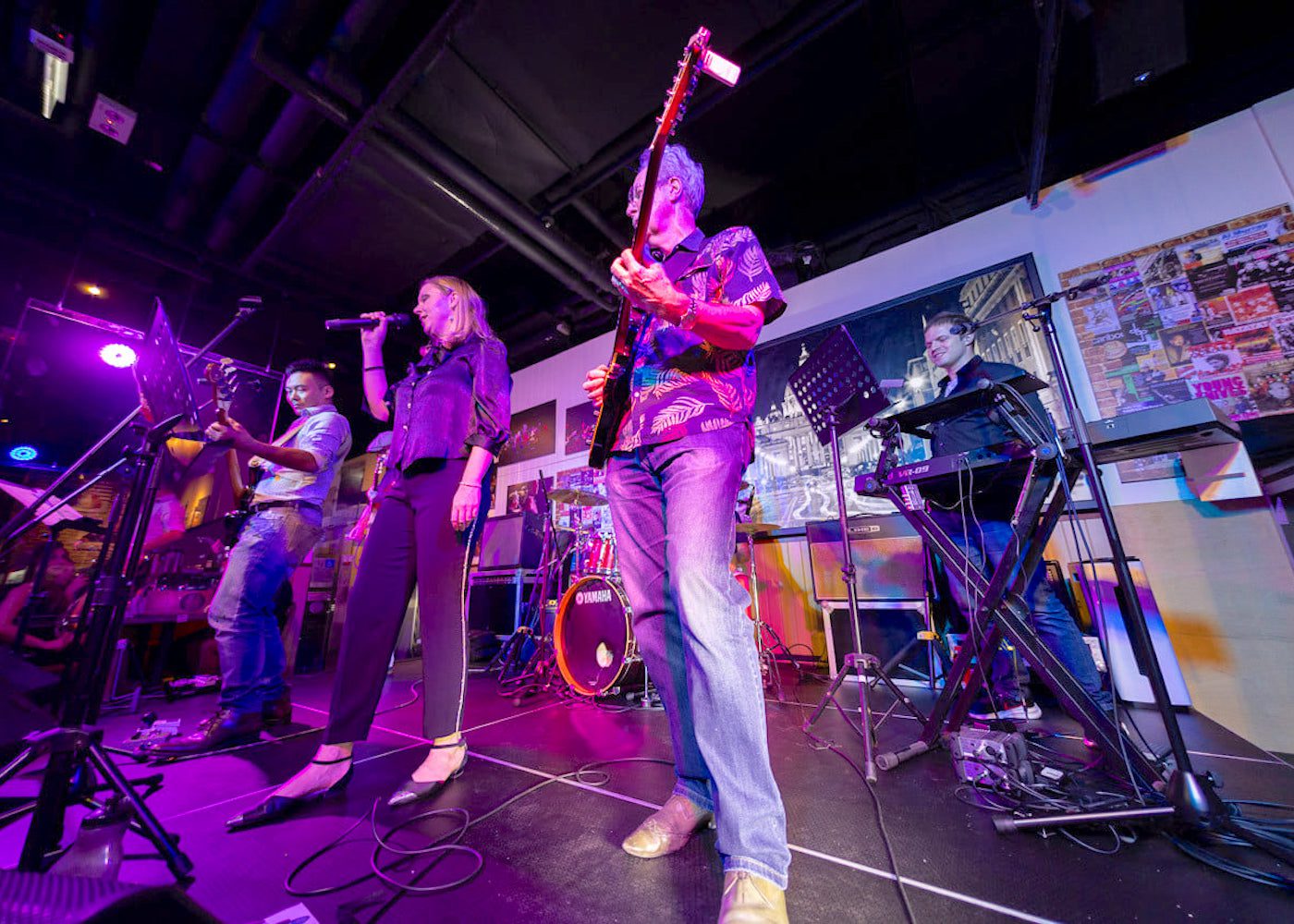 We were devastated when Grappa's had to close its doors in Central back in 2019, so guess who's excited when it made its comeback just the year after! This new location offers dining services and a performance space on the lower floor, whereas the upper floor acts as the bar area. From internationally renowned rock bands to pop acts to local comedians, Grappa's has hosted countless live music sessions and comedy nights over the past three decades. So, don't miss out on one of the coolest live music venues in Hong Kong while enjoying the best of Italian dining.
Grappa's Cellar, Shop LG08, LG/F, Lee Gardens, 28 Yun Ping Road, Causeway Bay, Hong Kong, p. 3529 1871
8. Hong Kong Fringe Club
Hong Kong Fringe Club is a modern cultural space for theatre performances, live music events, and art exhibitions. Frequently inviting jazz ensembles and classical orchestras to play in the house, Hong Kong Fringe Club is perfect for those who love an enticing performance of live music after a hectic day of work. Special events like the Fringe Music Festival and Rock Show 4 All also deliver electrifying performances from diverse musical acts.
Hong Kong Fringe Club, 2 Lower Albert Road, Central, Hong Kong, p. 2521 7251
9. MOM Livehouse
Hidden in the basement of Seven Seas Shopping Centre in North Point, MOM Livehouse is an edgy space with plenty of buzz. Music fans of all genres, be it alternative rock, indie pop, shoegaze, or folk, congregate at MOM for great gigs. The venue regularly invites both local and internationally renowned indie bands, singer-songwriters, and even a few DJs to perform.
MOM Livehouse, B39, Seven Seas Shopping Centre, 117-121 Kings Road, North Point, Hong Kong, p. 2578 9077

10. Salon 10
Not only is Salon 10 a cosy restaurant and bar, it's also a beloved social club for frequent gig-goers. There are often live music events happening late at night, featuring techno, house, underground EDM, and jazz music. It definitely qualifies as one of the coolest, most secretive live music venues in Central!
Salon 10, 10 Arbuthnot Road, Central, Hong Kong, p. 2801 6768
11. Lau Bak Livehouse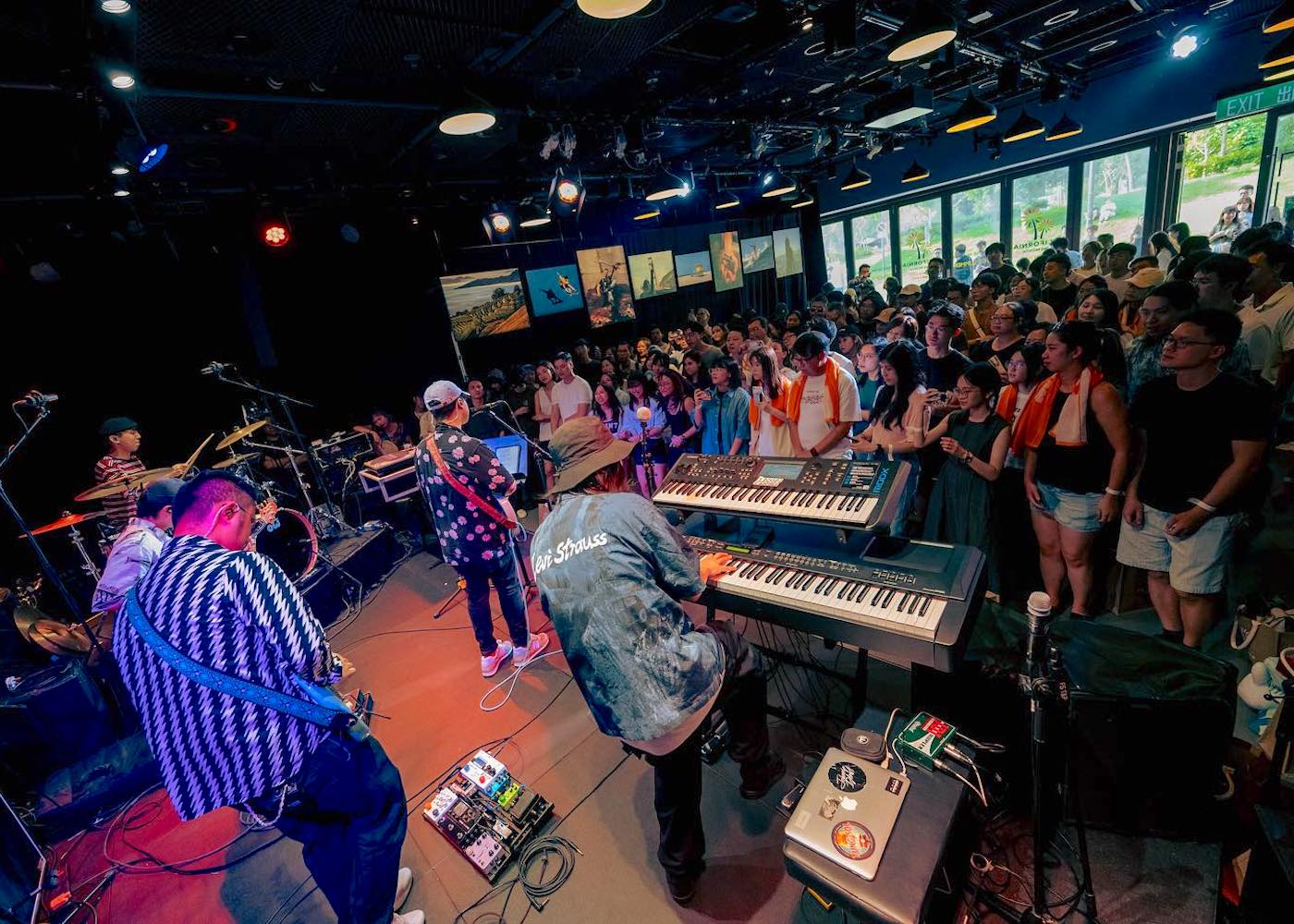 West Kowloon is full of gems – and we're not just talking about the picnics over in Art Park. Also near the waterfront is Lau Bak Livehouse, located in Freespace. In addition to the array of contemporary music, dance, and theatre performances being held at Freespace, the bar and restaurant also hosts weekly gigs and live music sessions every Friday to Sunday. Moreover, Lau Bak Livehouse is operated by Mak's Brewery, so you know that it's serious about its craft beer!
Lau Bak Livehouse, G/F, Freespace, Art Park, West Kowloon Cultural District, Hong Kong, p. 2868 4333
12. Foxglove
Behind a hidden door of an "umbrella shop" of the same name is a snazzy and elegant establishment in Central. We're absolute fans of Foxglove's brunches, cocktails, as well as its wonderful live jazz evenings in this stylish lounge. One of our go-to watering holes and live music venues in Hong Kong, Foxglove serves elegant drinks, delicious dim sum, and even has its own speakeasy concealed inside its walls!
Foxglove, 2/F, Printing House, 6 Duddell Street, Central, Hong Kong, p. 2116 8949
13. Lobster Bar & Grill, Island Shangri-La
Located inside the swanky Island Shangri-La, the bar lounge at Lobster Bar & Grill is a classy place to unwind after a long day at work. Enjoy a bespoke cocktail to go with signature seafood bar snacks. Take in the sweet stylings of the talented jazz vocalists and musicians as you settle in for a cosy evening.
Lobster Bar & Grill, Level 6, Island Shangri-La, Supreme Court Road, Admiralty, Hong Kong, p. 2820 8560
14. Popinjays
While you're at The Murray for a fancy staycay, don't miss a chance to check out its popular rooftop bar, Popinjays. With frequent live DJs invited to provide a soundtrack to boozy nights, you'll certainly feel the buzz of the city as well as the drinks. Expect no less than top-notch entertainment, stellar food and drinks, plus five-star services to match.
Popinjays, Top Floor, The Murray, Hong Kong, 22 Cotton Tree Drive, Central, Hong Kong, p. 3141 8888
15. The Iron Fairies
Think The Iron Fairies is only about sweaty crowds and head-banging music? Think again. This trendy bar and lounge also has a good range of cocktails, a stunning butterfly ceiling, and wonderful live music sessions. Expect to see talented bands and musicians play within these walls and create a wonderful ambience in this hideaway. Bob along to some live jazz and blues here as you warm up to a crazy night out in Lan Kwai Fong.
The Iron Fairies, LG/F, 1-13 Hollywood Road, Central, Hong Kong, p. 6202 0000

16. Bar Q88, JW Marriott Hotel Hong Kong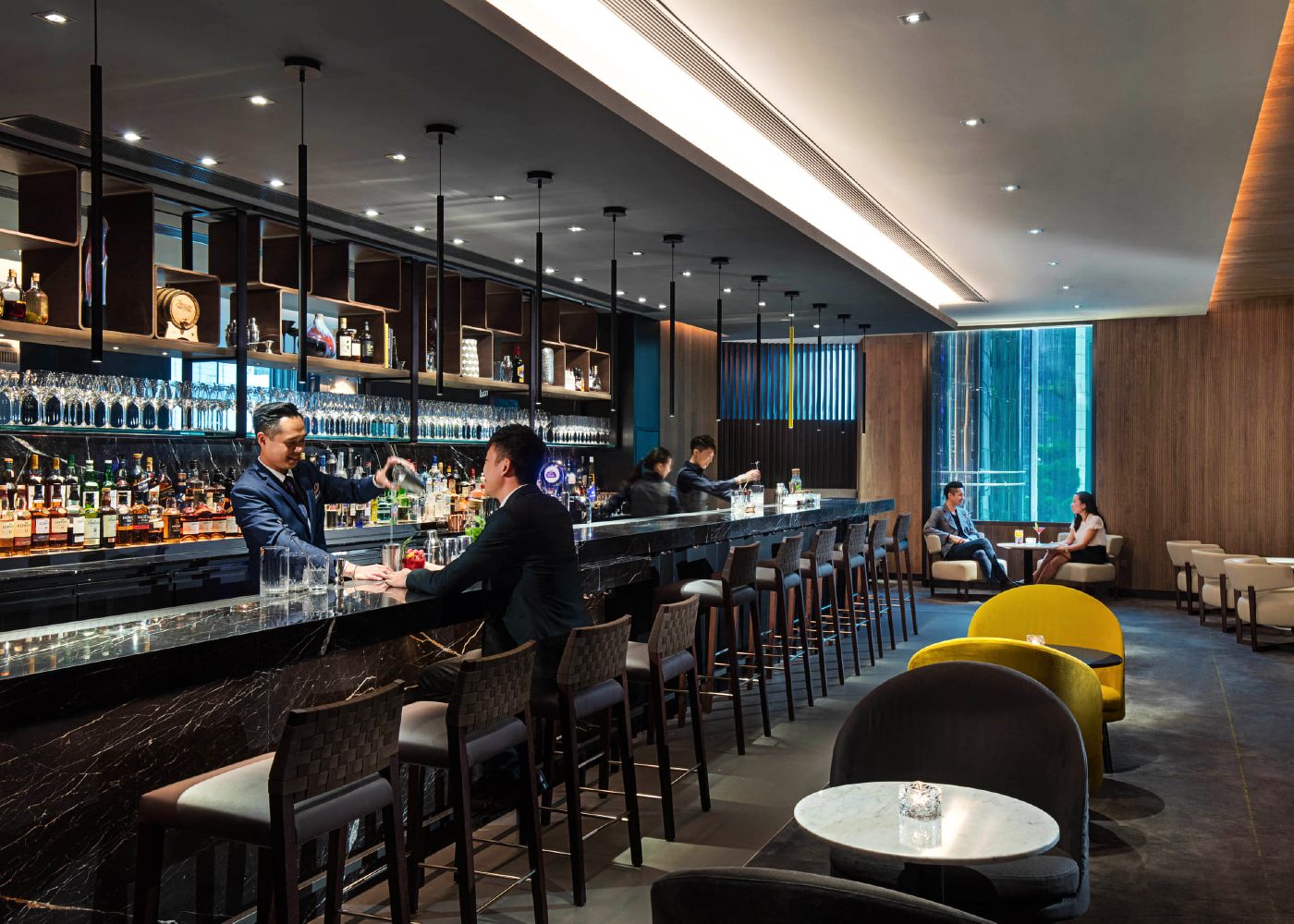 In search of a more sophisticated spot to relax with live music in Hong Kong? Head to Bar Q88 for a cocktail or two, accompanied by live band entertainment. Playing until late, the resident band is as talented as the house mixologist, making for a winning combination. The cosy bar also offers over 40 kinds of wine by the glass, as well as champagne, craft beer, premium liqueurs, and bar bites.
Bar Q88, Lobby level, JW Marriott Hotel Hong Kong, Pacific Place, 88 Queensway, Admiralty, Hong Kong, p. 2810 8366
17. Darkside, Rosewood Hong Kong
For those looking for date night ideas, a romantic evening with live jazz at Darkside will not disappoint. Ranked #9 on Asia's 50 Best Bars 2023 list – continuously rising from previous years, this cocktail lounge showcases an impressive range of rare-aged spirits, classic cocktails, and even cigars. Playing Thursday to Sunday evenings, the jazz musicians here bring the sultry ambience of Darkside to a new level. With classic hits and new twists, the bar truly comes alive to create an immaculate experience.
Darkside, Level Two, Rosewood Hong Kong, 18 Salisbury Road, Tsim Sha Tsui, Hong Kong, p. 3891 8732
18. Quality Goods Club
The one-stop shop for a night of revelry, Quality Goods Club supplies food, drinks, and live music for dedicated party-goers. The music programme rotates frequently, providing a stage for many genres of music including house, jazz, and funk. Live singers and DJs play almost every night, while a full live band comes to bring the house down every Thursday. Both international and local artists get a spotlight, making for an experience filled with quality entertainment as well as top-notch craft cocktails.
Quality Goods Club, Basement, On Lok House, 39-43 Hollywood Road, Central, Hong Kong, p. 6029 1530