Bali is a beautiful paradise waiting to be visited all year round!
Our Bali weather guide, from rainy season to dry season, will help you decide when is best to visit Bali. Whether it is long days of sunshine, cool sea temperatures, bursts of rain, or low humidity you are after might depend on what activities you want to do on the island. Whatever the weather though, there is always a great time to visit Bali!
The question people often ask is, when is the best time to visit Bali?  If you are looking for a Bali weather guide to help you make a better decision, look no further than our month by month guide on Bali's climate!  With its stunning beaches, adrenaline pumping activities, and so much culture to see and explore, Bali is a place that is a huge draw for tourists looking for the perfect holiday destination, and with its average year-round temperature of 27°C and long days of sunshine, it is the perfect place to get some sun on your skin!  
Whether or not you visit during wet [or rainy season, as the expats call it] or dry season depends entirely on what you are packing into your holiday, but whether its scuba diving, active volcano trekking, pampering yourself in the spas or sunbathing on the pristine beaches with a cocktail in hand, we have got you covered with our month by month guide to Bali's weather:
Bali's dry season brings clear skies and lots of sunshine!
DRY SEASON: APRIL TO SEPTEMBER
Bali's dry season, and peak season for that matter, is from April to September. This is the busiest time for tourism on the island, especially July, August and September, as the humidity is low and the rainfall minimal, making for a comfortable [albeit more expensive] time to holiday in Bali, [and it is the Australian school holidays].  This is Bali's version of summer, so expect sunshine, tourists, and lots of beer and cocktail drinking!
April
Humidity levels have hugely diminished by the time we hit April (around 65%), meaning wet season is well and truly over, hooray!  Expect clear, sunny and hot days, with some reaching a whopping 33ºC. With this glorious climate and with few crowds, April is a great time to visit Bali, especially if you want to work on your tan!
May
May is probably one of Bali's cooler months.  For the locals, the drop in humidity from the wet season really does feel significantly cooler though, and most will don a few extra layers to cope!  If you are coming from a country whose winter reaches below freezing, you are in for a warm and sunny holiday so do not fear – the average amount of sunshine you will get in a day rises to nine hours and the average humidity is 75%.  With clear skies, the sunsets in May, as always through the year, are worth making a trip to the island for… simply stunning.
June
Humidity levels are at their lowest from June until October and crowd sizes are at their highest!  June, July and August are high season in Bali as people flock to the islands during the colder winter breaks of other countries. You will see a rise in prices, but you will experience some stunning weather. Long days of sunshine, comfortable temperatures, and not-a-cloud-in-the-sky kinda days.  Perfect for beach days, alfresco dinners and watersports.
July
July is much the same as June, and with all this dry weather comes some of the world's best waves, especially to the western side of the peninsula, so if you are a surfer, head to Bali during this time of year for some awesome wave riding!  If you aren't a surfer, the weather is perfect for a day at one of Bali's uber cool beach clubs.  Spend your day drinking delicious cocktails, eating great grub, and swimming in stunning infinity pools!
August
August is Bali's driest month – you won't need to pack your brolly at this time of year!  With a monthly average rainfall of 40mm [that occurs over roughly three days], August is the perfect month to maximise your outdoor time in Bali.  Lather on the sunscreen to protect yourself from the hot Bali sun and fill your days lying on the beach with a good book.  There are so many stunning beaches in Bali to choose from, head to Nusa Dua and lay out on the stunning white sand beach, Uluwatu to sit and watch the surfers, or Canggu to chill on a sunbed.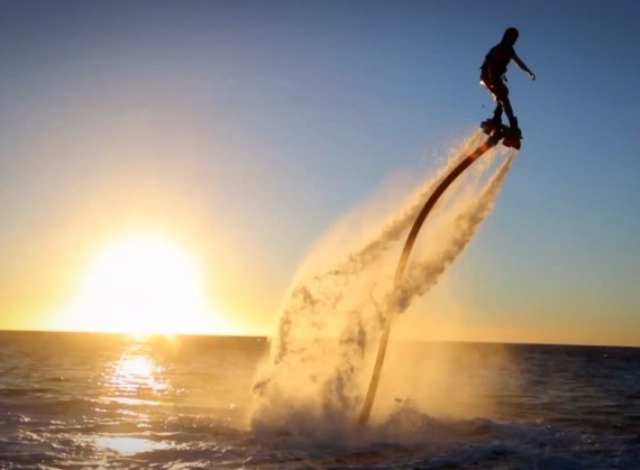 September
Perhaps the best time to visit, if you are after lots and lots of sunshine!  With highs of between 30ºC to 32ºC and approximately nine hours of sunshine per day, it creates some picture perfect days.  As the peak season has finished now, the prices tend to reduce again, meaning you still get fab weather and can maximise activities without spending as much.  Try your hand and some of the many watersports on offer on the island, including snorkeling, swimming, scuba diving, banana boating, fly fishing and more!
The wet season brings some incredible thunderstorms to the island!
WET SEASON: OCTOBER TO MARCH
Before we divulge into rain, thunderstorms and humidity, we should point out that Bali's weather is generally fantastic all year round – I mean if you can wear bikini's, boardies and flip flops during any month of the year that's got to be good, right?  Just be prepared that they might get a little drenched during October to March… Hello, Bali's rainy season!   Expect abrupt moody downpours of rain [this is where you will be glad you have an invested in a poncho!], but then the skies will clear and you are left with a hot, humid day.  The wet season is all about the humidity and rainfall, hence why its called low season [or off peak season], but the outbursts of rain are fast and furious, lastly only a matter of hours and often happen overnight, meaning it is bearable for some visitors to the island, plus there are far fewer crowds to deal with!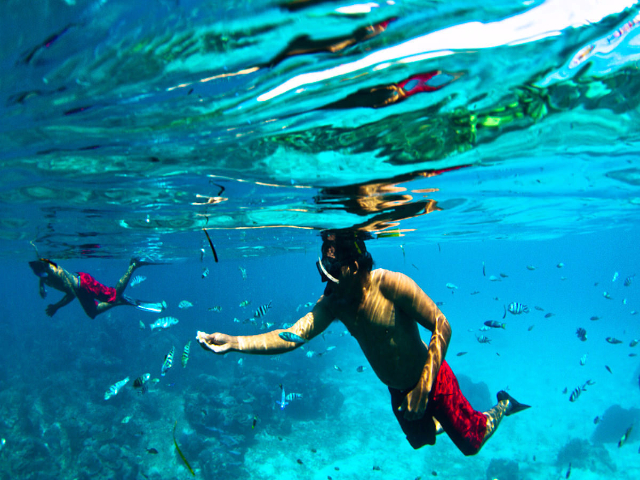 October
Bali's temperature throughout the month of October usually sits somewhere between 23ºC and 31ºC.  As it is officially "wet season", the amount of sunshine decreases from the beginning of October to the end, while the chance of rain increases, but it has been said that the average amount of daily sunshine in October is nine hours and sometimes there has been no rain seen in October at all!  The dry hot winds that blow in from Australia make October one of the hottest months of Bali's year so bask in the sunshine and make use of the Indian Ocean to cool off in [especially as the water is usually the coldest it will be in Bali this month, althought still a warm 27°C!].
November
November is very similar to October in terms of temperature, but the humidity is on the rise, so be prepared [pack the hair straighteners we say].  Rain is supposed to be on and off by now, so its just luck of the draw on whether you will get wet day-to-day.  Even if the rain does come though, it will only last a matter of minutes, so all normal activities can continue!  The amount of sunshine November days gets does decrease by two hours, but there is still plenty of time to pack in some tanning, don't worry.  We suggest visiting Waterbom, in Kuta, for the day to cool off in their many pools and waterslides!
December
The monsoon season is supposed to really set in now, so expect a lot more rainfall than previous months and less sunshine [although, you can still get up to seven hours].  Remember as well, when it rains it doesn't last all day – the rainstorms will come and go within a matter of an hour or so now, so if you get a wet morning you are likely to get a sunny afternoon, meaning there is still plenty to do and see without the need for an umbrella!  December is a great time for surfing in Bali [as is almost every other month in the year!], due to the wind changing direction as it begins to blow from west to east, which creates the perfect surfing conditions on the east coast.  Plus, the water is really warm [let's just skip over the fact that the beaches tend to get a little polluted during this time of year as strong currents wash rubbish onto the shore].  Surf's up!
January
Oh the humidity!  Yep, it is at its highest in January, so be prepared for your shirt to stick to you when you step out of the luxury of your air con!  With an average rainfall of 300ml, January is also Bali's wettest month, so the rain is not such a bad thing. In fact, the heavy rain often comes as welcomed relief after a day of Bali's scorching heat and humidity.  December will be very busy, as will January, as tourists flock to the island for Christmas and New Year getaways – hence why this month is sometimes referred to as peak season.  With a typical day only getting six hours of sunshine, we suggest making the most out of it, or trying wet activities, like Balinese Cooking Classes or take advantage of the warm water and go scuba diving!  When the sun goes in, why not head to a spa and pamper yourself rotten?  You don't need sunshine for that!
February
February in Bali is usually a little drier than January but you should still be prepared for frequent rain and very hot and humid conditions.  Celebrating Valentine's Day can be tricky, as it is hard to predict whether a picnic on the beach is going to get rained off or not!  Either way though, and whatever the day, there is plenty to do, come rain or shine.   A little tip for you: carry drinking water with you to keep rehydrated [believe me, you will sweat a LOT!], and take extra care on the scooters in these wet conditions.
March
March is what is called a 'changing season', as it changes from the wet season to the dry season.  The temperature tends to creep up a little, and the rainfall amount drops.  For the tan lovers, the amount of hours of sunshine increases too!  The humidity is still as high as it is in January and February, but the sea temperature drops [although it is still 28°C, perfect for long dips in the ocean!]. March and April tend to be busy times to visit with the Easter holidays, but the crowds shouldn't be as big as later on in the year.  Hit the beach if the sun is shining, or go on a hike in Ubud and explore the lush green rice paddies!
Top Image: Holiday Guru