Geylang's a treasure trove of beautiful shophouses, good food and more!
From where to eat durian, dim sum and frog porridge in Geylang, to Instagram spots and an adventure trail; this guide will fill you in.
Geylang is one of the most peculiar neighbourhoods in the city. Juxtaposed against the red light district are places of worship, conservation-status Peranakan shophouses, long-standing heritage restaurants and hawkers serving all kinds of grub from frog leg porridge and pig organ soup to a mountain of biryani. Yes, we love this iconic neighbourhood! Head over and check out our top picks…
Guide to Geylang: Eat
1. Banh Mi Thit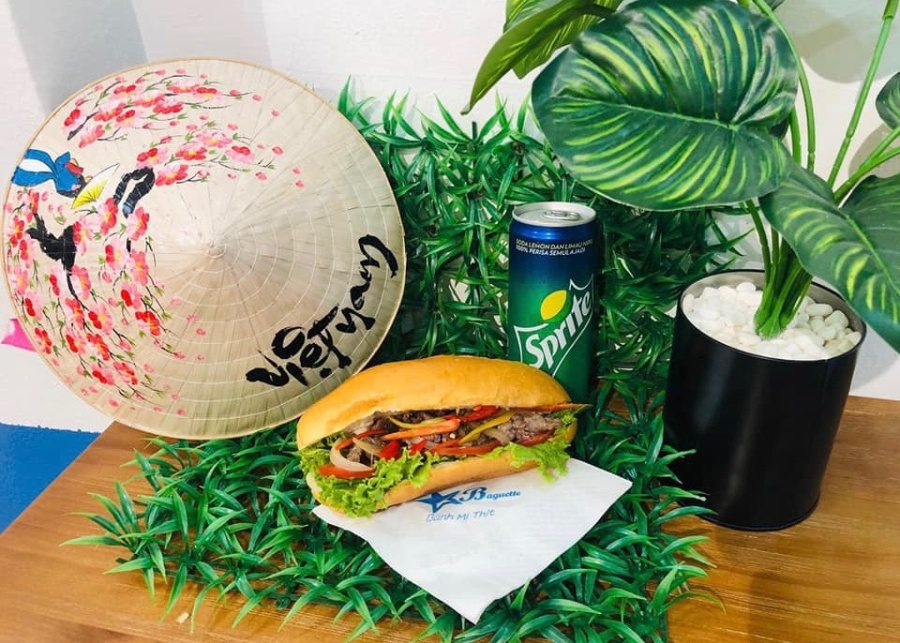 We don't have time for subpar sandwiches. Head down to Banh Mi Thit in Geylang for homemade baguettes made with the freshest ingredients. Go for the beef or pork banh mi – our favourite is the latter. Think slices of pork belly, pork pate and ham stuffed in a thick crusty bun. And it also comes at the uber affordable price of $4.50.
Banh Mi Thit, 543 Geylang Road, Singapore 389498
2. Jalan Sultan Prawn Mee
Whether you like your prawn mee dry or with soup, this store is bound to impress with simple yet flavourful bowls of noodles. We love how fresh and sweet the soup is. And the chilli that comes with the dry noodles is so aromatic. If you're looking to go all out, treat yourself to a bowl of king prawn pork rib noodles that features extra large, juicy shrimp.
Jalan Sultan Prawn Mee, 2 Jalan Ayer (Lorong 1 Geylang), Singapore 389141
3. 126 Dim Sum Wen Dao Shi
Dim sum needs no introduction – there are more than a few eateries selling these bite-sized tasty treats in Geylang. But if we had to choose only one, this would be our top pick. Practically an institution in the neighbourhood, this dim sum joint is a hot favourite with the young crowd. It's definitely one to add to your list of late-night supper spots.
126 Dim Sum Wen Dao Shi, 126 Sims Avenue, Singapore 387449
4. Wonderful Durian
We like our pungent fruits from Wonderful Durian – the seller was accommodating in our search for the perfect durian and was very willing to share his expansive knowledge. While prices are heftier here compared to other places, you can expect better service (take a selfie with the friendly durian seller!) and generous seating space.
Wonderful Durian, 147 Sims Avenue Lorong 17, Singapore 387469
5. Eminent Frog Porridge
The number of stalls serving frog legs in the neighbourhood is a testament to its popularity. Served in claypots, this well-known Michelin Bib Gourmand joint offers chunks of frog legs in two variations. The spicy version is cooked in dried chilli and dark sweet soya sauce, while the sweet, mild version has ginger and spring onions. Order a bowl or two of piping hot porridge to go with the meat for a real treat.
Eminent Frog Porridge, 323 Geylang Road, Singapore 389359
6. No Signboard Seafood
It's been around since the late 1970s, so it's no surprise that No Signboard Seafood Restaurant is now a household name among families. A must-order? The unique white pepper crab that's stir-fried in white pepper sauce and garnished with spring onions.
No Signboard Seafood, 414 Geylang Road, Singapore 389392
7. Imam Banana Leaf Restaurant
Craving Indian food? Iman Banana Leaf Restaurant has amazing nasi kandar (steamed rice served with curries and side dishes), fish curry and biryani. But it gets crowded during lunch hours, so go early. Oh, and if you're feeling peckish at unearthly hours, you'll be glad to know it's open around the clock.
Imam Banana Leaf Restaurant, 12 Lorong 1 Geylang, Singapore 389119
8. Leong Kee (Klang) Bak Kut Teh
This bak kut teh stall serves a Malaysian-style broth, so expect strong herbal flavours instead of the light, peppery Teochew-style soup. Those who prefer the dry version will enjoy the sticky sweet sauce packed with dried chillies. The array of dried beancurd, you tiao (fried dough sticks), pig's intestines, liver and stomach – plus pork ribs with slide-off-the-bone meat – will keep you coming back for more.
Leong Kee (Klang) Bak Kut Teh, 251 Geylang Road, Singapore 389309
9. Mongkok Dim Sum
We're suckers for a round of delish dim sum and Mongkok offers just that. No-frills, no pretence. Just dishes of Hong Kong-style dim sum and zi char dishes. Classic menu items like char siew chee cheong fun, fried carrot cake and the signature egg tarts are must-tries.
Mongkok Dim Sum, 214 Geylang Road, Singapore 389274
10. The Skewer Bar
It's easy to order one too many yakitori sticks at The Skewer Bar when there's a variety of tender meat sticks and seafood going as low as $1.25 each. But knock yourself out – it's worth the calories and meat sweats. The stingray, shisamo, bacon-wrapped lychee, eggplant and snapper are some highlights. Bring the newbies here – this refreshing hole-in-the-wall concept is great for a unique street food experience.
The Skewer Bar, 2 Lorong 25 Geylang, Singapore 388287
11. Haig Road Market & Food Centre
From the Netflix famous putu piring to lip-smacking soto ayam to diet-busting kolo mee and comforting roti john, Haig Road Market and Food Centre has plenty of options for hawker foodies. Gather your clan here to satisfy all sorts of cravings.
Haig Road Market & Food Centre, 14 Haig Road, Singapore 430014
12. L32 Handmade Noodles
Ban mian lovers, enjoy your fix at L32. Whether you're going for the dry or soup version, expect a burst of flavour from the broth, paired with slightly chewy noodles. Top it with minced meat, veggies, prawns and crispy ikan bilis, and you're got yourself a winner.
L32 Handmade Noodles, 558 Geylang Road, Lorong 32, Singapore 389509
13. Ah Hung D24 Sultan Durian
Wondering where to find the King of Fruits (also known as our unofficial national fruit)? The home of good durian is in a lorong (a street) in Geylang. The best way to enjoy it? Plop yourself on a plastic chair in the shop and start eating. Watch out for the spikes!
Ah Hung D24 Sultan Durian, 109 Sims Avenue, Singapore 387433
14. Swee Guan Hokkien Mee
There's truly nothing like tucking into a hot plate of Hokkien mee for a comforting meal. Swee Guan definitely hits the spot. Albeit pricier than other contemporaries, the combination of smoky flavours from its charcoal pot and briny prawn stock deserves a spot on our list. A definite must-try if you like the 'wet' style of Hokkien noodles.
Swee Guan Hokkien Mee, Sing Lian Eating House, 549 Geylang Lorong 29, Singapore 389504
15. Penang Seafood Restaurant
Malaysian zi char dining is your best bet if you really want a taste of the cuisine. Order several bowls of sambal clams, Penang char kway teow and, of course, the much-lauded Penang assam laksa. Enjoy other regional zi char favourites like assam steamed red grouper, prawn paste chicken and, if you're up for something on the wild side, sauteed crocodile fin.
Penang Seafood Restaurant, 32 Aljunied Road, Singapore 389817
16. Geylang Lor 9 Fresh Frog Porridge
Another hawker fixture in Geylang? The frog porridge at Lorong 9. Opt for the spicy dried chilli or spring onion option, which is prepared in a flavour-packed thick sauce. Night owls can rejoice as the stall stays open till 4am. A perfect supper spot indeed!
Geylang Lor 9 Fresh Frog Porridge, 235 Geylang Road, Lorong 9 Geylang, Singapore 389294
17. Bali Nasi Lemak
Established in 1985, Bali Nasi Lemak takes us back to simpler, nostalgic times with a no-frills plate of the local delicacy. Switch your usual sides with signatures like kecap manis chicken (black sauce chicken) and long beans with sambal belacan. Other add-ons include otah, luncheon meat, curry vegetables, sausages and more.
Bali Nasi Lemak, 2 Lorong 15 Geylang, Singapore 388596 
18. Koung's Wanton Mee
A Geylang establishment, Koung's Wanton Mee is known for its springy noodles, flavoursome pork wontons and prawn dumplings, and glazed, char-grilled char siew. The stall is so popular that it has opened another outlet in Jem. Expect to see snaking queues – it's totally worth the wait.
Koung's Wanton Mee, 205 Sims Avenue, Singapore 387506 
Guide to Geylang: See
19. Shophouses
Go on an Instagram spree and snap pictures of Geylang's gorgeous conservation-status shophouses, temples and old school Peranakan architecture. All you need to do is explore beyond the main streets, take a gamble and shoot away. We wandered along the back alleys of Lorong 11, right around Leong Kee (Klang) Bak Kut Teh.
Guide to Geylang: Do
20. Embark on an adventure trail
Want insider deets on this interesting neighbourhood? Go beyond the food and culture to discover issues like overcrowding from the influx of foreign workers and – the elephant in the room – the social stigma of prostitution. This three-hour trail is led by the founder of Geylang Adventures himself. Apart from holding trails, the group also does a swell job at aiding migrant workers and curbing homesickness through various projects.
Geylang Adventures, book online
21. Hit the spa
A spa in Geylang may sound dodgy, but not G Spa. Touted as an oasis of indulgence and relaxation, it's perfect if you need a quick escape from your busy week. Or you can spend the whole day here if you really want to, as the spa is open all day. Soak in the hot and cold pools before your treatment and complete the experience by having a sauna session followed by a meal in the nature-inspired dining area. The spa menu offers foot reflexology, body scrubs and massage packages as well as mani-pedi, threading and eyebrow curling services. Enjoy!
G Spa, #02-02, 102 Guillemard Road, Singapore 399719
Guide to Geylang: Shop
22. City Plaza
A well-kept secret amongst teenagers, this old mall holds a treasure trove of high-fashion knock-offs and blogshop. In fact, a handful of blogshops find their supplies here. Since the stores sell in bulk, you'll probably get a discount if you buy more than one piece. City Plaza is also home to many salons that do good hair and eyelash extensions, which means you no longer need to travel to Far East Plaza for fake locks!
City Plaza, 810 Geylang Road, Singapore 409286
23. Geylang Serai Market
Singapore has its fair share of wet markets, and if you live in the East, Geylang Serai Wet Market is well worth a gander. Geylang Serai gets its name from the location, which was formerly a lemongrass (serai) field. Situated in the Malay Heritage District near Paya Lebar MRT, the market is best known amongst locals as a one-stop-shop for wet and dry sundries, clothes, traditional medicine and, of course, the annual Geylang Bazaar.
Geylang Serai Market, 1 Geylang Serai, Singapore 402001
24. The Panic Room
An edgy barbershop that offers spiffy hairdos and good shaving, The Panic Room started out as a small web store selling pomades. And it still carries a massive range (including cool brands such as Lockhart's, Shear Revival and The Bluebeards Revenge) online and at its physical outlet. Other than pomades, it also offers moustache wax, beard oil and slick grooming products. If you're making your way down for a cut and shave, perhaps you'd be interested to try the hair tattoo service as well.
The Panic Room, 311A Geylang Road, Singapore 389350
Who else is ready to explore the streets of Geylang?