You can't go wrong with ice kacang on a sunny day!
We've got all sorts of good food in Singapore, and local desserts are a part of that. Here are our absolute favourites!
Got a sweet tooth? Cookies and brownies aside, Singapore is home to amazing traditional desserts, and that's on top of our giant list of classic local dishes. Besides our great selection of kueh, there's a lot more to Singapore's sweets and local desserts. From hot to cold, soupy to dry, chewy to fried, you'll want to save some space after your meal!
Best local desserts in Singapore
Ice kacang
Ice kacang is essentially the Asian equivalent of a snowcone. Or perhaps a Slurpee in a bowl. The king of local desserts in Singapore basically consists of a giant mound of ice dripping in sweet, coloured syrup. Within it hides bounties such as red bean, sweet corn, grass jelly and, of course, the popular atap chee (immature fruit of the nipa palm). More than just a dessert, ice kacang is also a communal experience, given how hot our climate is. When we need to cool off, we head over to Jin Jin Hot / Cold Dessert stall for a post-lunch chill-out sesh.
Jin Jin Hot / Cold Dessert, #01-21, ABC Brickworks Market and Food Centre, 6 Jalan Bukit Merah, Singapore 150006
Pandan cake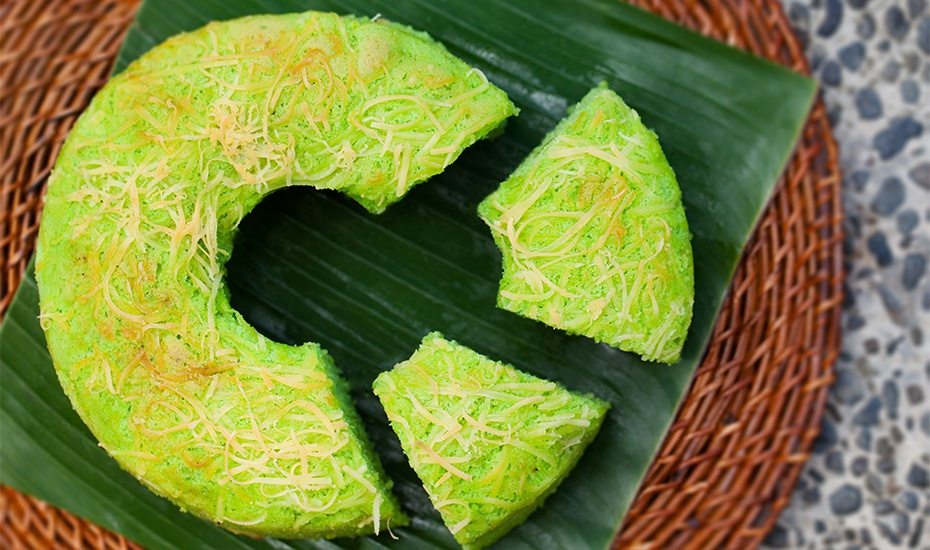 Tea time here is an elaborate affair, especially when we've got darn good desserts like pandan cake. Light and fluffy with a heady dose of pandan sweetness, it pairs perfectly with a steaming mug of Milo or tea. Best of all? You can get really great ones from pretty much any Bengawan Solo outlet or traditional bakery.
Bengawan Solo, multiple locations including Ion Orchard and Raffles City.
Cendol
Calling all dessert fiends! Featuring the holy trinity – coconut cream, palm sugar and pandan leaves – cendol's main component of shaved ice is perfect for cooling off on a sweltering sunny day (which is every day). We especially love slurping up those green jelly noodles made of rice flour and their accompanying mushy red beans at the famous Four Seasons Cendol. Warning: Cendol is usually cloyingly rich, so we suggest having it on its own or sharing with a friend.
Four Seasons Cendol, multiple locations including Toa Payoh and Ang Mo Kio.
Tau huay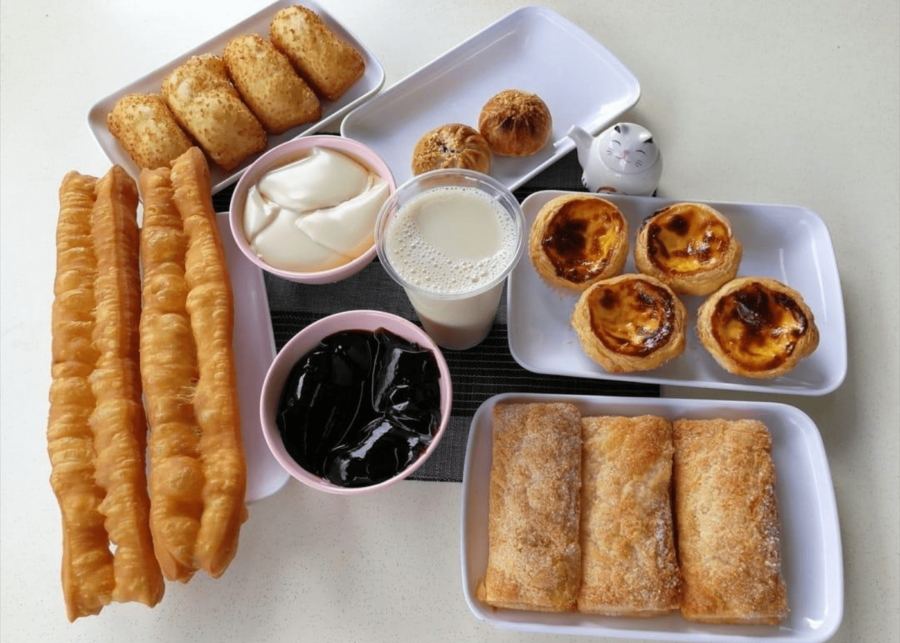 If you've got the late-night munchies for something sweet, nothing hits the spot quite like a comforting bowl of soya beancurd (you can have it hot or cold!). We're pretty old school when it comes to the silky smooth pudding, so we opt for classic spots like Rochor Beancurd House. Make sure you buy a couple of fried dough fritters (otherwise known as you tiao) to dip into your bowl of beancurd.
Rochor Beancurd House, multiple locations including Geylang and Balestier.
Apam balik
Apam balik, also known as min jiang kueh, is essentially a chewy Singapore-style pancake that's folded over and stuffed with a variety of sweet fillings. Classic options include peanut or red bean paste, but these days, you can find unique renditions served with everything from Nutella to cheese. Stop by Pancake King for a nibble!
Pancake King, multiple locations including Bedok and Ang Mo Kio.
Ice cream sandwich
As far as desserts go, we can't claim ice cream as a Singaporean one. But if you grew up on the island, you probably still have a Pavlovian response to the sound of the ice cream bell. These peddlers of ice cream ride around on motorbikes with sidecar freezers and can usually be found surrounded by a crowd. If you want the authentic Singaporean experience, ask for your ice cream bar to be served between a folded slice of bread or thin wafer slices. You can find these traditional ice cream carts along the entirety of Orchard Road, as well as at certain heartland areas.
Sugee cake
Perhaps the most iconic Eurasian dish, sugee cake is a simple cake made with butter, almonds and semolina flour to give it that grainy and slightly crunchy texture. Good on its own or topped with marzipan and fondant icing, it can be found at traditional bakeries in town.
Bubur cha cha
The colourful Nyonya dessert consists of steamed chunks of sweet potatoes and yam with tapioca jelly and sago swimming in a creamy coconut milk broth. Enjoy it hot or cold, available at most Peranakan restaurants including TingKat PeraMakan.
TingKat PeraMakan, multiple locations including Paya Lebar and Alexandra.
Cheng tng
Local dessert stalls are ubiquitous in Singapore's food courts, serving a variety that includes tau suan (mung bean dessert) and yam paste. But when the mercury's rising and beads of sweat are forming on your brow, skip the hot stuff for a nice cold bowl of cheng tng. This light, amber-coloured soup is served with ice, barley, agar strips, lotus seeds and sweet syrup. You'll have no difficulty finding it at most hawker centres!
Tutu kueh
There's no shortage of colourful and unique kuehs (Southeast Asia's version of cakes) in Singapore, but one of our favourites has to be tutu kueh. This small, doughy steamed rice flour treat is served on pandan leaves and typically found at night markets or streetside stalls in Chinatown. It's filled with either ground peanut or brown palm sugar mixed with shredded coconut and makes for a great bite-sized snack. Psst: Try Tan's Tu Tu Coconut Cake if you're in the vicinity!
Tan's Tu Tu Coconut Cake, multiple locations including Clementi and Havelock Road.
Gulab jamun
If you're a sucker for sugar, you will adore these brown beauties. Made from milk fats, they're deep fried and then drenched in a saccharine syrup infused with rose water. Expect a heady sugar rush after as little as two bites. Keen to try? You'll find 'em at most Indian restaurants and stalls.
Ondeh ondeh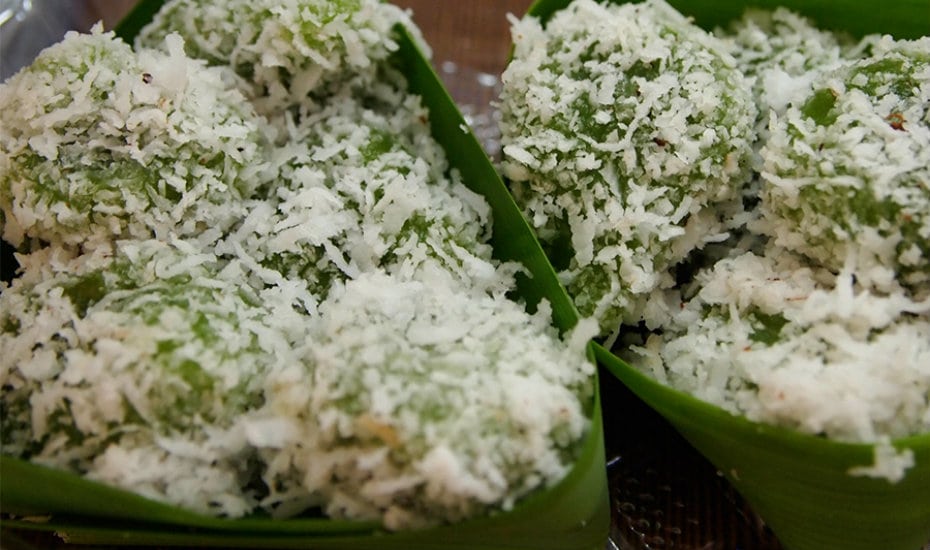 Round, bite-sized and green, these sweet potato or glutinous rice cakes are coated with grated coconut and filled with liquid gula melaka. Just a fair warning: They burst open with a molten core once you bite down on them, and they're highly addictive (not to mention easy to pop into your mouth). If you ask us, the ones at old school bakery Tiong Bahru Galicier Pastry are always worth the wait.
Tiong Bahru Galicier Pastry, #01-39, 55 Tiong Bahru Road, Singapore 160055
Grass jelly
This is one of the first things we spring for when the weather is unbearably hot. Grass jelly, or chin chow as it's known locally, is a dark brown gelatinous dessert. It's made from boiling the aged stalks and leaves of the mesona chinensis plant (a member of the mint family) for several hours with a little starch. The jelly is then cut into cubes and served on ice with honey or syrup for an incredibly refreshing treat. Next time you're near Beach Road, pop by the famed Zhao An Granny stall and pick up a bowl.
Zhao An Granny Grass Jelly, #01-58, Golden Mile Food Centre, 505 Beach Road, Singapore 199583
Ang ku kueh
One of the first things you'll notice about this 'red tortoise cake' is its brightly coloured oval shape. It's a soft, glutinous rice cake with a sweet filling, typically mung bean or peanut paste. While the kueh has its roots in China, the ones in Singapore have Nyonya influences, which elevate the flavour and appearance of this delicacy. Hit up Ji Xiang Confectionery for a variety of flavours, including peanut, corn, sweet bean, coconut, salted bean and yam.
Ji Xiang Confectionery, #01-33, Block 1 Everton Park, Singapore 081001
Tang yuan
A Chinese dessert made of glutinous rice flour shaped into balls, these dumpling-like orbs in Singapore are usually filled with peanut or sesame and served with hot, sweet soup. We're huge fans of the traditional treat at 75 Ah Balling Peanut Soup, where you can get your tang yuan filled with yam, red bean, matcha, peanut or sesame, with soup flavours like longan red date and ginger.
75 Ah Balling Peanut Soup, multiple locations including Beach Road and Bedok
Jalebi
This confection is (almost) sickeningly sweet and sticky. It gets its muruku-like pretzel shape by plopping the fermented batter in a spiral motion into a pool of hot oil, then the crisp snack is dunked in a saffron sugar syrup for that iconic orange glow. Head over to Moghul Sweet Shop to get your hands on it!
Moghul Sweet Shop, #01-16, 48 Serangoon Road, Singapore 217959
Pulut hitam
You may not think black glutinous rice porridge could be a dessert, but this Indonesian dish sure hits the spot. The rice is boiled until soft, then made rich and sweet with sugar and coconut milk. It's simple yet oh-so-filling and can be found at most dessert stalls, including the famous Ah Chew Desserts.
Ah Chew Desserts, multiple locations including Bugis and Novena.
Ladoo
The ladoo (or laddu) is the quintessential poster boy for Indian sweets. Going to a wedding or religious Indian ceremony? You know this will be waiting for you. Plump with ghee, flour and sugar, these sweets are made from tiny drops of chickpea flour mix. They're then fried in ghee and soaked in sugar syrup. Venture to any Indian eatery for a taste!
Muah chee
The ingredients are simple: Glutinous rice flour, crushed peanuts and sugar. But boy oh boy is this sticky, chewy snack a delish treat. It's like the Chinese version of mochi, and it makes for a perfect tidbit any time of the day. Find it at night markets or pushcart vendors, or get yours from Hougang Muah Chee for fresh and fragrant goodness.
Hougang Muah Chee, #B1-21, HDB Hub Gourmet Paradise Food Court, 480 Toa Payoh Lorong 6, Singapore 310480
Durian puffs
We've adapted the European-style cream puff by swapping the standard custard cream for one infused with fresh durian to make a sweet, pungent treat. Definitely the most divisive dish on this list, you'll either hate it or love it. Want a taste? Goodwood Park Hotel is your best bet for its signature creamy durian puffs when the fruit is in season.
Goodwood Park Hotel, 22 Scotts Road, Singapore 228221
Had your fill of local desserts in Singapore? Move on to burnt cheesecakes, macarons and cupcakes!