Photography: Sandip Roy via Unsplash
Whether you're after great food, gorgeous temples, or breathtaking museums, our list of things to do in Penang has you covered.
Penang isn't known as the Pearl of the Orient for no reason. This beautiful Southeast Asian destination is teeming with delicious street food, colourful temples, and vibrant nightlife. If you're considering taking a road trip from Singapore, skip the typical stops like Johor Bahru and Kuala Lumpur, and check out the best things to do in Penang instead.
Best things to do in Penang
1. Take a trishaw ride through Georgetown
You won't need to squeeze with the sweaty crowds to experience the best of Georgetown. Just hop on a trishaw tour and it'll take you through all the heritage, foodie, and art hotspots Penang has to offer. The best part? You can arrange for hotel pick-up to start your day on the right foot. We love the trishaw tours offered by Klook, Pelago, and Goyaku.
2. Go on a guided food tour
Penang is a foodie paradise. Famous dishes include Penang-style char kway teow, assam laksa, lok lok, oyster omelette, and curry mee. Sure, you can always explore the town and stumble upon these food stalls on your own. But we recommend going on a guided food tour that'll take you to all of the best hawkers and restaurants in the city. Check out the lunch and dinner itineraries by Heritage On A Plate.
3. Hike through Penang National Park
For the nature lover and adventure seeker, a trip to Penang National Park is a must. This area is home to a network of trails that vary in difficulty and length – perfect for hikers of all levels. Aside from all that walking, wildlife enthusiasts can spot macaques, monitor lizards, and hornbills while exploring the park. Beach lovers can relax and soak up the sun at Monkey Beach and Teluk Tukun Beach.
Penang National Park, Pejabat Taman Negara P. Pinang jalan Hassan Abbas, 11050 George Town, Penang, Malaysia
4. Get spooked at Penang Ghost Museum
We're pretty big on ghost tours and paranormal activities. If you're like us, you'll love this tourist spot in Penang. The museum is dedicated to the history and folklore of ghosts and paranormal activities in Malaysia. Just imagine life-sized figurines of ghosts and ghouls in Asian folklore like the pontianak, toyol, and hantu ray. You can even navigate through a ghost tunnel featuring various ghostly figures and eerie sound effects.
Penang Ghost Museum, 57, Lebuh Melayu, 10100 George Town, Pulau Pinang, Malaysia
5. Receive blessings at impressive temples
If there's another thing to love about Penang, it's the religious diversity. You'll find plenty of breathtaking temples and places of worship to explore in this corner of Malaysia. Swing by Kek Lok Si Temple – the largest Buddhist temple in Southeast Asia – and marvel at its seven-storey pagoda and towering statue of the Goddess of Mercy. For something more unusual, head to the Snake Temple. It's home to live pit vipers that are believed to be harmless due to a deity's power.
6. Spend an epic day at Escape theme park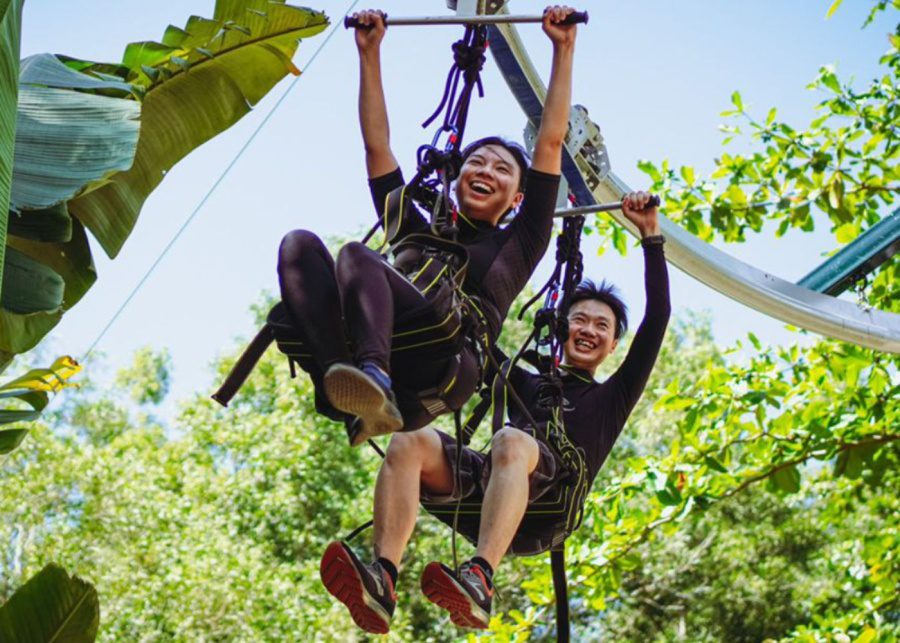 What's a holiday without a trip to a theme park? This outdoor adventure park offers a range of thrilling attractions, including zip lining, rope courses, and freefall jumps. For the ultimate adrenaline rush, try Atan's Leap and see if you have the courage to step off the 20m-high platform.
Escape theme park, 828, Jalan Teluk Bahang, Teluk Bahang, 11050 Tanjung Bungah, Pulau Pinang, Malaysia
7. Indulge in happy hour
Penang's lively nightlife scene is perfect for those who adore great drinks and good vibes. There are tons of bars to explore for happy hour. Head to Good Friends Club for innovative cocktails with a local twist. Or reserve a seat at Magazine 63 – a cool speakeasy-style lounge bar decked out in chinoiserie decor.
8. Flit about one of the largest butterfly gardens in Malaysia
Looking for a unique experience that brings you closer to nature? Entopia, formerly known as the Penang Butterfly Farm, is home to more than 15,000 free flying butterflies and a range of other insects and reptiles. Explore indoor and outdoor exhibits, interactive displays, and hands-on activities that will enrich your understanding of conservation. It's a blast for kids and adults alike!
Entopia by Penang Butterfly Farm, 830, Jalan Teluk Bahang, Teluk Bahang, 11050 Tanjung Bungah, Pulau Pinang, Malaysia
Spice up your trip to Malaysia with our list of the best things to do in Penang.