Photography: Bismillah Biryani Restaurant
Ditch the utensils and get your hands dirty at these biryani hotspots.
While the true origin of this iconic 'local' dish is uncertain, it's said that biryani hails from North India. The biryani rice is made with the fragrant basmati grain, which cooks to a wonderfully light and fluffy texture. A chicken or mutton gravy (usually a big heaping) is served along with it, and achar, a sour yet spicy vegetable pickle made with carrots, cucumbers and pineapples. Have we gotten your appetite going yet? Great! From popular establishments to humble hawker stalls, eat your way through the best biryani spots in Singapore!
Where to find the best biryani in Singapore
1. Mr Biryani
If the name hasn't clued you in already, this is a must-visit spot for flavourful biryani in Singapore. On the menu, you'll find fragrant rice topped with meats like chicken, mutton, or fish. Going meat-free? Fret not, because there's vegetable, brinjal, paneer, and even jack fruit biryanis available too. Take note though that the flavours lean on the spicier side, so have some water prepared before you head in.
Mr Biryani, multiple locations including Chander Road and Norris Road
2. Bismillah Biryani Restaurant
Looking for the best dum biryani in Singapore? Bismillah Biryani Restaurant at Dunlop Street has been raved about by prominent foodies. Think the likes of the late Anthony Bourdain and the prolific Michelin Guide. Using authentic basmati rice, the dum biryani here is tasty as the basmati rice soaks up the flavours of the spices. It also exudes a fragrant aroma that makes it really appetising. Plus, the meat is cooked to perfection – it's tender and lacks the gamey flavour from being blanched in hot water before marination.
Bismillah Biryani Restaurant, multiple locations including Dunlop Street and Shenton Way
3. The Banana Leaf Apollo
Famed for its fiery fish curry, this is one place where you shouldn't skip out on for the biryani. Here's our little hack: Instead of choosing the set, opt for biryani with vegetables and get different sides to go along with it. Our top picks are chicken masala, mutton mysore and fish cutlet. Oh, and if you need to cool off from all the spices, don't forget the salt lassi.
The Banana Leaf Apollo, multiple locations including Race Course Road and Serangoon Road
4. Sakunthala's
If you're craving scrumptious Indian fare, Sakunthala's will charm you with every bite. The menu is packed with North and South Indian (and Chinese) dishes but our eyes are on the prawn biryani. Skip the typical chicken and mutton options and dive right into the crustacean variant. The prawns here are cooked with the basmati rice a la dum biryani – delish!
Sakunthala's, multiple locations including Race Course Road and Syed Alwi
5. Singapore Zam Zam
While this name is synonymous with delish murtabak (Indian flatbread stuffed with egg, minced meat and onion), Singapore Zam Zam is also popular for its mouthwatering nasi biryani. Having been around for over a century, this Kampong Glam institution has devotees coming from all corners of the island to savour its mutton, beef or chicken biryani – perfect for late night suppers after partying along Haji Lane. But it's no one-trick pony; also on the menu is a mind-boggling array of classic supper fare like mee goreng (fried noodles), murtabak, prata and many more.
Singapore Zam Zam, 697 – 699 North Bridge Road, Singapore 198675
6. Yakader Muslim Food
For your affordable biryani fix, Yakader Muslim Food at Tekka Centre is the place to be. Its dum biryani, served along with pappadam, a bowl of dhal and a plate of cucumber drenched in tomato sauce, is practically legendary. The hot seller amongst locals is definitely its mutton dum biryani.
Yakader Muslim Food, #01-259, Tekka Centre, 665 Buffalo Road, Singapore 210665
7. Gokul Raas Vegetarian Restaurant
We know some biryani purists may consider vegetarian biryani blasphemy, but hear us out! Known for dishing out tasty meatless versions of classic local food (think nasi lemak and chicken rice), Gokul has mastered the art of making meat-free biryanis with four different variations, including the claypot biryani cooked Hyderabadi style. Our fave has to be the dum biryani, which sees delish soya chunks hidden in a mountain of saffron rice. As for the sceptics, don't knock it till you've tried it.
Gokul Raas Vegetarian Restaurant, 19 Upper Dickson Road, Singapore 207478
8. Samy's Curry Restaurant
When you think of the luscious green space of Dempsey, you'd probably envision cool cafes and elegant restaurants. Well, that isn't always the case. Enter Samy's Curry, an age-old Indian curry house that doesn't rely on its ambience and decor for business. Think ceiling fans, boisterous open surroundings (a mess hall and a verandah) and shuttered windows. So why is it perpetually crowded? It's the food, of course! Our go-to combo is a mountain of biryani rice drenched in the resto's famous fish head curry with tasty morsels of chicken masala and fish cutlet on the side. Since the place isn't air-conditioned, your best bet to cooling off is a mug of lime juice.
Samy's Curry Restaurant, 25 Dempsey Road, Singapore 249670
9. Islamic Restaurant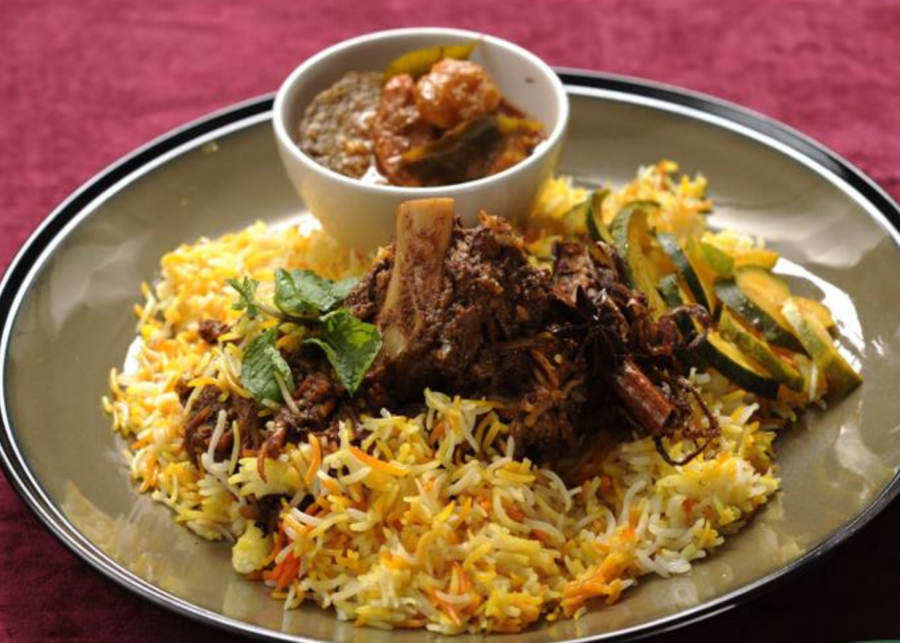 With 96 years of heritage and experience, Islamic Restaurant is indeed a household name when we talk about biryani in Singapore. Islamic Restaurant's biryani has been a massive hit since the '70s, with dignitaries, sultans, ministers, and businessmen attesting to its flavours. The best pick here: mutton biryani. Good rice texture and succulent, tender meat – what's not to like about it?
Islamic Restaurant, 735 North Bridge Road, Singapore 198703
10. Allauddin's Briyani Pte Ltd
One biryani paradise situated in Tekka Centre is Allauddin's Briyani. But be warned: be prepared to queue and wait for your food especially during lunch hours! Order the chicken or mutton biryani and top it all off with a sweet glass of teh tarik for a 'shiok' local dining experience!
Allauddin's Briyani Pte Ltd, #01-232, Tekka Centre, 666 Buffalo Road, Singapore 210666
11. Victory Restaurant
A popular Indian-Muslim restaurant opposite Sultan Mosque, Victory Restaurant offers timeless favourites such as murtabak and also biryani. Here, not only can you find the usual chicken and mutton biryani, but it also serves a fish option.
Victory Restaurant, 701 North Bridge Road, Singapore 198677
Be sure to make space for these biryani places in Singapore!
[This article was originally published in 2016 and updated in 2023 by Ashe Liao.]