Photography: Nathon Oski via Unsplash
Raise your grooming game at these stellar barbershops in Singapore that deliver the sharpest cut and the smoothest shave.
We can all agree there's a happy middle ground between Neanderthal and taking the grooming routine a tad too far. These days, a real gentleman is well turned out: No straggly beards, no unkempt hairdos. Think you need to lift your game? Read on for our pick of the top men's barbershops in Singapore.
Best barbershops in Singapore
Sultans
If you're all for the top-notch services at Sultan of Shave, be sure to visit its sister brand. Taking a spot in Holland V, Sultans is an affordable alternative with its fuss-free but quality haircuts and shaves. Take our word for it – our boys from the Honeycombers team paid 'em a visit and they've been raving about their suave cuts ever since: "Whenever I get a cut, I always show photos of my preferred style, and the barber totally nails it. The detailed cutting, trimming and shaving, along with washing and styling, is definitely worth the price, " says Lord Acuña, IT Executive.
Sultans, multiple locations including Holland Piazza and Dunearn Road.
Red Panther
This hidden spot inside Upper Serangoon shopping mall is a little off the beaten track but so worth the visit. Step into nostalgia as the barbers give you an authentic cut – just like those old-school barbershops in 80s and 90s Singapore. Oh, and did we mention it'll cost you less than 10 bucks? It's no wonder there's usually a queue on busy days. Don't be disheartened while waiting, though. Spend your time picking your new look from one of the 80s men's hairstyle posters on the wall or geek out over vintage car number plates and random memorabilia in the space.
Red Panther, #03-13, Upper Serangoon Shopping Centre, 756 Upper Serangoon Road, Singapore 534626
We Need A Hero
From the folks who gave us Strip, Browhaus, and a slew of cool F&B establishments comes a male grooming parlour that ranks high on the so-hip-it-hurts scale. If manscaping is a top priority for you, We Need A Hero has all the solutions for hair removal – waxing, threading, tweezing and IPL. Also on the extensive roster of services: Haircuts and pampering shaves.
We Need A Hero, #01-86, 57 Eng Hoon Street, Singapore 160057
Sultans of Shave
The guys at Sultans of Shave take their craft very seriously. Expect sleek surroundings and fancy tools – heck, they even trained in London under the tutelage of England's finest barbers. Consider us impressed. For gentlemen looking to undergo the ultimate grooming experience, lay back and surrender to The Sultan's Experience, a five-step (!) shaving process followed by a haircut. Now, that's what we call the royal treatment.
Sultans of Shave, multiple locations including North Canal Road and Jewel Changi Airport.
The Panic Room
Here's an edgy barbershop in Singapore that offers spiffy hairdos and good shaving. The Panic Room started out as a small web store selling pomades, and it still carries a wide range (including cool brands such as Lockhart's, Shear Revival and The Bluebeards Revenge) online and at its physical outlet. Other than pomades, it also features moustache wax, beard oil and slick grooming products. If you're making your way down for a cut and shave, perhaps you'd like to try the hair tattoo service as well.
The Panic Room, 311A Geylang Road, Singapore 389350
Autocutt
Fancy having your hair cut in a vintage setting? Autocutt's space is kitted out with rare World War bikes and vintage automobile signs. It's not just about the sick decor though, this business is renowned for its nifty cuts and shaves. The barbershop also has its own original fragrance, which is lightly skimmed on your face after the cut. Smell good, look good!
Autocutt, multiple locations including Commonwealth and Serangoon.
Empire of Steel
Empire of Steel was founded by Sean Ong after 10 years of experience in the hairdressing industry. His team has one goal: To give you a wicked haircut that will have everyone from kopitiam aunties to colleagues ogling at you. From start to finish, expect to have your hair and beard treated with the utmost care and respect. Don't miss out on the luxurious Aveda scalp treatment too, 'cos healthy-looking hair starts from the scalp.
Empire of Steel, #03-19, OUE Downtown 2, 6 Shenton Way, Singapore 068809
Truefitt & Hill
Charles Dickens, Cary Grant, Sir Winston Churchill and Frank Sinatra – Truefitt & Hill's star-studded clientele reads like a veritable list of Who's Who. One thing's for sure, you'll definitely be in good company at this 200-year old British barbershop, which made its way to our shores. Outfitted like an ultra exclusive gentlemen's club (think crystal chandeliers, club chairs and dark wood panelling), Truefitt & Hill offers haircuts, mani/pedis, massages and threading. But we suggest you stick to what these guys are really renowned for – the traditional wet shave. Once you try that, there's really no going back to your dinky ol' razor.
Truefitt & Hill, multiple locations including Ann Siang Road and Marina Bay Sands.
Tux Barbers Inc.
Want to rock the pompadour? Get your mop pruned and pouffed at Tux Barbers Inc., a modern, old school style barbershop on East Coast Road. You'll be leaving all your stresses at the door: The cosy wooden interiors, warm lighting and silver service will definitely lift your mood.
Tux Barbers Inc., #01-01, 63 East Coast Road, Singapore 428776
Barber 25
If you want to look like a Wall Street banker, this is your joint. Barber 25 prides itself on delivering dapper haircuts for professionals and businessmen. Services include cuts, shaves, scalp treatment, nail care and – get this – even shoe shining. From the moment you step into this seriously cosy enclave, you'll be well taken care of and leave impeccably groomed.
Barber 25, #03-16, OUE Downtown Gallery 2, 6A Shenton Way, Singapore 068815
LA Barbershop
This barbershop in Singapore boasts a vintage vibe with modern twists: We're into the quirky ornaments and eclectic collection of posters on its brick walls. You'll find a full range of services for affordable prices here, including ear candling (yes you heard right; it's actually kind of therapeutic). There's also a secret sink, but that's for you to experience. This is an intimate space, so make a reservation to avoid disappointment.
LA Barbershop, multiple locations including Plaza Singapura and VivoCity
The Black Tie Barber Shop
Located all the way in Jurong West, this barbershop brings the classic barber experience to the HDB heartlands – complete with barbers dressed in dapper suits. Clients range from kids to senior citizens (who get the best deals) and, of course, the gentleman going in for his regular haircut and hot towel shave.
The Black Tie Barber Shop, #01-748, 456 Jurong West Street 41, Singapore 640456
Grease Monkey Barber Garage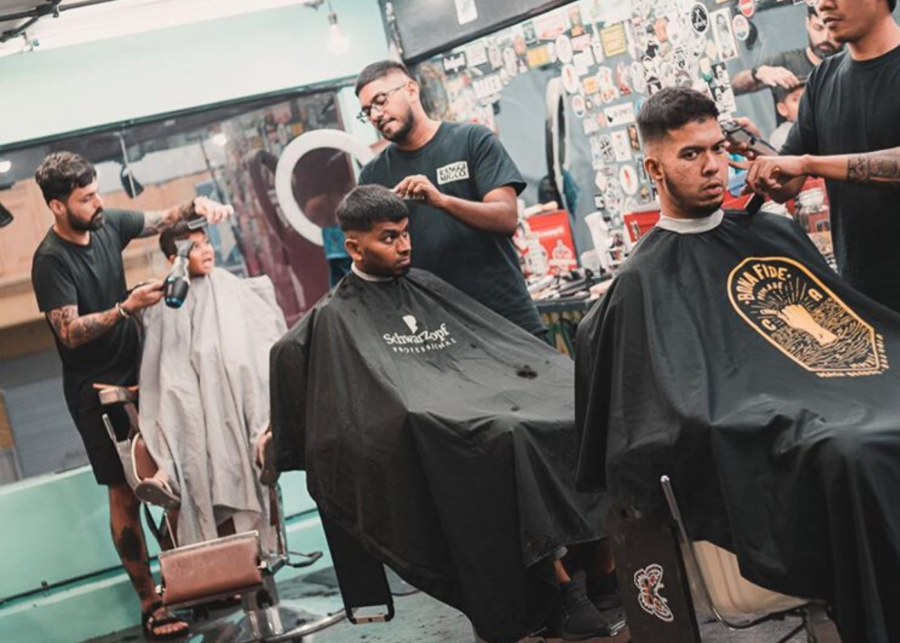 Prepare yourself for tattoos, testosterone, and whole lotta 'tude at this biker garage-themed barbershop. Bringing the American motorcycle culture to the sidewalks of Mayo Street, Grease Monkey is a cool two-storey joint where customers can ogle at the bevy of shiny monster bikes while getting a cut and shave.
Grease Monkey Barber Garage, 15 Mayo Street, Singapore 208312
Jermyn Street
If your beard needs a trim or you're after some sharp shading, the dapper gents at Jermyn Street will sort you out. Part of the gentlemen's barbershop renaissance, Jermyn Street brings to mind exclusive gentlemen clubs. Adding to its appeal is a complimentary dram of liquor or a cup of freshly brewed coffee while the talented barbers snip your mane into shape. This one's a fave.
Jermyn Street, 108 Amoy Street, Singapore 069928
YanCutsHair
Boasting rave reviews and loyal customers, YanCutsHair in Peninsula Excelsior started when the owner, Sophian Tahir, decided to open a barbershop after years of experience barbering in National Service (and later, for his friends). Sophian prides himself on his attention to detail for haircuts, and it shows with his regular line-up of return customers. The store also feels less like a barbershop and more like a hangout spot for sci-fi geeks, with Star Wars memorabilia adorning the space.
YanCutsHair, #B1-13, Peninsula Excelsior, 5 Coleman Street, Singapore 179805
James Barker Barber
The name already gives us total James Dean vibes. Situated at the basement of Marina Bay Link Mall, this barbershop offers the works, from clean-cut shaves to stylish suave cuts to stellar dye jobs. No matter your hair woes, they will fix your mane right up. Looking to pamper yourself or your boo? The James Barker Ultimate Experience comes with a rewarding facial scrub, hot towel shave, post-shave treatments, a relaxing massage, and of course, a consultation for your snip.
James Barker Barber, #B2 -79, Marina Bay Link Mall, 8A Marina Boulevard, Singapore 018984
Hombre Barberblade
Full-length windows, abundant natural light and concrete flooring – the industrial interiors of Changi Road's Hombre Barberblade makes it one of the best-looking salons around. Services include the usual cut and style, shave, additional hot towel service and even beard colour enhancement.
Hombre Barberblade, #01-04, Icon @ Changi, 228 Changi Road, Singapore 419741
Rogue and Beyond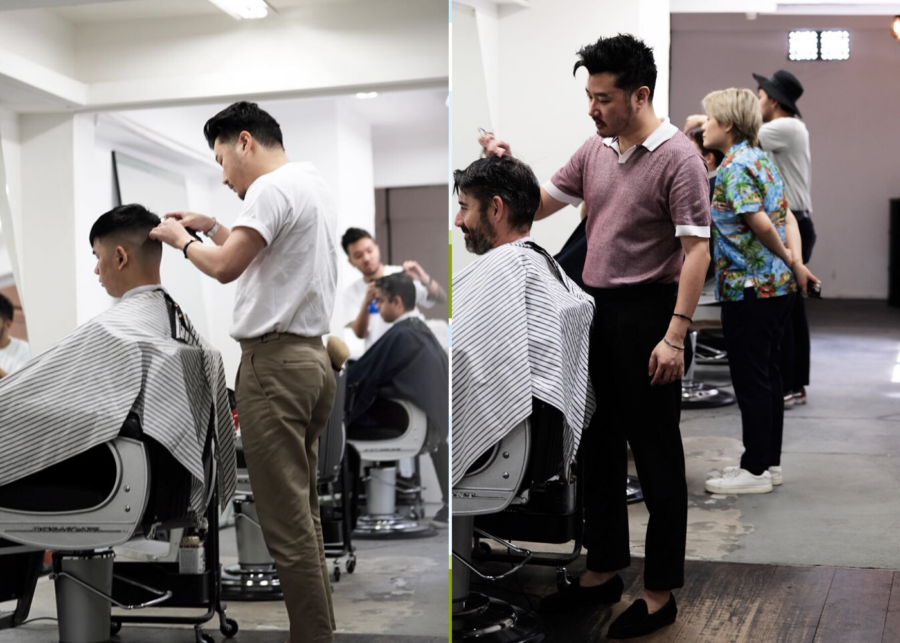 Walking into Rogue and Beyond is like walking into a celebrity's dressing room – discreet, well-furnished and next level. Each session starts with a consultation where you'll be advised on the best style based on your facial features. This is the place to go if you want to come out looking like a young Leonardo Dicaprio.
Rogue and Beyond, 147A Telok Ayer Street, Singapore 068606
Premium Barbers
No frills, gimmicks or fancy tricks. Premium Barbers is a no-nonsense barbershop in Singapore that gets the job done (and done well, might we add). Its non-descript decor (or lack thereof ) makes it look like a typical hair salon, but ignore all that and focus instead on what it excels in – affordable haircuts and shaves done with meticulous attention to detail. Plus, head massages for a complete experience.
Premium Barbers, multiple locations including Orchard Gateway and Wheelock Place.
The Golden Rule Barber Co.
Aside from being experts at handsome haircuts, The Golden Rule Barber Co. is also your go-to place for tools of the trade such as pomades and shaving tools. Pomades sold in-store include its very own TGR Strong Hold Pomade, TGR Grooming Spray and TGR Matt Paste.
The Golden Rule Barber Co., Level 2, 66A Race Course Road, Singapore 218570
DeepCuts Barber's
Tucked within an attic of a shophouse along Kampong Bahru Road, this barbershop is one of Singapore's coolest. It offers tip-top men grooming services (think dapper haircuts, hot towel shave and full beard sculpting!) at affordable prices. Patrons can expect a stylish makeover by these passionate homegrown barbers. Psst: It's by appointment only.
DeepCuts Barber's, #02-01, 77 Kampong Bahru Road, Singapore 169376
The 'A' Street Barber Shop
It won't surprise anyone that Kampong Glam is home to two hipster barbers, with one of them being this barbershop on Haji Lane. Dudes of all ages head here for a fresh cut. And it's easy to see why it always has snaking queues. The light, unfussy environment is filled with busy banter from customers and skilled barbers who deliver cuts with military precision. Looking to dye your white hair? Go for the hair darkening dye treatment that will leave you with natural shades of black and brown hair.
The 'A' Street Barber Shop, #02-25, Textile Centre, 200 Jalan Sultan, Singapore 199018
Mr Moustache
These days, it looks like a gentrified residential enclave simply isn't complete without a vintage-styled barber in its midst. Here, grooming-savvy lads can get their fix of fresh fades and dapper undercuts. Feel like you deserve a spot of pampering? Pop in for a clean, relaxing shave and stock up on new grooming must-haves, including beard oil and pomade.
Mister Moustache Barber Shop, #01-20, Block 5, Everton Park, Singapore 080005
The Gentlemen Society
Another barber in Kampong Glam, The Gentlemen Society is made for lads who love nothing more than the "simple pleasures of hot towel shave and cut and wash". Mahogany and ebony-clad interiors beckon you into the old-timey space. Check in for a chop by the bearded barbers, or lay back for a smooth shave and shear.
The Gentlemen Society, 12 Baghdad Street, Singapore 199669
Splice Barbershop
This swanky barbershop is conveniently located in Suntec City Mall. Perfect if you've only got time to squeeze in a lunchtime appointment. Haircuts aside (these include wash and blow, styling and massage), you can also indulge in an array of grooming services such as spa mani-pedi or head and shoulder massages.
Splice Barbershop, #01-487 (Near Tower 1), Suntec City Mall, 3 Temasek Boulevard, Singapore 038983