Photography: Bread & Hearth via Facebook
East side, best side! Hit up these beloved cafes in the east for brunch, coffee, gelato, and more.
In the neverending battle of East versus West, Singapore's east side really lucked out in the cafes department. Neighbourhoods like Joo Chiat, Siglap, and even Bedok have plenty of cool eating spots serving amazing coffee, croissants, and cold treats. But which ones truly deserve being called the best? Here are the top cafes in the east worth dropping your dollars.
The best cafes in the east of Singapore
1. Hundred Acre Creamery
Those feeling "rumbly in their tumbly" should make a beeline for this gelateria in Tampines. Inspired by the children's classic Winnie the Pooh, this small but mighty cafe is all about spreading love and joy. The handcrafted creations are affordably priced, with flavours that include the bestselling honey chrysanthemum (we bet Pooh will approve of this), ocean blue (white chocolate seaweed and blue pea flower), and Madagascar vanilla with Biscoff crumbs. Gelatos go well with the signature coconut pandan waffle.
Hundred Acre Creamery, #01-24, 824 Tampines Street 81, Singapore 520824
2. Kings Cart Coffee Factory
Next on our list is every coffee connoisseur's favourite caffeine spot in Joo Chiat. From the moment we touch the portafilter shaped door handle, we know these folks mean serious business. There are unique flavours and coffee cocktails for you to sip and savour. How about some sour plum in your cold brew? Perhaps you'd much prefer lychee and mint instead. Pair your cup of joe with sharing plates and brunch staples.
Kings Cart Coffee Factory, #01-05, 328 Joo Chiat Road, Singapore 427585
3. Mod Cafe
Is it a cosy cafe or a fancy hair salon? Well, it's a mixture of both. Housed in a pastel pink container, this cafe on the east side of Singapore is the neighbourhood's best-kept secret. Step inside and you'll be greeted by plain white walls, except for the one behind the bar. That particular wall features a large handpainted floral mural. Take a seat and sample the all-day breakfast set, cheesecakes, and homemade muffins. Go ahead and get a haircut if you feel like it!
Mod Cafe, 1A Kuo Chuan Avenue, Singapore 426888
4. Apiary
I scream, you scream, let's give it up for Apiary's ice cream! This popular dessert spot is a sweet tooth's wet dream, filled with flavours that are constantly on rotation. You can stick to the classics such as vanilla bean and coconut, or go for premium selections like the velvety Sicilian pistachio. If you're undecided, we recommend getting the signature namesake.
Apiary, #01-01, 81 Joo Chiat Road, Singapore 427725
5. Bloom Coffee
You may be wondering: what are sangas? That's Aussie slang for sandwiches, mate. Going off its name, you should know what to expect here. That's not all, however. Take a chance and sip on the other interesting concoctions on the menu, like yuzu cardamom lemonade and yuzu basil kombucha. Small eaters can enjoy their fill of shoestring fries and granola bowls. The cafe doesn't accept reservations, so fingers crossed you don't have to wait long for a table on a crowded day.
Bloom Coffee, Goodwill Court, 87 Upper East Coast Road, Singapore 455223
6. The Brewing Ground
We're all for the East Coast plan if it involves adding more cafes, such as this one, into the neighbourhoods. The Brewing Ground is a gorgeous glasshouse eatery overflowing with natural light, greenery, and a warm ambience. Diners can look forward to the usual suspects on the menu, such as buttermilk waffles, mochas, and truffle fries. The alfresco area is pet-friendly, which means your four-legged buddies can join in your cafe-hopping adventure too.
The Brewing Ground, #01-24, The Yards, 406 Joo Chiat Place, Singapore 428084
7. Bread & Hearth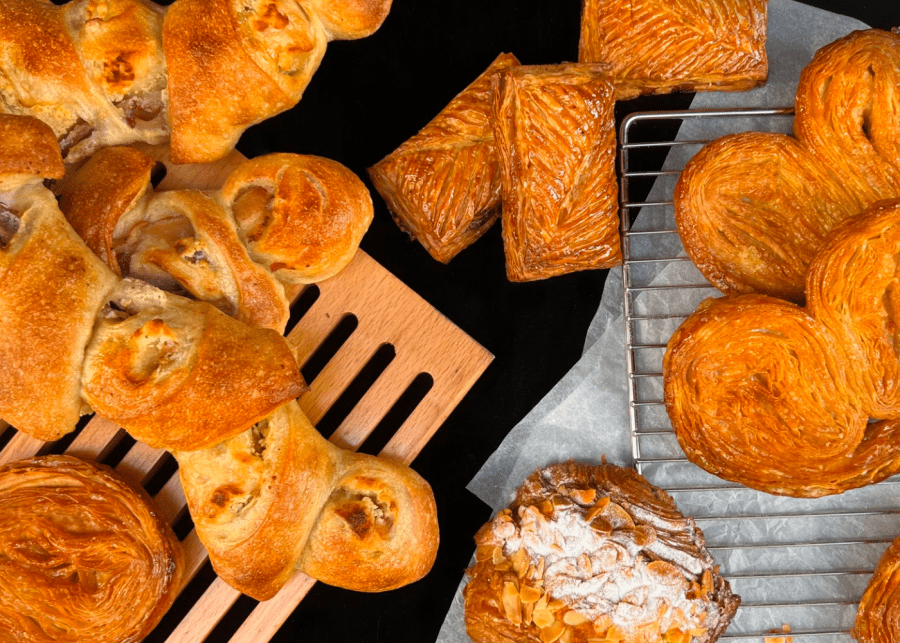 When one door closes, another one opens. Which is why Keong Saik's loss is the East side's gain. This bakery is well-known for its artisanal breads and pastries using traditional European methods. Take your pick from its wide range of viennoiseries, freshly baked focaccias, and brioche burgers. If that's not enough, consider adding the pasta to your order. Wash everything down with a cup of coffee, which has a cacao and nutty flavour.
Bread & Hearth, #02-27, Katong V, 30 East Coast Road, Singapore 428751
8. Birds of Paradise
Even though it's technically not a sit-down cafe, it'd be a crime to exclude this ice cream boutique from our "best of the east" list. Our team are big fans of the gelato, which is inspired by nature and made with flowers, fruits, herbs, and spices. The result? Refreshing and tasty treats that are perfect for the weather. The white chrysanthemum is one of our writer's go-to orders.
Birds of Paradise, multiple locations including Katong and Jewel Changi Airport
9. Percolate
There's no shortage of coffee cafes in Singapore's east side. But if you're looking for an unpretentious joint, this should be your one and only choice. Besides a good cuppa, this Bedok resident offers sweet and savoury croissants, moreish sandwiches, and plant-based milk for you to take home. It's also an excellent spot to get some work done or enjoy a quiet day reading the latest bestseller.
Percolate, #01-152, 136 Bedok North Avenue 3, Singapore 460136
10. Nom
What's a nice eatery like this doing in MacPherson Community Club? Nom actually started as a neighbourhood cafe before making the move to its current space. The interior is reminiscent of our beloved void decks, albeit with an upgraded design. There's a replica of the iconic dragon playground too! The menu boasts mains such as ribeye steak, rosti, burgers, and pasta. Say hi to the resident cat Tofu if you see it!
Nom, #01-02/03/04, MacPherson Community Club, 400 Paya Lebar Way, Singapore 379131
11. Five Oars Coffee Roasters
Are you the kind who needs coffee to function normally? Get your caffeine fix at this cafe. Each brew packs a punch, all thanks to the beans imported from Colombia, Ethiopia, and Peru. You can even purchase the beans, which are refreshed every Thursday, for your coffee machine at home. The food selection features brunch faves, hearty mains, and decadent sweets that'll fill you up.
Five Oars Coffee Roasters, 6 Upper East Coast Road, Singapore 455200
12. South Union Park
Kembangan's such an underrated neighbourhood – this hidden heartland gem is a testament to that statement. A stone's throw from the MRT station, this understated cafe is all about burgers, pasta, and desserts. If you're an adventurous eater, a must-try dish is the squid ink bone marrow. Otherwise, stick to signature items such as the duck confit tagliatelle, wagyu cheeseburger, and vongole.
South Union Park, 101 Jalan Kembangan, Singapore 419139
13. Hello Arigato
This Japanese-style establishment had us at hello. Its simple yet delicious sandos will definitely make you go back for them again and again. Be sure to try the HCG, an outlet exclusive packed with shrimp paste chicken that's been marinated for 48 hours and crunchy cucumbers. If you're hankering for something sweet, the Shibuya toast is a winner. Don't forget to say "arigato" after your meal!
Hello Arigato, 314 Joo Chiat Road, Singapore 427565
14. Tigerlily Patisserie
In the words of 50 Cent: we'll take you to the candy pastry shop. Founded by dessert chef Maxine Ngooi, this patisserie is the culmination of her culinary experiences (she trained with the renowned Cheryl Koh) and passion. Expect innovative bakes here, from sweet treats such as yin yang cruffin (black sesame cream, coconut ganache, and sesame brittle) to savoury selections like otah on a black croissant.
Tigerlily Patisserie, 350 Joo Chiat Road, Singapore 427598
15. Cafe Natsu
Joo Chiat has not one, but two Japanese-inspired cafes. Cafe Natsu's flagship outlet, housed in a heritage shophouse, is all about fusing Japanese dishes with a local touch. The menu features delectable eats such as chestnut mushroom rice with seasonal fish, cold somen, and crispy karaage. Save some stomach space for mochi doughnuts served with salted Hokkaido milk ice cream. Quench your thirst with coffee, tea, and tipples.
Cafe Natsu, 283 Joo Chiat Road, Singapore 427537
What are you waiting for? Run – don't walk – to these top cafes in the east side of Singapore.