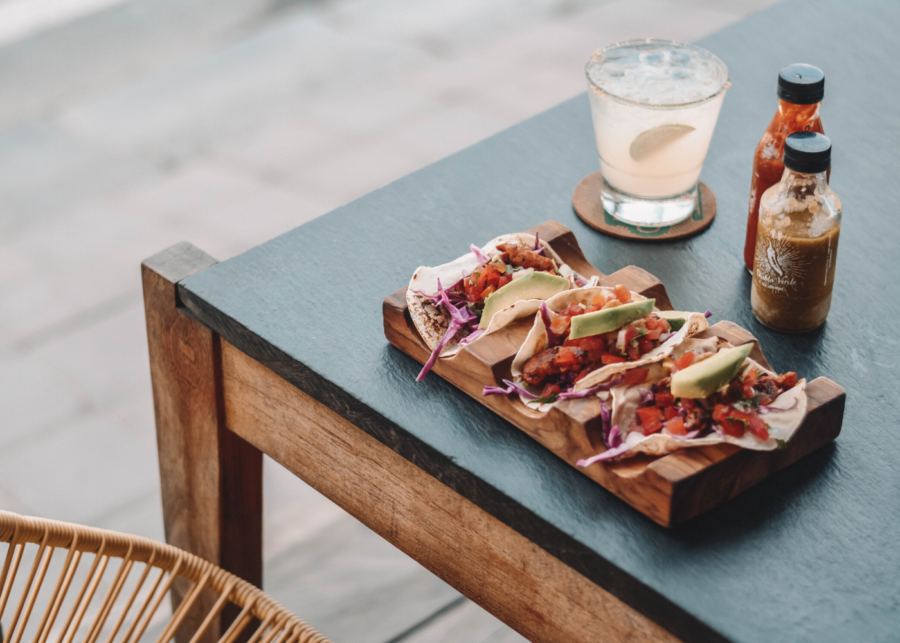 Photography: Content Pixie via Unsplash
They're proof that Singapore has some wickedly good Mexican food!
Tasty tacos. Bigass burritos. You'll find all these and more at the top Mexican restaurants in town. Sure, we've all got our go-tos for Japanese, Thai and Peranakan. But these guys don't kid around when it comes to Mexican food – they straddle the line between authentic flavours and contemporary creations, giving you everything you could ever want in a Mexican meal. Hungry yet? We certainly are!
Papi's Tacos
Order online for delivery.
When the crew behind one of our favourite bars in the CBD (ahem, Employees Only) opens a Mexican place, you know it's legit. This no-frills taqueria is led by Mexican chef-owner Jose Mauricio Espinoza, who is so friendly the customers call him 'papi'. The cosy 28-seater space gives an intimate food truck vibe, filled with the sound of chatter and the aroma of whatever's sizzling in the kitchen. Of its authentic street food-style eats, fan favourites include the tacos, pulled pork burritos, and of course, classic margaritas. The establishment also boasts new creations on a monthly basis, like the addictive braised lamb tacos (you won't stop at one!). Psst: Taco Tuesdays happen weekly from 5pm, where you can get three of the same tacos for the price of two! Fancy a pint? New beers on the menu include Taco Cerveza and Dos Equis. And don't miss the daily happy hour promotion from 3pm – 7pm where you can get tipples like frozen lime margarita, house spirits and more at just $9 per glass.
Papi's Tacos, #01-01, 39 Seah Street, Singapore 188395
Chicanos
Available for delivery via Foodpanda.
Chicanos is a Mexican food joint with stuffed-to-the-brim tacos and burritos, as well as the addictive beef chili fries that's a total crowd pleaser. Plus, it has special East meets West creations like the fried mantou with grilled chicken and sriracha mayo. Wash it all down with the signature Tokyo iced tea for a refreshing tipple.
Chicanos, 33 Bali Lane, Singapore 189869
Superitto
Available for delivery via Deliveroo.
Get your Mexican fix with a healthy twist at Superitto, where you can swap out the usual white rice with brown rice. The customisable options also mean that you can fill your burrito or rice bowl with healthy ingredients like sweet potato, sweet corn, edamame and others. Nachos and churros are on the menu too, if you want a treat!
Superitto, #B1-K25, Paragon, 290 Orchard Rd, Singapore 238859
Lucha Loco
Order online for delivery.
Referencing 'Lucha Libre', Lucha Loco prides itself on fresh, contemporary Mexican food and relaxed vibes. We're obsessed with its tacos: Choose from barbacoa (braised lamb), spicy chorizo and braised beef brisket, or carnitas (pork belly). The elotes (Mexican street-style grilled corn rubbed with chipotle mayo, cotija cheese and lime) are just as scrumptious. Oh, and you can't pass up an opportunity to savour the blue corn cake with sweet corn ice cream. It's just one of those unforgettable desserts. Best washed down with a jug of frozen lime margarita. Good times!
Lucha Loco, 15 Duxton Hill, Singapore 089598
Piedra Negra
Order online for delivery, combined with Punjaby Dawat's and Blu Jaz's offerings.
One of the coolest Mexican restaurants in town, this colourful spot is hard to miss as you wander around Arab Street and Haji Lane. A must-try: The chunky guacamole that's made fresh right in front of your eyes. Paired with warm and crunchy tortilla chips, the avocado dip will definitely hit the spot. Oh, and we're huge fans of the beef burritos served with waffle fries. Simple yet flavourful, these babies are affordable and filling – the best kind of combo. Wash it all down with a potent glass of frozen margarita for a hearty Mexican meal.
Piedra Negra, 241 Beach Road, Singapore 189753
La Salsa
Order online for delivery.
At La Salsa, you can have your live music and eat your tacos, too. Dig into chips, dips, elotes, cornbread, ceviches, meaty mains, burritos, enchiladas and more. And let's not forget the scrumptious grilled chicken quesadillas or the selection of margaritas, which pairs well with just about anything. That's your dinner and entertainment sorted!
La Salsa, #01-17, 11 Dempsey Road, Singapore 249673
Cafe Iguana
Call +65 6236 1275, order online or check out Foodpanda, GrabFood and Deliveroo for delivery.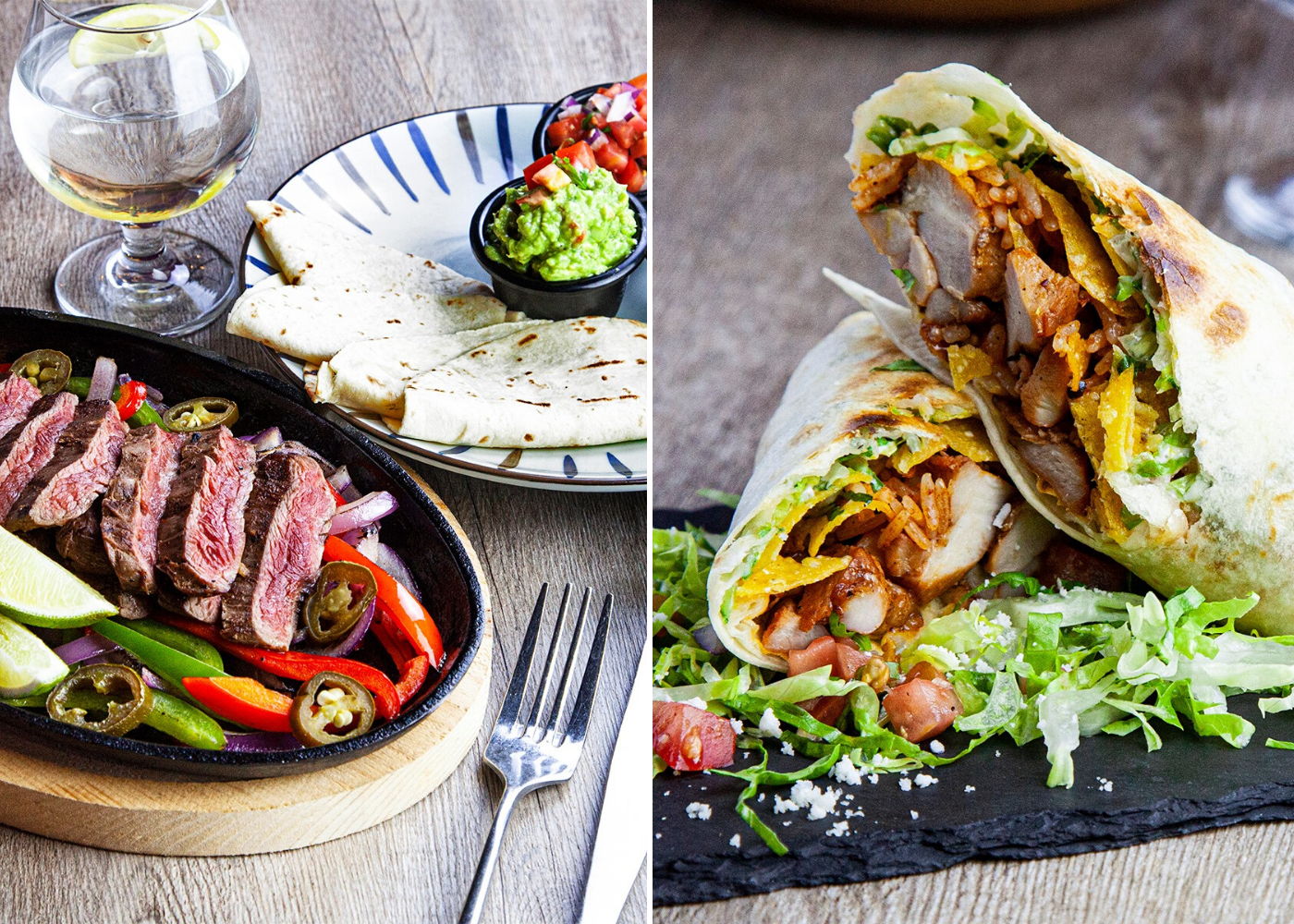 Expect top-notch Mexican cuisine at this decades-old hip hangout, which is always buzzing with locals and visitors alike. The margaritas are positively lip-smacking (and affordable, especially during happy hour!). Plus, the tacos, fajitas, burritos and chimichangas stuffed with the likes of beef, chicken and prawn will fill you up happily.
Cafe Iguana, #01-03, Riverside Point, 30 Merchant Road, Singapore 058282
Margarita's
Call +65 6471 3228 or +65 9243 0172 to order for delivery and get 15% off.
So you love slathering copious quantities of fresh spicy salsa on… everything? If you're particular about your pico de gallo, Margarita's offers one of the best chunky salsas in its selection of Mexican staples. We've got a soft spot for the margaritas, chicken grande taco salad and enchiladas, too. Swing by with your squad to enjoy the carne asada (grilled ribeye steak) – this platter features grilled ribeye steak, tortillas, pico de gallo, guacamole and black beans for the ultimate DIY taco extravaganza. Don't mind us, we'll just be chowing down on Mexican brownies and tiramisu afterwards.
Margarita's, #01-09, 11 Dempsey Road, Singapore 249673
Muchachos
Available for delivery via Deliveroo.
Burritos are what this no-frills Mexican joint does best. The place serves up good, authentic (and huge!) Mission-style ones – it's all about the tortillas. Stuff yours with rice, refried beans, lettuce, and don't forget the guac! For meat options, try the tender and flavourful pork, steak or chicken. P.S. You'll be pleasantly surprised by the brioche cheeseburger – it's greasy and oh-so-good.
Muchachos, #01-01, Frasers Tower, 182 Cecil Street, Singapore 069547
Guzman Y Gomez
Available for delivery via Deliveroo.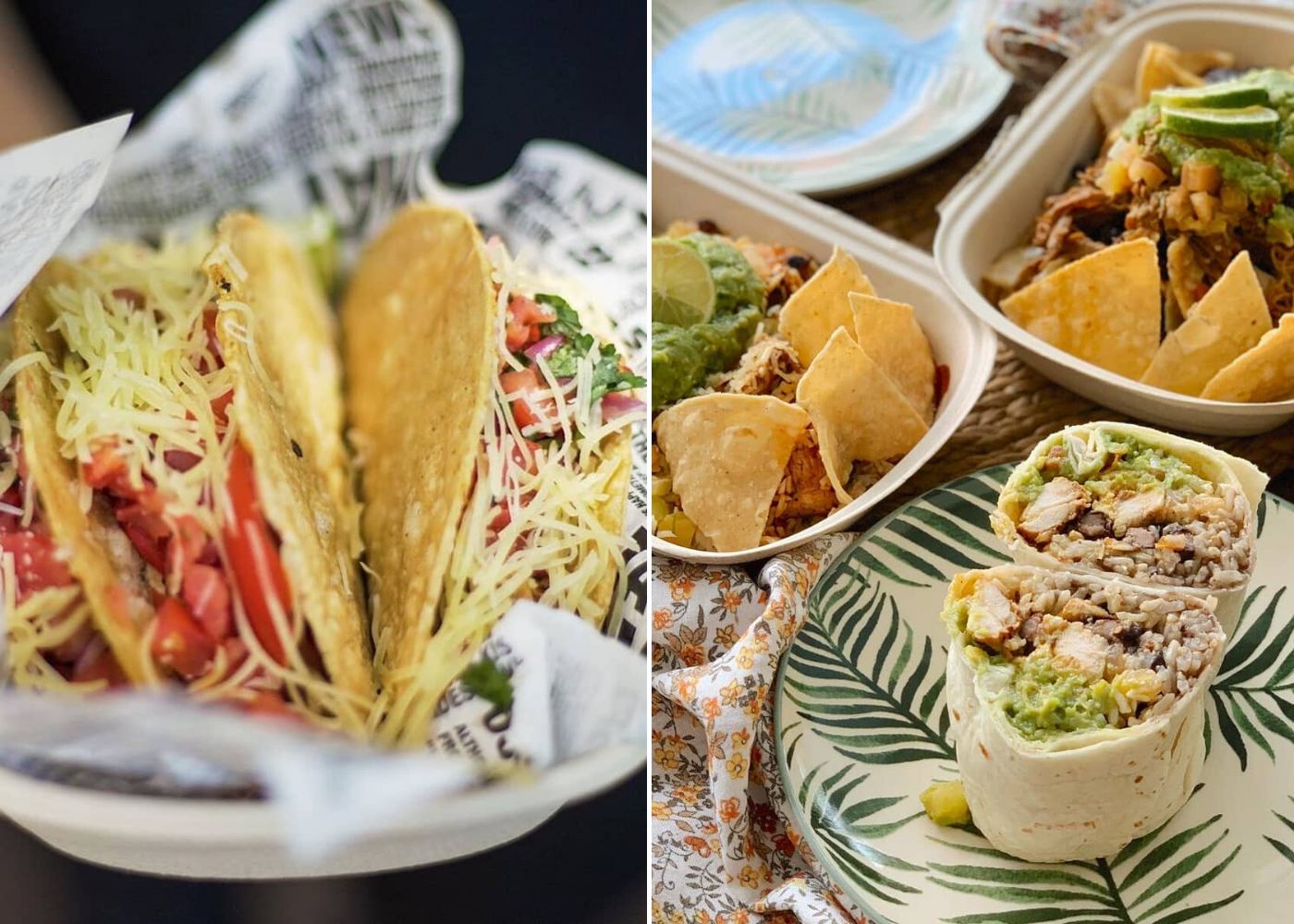 Just 'cos you're strapped for time doesn't mean you have to skimp out on a hearty lunchtime feed. Pop by Guzman Y Gomez and order some gut-busting Mexican classics like burritos, tacos, fajitas and quesadillas. You've got a modest selection of fillings to choose from, both spicy and non-spicy, but our firm favourite is the signature spicy chicken (with nacho fries!). The food here is takeaway-friendly and service is fast, so you'll be in and out in no time.
Guzman Y Gomez, multiple locations including Orchard Gateway and Novena Square
Senor Taco
Available for delivery via Foodpanda, GrabFood and Deliveroo.
If you don't mind big crowds (especially at the boisterous outdoor Clarke Quay outlet), this eatery is one of many popular Mexican restaurants on the island. Its super satisfying tacos are a must-try! The kitchen makes a mean carnitas and baja fish taco, alongside torta steak sandwiches, generous burritos and chicken enchiladas.
Senor Taco, multiple locations including Chijmes and Clarke Quay
Les45
Order online from sister outlet Lower East Side at East Coast for delivery.
Taking up a spot on the 45th floor of the Singapore Land Tower in Raffles Place, Les45 (short for Lower East Side 45) is one place where you can have Mexican food with a view. You'll be impressed by how everything tastes so fresh, from the guacamole to the barramundi taco to the chipotle beef burrito. Don't forget to order up some churros and margaritas to complete the meal.
Les45, L45, Singapore Land Tower, 50 Raffles Place, Singapore 048623
Super Loco
Order online for delivery.
Sister to Lucha Loco (and roast chicken joint Chico Loco on Amoy Street), this Mexican hotspot is one of our faves for its great ambience and fab menu of tacos, quesadillas, meaty mains and divine cocktails. The kitchen whips up a scrummy burrito (think bacon and scrambled eggs for breakfast or beef brisket and pork chorizo for a protein-packed lunch), alongside burrito bowls, hearty burgers and a cool collection of salsas.
Super Loco, multiple locations including Customs House and Robertson Quay
Vatos Urban Tacos
Order online for delivery or via Foodpanda and Deliveroo.
Korean tacos, anyone? It may sound like a wacky concept but it's a heavenly combination. The menu at this edgy hangout sees fusion flavours from both Korean and Mexican cuisines spotlighted in its dishes. Think kimchi carnitas fries, honey tequila chicken wings, Korean po' boy burritos (with Korean pork belly and galbi beef short rib), and kimchi pork quesadillas.
Vatos Urban Tacos, #01-03, 36 Beach Road, Singapore 189766
El Mero Mero
Order via GrabFood, combined with Senor Taco's offerings.
Mexican food in Singapore isn't all about tacos and burritos – at least not here. Start off with the corn sampler of smoked huitlacoche donuts and chilli mayo, then move on to enchiladas stuffed with chicken and green tomato sauce or sizzling fajitas with oyster blade and poblano shishito crema – they're real crowd-pleasers. Plus, you can't go wrong ending your meal with a slice of tequila pecan pie and a side of cinnamon ice cream. The dessert dish is rich, sweet and creamy in all the best ways. Extra points for the classy feel at this upscale dining spot!
El Mero Mero, #01-20, Chijmes, 30 Victoria Street, Singapore 187996
Los Jefes Taqueria
Order online for delivery.
When we think of tortillas, tacos and beans, this Mexican restaurant comes to mind. With years of experience supplying Mexican groceries to residents in Singapore, you know your food is in capable hands. One popular favourite? The pastor, a traditional taco with thin, tender slices of pork, served with pineapple. Other must-tries include baja fish and barbacoa (lamb) tacos, as well as tortilla chips dipped in guac and salsa.
Los Jefes Taqueria, #01-73, NEWest Mall, 1 West Coast Drive, Singapore 128020
Cha Cha Cha Mexican Restaurant
Available for delivery via GrabFood, Deliveroo and Foodpanda.
One of Singapore's oldest Mexican hotspots, Cha Cha Cha serves fuss-free food in a casual, family-friendly environment. Crowd faves include the sizzling fajitas, warm tacos, big burritos with refried beans and Mexican rice, enchiladas, and chimichangas (like burritos, but deep-fried).
Cha Cha Cha Mexican Restaurant, 32 Lorong Mambong, Holland Village, Singapore 277690
Panamericana
Order online for delivery.
Though not exclusively Mexican, Panamericana brings the cool factor to Sentosa Golf Club. It also gives life to the rich diversity of cuisines in the four countries along the sprawling 50,000km of the Pan-American Highway that stretches through North, Central and South Americas. It's an exciting spread, to say the least. You'll have to try the empanadas, meats and seafood dishes to get the Panamericana twist. And before you ask: Yes, churros and boozy concoctions make an appearance on the menu.
Panamericana, Sentosa Golf Club, 27 Bukit Manis Road, Singapore 099892
Chimichanga
Order online for delivery.
Looking for Mexican food in Singapore? This dive bar has it all – from tacos and quesadillas to chimichangas (duh!) and total cantina feels. We've gotta say, it whips up great beef burrito bowls and nachos loaded with ancho beef, salt pork tinga or chipotle chicken. Psst: You can also check out sister outlet Chimi's – it's touted as Singapore first Mexican bar in a shipping container. Besides, all that delish Mexican grub and cocktails pair fabulously with the view of Marina Bay.
Chimichanga, 36 Dunlop Street, Singapore 209364
Baja Fresh
Promising no can openers, microwaves or freezers in its restaurants, Baja Fresh prides itself in fresh, handmade fare. This Mexican grill serves up Baja-inspired entrees like tacos, burritos, quesadillas and more. Add sides like salads and churros to complete your meal.
Baja Fresh, Rendezvous Hotel, 9 Bras Basah Road, Singapore 189559
Mad Mex
The popular Aussie name is beloved for its guac and salsa, best accompanied by burritos, quesadillas and corn or flour tacos. Feeling ravenous? Get a plate of loaded nachos topped with black beans, pico de gallo, queso (cheese) and your choice of protein to share.
Mad Mex, #02-05, Marina Bay Financial Centre Tower 3, 12 Marina Blvd, Singapore 018982
Now go forth and enjoy all the Mexican food you want!