Photography: Lopsan via Pexels
Crate-diggers and audiophiles, here's where you can get your hands on vinyl and turntables in Singapore.
We all love rocking out to live music, but old school vinyl is far from obsolete. There's just something seductive (and hipster) about removing a giant black disk from its sleeve, placing it on a player, gently dropping the needle onto the record, and taking in the warm, glorious sound emerging from the speakers. Who knew there was such a vibrant vinyl scene in Singapore? Here, we dish out the finest record stores in Singapore for your analog aural fix.
Best record stores in Singapore
1. Swee Lee
The people behind record store Swee Lee believe that music can shape both the soul and society. From turntables and records to guitars and keyboards, you can get almost anything you need to set up your own music nook at home. Once you've made your purchase, chill out at the Swee Lee Social Club – a cafe and social space within the store where you can refuel over coffee at desserts.
Swee Lee, #01-07/08/09/10, The Star Vista, 1 Vista Exchange Green, Singapore 138617
2. The Barbershop Music
As you can tell by its name, this is the place for sick tunes and sick 'dos. Aside from vinyl records, you can also expect to find a wide selection of posters, merchandise and cassettes at The Barbershop Music. You'll be walking out with a shiny new record and an edgy new hairdo – talk about killing two birds with one stone.
The Barbershop Music, 311A Geylang Road, Singapore 389350
3. Vertigo 26
A haunt for music enthusiasts, Vertigo 26 is a record store and bar that's located in the basement of the Mint Museum of Toys. Browse through a catalogue of over 1,000 albums, and bop along to funky beats in this fun social space. Feeling peckish? Have a seat in a leather chair and enjoy ice-cold craft beer and bar bites. What a perfect night!
Vertigo 26, #B1-00, 26 Seah Street, Singapore 188382
4. The Analog Vault
Think vinyl records and The Analog Vault comes to mind. Established in 2015, this record shop quickly gained traction amongst audiophiles with its wide array of genres, ranging from jazz and electric to soul and hip hop. So switch off your phone (or at least close your Spotify app) and spend the afternoon with these well-stocked racks of hand-picked vinyl and shelves of crisp, paperback reads.
The Analog Vault, #02-13, Esplanade, 8 Raffles Avenue, Singapore 039802
5. Retrophonic Records
Tucked away on Duxton Road and housed in a two-storey shophouse, Retrophonic Records caters to the digital-weary soul. The latest radio hits and obscure indie rock sit side by side with 70s pop songs and vintage Chinese records. Oh, and the boutique also houses amazing turntables, amplifiers and speakers to satisfy your aural cravings, no matter the genre.
Retrophonic Records, 18A Duxton Road, Singapore 089484
6. Zenn Audio Electronics
Crate diggers, this hole-in-the-wall establishment is the place to be if you're on a dinner hunt in Simpang Bedok. It might be a little out of the way for non-Easties, but we'd reckon a trip to this quaint shop is well worth a post-prata visit for its treasure trove of old school records and vintage turntables.
Zenn Audio Electronics, Bedok Shopping Complex, 292 Bedok Road, Singapore 469448
7. Straits Records
Not only does this record store offer a well-curated range of vinyl and CDs, it's also an ardent supporter of local and regional music. There's even an in-house label to help emerging talent produce their albums. At the moment, Straits Records does not have a physical store, but they still take orders and enquiries online so feel free to drop them a message.
Straits Records, available online

8. Curated Records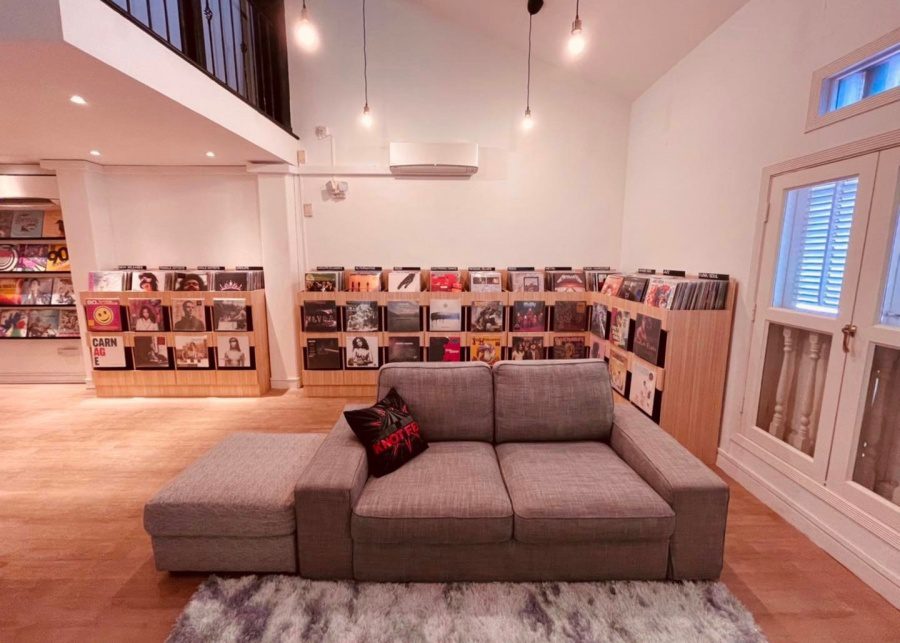 If you're on a hunt for indie music on vinyl, this little hangout along North Bridge Road is your best bet. There are over 1,000 records to check out! It's definitely a treasure vault for hipsters to rummage through all day.
Curated Records, 766A North Bridge Road, Singapore 198734
9. For The Record
Tucked away in Peninsula Shopping Centre, this record store in Singapore oozes nostalgia. The 80s-like interiors serve as an indication of what to expect: a collection of records from the 50s to the 90s. So don't expect to find Ariana Grande or Dua Lipa here. If this is your first foray into vinyl shopping, talk to the owner, Mr Alagiry, for recommendations.
For The Record, #04-28, Peninsula Shopping Centre, 3 Coleman Street, Singapore 179804
10. Vinylicious Records
With an eclectic mix of music genres, this establishment is pretty popular amongst vinyl collectors. Whether you're looking for records by chart-toppers like Taylor Swift or alt-rock bands like Smashing Pumpkins, Vinylicious has got your back. New to the whole vinyl scene? The friendly staff will guide you along on this analog journey.
Vinylicious Records, #B1-41, The Adelphi, 1 Coleman Street, Singapore 179803
11. Inokii
There aren't many record stores in Singapore where metalheads can get their fix, but who'd have thought a vinyl store would be one of them? Despite its small size, Inokii offers a sizeable collection of vinyl spanning various rock and dark metal sub-genres. But if you're looking for something a little more cheery and upbeat, the store also stocks an ample selection of pop releases.
Inokii, #03-30, Far East Plaza, 14 Scotts Road, Singapore 228213
12. Roxy Records & Trading
Established some 50 years ago, Roxy Records is a family-run business with an impressive selection of vinyl, CDs and cassettes. Its goods are what bring DJs and music lovers back for more rare and mainstream titles. Can't find what you're looking for? These folks will be glad to place an order for you.
Roxy Records & Trading, #02-15, Excelsior Shopping Centre, 5 Coleman Street, Singapore 179805
13. Hear Records
Looking for a snazzy new turntable? On top of its seemingly endless selection of vinyl stocks, Hear Records is the local distributor of Music Hall turntables. No two visits are the same, as the owner brings in new vinyl shipments from Japan, US and Europe on a monthly basis.
Hear Records, #01-18, Burlington Square, 175 Bencoolen Street, Singapore 189651
14. Vinylucky
Located in the AV-dominated mall that is The Adelphi, the unassuming Vinylucky is a haven for collectors as it stocks over 13,500 records from the 60s to the 90s. It also provides record cleaning services for serious vinyl collectors. Psst: spend more than $250 (not that hard, really, considering the huge selection available) and receive free membership status for life!
Vinylucky, B1-42, The Adelphi, 1 Coleman Street, Singapore 179803
15. Choice Cuts Goods + Coffee
Founded by DJ collective Matteblacc, Choice Cuts Goods + Coffee champions soul music and fresh beans. Come in for a brew, but don't expect to leave in a hurry. You'll want to spend the afternoon with these racks of vinyl and street merch.
Choice Cuts Goods + Coffee, 446 Joo Chiat Road, Singapore 427664
16. Red Point Record Warehouse
Love music from the 60s to the 90s? Carpenter and vinyl junkie Ong Chai Koon's warehouse at Tai Seng might have just the record you want. Its sizeable collection of records covers genres like classical, electronic, Chinese and indie music.
Red Point Record Warehouse, #06-11, Kapo Factory Building, Blk B, 80 Playfair Road, Singapore 367998
17. Mosta Records
Mosta Records sells new and used vinyl records, as well as turntables and accessories. On top of that, these folks also own a record and talent label too. Swing by to browse through the selection!
Mosta Records LP, #02-02, 34 Arab Street, Singapore 199733
18. RetroCrates
Now, East-siders can just pop by Joo Chiat for vinyl hunts at RetroCrates, which is run by a husband-and-wife duo. While you can find a range of contemporary pop and indie titles here, the selection of classic 80s stuff like Duran Duran, Blondie and Roxy Music is what gives the store its funky personality.
RetroCrates, 450A Joo Chiat Road, Singapore 427661
19. Surface Noise
For alternative types who prefer your music heavier, this store stocks a great selection of local, regional and international records for hardcore, metal, punk and emo tracks. Blink and you might miss it! The shop is located at Textile Centre in the Arab Street precinct.
Surface Noise, #04-16, Textile Centre, 200 Jalan Sultan, Singapore 199018
20. Roxy Disc House
Don't get mixed up with Roxy Records because of its name! Digging around at this record store is quite the joy. Here's where you can rediscover retro local music from the 60s and other reissues of well-loved classics.
Roxy Disc House, multiple locations including The Adelphi and Northpoint Bizhub
21. SK Fong
Online retailer SK Fong has quite a diverse range of titles on the catalogue. From David Bowie to The Smiths, Gwen Stefani to Justin Timberlake, the vinyl selection also includes Mandopop gold. Happy browsing!
SK Fong, shop online
Hit up these records stores in Singapore when you're in need of an analog fix!