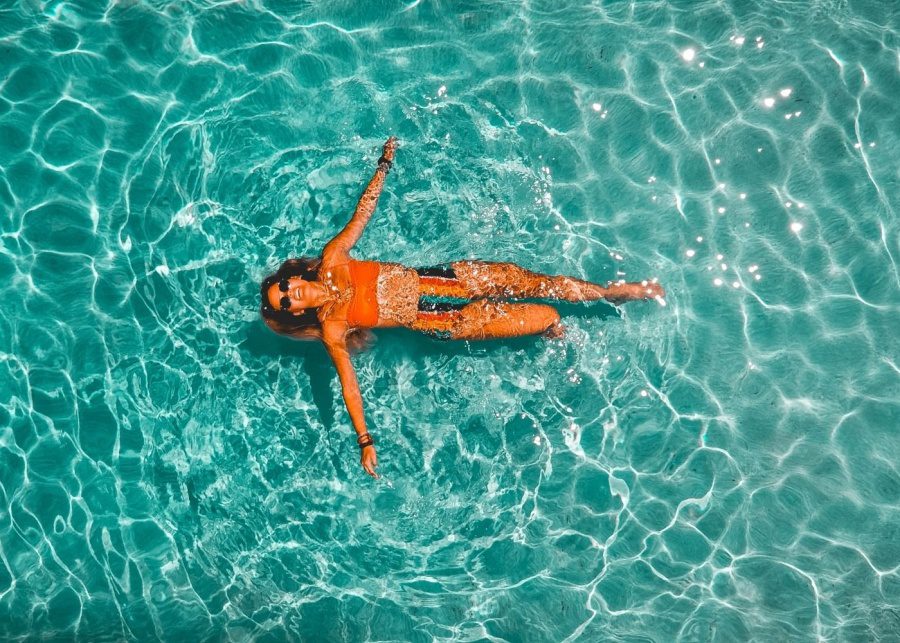 Photography: Drew Dau via Unsplash
With our list of swimwear stores in Singapore, you'll be channelling your inner beach god or goddess in no time.
Thanks to our balmy weather, it can be pretty tempting to flounce around in resort wear all day long. But finding the perfect swimwear can be a challenge – especially when you've already set a date for a beach day out. To ease the horrors of shopping (damn you, fluorescent lights and unflattering mirrors), we bring you our pick of the best swimwear stores in Singapore for beach lovers of all shapes and sizes. It's time for sand, sea and sun with stylish yet functional beachwear essentials for men and women. Now (swim)suit up, 'cos your search for the perfect bathing suit is over.
Shop swimwear for women in Singapore
1. Happy Jiggly Feet
Express yourself with playfully chic two-pieces and summer-ready onesies. Happy Jiggly Feet takes you straight to the beach with a tropical collection that channels major summer vibes. Unsure of your size? Try out the home fitting service to ensure you get the best fit.
Happy Jiggly Feet, available online
2. Align Swim
Whether you're into loud colours, prints or pastels, Align Swim has you covered. Handcrafted with high quality fabric made from recycled materials, the brand wants you to shop guilt-free. Spruce up your beachwear wardrobe with the Luna scarlet or Sophia dreamland one-piece, and show up looking like a beach goddess!
Align Swim, available online and at #05-07, Oxley Bizhub, 67 Ubi Road 1, Singapore 408730
3. Next
This affordable online store has a stunning collection of beachwear and swimwear in bright colours and prints you'll love. The best part: it caters to women of all shapes and sizes (you can find bikini bras up to a G cup size). We love how it has the perfect maternity swimwear selection too, making it an accessible brand for women from all walks of life. We've got our eye on the cream floral shape-enhancing swimsuit!
Next, available online
4. August Society
Inspired by her European friends who regularly take time off to travel, founder Toni Chan recognised the need for gorgeous swimwear upon her relocation to Singapore. We love how Toni's invested in her designs – she personally selects all the prints and every detail of the suits. Plus, it's environmentally friendly as the swimsuits are made of recycled materials and come with multi-use capabilities. All pieces are crafted from quality, sustainable Italian-made fabric and XtraLife Lycra to help retain their shape.
August Society, available online and at Isetan Scotts, Monument Lifestyle and The Green Collective
5. Funfit
This local label has all the beach necessities you want. Think pool floats, sun protection and, of course, fun swimwear for both men and women. If you're a fan of bold prints and statement styles, you'll love Funfit's printed tankini tops, cool rash guards, colourful crop tops, funky swim rompers, one-piece cut outs and more.
Funfit, available online, at #02-42, Nex, 23 Serangoon Central, Singapore 556083 and multiple stockists
6. The Wyld Shop
Yes, we agree that The Wyld Shop has one of the best collections of resort wear, but this fab online store and IRL boutique also carries chic swimwear to pair with those cool kimonos and kaftans. With printed swimsuits and striking colours, these folks have your summer outfit in the bag.
The Wyld Shop, available online and at 412 Joo Chiat Road, Singapore 427637
7. Pinksalt
You won't find your typical two-piece bikinis here. This contemporary label keeps it modest with one-piece suits, tankinis and resort wear in original digital prints. To complete your look, throw on a toga cover-up or a comfy kaftan. Lovely!
Pinksalt, available online and at Level 2,16B Haji Lane, Singapore 189209 and stockists like Design Orchard
8. K.Blu
Talk about 50 shades of blue! This local label has made waves thanks to its collection of stunning swimwear in – yup, you guessed it – a kaleidoscope of rich azure hues. But beyond that, the brand also creates sleek patterns with bright shades and gorgeous design details. From sexy corsets and cut-outs to form-flattering togas, the choices are as endless as the deep blue sea.
K.Blu, available online
9. Amber Swim
The Singapore-based swimwear label gives casual bathing suits a minimalist luxe upgrade. Every piece is comfortable and sophisticated, with a blend of soft nylon and spandex. Whether you're after a dark one-piece suit with underwire-padded push-up cups or a neutral two-piece with rose gold details, you'll find all the classy looks here.
Amber Swim, available online and at Design Orchard
10. Seafolly
No need to second guess! This Australian icon is top dog when it comes to quality swimwear. Picky swim-shopaholics will definitely find something to suit your style. From sophisticated and sporty to sexy and sweet, pool time just got a whole lot more stylish with Seafolly's range that comes in all kinds of designs and coverage types.
Seafolly, available online and at multiple locations including Raffles City and Wisma Atria
11. Cos
Not fond of prints and bold colours? Don't worry. Cos has a range of simple streamlined yet chic bikinis and one-piece swimsuits that'll make you feel like the hottest babe by the pool. We say its swimwear collection is the perfect minimal style on the high street.
Cos, available online and at multiple locations including Raffles City and Ion Orchard
12. Bella Kini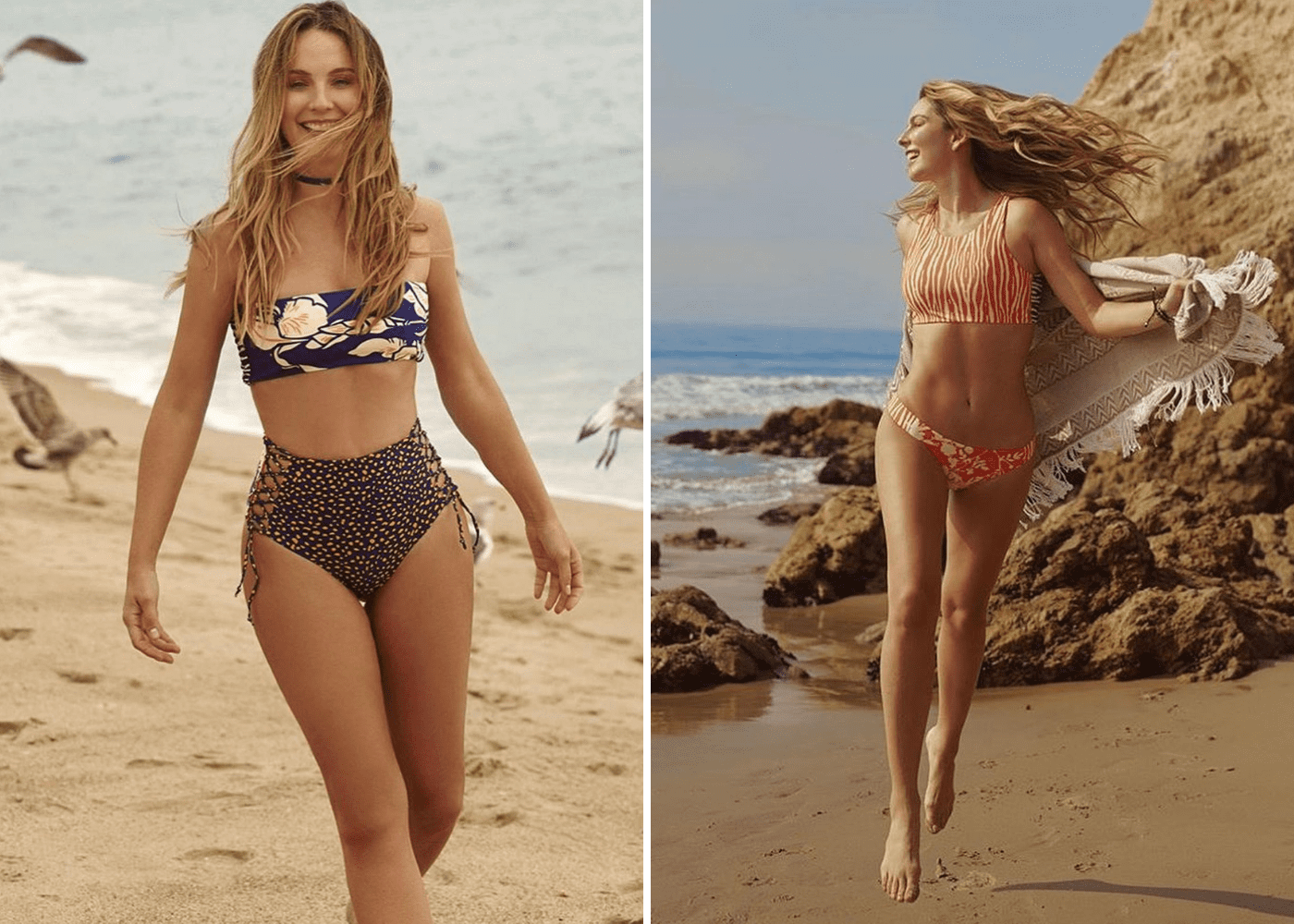 Frequent shoppers of Bugis Street will find Bella Kini familiar. The store was once a hole-in-the-wall haunt for avid sun worshippers. Today, it retains its cosy charm in a shophouse along Haji Lane with impeccable fitting and sincere customer service. To help ease your swimwear buying process, staff will be on hand to recommend products according to your preference and body shape.
Bella Kini, available online and at 69 Haji Lane, Singapore 189262
13. Coral Secret
Find the best of designer swimwear at Coral Secret. Channel your inner surf hippie, stick to the classics or go full-on sexy beach siren with a sweet selection of bikinis, tankinis, one-piece bathing suits and even tummy control swimwear.
Coral Secret, available online
14. Ocean Paradise
Not only does Ocean Paradise have a good assortment of bikinis and one-pieces, it also stocks Miraclesuit, a revolutionary label with sleek designs that accentuates your figure. We're loving the vibrant hues and prints that'll put you straight in the mood for a day of fun in the sun.
Ocean Paradise, available online and at multiple locations including Tanglin Mall and Great World City
15. La Perla
The holy grail of luxury lingerie clearly knows a thing or two about swimwear. Much like its delectable underpinnings, the swimwear line boasts similarly finely crafted and timeless pieces for the beach. Take your pick from sensual one-pieces to barely-there bikinis, then stock up on chic cover-ups for poolside ensembles.
La Perla, available online and at multiple locations including The Shoppes at Marina Bay Sands
16. Roxy
Besides maximum coverage wetsuits, Roxy stocks a variety of swimwear guaranteed to give you extra posing points for your beach pics. Stand out from the crowd with mix and match threads from its line of separates, or save the hassle with a hot one-piece. If you've got a rush for sportswear or prefer minimum skin exposure, the shop has a great range of rash vests and board shorts in every colour possible!
Roxy, available online and at multiple locations including Tangs VivoCity

17. Eres
Since landing in Singapore, luxury French swimwear brand Eres has made a splash on the local scene with its iconic swimsuit and bikini creations. Each collection is filled with beautifully designed, timeless classics that use fabrics to enhance and flatter natural curves. Think pops of colour, simplicity and elegance. J'adore.
Eres, Block 16 Dempsey Road, Singapore 249685
Shop swimwear for men in Singapore
18. Quiksilver
Planning to hit the water? Quiksilver will have you geared up in no time. Pop by the store for wave-friendly wetsuits that'll blast those wardrobe malfunction nightmares while you ride the waves. Stock up on rash vests and printed boardshorts in a variety of lengths to complete your surfer dude getup.
Quiksilver, available online and at Isetan Katong and OG People's Park 
19. Superdry
This high quality contemporary brand houses a range of apparel including funky beach shorts. Check out the beach volley or water polo swim shorts for your next swimming adventure. They vary from beach prints to plain ones to suit any taste.
Superdry, available online and multiple locations including VivoCity and Funan
20. Asos
If you don't already shop here, you're missing out. Browse through the men's swimwear range for swim shorts, trunks, briefs and more in bright colours and prints. You'll find a slew of popular brands like Adidas and Tommy Hilfiger on the list.
Asos, available online 
21. Decathlon
If you're the type to go for function over fashion, hit up Decathlon. Check out the range of reasonably-priced boxer-style swim shorts, swim briefs and anti-UV tees. Great for both occasional and real-deal swimmers.
Decathlon, available online and at multiple locations including Clementi and Punggol
22. Duxton
Brought to you by the folks behind Monument Lifestyle, the idea behind this fresh local clothing line mirrors the exuberant spirit of the Duxton neighbourhood. The label does printed tees brilliantly. We've got a thing for the relaxed fit camp shirt range, which channels the kooky and inner child with funky patterns. Think vibrant florals and cool fabrics that go perfectly with your boardshorts.
Duxton, available online 
23. Monument Lifestyle
This multi-label boutique has all you need for that beach vacay wardrobe. With board shorts and summer shirts from California brands like Katin and Banks Journal – among other beach-esque essentials – you're sure to make a statement.
Monument Lifestyle, available online and at 75 Duxton Road, Singapore 089534
24. Funfit
Besides blessing women with gorgeous swimwear, this local label also has all the beach necessities a man needs – from pool floats to cool trunks. Pick up an armful of UPF50+ crew neck tees in various sleeve lengths for your next island vacay and some good mid jammers. Don't leave without your Aero goggles!
Funfit, available online, at #02-42, Nex, 23 Serangoon Central, Singapore 556083 and multiple stockists
25. Mazu Resortwear
Hong Kong may not be the first place that pops in your head when you think beach vacay, but hey, it has some amazing beachwear labels. Mazu Resortwear is one that carries cool and vibrant boardshorts for men and boys (yay to #twinsies!). The colours, motifs and fabrics in the collection pay homage to Hong Kong's rich maritime history. Pro tip: keep your personal belongings from getting into the sand and sea by purchasing the handy ditty bag.
Mazu Resortwear, available at Shangri-La Rasa Sentosa Resort & Spa and Four Seasons Hotels and Resorts
26. Tom & Teddy
Inspired by the fun beachside culture in Australia, Tom & Teddy is a beachwear brand that provides a plethora of matching kids and men's swimwear. Aside from its bright colours and modern designs, the trunks and swim shorts are made from its signature fabric of quick-drying microfibre that's saltwater-resistant with UV protection. Dashing and functional – we like.
Tom & Teddy, available online
27. Mr. G's Designs
If you're the quiet and shy type (but you still dig the sun, sand and sea breeze), Mr. G's Designs has the perfect attire for you – beach shirts. With lightweight and loose-fitting shirts that come in various unique and funky designs, you won't have an excuse to avoid pool parties or BBQs by the beach.
Mr. G's Designs, available online 
28. Jack Wills
This clothing brand that promotes traditional British aesthetics with a contemporary twist also offers swim shorts. Whether it's sharp or sporty, you can hardly go wrong with a pair of swim shorts – classy!
Jack Wills, available online and on Next
29. Male-HQ
Wanna look good at a pool party? Pop by Male-HQ, where you'll stumble upon showstopping speedos and head-turning swim shorts from an array of premium brands like 2eros, Toot and Andrew Christian. All you need is a dash of confidence to rock them!
Male-HQ, available online and at #02-06, Ming Arcade, 21 Cuscaden Road, Singapore 249720
30. Marcuse
This designer brand from Australia deviates from plain ol' swimwear. Instead, it offers stylish but comfy pieces with unique, avant-garde designs. Offering eye-catching swimming trunks, sexy swim shorts and sporty singlets, Marcuse has all your essentials at affordable prices.
Marcuse, available online 
31. Mr Porter
Browse through the site for a vast assortment of long-length, mid-length and short-length swim shorts from the likes of Club Monaco, Dolce and Gabbana, and other high-end names. To score better deals, shop during seasonal sales or promotional periods.
Mr Porter, available online 
32. Calvin Klein
A name synonymous with sexy underthings, Calvin Klein swimwear is a sartorial must-have. Choose from its boxers or provocative mini CK hipster brief – and start racking up those pool party invites, lads!
Calvin Klein, available at multiple locations including Tangs and Wheelock Place
With these fab swimwear shops in Singapore, you'll be armed and ready to hit the beach or lounge by the pool in no time!