Watch Hong Kong come alive at night (Photography: Airam Dato-on via Unsplash)
Looking for fun things to do in Hong Kong at night? Start your after dark plans by reading this list.
If you've visited these popular tourist attractions, Chinese temples, and gorgeous islands around Hong Kong, it's time to experience the 852 after the sun goes down. Known as the city that never sleeps, there are loads of interesting things you can do in Hong Kong after dark. Here is our guide on what to do in Hong Kong at night. Have fun!
What to do in Hong Kong at night
1. A Symphony of Lights
A Symphony of Lights is a spectacular multimedia show that takes place at Victoria Harbour, every night at 8pm. It has become a signature light show for Hong Kong since its establishment in 2004. Make sure to get a nice view on Avenue of Stars in Tsim Sha Tsui before the crowd starts getting hyped up with their cameras, or jump onboard Aqua Luna to take it in from the harbour itself. (Psst, if you're on a budget, jump on the Star Ferry around that time and enjoy a view of both sides.)
A Symphony of Lights, Avenue of Stars, Tsim Sha Tsui, Hong Kong, 尖沙咀星光大道
2. Hop on the Peak Tram
Running until 10pm, if you can't bring yourself to hike to the top of  The Peak on Hong Kong Island, then get aboard The Peak Tram. While it's not the kind of thing you're going to find yourself doing on a regular basis, this quirky tourist attraction in Hong Kong gives you stunning views as you climb at a pretty steep vantage through the surrounding green area. Once you reach the top, you can enjoy dinner at one of the many restaurants or head to the SkyDeck for a photo sesh.
Book your tickets on The Peak Tram.
3. Enjoy your night at these rooftop bars
Hong Kong is known for having an amazingly diverse mix of bars and restaurants. If you want to enjoy you a couple of cocktails while taking in the panoramic views of the city skyline, then you should definitely check out some of the town's most beloved rooftop bars, such as Kaboom, Sevva, and many more.
Check out the best rooftop bars in Hong Kong.
4. Jog along the Victoria Harbour
Whether you are on the Kowloon side or Hong Kong Island side, there are numerous promenades for you to jog along and burn off the dinner you just had. Quarry Bay Promenade is one of our faves since it has a dog park where you can play with your dogs too. Kwun Tong Promenade is another great option if you want to lie on the comfy grass after jogging. You can even join a running club if you need extra motivation!
5. Temple Street Night Market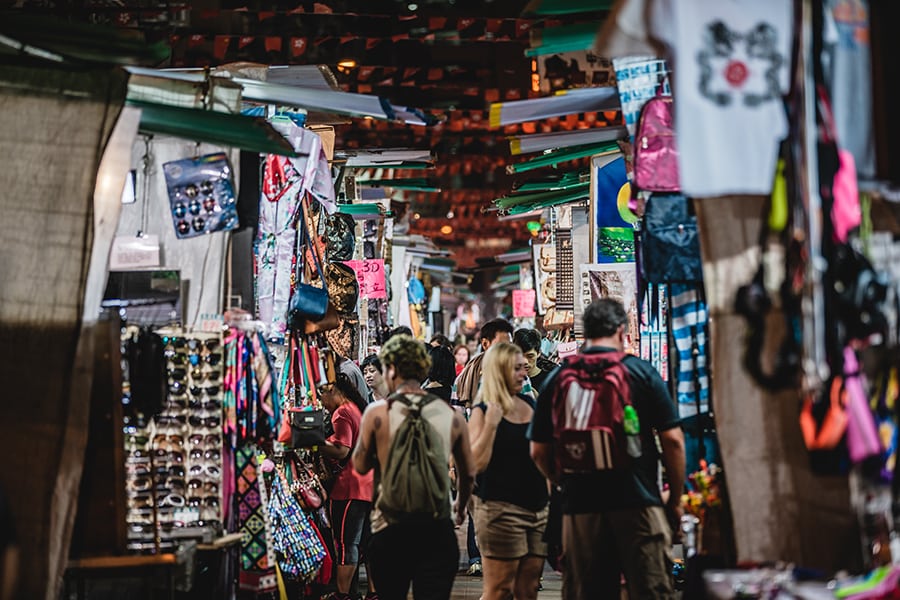 Thinking about what to do in Hong Kong at night? Opening after dark, you can find an array of cool knick knacks, clothing and games at the iconic Temple Street Night Market in Yau Ma Tei. The night market is always packed with local street food vendors, fortune tellers and exciting visitors, making it an extraordinary experience just by walking through the stalls at night. You might even spot some people doing street karaoke if you're lucky.
Find out more about Hong Kong markets.
Temple Street Night Market, Temple Street, Yau Ma Tei, Hong Kong, 九龍油麻地廟街
6. Late-night snacks in Mong Kok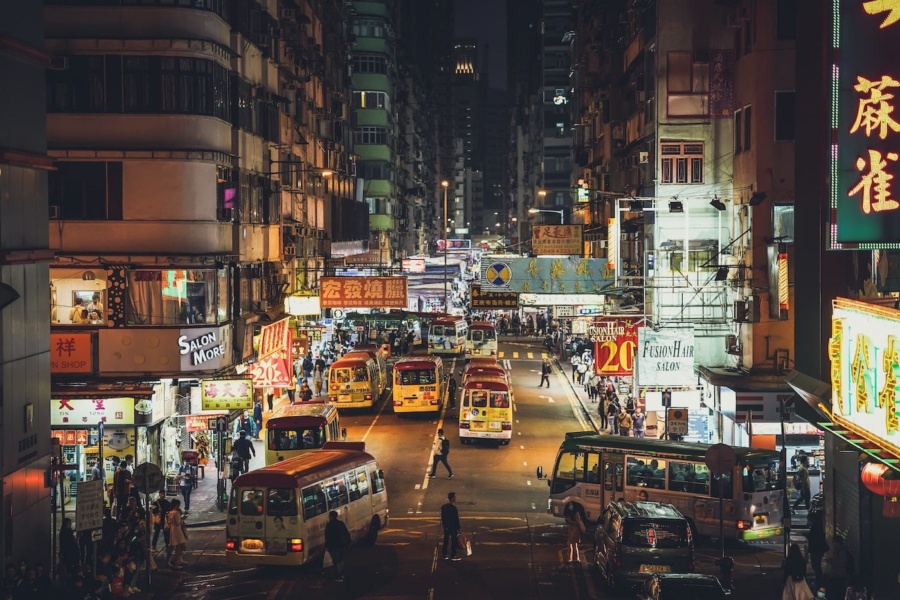 If you are busy with work during the day, you might want to reward yourself some heavenly delicious night snacks. Like SoHo, Mong Kok is another neighbourhood that remains lively at night. You never have to worry about restaurants and stalls being closed as a lot of them are open until 2am. Although we know that late-night snacks aren't healthy, we gain mental satisfaction alternatively, so it's okay to have them sometimes!
Take a look at our full story on street food in Hong Kong.
7. Catch a horse race in Happy Valley
Horse racing is one of Hong Kong's most popular night events. Taking place in Happy Valley most Wednesday evenings and in Sha Tin most Saturday afternoons from September to June, guests will get to witness some of the world's best tracks and the frenetic energy from the crowd and musical acts.
Happy Valley Racecourse, 79 Wong Nai Chung Road, Happy Valley, Hong Kong, 跑馬地黃泥涌道79號
8. Book a night junk
Who says you have to stay on the land at night? There are a number of companies offering late-night boat services, such as Aqua Luna and Vikings Charters. Whether you want a traditional junk boat or a yacht, these companies can accommodate your requests. While some choose to cruise around islands in Hong Kong, you can also stay within the inner harbour. Check out these amazing companies who do junk catering if you want to throw the best boat party.
9. Lan Kwai Fong
You can't talk about what to do in Hong Kong at night without mentioning Lan Kwai Fong in Central. As Hong Kong's hottest nightlife spot, Lan Kwai Fong features over ninety restaurants and bars. Parties, clubs, jelly shots, shisha… Name it and you'll find it.
Check out best Hong Kong clubs.
Lan Kwai Fong, Central, Hong Kong, 中環蘭桂坊
10. Go play pool and beer pong
It's always nice to have some friendly competition, like beating your friends in beer pong and pool! There are a number of restaurants and bars in Hong Kong that offer pool tables and billiards, as well as serving delicious snacks and drinks. The perfect way to relax after a day of exploring the city.
Find out where to play pool in Hong Kong.
11. Live music and stand-up comedy shows
There are plenty of live music venues and galleries that offer live jazz sessions and stand-up comedy in Hong Kong. If you want to stay away from the hustle and bustle and simply sit down to catch some nice music, we recommend checking out these hidden gems in Hong Kong Island, such as Salon 10, Foxglove, and Social Room.
Check out these live music venues in Hong Kong.
12. Sing karaoke with your friends
No one can say no to a good karaoke experience on a Thursday night! Tired of social interactions at bars? Bring your friends to these private karaoke bars to enjoy some games, food and drinks, and unleash your inner rock star.
Check out these karaoke bars in Hong Kong.
13. Hang out at the beach
Hong Kong is famously full of beaches that many flock to during sunny days. How about heading over at night? The main beaches like Repulse Bay Beach and Shek O Beach are popular choices, but you can try trekking to a hidden beach for more privacy. See the moon reflect off the water as you lounge on the cool sand. You can even go for a little night swim, though be wary of not swimming out too far in the dark!
Visit the best beaches in Hong Kong.
14. Go on a night hike
Hiking is often a classic, sun-filled daytime activity, but Hong Kong has its fair share of beautiful night hike trails as well. You can see spectacular views of the Hong Kong skyline all lit up at night from The Peak on Lugard Road. Are you an experienced hiker who wants to get that perfect Instagram photo? Try the Suicide Cliff via Kowloon Peak hike for a once-in-a-lifetime picture overlooking Hong Kong.
Check out the best night hikes in Hong Kong.
15. Try your hand at night photography
In the city that truly never sleeps, you can always spot some interesting things at night. Next time you're feeling like a night owl, bring out your camera and snap some shots. Want a classic Hong Kong night shot? Try heading over to Mong Kok to capture the iconic neon signs that are scattered across the neighbourhood.
Head over to these Instagram hotspots in Hong Kong.
[This article was originally published in September 2019 and updated in 2023 by Min Ji Park.]