A beautiful, bright day at Cheung Chau! (Photography: @pevangelista_ny via Unsplash)
Bored with your usual activities in the city? Explore these islands around Hong Kong for something a little different.
From work to happy hours, boozy brunches, and yoga classes, the hectic city life can be overwhelming sometimes, and we know it's not always possible to take time off. Luckily, we live in a region with over 250 outlying islands, where escaping the city for a short day trip on the weekend has always been pretty easy. So, whether you're planning to go on a picnic, play at the beach, or challenge yourself to an adventurous hike, make the most of Hong Kong's beautiful nature by exploring the islands around Hong Kong. Just hop on a ferry and you're ready for a fantastic island getaway!
Explore the islands around Hong Kong
1. Cheung Chau
Located on the southwest of Hong Kong Island, Cheung Chau is between 30 minutes and an hour away from Central, depending on the ferry that you are taking. Just like Lamma Island, Cheung Chau is an island of no cars, so you can only explore the island by foot or bicycles. The area attracts most visitors during the famous Cheung Chau Bun Festival, which is named after the tradition of bun snatching done by climbing the bun-covered towers located at Pak Tai Temple.
Other than that, the island is also home to Tung Wan Beach – the place where Hong Kong's first-ever Olympic gold medallist and windsurfing champion, Lee Lai-shan, had trained. While you're here, don't forget to taste their delicious street food, such as fish balls, chicken thigh, and red bean cake with ice cream. Cheung Chau is definitely one of the most quaint islands around Hong Kong.
Read our full story on Cheung Chau.
2. Peng Chau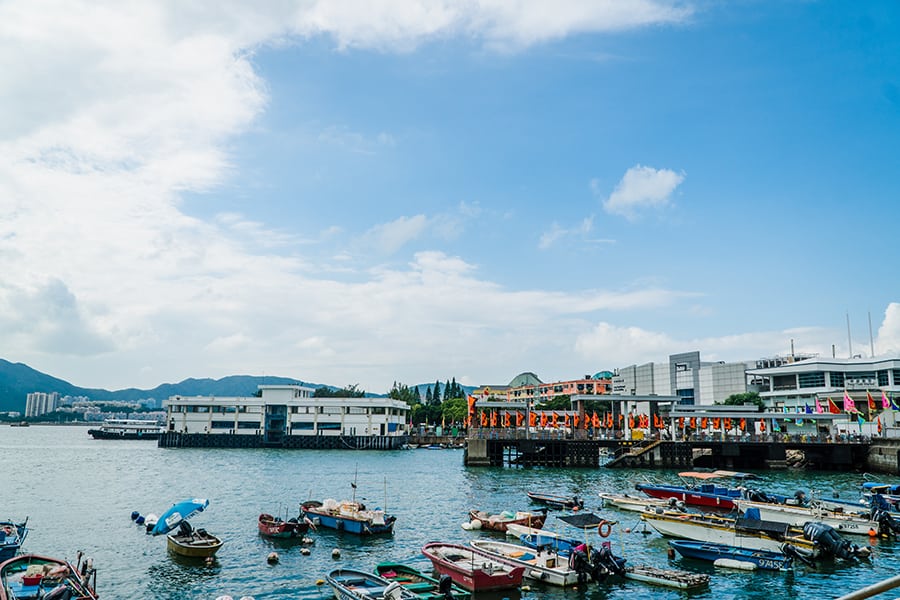 When it comes to wonderful islands around Hong Kong, Peng Chau is one of our faves. Located near Lantau Island, Peng Chau is a tiny island that can only be explored by walking or cycling. To enjoy the nature, don't forget to hike to the highest point on the island called Finger Hill, where you can take in the beautiful views of Tsing Ma Bridge and Hong Kong Disneyland, before enjoying a breathtaking sunset.
While you're here, don't miss the chance to also learn more about the island's history by following the Peng Chau Heritage Trail. Moreover, a trip to Peng Chau will not be complete without trying out their seafood restaurants on Wing On Street and enjoying a bit of French taste at Les Copains D'Abord Cafe.
Read our full story on Peng Chau.
3. Tung Ping Chau
Closer to Shenzhen in China than Hong Kong itself, Tung Ping Chau is the easternmost outlying island in Hong Kong that is only 1.1 square kilometres in size. Listed as a UNESCO Global Geopark, the remote island is made up of sedimentary rock formation, which makes it a unique destination as the rest of Hong Kong is formed from volcanic igneous rock. The island is also famous for its untouched beaches that are among the cleanest and the clearest in Hong Kong.
4. Middle Island
Located 100 metres off the southern shore of Hong Kong Island, Middle Island is much loved for its secluded public beach. The small island, which is only two-minute boat ride away from Deep Water Bay and Repulse Bay, can be accessed by Royal Hong Kong Yacht Club free shuttle boat that departs from the Island Road. The island is home to the members-only Royal Hong Kong Yacht Club and Aberdeen Boat Club's Middle Island Clubhouse, where visitors can hire boats and kayaks or simply catch the sun during the weekends and holidays.
5. Tap Mun
Situated in the northeastern part of Hong Kong, Tap Mun is made up of grassy hills and green fields, which explains why the island is also named Grass Island. To reach the island, you'll need to ride a ferry or motorboat from Wong Shek Pier for around two hours before you can finally enjoy the view of its nature and rocky beaches, including the famous Balanced Rock. To make the most of the outdoors, don't miss the chance to camp under the stars as Tap Mun has some of the best camping spots in Hong Kong. Don't forget to also check out the 400-year-old Tin Hau temple and try the island's famous local seafood, milk tea, and douhua.
Read our full story on Tap Mun.
6. Tung Lung Chau
Lying east of Hong Kong Island, Tung Lung Chau, which can be accessed by ferry from Sai Wan Ho, is located off the tip of Clear Water Bay. The island is a popular destination for rock climbing, camping, and hiking, thanks to its beautiful, green scenery. Aside from the nature, Tung Lung Chau's main attractions also include Tung Lung Fort, which was used during the Qing Dynasty to defend the island against pirates.
7. Lamma Island
For a more peaceful life away from the city, head over to Lamma Island, where the residents and visitors can only explore the island by foot or bicycles. Basically no vehicles are allowed here, so you can expect less roadside pollution and a more laid-back lifestyle. If you're a beach lover, don't forget to check out Hung Shing Yeh Beach at Yung Shue Wan, which is the island's most populated area. Or, if you're looking for a delicious seafood meal, visit Sok Kwu Wan that is lined with a lot of seafood restaurants. Lamma Island is also home to three Tin Hau temples, which are the spots for the fishermen community to celebrate the annual Tin Hau Festival.
8. Lantau Island
The largest outlying island in the region, Lantau Island is home to some of Hong Kong's most popular tourist attractions, such as Hong Kong Disneyland and the culturally themed Ngong Ping Village. The latter, which can be accessed by the scenic Ngong Ping 360 cable car ride, hosts Hong Kong's most important Buddhist sanctum called Po Lin Monastery – home to the famous Tian Tan Buddha statue. Meanwhile, on the western coast of the island, you can experience a little bit of Venice in Hong Kong by visiting Tai O Fishing Village, a place that is popular for its traditional stilt houses, seafood market, and fishing culture.
9. Po Toi
As the southernmost island in Hong Kong, Po Toi is sometimes referred to as Hong Kong's "South Pole" and, fittingly, the island is mostly uninhabited, with plenty of eerie abandoned buildings. Legend has it that the Old Mansion of Family Mo is haunted as there's a peculiarly shaped rock behind it called the "Coffin Rock". Easily reachable via ferry from Aberdeen, Po Toi is famous for its rock carvings (that date back to 1500–700 BC) and its beginner-friendly hike throughout the island. At times, you forget that you're in Hong Kong!