Rack em up! (Photography: Freddy G via Unsplash)
Need to blow off some steam after work? Grab your mates and check out our top picks for the best places to play pool in Hong Kong
We at Honeycombers Hong Kong are always on the lookout for fun and interesting things to do around the city. We love seeing acts at live music venues, visiting cool tourist attractions around the city and discovering unique date romantic spots for date night, and recently, we've been searching the city for where to play pool in Hong Kong. Check out our guide to pool tables and billiards in the city – throw back a few drinks and get your shots in now.
Where to play pool in Hong Kong
1. Joe's Billiards & Bar
Wondering where to shoot some billiards in Hong Kong? Joe's Billiards & Bar has branches in Tsim Sha Tsui, Mong Kok and Yau Ma Tei, and offers billiards, darts and beer pong. We recommend heading over to their Knutsford Terrace bar as it is spread across two floors, with numerous pool tables located on both floors. There is a large bar on the bottom floor that serves beer, cocktails and a range of snacks including hamburgers, chips, hot snacks and more. Joe's Billiards & Bar is the perfect place for enthusiasts who prefer an old-fashioned game of billiards, as its interior is reminiscent of a vintage European pool bar.
Joe's Billiards & Bar, 11/F, 1 Knutsford Terrace, Tsim Sha Tsui, Kowloon, Hong Kong, p. 3188 1010
2. Racks City
Hidden in Central in the Winning Centre on Wyndham Street, Racks City is a small bar that offers beer pong and pool. It is a incredibly dimly lit bar that gives off an impression that is very similar to a dive bar or college bar. The place has three pool tables that are shorter than the standard length and has pool sticks lighter than the usual weight making it a great place for beginners to learn how to play. Racks City tends to draw a younger crowd blasting R&B, hip hop and rock from the 90s and early 2000s, but is also a great place to meet up with friends afterwork to enjoy a few drinks and play some beer pong too.
RACKS CITY, 2/F, Winning Centre, 46-48 Wyndham Street, Central, Hong Kong, p. 2686 0400
3. Billidart Restaurant & Bar
Located in Wan Chai, Billidart Restaurant & Bar is a large bar that spans across two floors and serves a wide range of delicious dishes including cheesy fries, chicken nuggets, crab roe salad, nachos, pizza, roasted pork knuckles and lots more. Billidart Restaurant & Bar resembles a wholesome American bar and diner, where you can enjoy playing a few rounds of darts, beer pong and billiards with your friends and colleagues after work. Just remember to take some pictures with their famous ducks located around the establishment.
Billidart also features in our guide on what to do in Wan Chai.
Billidart Restaurant & Bar, 7-8/F, Kwan Chart Tower, 6 Tonnochy Road, Wan Chai, Hong Kong, p. 21443000
4. Tazmania Ballroom
Located in LKF Tower, Tazmania Ballroom is a high-end bar that features pool tables and serves tasty cocktails and drinks. Head in early to play a few rounds with your friends before the tables are full and you need to line up and wait for your turn. The bar also has a table tennis table for you to play a little game of ping pong when you want to change it up. Tazmania Ballroom is a great place to sit for a drink, play a game of billiards before heading to the dance floor later in the night to show off some dance moves.
Tazmania Ballroom, 1/F, LKF Tower, 33 Wyndham Street, Lan Kwai Fong, Central, Hong Kong, p. 2801 5009
5. Rula Live
Rula Live is a one-stop destination for DJs, pool competitions, comedy nights, salsa nights, live sporting events and quizzes. Head over to Lan Kwai Fong for a casual, dress-down drink every night of the week. Though the bar only has one pool table, it's a relaxing and down-to-earth place to have a drink, catch up with your friends and have a dance in front of the DJ booth while you wait your turn.
Rula Live, G/F, 58-62 D'Aguilar Street, Lan Kwai Fong, Central, Hong Kong, p. 2179 5225
6. Infinity Thai Restaurant & Bar
Don't know where to play pool in Hong Kong? Hidden on the third floor of the Cosmos Building in Lan Kwai Fong, Infinity Thai Restaurant & Bar is a lesser-known spot in the city making it the perfect place to play a quiet game of billiards and catch up with your friends. Only a couple of minutes from Central station, the restaurant/ bar serves classic Thai dishes like tom yum goong and green curry, and also offers affordable cocktails and drinks. Just make sure to head in early as there is only one table available!
Infinity Thai Restaurant & Bar, 3/F, Cosmos Building, 8-11 Lan Kwai Fong, Central, Hong Kong, p. 3188 3938
7. ThunderBowl
Though ThunderBowl may look like it only houses bowling alleys, there's a snooker room inside. You need to book for a minimum of an hour to play snooker here, but the prices are more than reasonable!
ThunderBowl, Shop 2, B1/F, Screen World Site 8, Whampoa Garden, Hung Hom, Hong Kong, p. 2122 9822
8. Scratch Bar & Billiards
Test out your aim at one of the five pool tables, and while doing so you can catch your favourite sports game on the multiple screens on display. Every Monday, Scratch hosts an 8-ball tournament, the tickets come with two standard drinks and top two places can bag prizes.
Scratch Bar & Billiards, 2/F, Wanchai Central Building, 89 Lockhart Road, Wan Chai, Hong Kong, p. 2529 8080
9. World Snooker Club 147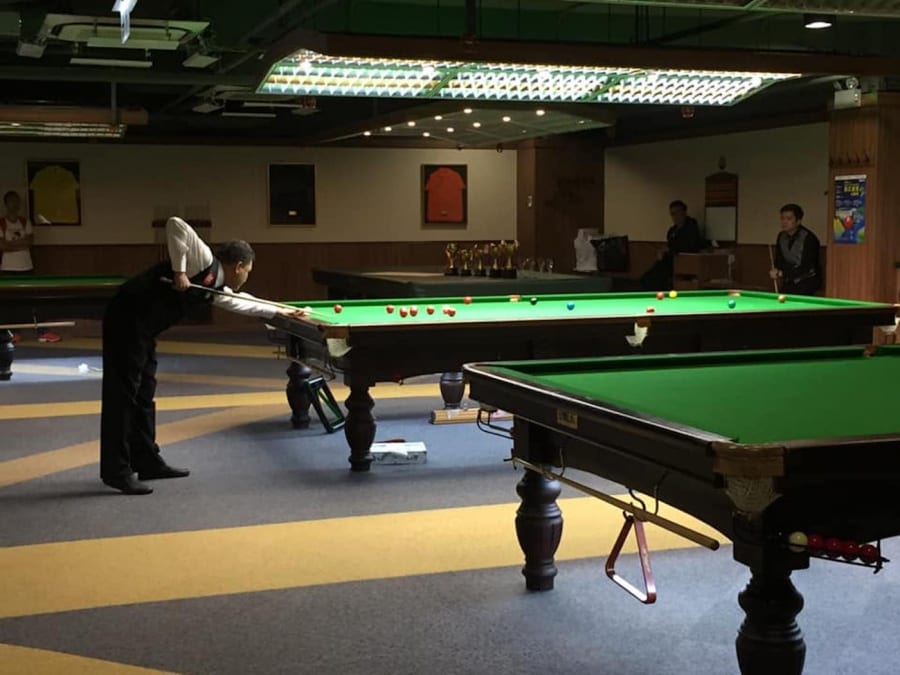 Now, for some serious sequential snooker. This club is equipped with 30 RILEY billiard tables, nine steel-block tournament tables, and five VIP rooms. Activities include local championships and large-scale international tournaments. Don't be intimidated if you're a novice, there are plenty of beginner-friendly facilities.
World Snooker Club 147, 1/F, Midland Centre, 328 Queen's Road Central, Sheung Wan, Hong Kong, p. 2851 3363
10. Free House Bar and Cafe
Now here is a place where you can still have some fun while waiting to get onto the pool table. With beer pong, darts, and karaoke, the time will fly by until it's your turn to rack up. Free House Bar and Cafe is industrial-chic and modern, and has a decent food menu for when you get the munchies in between games.
Free House Bar and Cafe, 2/F, 88 Plaza, 88 Po Heung Street, Tai Po, Hong Kong, p. 9561 4832
11. Trafalgar
This Wan Chai British pub is a hit for its pub quiz nights as well as their reasonably priced drinks. Although there is only one small pool table, the wait for your turn won't be a drag with the outdoor terrace and great food. Bonus: if you get there earlier, you can drink your money's worth before racking up a game, as Trafalgar has one of the best happy hour deals in town!
Trafalgar, 5/F, The Broadway, 54-62 Lockhart Road, Wan Chai, Hong Kong, p. 2110 1535