Don't let the shop signs fool you, there are a ton of free things to do in Hong Kong as well! (Photography: mbbirdy via Getty Images Signature)
You can save yourself some cash by idling your time away at iconic tourist attractions, or beautiful beaches in the city. Just check out these free things to do in Hong Kong.
Hong Kong is a fascinating compact city with endless entertainment – happy hours, nightclubs, art galleries, and different Hong Kong arts groups to check out. And if you're a little short on cash, we've scouted out a number of quirky attractions and interesting places to visit that cost absolutely nothing. Now, enjoy these free things to do in Hong Kong!
Our favourite free things to do in Hong Kong
1. Picnic at Cyberport Waterfront Park
When talking about free things to do in Hong Kong, you can't miss out on picnicking! Cyberport Waterfront Park is one of the best picnic spots in Hong Kong. It's not too crowded, so kids can play peacefully. Meanwhile, you can lounge on the beautiful patch of grass, blast out some music, enjoy some homemade sandwiches, and catch the sunset together.
Read more about parks in Hong Kong.
Cyberport Waterfront Park, 100 Cyberport Road, Telegraph Bay, Hong Kong
2. Catch a basketball or football match at Southorn Playground
Southorn Playground is a sports and recreational space in Wan Chai where all the amateurs and semi-pros come to show off their skills. You can often catch an incredible basketball or football match in the evening and it's great spot to meet like-minded sport enthusiasts. Plus, the seating area catches the sun in the summer, making it the perfect spot to chill with friends. If you love sports and you're looking for free things to do in Hong Kong, this is the place to be.
Southorn Playground, 130-150 Hennessy Road, Wan Chai, Hong Kong
3. Experience local comic culture at Hong Kong Avenue of Comic Stars
Step afoot Hong Kong's Avenue of Comic Stars, a delightful place that celebrates the golden era of local comics. This curated avenue showcases a collection of 30 larger-than-life comic characters, ranging from beloved favourites like McDull, Old Master Q, and the charming Miss 13 Dots. Standing at a height of around three metres, these iconic superstars invite visitors to reminisce about the heyday of local comics and immerse themselves in the city's vibrant comic culture.
Hong Kong Avenue of Comic Stars, Kowloon Park Eastern Loggia (entrance on Park Lane Boulevard), Tsim Sha Tsui, Hong Kong, p. 2788 5968
4. Visit the Chi Lin Nunnery and Nan Lian Garden
Escape the hustle of the city at Chi Lin Nunnery, a peaceful Buddhist temple complex rebuilt in 1998 featuring Tang Dynasty-style architecture. Stroll through lotus ponds and decorated temple halls housing precious relics. The highlight is the attached Nan Lian Garden, landscaped with water features, pine trees, and stone pathways. Wander the garden's design, which cleverly borrows elements from famous Chinese landscapes. Both the nunnery and garden offer free admission, making them an excellent budget-friendly activity in Hong Kong for a peaceful yet fascinating cultural immersion.
Read our guide to Chi Lin Nunnery and Nan Lian Garden.
Chi Lin Nunnery and Nan Lian Garden, 5 Chi Lin Drive, Diamond Hill, Hong Kong, p. 2354 1888
5. Have a stroll around the Hong Kong Cemetery
Hong Kong Cemetery is a serene and quiet space featuring a myriad of ornamental gravestones that show Hong Kong's colonial history and heritage. Also, there are more trees being grown in here than most recreational parks in Hong Kong, with six of them already earning the government's 'Old and Valuable Tree Register' title.
If you're hoping for a ghost story or two, we're sorry, but we have none here. That said, check out these MTR urban legends if you dare…
Hong Kong Cemetery, 1J Wong Nai Chung Road (beside Happy Valley Racecourse), Happy Valley, Hong Kong
6. Take a swim at Repulse Bay Beach – or any beach
With dozens of beautiful beaches dotting its landscape, Hong Kong offers plenty of opportunities to soak up the sun and sea beyond its famous skyline. From the popular sands of Repulse Bay to the secluded coves of Tai Long Wan, the city's shores have something for every beachgoer. The range of options means finding the perfect beach escape is easy, whether you seek watersports, serenity, or classic seaside fun.
Here's our guide to some of the best beaches in Hong Kong.
Repulse Bay Beach, Beach Road, Repulse Bay, Hong Kong, p. 2812 2483
7. Go hiking on the Lion Rock
Hiking is one of our favourite free things to do in Hong Kong. Situated on the northern vista of Victoria Harbour, Lion Rock is considered the easiest hiking trail in the city. The track runs high above the skyline of the Kowloon Peninsula, and whether you're a tourist in Hong Kong or a beginner in hiking, Lion Rock will be a lovely spot for you to experience the city in a different way.
Learn more about hiking in Hong Kong.
Lion Rock Country Park, Hong Kong
8. Listen to some sweet street music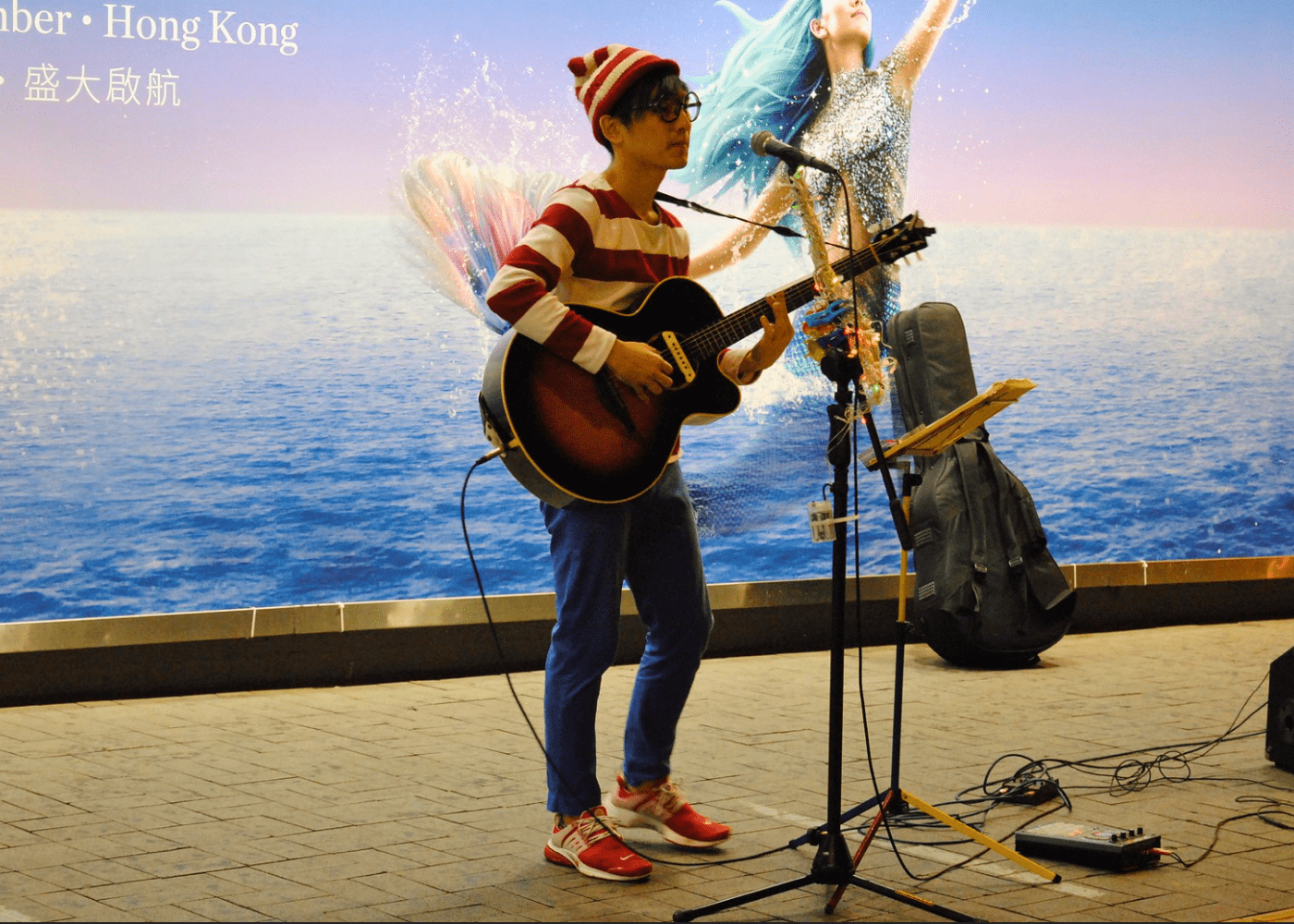 The street music scene in Hong Kong is making a comeback now that the city is fully open and past social distancing restrictions. With limitations lifted, buskers are once again staking out prized spots to showcase their talents. The sounds of guitar riffs, melodic singing, and makeshift drums can be heard across neighbourhoods like Mong Kok, Central, and Tsim Sha Tsui. Keep your ears peeled as you explore the city streets – you never know when an impromptu concert might pop up!
Find buskers and musicians opposite Langham Place in Mong Kok, and at the Tsim Sha Tsui and Central Piers.
9. A walk through the Ladies' Market
There are over 100 stalls of bargain clothing, accessories, cheap knick knacks, and souvenirs at the Ladies' Market in Mong Kok. You can find anything from stockings and teacups to children's watches here. It's always crowded and perfectly captures the fast pace of city life – definitely one of the most iconic places to visit in Hong Kong.
Read more about the different Hong Kong markets.
Ladies' Market, Tung Choi Street, Mong Kok, Hong Kong
10. Enjoy nature at the Hong Kong Zoological and Botanical Gardens
In the heart of bustling Central lies Hong Kong Zoological and Botanical Gardens, one of the world's oldest botanical gardens. This park is home to a diverse range of plants, birds, mammals, and reptiles, creating a harmonious ecosystem within its borders. As you wander along the paths shaded by towering trees, you can also explore the garden's historical sites, such as the Memorial Arch and Stone Pillars. The best part? Admission to this garden is completely free, making it a well-loved sanctuary in the heart of the metropolis.
Hong Kong Zoological and Botanical Gardens, Albany Road, Central, Hong Kong, p. 2530 0154
11. Drop by the Sai Kung Waterfront Market
Looking for free things to do in Hong Kong? Head to the Sai Kung Waterfront Market, organised by Sai Kung District Community Centre. Every Saturday and Sunday, there are almost 40 market booths set up at the Sai Kung Waterfront Park. You'll see local artists and farmers selling an array of handicrafts, accessories, and fresh produce. It's a family-friendly, fun, and artistic outdoor space for everyone who loves free entertainment.
Sai Kung Waterfront Market, Sai Kung Waterfront Park, 18 Wai Man Road, Sai Kung, Hong Kong
12. Grab your next read at Hong Kong Central Library
Hong Kong Central Library is the biggest public library in Hong Kong with 12 floors and an area of 33,800 square metres. With facilities like a multimedia room, language learning centre, and music practice rooms, it's easy to spend an entire afternoon exploring the building simply digging through literatures, textbooks, back issues of newspapers, old comics, DVDs, and CDs. And of course, the Library has free WiFi too!
Are you a bookworm? Check out our favourite Hong Kong bookstores.
Hong Kong Central Library, 66 Causeway Road, Causeway Bay, Hong Kong, p. 3150 1234
13. Find serenity at Kowloon Walled City Park
Where a notorious slum once stood now exists a serene park – Kowloon Walled City Park. Originally built as a 15th-century maritime defence fortress, the Walled City later devolved into an enclave of crime. After its demolition in the 1990s, the site underwent a dramatic transformation. Traditional Jiangnan-style gardens with ponds, pavilions, and lush greenery now occupy the area. Visitors can stroll along winding walkways past remnants of the old Walled City like cannons and walls.
Kowloon Walled City Park, Tung Tsing Road, Kowloon City, Hong Kong, p. 2716 9962
[This article was originally published in April 2019 and updated in 2023 by Catherine Pun.]