Lok Wah South Estate is a great spot to take some instagram-worthy shots with your friends
Looking for a little inspiration to liven up your feed? We've mapped out all the best hidden Instagram locations in Hong Kong, so you know where to take the most striking pictures – #GetOnIt
From the best beaches in Hong Kong to beautiful hiking trails and an array of historic architecture, this city is a photographer's dream! In the age of social media, Instagram is undoubtedly a great platform to tell your stories, and we're here to help you locate the sweetest Hong Kong Instagram spots in the city to take stunning photography shots and share them with your friends.
Now go Instagram some cool pictures, and follow us at @honeycombershk for more inspiration.
Hong Kong Instagram locations
Lok Wah South Estate
Lok Wah South Estate leaves us feeling sentimental for the way Hong Kong housing units were previously designed. This peaceful spot, located on the rooftop of a carpark, is the perfect spot to take photos with your friends as there are multiple walls to hide behind and pop out from. Shout out to K-pop fans out there, this instagram-worthy hotspot has also been featured in popular Korean boyband Got7's "You Are" music video!
Lok Wah South Estate, 70 Chun Wah Road, Ngau Tau Kok, Hong Kong, 觀塘牛頭角振華道70號
Basketball Courts of Choi Hung Estate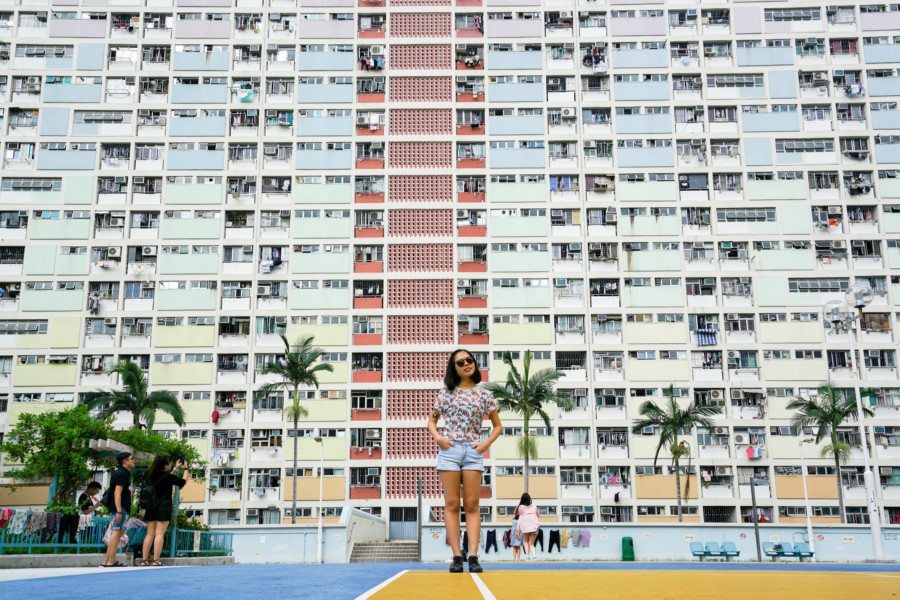 Lovers of all things symmetrical, this is the ultimate place to mimic a signature Wes Anderson shot! Choi Hung means rainbow in Cantonese, and the quirky, colourful high-rise apartments with perfect symmetry are creations so very pleasant to the eyes. When it comes to famous Hong Kong Instagram locations, this is your first port of call (just respect the people who live around the area, please!)
Basketball Courts of Choi Hung Estate (above the car park), Choi Hung Estate, Wong Tai Sin, Kowloon East, Hong Kong, 九龍黃大仙區牛池灣彩虹邨
West District Public Cargo Depot (AKA Instagram Pier)
Located on the waterfront in Sai Wan, Instagram Pier is a chill site for long-lost friends to hang out and residents to walk their dogs. It is best known for having an exquisite panoramic view of the gorgeous sunset. Stop by after a whole day of rain, and you'll get to witness the Mirror of the Sky effect – that tranquil reflection of the sky in a water puddle after heavy rainfall. #magnificent
West District Public Cargo Depot (AKA Instagram Pier), 8 Fung Mat Road, Sheung Wan, Hong Kong, 香港島石塘咀西環貨運碼頭(干諾道西與山道之交匯處以西的海旁)
Yik Cheong Building
Hong Kong Instagram locations don't get much more iconic than this. This housing building is undoubtedly the spot for some Hong Kong Instagram photography action. Located in Quarry Bay, this small housing community has been featured in The Transformers movie franchise and is incredibly popular among tourists. Just make sure you take your photos with discretion as this building is the home to Hong Kong residents.
Yik Cheong Building, 1046 Kings's Road, Quarry Bay, Hong Kong, 英皇道1046號
Lai Tak Tsuen
Lai Tak Tsuen was built in 1975, and is one of the first public housing to be developed in Hong Kong. This spiral building makes you feel like you're under a giant microscope as it circles its way up to the sky. The instagram worthy location has been well photographed, and it was also featured in Korean pop boyband Got7's You Are music video.
Lai Tak Tsuen, 2-38 Lai Tak Tsuen Road, Tai Hang, Hong Kong, 大坑勵德邨道2-38號
Chi Lin Nunnery
In the midst of urban chaos, skyscrapers, and construction sites, Chi Lin Nunnery is a place of serenity. From classical gardens and well-built wood pavilions, to traditional Chinese courtyards, you are guaranteed to find a zen spot for your picture of the day.
Read more about Chi Lin Nunnery.
Chi Lin Nunnery, 5 Chi Lin Drive, Diamond Hill, Kowloon, Hong Kong, p. 2354 1888, 九龍鑽石山志蓮道5號
The Blue House
The Blue House is one of the few remaining examples of tong lau with balcony designs in Hong Kong. As a Grade I historic building, this blue-coloured building stands as a unique presence in the heart of Wan Chai. The bright exterior unapologetically sharpens the structural details, giving the picture a slight retro-ness!
Learn more about historic buildings in Hong Kong.
The Blue House, 72-74A Stone Nullah Lane, Wan Chai, Hong Kong, 灣仔石水渠街72-74A號
Shun Lee Estate
Unlike the ones previously mentioned, Shun Lee Estate does not make a bubbly and sweet background for photo taking. Yet, the impressive architectural structure stands on its own. It's a frequent shooting location for local feature films. Being wonderfully atmospheric, photos look even cooler when taken (or filtered) in black and white.
Shun Lee Estate, Kwun Tong, Hong Kong, 九龍觀塘順利邨
Street art by Pasha Wais on Square Street
Razzle dazzle! This remarkable geometric wall makes a fairytale-like background for any Instagram picture. The vibrant colour gradient has lots of energy, along with a modern city vibe. Don't forget to dress in white to get the right amount of colour contrast!
Read our full guide to Sheung Wan.
Street art by Pasha Wais on Square Street, 26 Square Street, Sheung Wan, Hong Kong, 香港四方街26號