Movies and dinner are so 2003, people! Up the ante with these totes romantic (yet unexpected) things to do in Hong Kong.
Maybe you've messed things up and are trying to make amends, or maybe Valentine's Day is coming up – so you've been looking to buy romantic gifts, hunting down the best florists in Hong Kong and planning the perfect date night in Hong Kong. Whatever the occasion, don't sweat it! We've compiled a list of romantic things to do in Hong Kong for you to score big brownie points and create some memories that will last a lifetime.
Romantic things to do in Hong Kong that don't break the bank
Saddle up at Clearwater Bay Equestrian & Education Centre
Is your loved one a pony fan? No, we're not talking about the Happy Wednesday night Happy Valley racecourse! Instead, head to picturesque Clearwater Bay Equestrian & Education Centre for a fun horse-riding session. The centre, which is home to around forty-three horses and ponies, along with eight instructors, is open to both members and non-members. Beginners can hire gear, and there is a shop selling all the necessary equipment.
Clearwater Bay Equestrian & Education Centre, Lung Ha Wan Road, Clearwater Bay, Hong Kong, p. 6398 6241, 清水灣龍蝦灣道
Visit Tai O
Rediscover Hong Kong's roots together by visiting the tranquil Tai O Fishing Village, the historical home to the Tanka boat people. Take Instagram-worthy photos by the traditional stilt houses, shop for fresh seafood and the celebrated shrimp pause at the local market, and go for afternoon tea at Tai O Lookout at the Tai O Heritage Hotel.
Read our guide to Tai O.
Go Clip and Climbing at Verm City
Looking to find romantic things to do in Hong Kong to impress your athletic date? This 20,000 sq-ft climbing playground boasts a 4.5m colourful boulder gym, a top roping and leading wall and a Clip and Climb section that comes with 19 obstacles, that we're pretty sure he/she is going to love! Head to the Augmented Wall for adrenaline-pumping thrills, thanks to the special effects created by the projector and motion sensor. Another must-try includes the 6.5m-high giant slide where you can scream your head off as you slide down vertically.
Or challenge yourself at these other climbing gyms in Hong Kong.
Verm City, 4/F, Kodak House 1, 321 Java Road, Quarry Bay, Hong Kong, p. 5235 8924, 鰂魚涌柯達大廈一期 4 樓
Seal your love at Lock of Love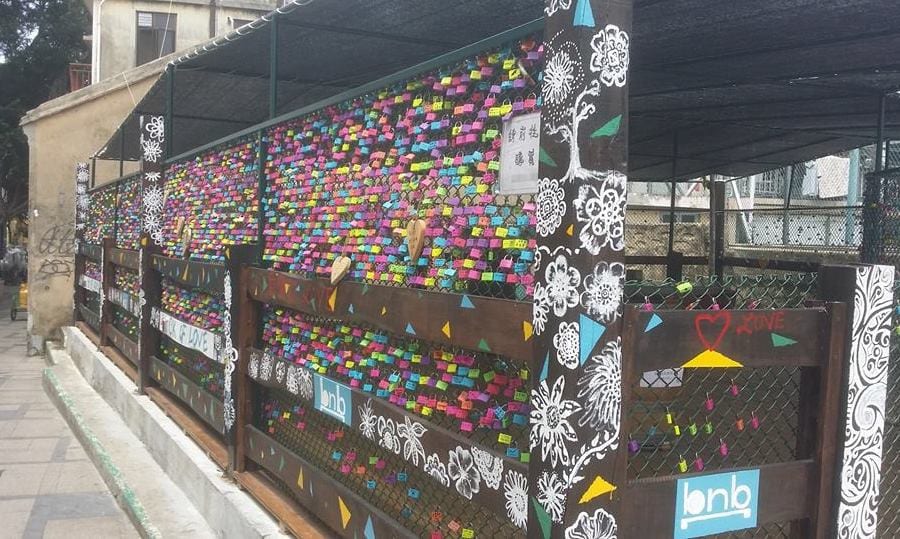 Who says you need to go to Paris to check out the romantic love lock bridges? Merely a ferry-ride away, you and your special one can seal your love at the Lock of love in Cheung Chau. Located nearby the ferry pier, the attraction is a wooden house with an iron fence which allows lovers to attach the padlocks with their names or wishes written on them.
In fact, the landmark is a property owned by B&B Cheung Chau, a European-inspired resort nearby which makes an ideal spot for a relaxing getaway – think plenty of wooden features, colourful walls and an authentic Bavarian style restaurant. Definitely one of the most romantic things to do in Hong Kong!
Or why not check out these other beautiful islands around Hong Kong with your boo?
Lock of Love, 80 Tung Wan Road, Cheung Chau, Hong Kong, p. 2986 9990, 長洲東灣路80號
Enjoy the view at Kadoorie Farm & Botanic Garden
Escape to one of Hong Kong's highest mountains and explore the beautiful nature and wildlife hand-in-hand with your date. Established by the Kadoorie brothers in 1956, the Kadoorie Farm & Botanic Garden spreads over nearly a hundred and fifty hectares of land and boasts streams, woodlands and vegetable terraces – together with conservation and education facilities.
Or explore these cosy parks in Hong Kong if you want to stay in the city.
Kadoorie Farm & Botanic Garden, Lam Kam Road, Tai Po, New Territories, p. 2483 7200, 香港新界大埔林錦公路