For your best buds! (Photography: SeventyFour via Getty Images Pro)
Looking for elegant blooms? We've found the best florists in Hong Kong who work magic with flowers, and will even deliver to your home or office.
Be-leaf us whether we say we've rounded up the best florists in Hong Kong! A nice bouquet of flowers will put a smile on anyone's face, which is why we like to get one to celebrate almost every occasion. Whether you're shopping for Chinese New Year, Valentine's Day, or even a date night, here are some wonderful bouquets and florists that will have you (and your loved ones) smiling all day long.
For your best buds: Check out these best florists in Hong Kong
1. Blooms & Blossoms
Established in 1978, Blooms & Blossoms is a premium florist not just in Hong Kong, but also in Guangzhou and Beijing. Collaborating with multiple local and international brands, it creates floral couture that blends timeless elegance with a contemporary flair. Each bouquet showcases the finest blooms sourced worldwide, presenting Blooms & Blossoms as a trendsetter in the industry.
With a team of diverse backgrounds, Blooms & Blossoms introduces the latest trends to the Hong Kong market. Beyond being a florist, the brand offers a range of chic lifestyle products, including the iconic Bloom Bucket, bridal blooms, home décor, and event floral design. Above all, we love that this florist ensures its creations remain accessible without being overly expensive. With its gorgeous designs and dedication to accessibility, it's no wonder that Blooms & Blossoms has been voted as the Gold winner of "Best Florist in Hong Kong" in our Love Local Awards 2023!
Blooms & Blossoms has multiple branches across Hong Kong.
2. Pollen
From its little store in SoHo, Pollen creates unique and colourful blooms for any occasion. Find floral designs, installations, flower bouquets, jars, and more to meet all your floral needs. It's time to pick up some flowers to brighten someone's day!
Pollen, 52A Staunton Street, Central, Hong Kong, p. 6284 2178

3. Bydeau
Looking for flowers to be delivered right now? Bydeau creates sensational blooms that can be delivered to the home or office on the same day. This florist in Hong Kong also offers a regular subscription service, so you can surround yourself with gorgeous flowers all year round.
Read more about Bydeau.
Shop Bydeau online.
4. The Floristry
The Floristry creates unique arrangements that are available for delivery. Select from a range of dusky, wild, and bright colours; then, choose either a bouquet or a jar, and the team will do the rest. The shop even sells a collection of floral-scented candles if you want something that lasts a little longer.
The Floristry has locations in Sheung Wan and Kam Tin.
5. Ellermann
Ellermann's flowers are all about luxurious decorations. From a flower basket that comes with a bottle of rosé champagne and chocolate truffles, to a bell jar with seasonal blooms, Ellermann is your go-to florist in Hong Kong for gorgeous, unforgettable gifts.
Ellermann has several locations in Hong Kong.
6. Flannel Flowers
Established in 1994, Flannel Flowers is a luxury florist that has collaborated with famous brands such as Louis Vuitton and Cartier. Using flowers from all over the world, Flannel Flowers makes one-of-a-kind bouquets with different styles. From simple and cheerful to cute and mysterious, you'll be sure to find something your recipients fancy.
Flannel Flowers has locations in Central and Causeway Bay.
7. Flower Bouquet
A florist who provides free delivery to Kowloon and Hong Kong Island, Flower Bouquet makes beautiful flower baskets, decorations, hampers, and more. Simply describe to the staff how you want the flowers to be arranged and everything else will be taken care of for you.
Flower Bouquet, Room B1, 1/F, Winner Building, 32-40 Man Yu Street, Whampoa, Hong Kong, p. 6020 1162
8. Flower Chimp
Best way to put a smile on someone's face? Flowers and chocolates! While Flower Chimp makes stunning bouquets, its Trinity Boxes are the biggest highlight: the top layer contains assorted flowers and the lower drawer is stuffed with Ferrero Rocher chocolates. Flower Chimp's flower baskets like Fresh Love and Elegant Twist are stunning options as well.
Shop Flower Chimp online.
9. Far East Flora
In search of a bouquet with 99 flowers to symbolise your everlasting love? Far East Flora's 99 Roses Flower Bouquet is what you need. With only the freshest blooms available, same-day and next-day delivery options are both reliable options. If you're stumped on what arrangement to get, the friendly customer service team at Far East Flora is there to help.
Shop Far East Flora online.
10. van der Bloom
Whether you love earthy tones or bold colours, van der Bloom is sure to have a beautiful bunch of flowers to suit you or someone special. Order directly online and have your made-to-order bouquet delivered across the city, or pop into the store on Hollywood Road. This is one of our favourite florists in Hong Kong.
van der Bloom, G/F, 61 Hollywood Road, Central, Hong Kong, p. 5505 1661
11. Hay Fever
Established in 2009, Hay Fever's cafe-slash-flower-shop in Mong Kok's Flower Market is always our fave spot to hang out and surround ourselves with gorgeous flowers. Pick up some seasonal blooms at the store before settling down for a coffee amid the aromatic setting for a slice of heaven.
Hay Fever, G/F, 62-64 Flower Market Road, Mong Kok, Hong Kong, p. 2397 0668
12. Floristry by Art of Living
Founded by Emily Wong in 2018, Floristry by Art of Living stands by the therapeutic power of flowers, with all its designs inspired by life in nature. Here you'll find different beautiful bouquets and vases, which you can purchase for same-day delivery (for orders before 11am). We also had a go at flower arrangement at Floristry by Art of Living's "Your Own Floral Jamming" workshop – it was one of the most soothing events we've had in a while!
Floristry by Art of Living, G/F, 3 Chiu Kwong Street, Sai Ying Pun, Hong Kong, p. 9547 3744
13. agnès b. Café & Fleuriste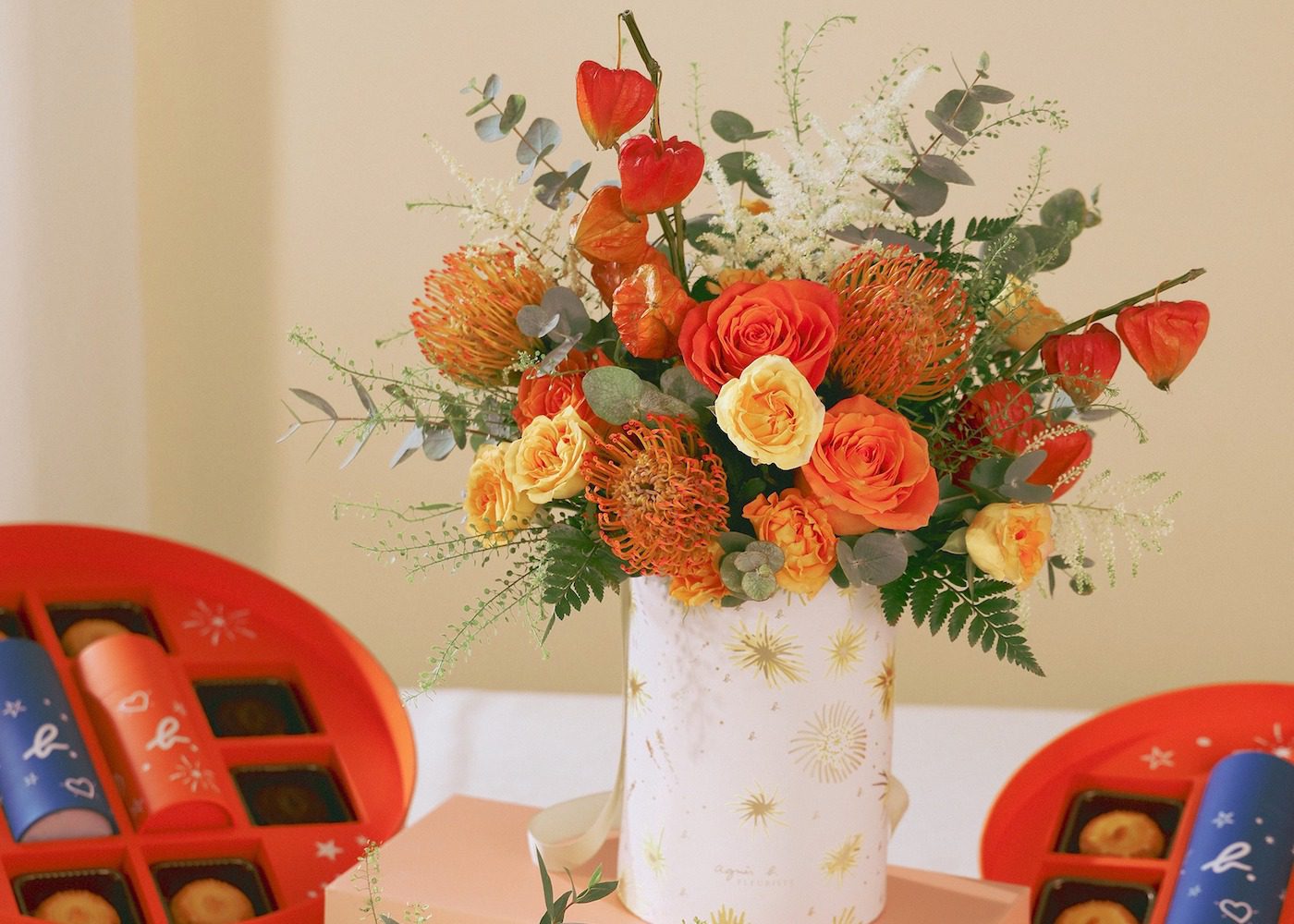 Think agnès b. only has handsome handbags and high street fashion? Think again, because the brand also has a lifestyle concept: agnès b. Café & Fleuriste. At this one-stop shop for coffee, flowers, and chocolate, you can take your pick between its array of bouquets, baskets, greenery, and floral accessories – perfect for any occasion.
agnès b. Café & Fleuriste has multiple locations across Hong Kong.
14. M Florist
Founded in 2017, M Florist is one of the most reliable online florists in Hong Kong. It offers same-day delivery for its beautiful blooms, particularly servicing hotels, weddings, and corporate events. But, that shouldn't stop you from buying a bouquet or two to decorate your personal living space. We love its seasonal collections – we feel ourselves getting more relaxed just by looking at the stunning floral arrangements!
Shop M Florist online. 
15. Léselle
If you want flowers that last, go for preserved flowers from Léselle. These beauties come in bouquets, key rings, boxes, and domes (Beauty and the Beast vibes!). Be bold and shop for flowers of any colour – the royal blue roses with black wrapper is one of its most popular choices. Additionally, these bouquets come with greeting cards for handwritten notes, making your gift more thoughtful and personalised.
Léselle, Flat Q, 5/F, Phase 1, Kwun Tong Industrial Centre, 472-484 Kwun Tong Road, Kwun Tong, Hong Kong, p. 3460 2347
16. Grace & Favour HK
Offering fresh and exotic seasonal flowers, Grace & Favour HK has an internationally certified team on hand to craft beautiful bouquets. It collaborates with flower farms located around the world in places like Holland and Ecuador, so you'll definitely find one-of-a-kind blooms here. Grace & Favour HK hosts beginner-friendly flower arrangement workshops, too – ideal for a relaxing "bouquet and chill" session!
Grace & Favour HK has locations in Wan Chai and Tsim Sha Tsui.
17. Anglo Chinese Florist
Founded in 1946, Anglo Chinese Florist is one of the longest-standing florists in Hong Kong. Bespoke flower arrangements are created everyday by the talented team with flowers imported from Holland, New Zealand, and South America. Whether you're looking to spruce up your living space or set up a corporate event, Anglo Chinese Florist has you covered.
Anglo Chinese Florist, 24 Lyndhurst Terrace, Central, Hong Kong, p. 2921 2986