Flowers are a timeless way to express love (Photography: @teona-swift via Unsplash)
Looking for elegant blooms? The best florists in Hong Kong work magic with flowers and will even deliver to your home or office
There are many ways that you can add character and colour to your cosy home, from shopping unique homeware at home stores in Hong Kong, checking out designer shops at arts space The Mills, adding colour to your apartment and decorating your place with fresh flowers. Whatever the reason, the best florists in Hong Kong create wonderful blooms in bright and beautiful colours that will have you (and your significant other) smiling all day long.
Check out the best florists in Hong Kong
1. Pollen
From it's little store in SoHo, Pollen creates unique and colourful blooms for any occasion. We love their options for weddings or subscriptions and particularly like the selection of flower jars, starting from just $180.
Pollen, 52a Staunton Street, Central, Hong Kong
2. Bydeau
Looking for flowers to be delivered right now? Bydeau creates sensational blooms that can be delivered to home or office on the same day. They also offer a regular subscription service so that you can surround yourself in gorgeous flowers all year round.
Read more about Bydeau.
Bydeau, shop online.
3. The Floristry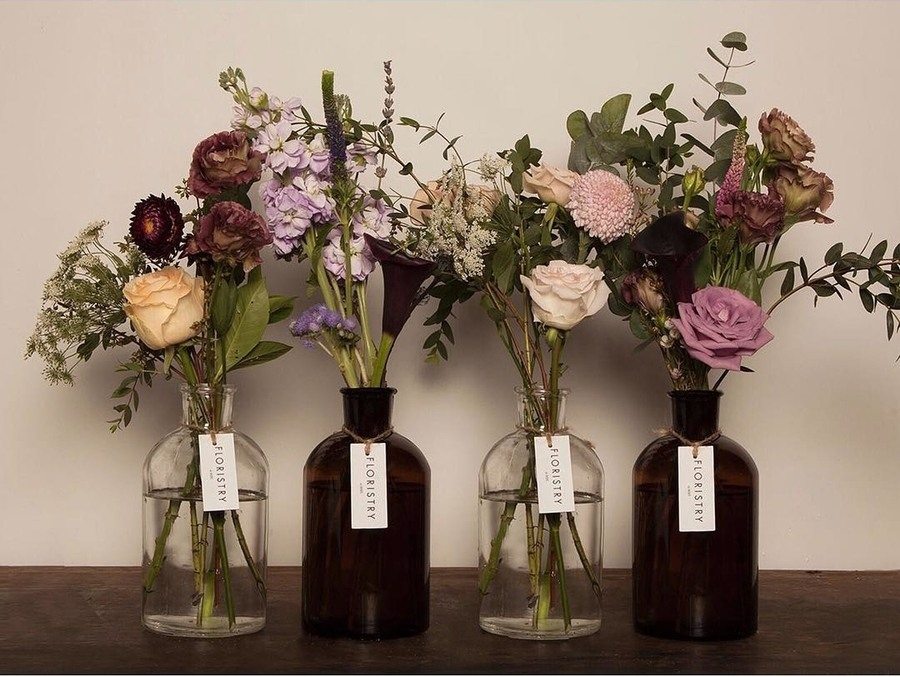 The Floristry creates unique arrangements that can be delivered directly. Select from a range of dusky, wild and bright colours and then choose either a bouquet or a jar and they'll do the rest. They even sell a collection of floral-scented candles if you want something that lasts a little longer.
Check out their website The Floristry to see their products.
4. Ellermann
Ellermann's flowers are all about luxurious decorations. From a flower basket that comes with a bottle rose champagne and chocolate truffles to a bell jar with seasonal blooms, Ellermann is your go-to florist for gorgeous, unforgettable gifts.
Ellermann has three locations in Hong Kong
5. Flannel Flowers
Established in 1994, Flannel Flowers is a luxury florist that has collaborated with famous brands such as Louis Vuitton and Cartier. Using flowers from all over the world, Flannel Flowers makes one-of-a-kind bouquets with different styles, from simplistic to cheerful, and mysterious to cute.
Flannel Flowers has two locations in Hong Kong
6. Flower Bouquet
An online florist who provides free delivery to Kowloon and Hong Kong Island, Flower Bouquet makes beautiful flower baskets, decorations, hampers and more. Describe to their staff how you want the flowers to be arranged and they will have everything settled.
Shop Flower Bouquet online
7. Flower Chimp
Best way to put a smile on a cutie's face? Get him or her flowers and chocolates. While Flower Chimp makes stunning bouquets, their Trinity Boxes are their biggest highlight: The top layer contains assorted flowers and the lower drawer is stuffed with Ferrero Rocher chocolates. Their flower baskets like Fresh Love and Elegant Twist are very pretty as well.
Shop Flower Chimp online
8. Far East Flora
Looking for a bouquet with 99 flowers to symbolise your everlasting love? Far East Flora's 99 Roses is what you need. You can also personalise your one and only hand bouquet at the store.
Far East Flora, 8/F, Linkchart Centre, No.2 Tai Yip Street, Kwun Tong, Hong Kong, p. 8124 1221
9. van der Bloom
Whether you love earthy tones or wild colours, van der Bloom is sure to have a beautiful bunch of flowers to suit you (or someone special!) Order direct online and have your made-to-order bouquet delivered throughout the city, or pop in and visit them at their store on Hollywood Road. This is one of our favourite florists in Hong Kong.
van der Bloom G/F, 61 Hollywood Road, Central, Hong Kong, p. 5505 1661, 中環荷里活道61號地下
10. Hayfever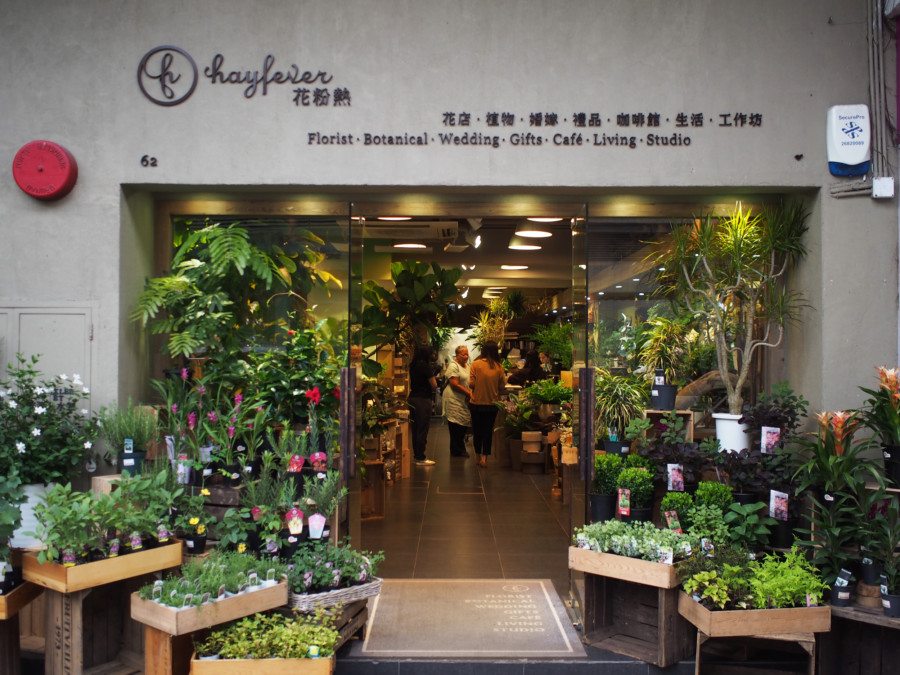 This cafe-cum-flower shop in Mong Kok is the ultimate little spot to hang out and surround yourself with gorgeous flowers. Pick up some seasonal blooms for the store, which is located in the heart of the Flower Market, then settle in for a coffee amid the aromatic setting. Heaven!
Hayfever, G/F, 62-64 Flower Market Road, Mong Kok, Kowloon, Hong Kong, p. 2397 0638, 太子花墟道62-64號地下
11. ANDRSN Flowers
What's not to love about a sophisticated box of roses? ANDRSN specials in roses sourced directly from Australia – where the two founders grew up – with bundles of either 36 or 64. Fill the elegant boxes with pinks, yellows, whites, or reds, or mix and match two colours with The Wonderland Collection. Add a personalised tag for an extra sweet message!
Shop ANDRSN Flowers online.
12. Léselle
If you want flowers that last, go for preserved flowers from Léselle, they come in bouquets, key rings, boxes, and beautiful domes (Beauty and the Beast vibes!). Be bold with Léselle and shop for flowers of any colour – their royal blue roses with black wrapper is one of their most popular choices. The bouquets thoughtfully come with greeting cards for a handwritten note—either by you or by one of the florists.
Léselle, Flat Q, 5/F, Phase 1, Kwun Tong Industrial Center, 472-484 Kwun Tong Road, Kwun Tong, Kowloon, Hong Kong, p. 3460 2347