Search for the perfect ring for the love of your life (Photography: Zeinab Ghassemi via Pexels)
Perhaps this is your first big jewellery purchase, but don't sweat it, our guide will help you with where to buy engagement rings in Hong Kong.
You've got the perfect tailored suit and have planned the most romantic date night in Hong Kong – now all you need is an engagement ring to seal the deal. Whether you're looking to pop the question, or simply browsing jewellery collections (and hoping to drop a few hints to your partner), shopping for the perfect engagement ring can seem like a daunting task. From vintage chic to avant-garde designs, we've got you covered with our roundup of where to buy engagement rings in Hong Kong.
12 best places to buy engagement rings in Hong Kong
1. Niya K
Who better to trust than a husband-and-wife team when it comes to selecting your engagement ring in Hong Kong? Niyati of Niya K will meticulously walk you through the design process, while second-generation diamantaire Jimit will source the finest diamonds for your piece. At Niya K, both natural and lab-grown diamonds are available for your design as well as other precious gemstones. With a quick response and turnaround time, your custom ring will be ready in under four weeks. You can expect the best possible prices and top-quality service no matter where in the world you are – just look at their rave reviews! Last but not least, feel free to check out Niya K's Facebook and Instagram to view their latest products and learn more about the creative process.
Niya K, 905 Podium Plaza, 5 Hanoi Road, Tsim Sha Tsui, Hong Kong, p. 9105 1516
2. Valentina Fine Jewellery
Specialising in natural, ethically sourced, conflict-free, GIA Certified diamonds, our Love Local Awards 2023 "Best Homegrown Jewellery Brand in Hong Kong" Silver winner Valentina Fine Jewellery (VFJ) provides a bespoke engagement ring concierge service. You'll be involved in every step, from a one-on-one consultation, to selecting your perfect diamond down to the smallest design detail, to adjusting your ring upon 3D Wax Printing. Your ring will be created in Hong Kong by VFJ's Master Craftsmen. Moreover, VFJ now offers lab-grown diamonds if you wish to maximise your budget for a larger jewel. Your finished ring can be ready in under two weeks. VFJ also features rare colour and antique diamonds, as well as stunning gemstones that are available to purchase online – check out the brand's Instagram and website for the newest selections.
With a strong focus on client satisfaction, VFJ prides itself on delivering services that are above and beyond – just read the amazing reviews! Need a last-minute gift? Simply drop the team a WhatsApp message at 9542 0034 for a quote today.
Find out more about Valentina Fine Jewellery.
3. Christie's Hong Kong
For vintage fans, Christie's Auction House is a great option for sourcing distinctive engagement rings in Hong Kong. As pioneers of the global auction market, Christie's offer both new and pre-worn styles with prices ranging from US$200 to over $100 million. All pieces are quality and value authenticated by in-house experts. And if you need a little helping hand, Christie's friendly specialists can give you the low down on everything from the clarity of a diamond to the differences in stones and design.
Christie's Hong Kong, 22/F, Alexandra House, 18 Chater Road, Central, Hong Kong, p. 2760 1766
4. Bee's Diamonds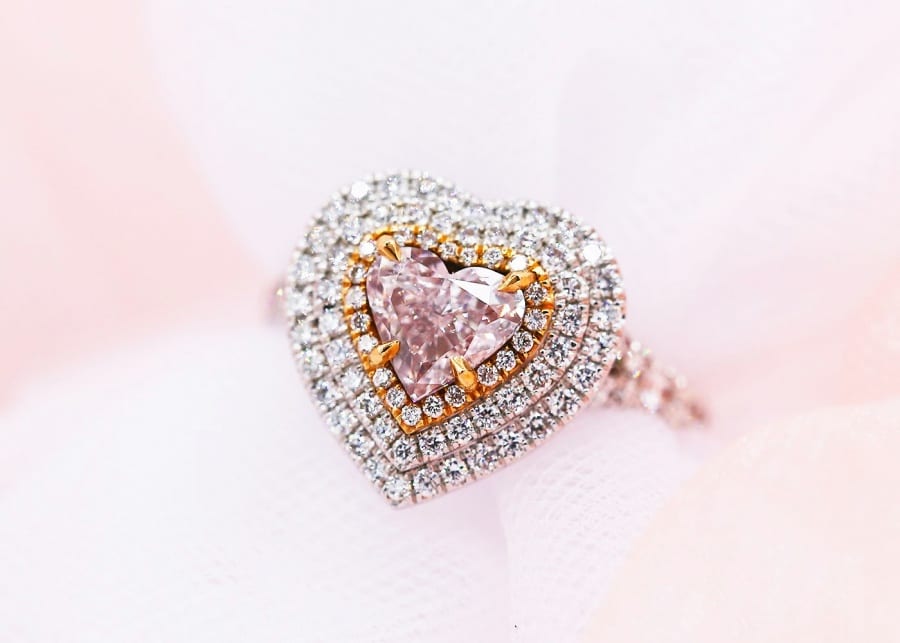 Ranked high on Tripadvisor and with over 40 years of experience in the trade, Bee's Diamonds is one of Hong Kong's most popular diamond suppliers. Known for offering only the purest (and sometimes rarest) of diamonds, it has gained a reputation for being the go-to supplier for luxury brands across Asia Pacific, as well as having a loyal following of local clientele. The qualified in-house gemologists can provide you with all the knowledge you need to make informed decisions for yourself, while personalised services include one-to-one consultations and hand crafting your very own one-of-a-kind engagement ring (which can be made in just a matter of days!) So if you're waiting to pop the question but not sure where to begin, Bee's Diamonds is a great place to start.
Bee's Diamonds, Unit 401, 4/F, Printing House, 6 Duddell Street, Central, Hong Kong, p. 2180 7812
5. The 5th C
With over 20 years of experience in the diamond and jewellery manufacturing industry, as well as being a Graduate Gemologist diploma from GIA Hong Kong, Jessica Cu – founder of The 5th C – has earned trust from discerning clientele. Combining her wealth of experience along with her understanding of customers' needs, Jessica brings an intimate and personalised service to those looking for high-quality engagement rings, no matter the budget. Learn about the basics of a diamond, visit the showroom to pick your diamond and work alongside the design team to bring your vision to life. Perfect it until you are completely satisfied!
The 5th C, 16/F, 1 Lan Kwai Fong, Central, Hong Kong, p. 2654 6288
6. Trellis by Elyana
Have you ever heard of lab-grown diamonds? They are pure carbon diamonds, made ethically, and are sustainable and affordable alternatives to natural diamonds. If you're a conscious consumer, you'll love Trellis by Elyana, as the brand offers unique engagement rings made with bright, beautiful, and beloved lab-grown diamonds. All the stones above one carat here come with a reliable IGI or GIA-graded certification. Plus, you can personalise your designs at Trellis to make your dream pieces come to life. Take a look at Trellis' latest creations on Instagram to find your favourite conflict-free gems and feel empowered wearing them!
Trellis by Elyana (appointment only), 11/F, Astoria Building, 24-38 Ashley Road, Tsim Sha Tsui, Hong Kong, p. 6101 0952
7. Chow Tai Fook
Established in 1929, Chow Tai Fook has been one of the most renowned and reliable jewellery brands in Hong Kong. Successfully upholding its quality and authenticity over the years, it's not difficult to spot a Chow Tai Fook branch on the busy (and expensive) streets of Hong Kong, even to this day. With a wide range of accessories for any occasion, our favourite is its 18K/750 white gold diamond ring. Timeless, elegant, and versatile, this ring and its array of designs are bound to make anyone swoon.
Chow Tai Fook has multiple branches across Hong Kong.
8. Chow Sang Sang
If you grew up in Hong Kong, then you've most likely heard of Chow Sang Sang. This jewellery brand was the first of its kind to be listed on the Hong Kong Stock Exchange, making it one of the biggest jewellery companies in this city since the 1930s. Despite its long-standing history, Chow Sang Sang is forward-thinking in its approach, not only using both traditional and contemporary elements, but also combining Western and Chinese culture in its designs. While the finest gems, diamonds, and metals are a given, the brand also offers personalised engagement and wedding rings. For instance, in its Promessa collection there's the love knot, as one, starry, majesty, and other spectacular designs to give your bands a special touch.
Chow Sang Sang has multiple branches across Hong Kong.
9. Ryder Diamonds
Founded by Sally Ryder in 2005, Ryder Diamonds is a Hong Kong-based luxury jewellery brand that aims to preserve the art of hand-crafted diamond accessories. To ensure a piece that's uniquely yours, Ryder ensures that you are involved every step of the way, from sketching the initial design, to picking the stone. To further empower its customers, Ryder also hosts masterclasses to educate the public about the process of purchasing diamonds. What's more, there's even a local craftsman in the store to custom make each piece – feel free to drop by and witness your engagement ring being created on-site!
Ryder Diamonds, 9/F, Kimley Commercial Building, 142-146 Queens Road Central, Central, Hong Kong, p. 2805 2589
10. Diamond Registry
Wondering where to buy engagement rings in Hong Kong that can get you more bang for your buck? Along with providing the world's most comprehensive diamond prices and information, Diamond Registry also helps industry professionals and individuals to find the perfect diamond. By bridging the gap between wholesalers and consumers, Diamond Registry encourages buyers to avoid the inflated retail prices of "branded diamonds". Besides sourcing GIA certified loose diamonds, the in-house jewellery designers can also help to create the engagement ring of your dreams.
Diamond Registry, 6/F, Eubank Plaza, 9 Chiu Lung Street, Central, Hong Kong, p. 2116 5311
11. Annoushka
Add a personal touch to your engagement ring by having it engraved with the name of your intended. At Annoushka, you can pick from a range of designs, prices, and gemstones (if a diamond's not for you). From the classic solitaire rings showcasing one main diamond, to delicate three stone designs, or a bolder five stone style, you will find the one! If you're unsure about shopping for an engagement ring, Annoushka has a handy guide, and you can book an appointment for a consultation.
Annoushka has locations in Central and Tsim Sha Tsui.
12. RockRush
Why not jump on the bandwagon of lab-grown diamonds? They're conflict-free stones, more affordable, and yet equally captivating in design and precision. You can also customise your ring to ensure the perfect fit, colour, and shape. You start off by choosing your setting, then the diamond of your choice depending on the carat, cut, colour, and clarity. Shopping for an engagement ring couldn't be easier with RockRush!
RockRush has locations in Hung Hom and Tsim Sha Tsui.