Sai Yuen Camping & Adventure Park lets you sleep beneath the stars in style. Photography: Sai Yuen Camping & Adventure Park via Facebook
Wondering where to go camping in Hong Kong? Whether you're a traditional camper or more of a glamper, we've found all the good spots!
Hong Kong is a place full of natural landscapes, including great hiking tracks, trails for night hiking, bike trails and public parks to explore. From rolling hills and breezy beaches to tranquil parks, we've rounded up where to go camping in Hong Kong so gather your friends, pack some snacks and set off on an exciting adventure in the great outdoors!
Where to go camping in Hong Kong
Glamping
For those who enjoy the comforts in life but want to escape in nature for a few days, glamping is the answer to your prayers. While camping purists may sneer, glamping is officially here to stay! Wave goodbye to dry toilets and dirt and say hello to cosy camping with all the amenities of a hotel. Go ahead, we're not judging you!
1. Sai Yuen Camping & Adventure Park, Cheung Chau
Want to go camping in Hong Kong, but looking for something a little fancier? Situated on over 11 acres of land on the southwestern tip of Cheung Chau Island, this outdoor playground offers a cool range of themed accommodation including Mongolian gers and star gazing domes, equipped with air conditioning and even private bathrooms with hot/cold showers. Spend your day enjoying some outdoor activities including Jungle Archery and Tree Top Canopy Walks, and relax by the campfire by night. There's no need to worry about supplies as they've got you covered with a DIY breakfast and BBQ buffet. Convenient, cool and comfortable as ever – your adventure awaits!
How to get there: Take the ferry from Central Pier 5 or Pontoon at Aberdeen Promenade to Cheung Chau. Turn towards Municipal Services Building, walk along Sai Tai Road to Tsan Tuen Road and then up the hill until you reach the red entrance gate at Peak Road.
Find out more about Sai Yuen Camping & Adventure Park.
2. Mingle Farm, Yuen Long
Have you ever dreamt of camping in a giant inflatable bubble, mushroom tent or rainbow-coloured house? Well, look no further because Mingle Farm offers a series of whacky accommodation that will have even your coolest Instagram followers experiencing a serious case of FOMO! To keep you entertained, the folks at Mingle Farm have stocked up on inflatable games, kites, barbecues and lot mores. If you're looking for something more traditional, the homely caravans will be sure to fit the bill.
How to get there: Take minibus no. 33 (to Pak Nai), 33/34A/35 or bus no. K65 to Lau Fau Shan from Tin Shui Wai or Tuen Long MTR stations followed by a short taxi ride to camp site. Take taxi directly from Tin Shui Wai MTR, $70-$80HKD
Find out more about Mingle Farm.
Camping Sites
With over 41 designated camping sites in Hong Kong, we really are spoilt for choice. Whether you're a beach-lover, naturist or rock climber, here's a roundup of spots that will ensure you're a happy camper. Now grab your tent and get camping in Hong Kong!
3. Tap Mun (Grass Island)
One of our favourite places to go camping in Hong Kong, this remote but popular campsite is situated atop the Southern headland of Tap Mun, also known as Grass Island and located off the northeastern coast of the Sai Kung Peninsula. While it can take up to 90 minutes to reach, campers will be rewarded with fresh air and beautiful trails above the wild coastline. Be sure to make a trip to the Balance Rock – Hong Kong's answer to the Tower of Pisa – and scout out some local seafood at nearby restaurants before camping beneath the stars.
Read our full story on exploring Tap Mun.
How to get there: Take the ferry from Ma Liu Shui or Wong Shek Pier. Walk up path to the north of the village, following signs to the toilet and then towards the Balance Rock.
4. Pui O, Lantau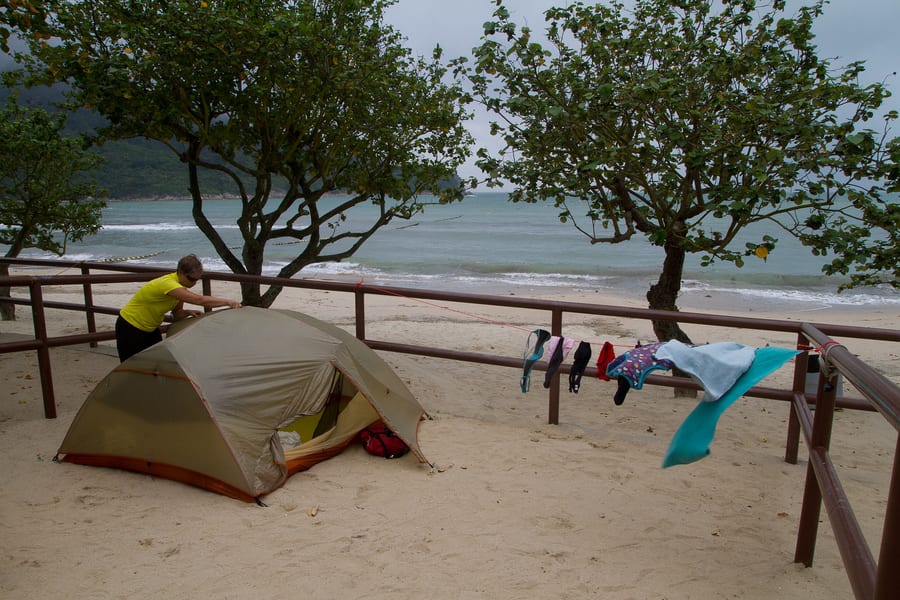 For beach lovers, Pui O is among one of the most popular camping sites in Hong Kong. This comes as no surprise though as the campsite offers 52 spots surrounded by lush greenery and glistening beach. Though this is a back to basics do-it-yourself experience, facilities do include toilets, changing rooms and barbecue pits all free of charge! Pack your gear and get ready to roast some s'mores while witnessing the legendary Pui O sunset. This is definitely one of our fave places to go camping in Hong Kong.
How to get there: Take bus no. 1 or no. 4 (to Tong Fuk) at Mui Wo Ferry Pier and get off at Bui O Public School (a 15-minute ride), or take bus no. 3M or no. A35 at Tung Chung Town Centre and get off at Bui O Public School (a 30-minute ride)
5. Nam Shan, Lantau
Set amidst tranquil woodlands and a stone's throw away from Pui O beach, Nam Shan campsite allows campers to enjoy the best of both worlds. Facilities include picnic seating, playgrounds and the largest barbecue area in Lantau Country Park. Hike by day, roast marshmallows by night and be sure to check out the viewing point where you can enjoy panoramic views of Mui Wo and Pui O Bay.
How to get there: Take bus no. 3M (to Nam Shan) from Tung Chung Town or any buses from Mui Wo. The campsite is located next to Nam Shan bus stop.
6. Long Ke Wan, Sai Kung
Wondering where to go camping in Hong Kong? Located in Sai Kung East Country Park, Long Ke Wan is one of the city's hidden treasures. Suitable for experienced hikers and campers, this secluded spot is pollution-free and boasts silky white sand and crystal clear waters. While the journey can take up to three hours, you will be rewarded with a gentle sea breeze and scenic views of High Island Reservoir. Be sure to pack all your supplies though, as amenities are basic and there are no convenience stores in sight.
How to get there: From Sai Kung Bus Terminal take bus no. 94 or 96R at the Diamond Hill MTR Bus Terminal on Sundays and statutory holidays or take minibus no. 7 (Hoi Ha) at Sai Kung Town. Then get off at Pak Tam Chung stop. Follow the carriageway of the first stage of MacLehose Trail towards High Island Reservoir. Walk along the Man Yee Road to the West and East dam. Take the path marked towards Long Ke Wan. This journey will take around 3 hours.
7. Wan Tsai, Sai Kung
For starry nights and picturesque scenery, Wan Tsai will not disappoint! Located on the top of Long Harbour, campers can choose from two campsites – Wan Tsai South and Wan Tsai West – and is known for its stunning views overlooking Hoi Ha Wan Marine Park. The spacious area has been designed with ample facilities including seating, changing areas, showers and toilets as well as barbecue pits and pavilions.
How to get there: From Sai Kung Bus Terminal take bus no. 94 or bus no. 96R at Diamond Hill MTR Bus Terminal on Saturday, Sundays and statutory holidays. Get off at the Wong Shek Terminus and hop onto the Wan Tsai-bound ferry at Wong Shek Pier. (From Wan Tsai Pier, a 5-minute walk on stony path takes one to the campsite). Or from Sai Kung, take minibus no. 7 and descend at Hoi Ha Village. Follow the Tai Tan Country Trail and walk for about 45 minutes.
8. Tai Long Wan, Sai Kung
Located behind the Kap Man Hang Bridge and adjacent to stage 2 of the MacLehose Trail, campers can choose to pitch a tent on the beach or nearby grassland, before enjoying breathtaking views of the shoreline and off-shore islands. There are basic facilities onsite including picnic tables, changing rooms and barbecue pits as well as a few restaurants in case you are running low on supplies.
How to get there: Take bus no. 11 from Tung Chung town centre or bus no. 1 from Mui Wo towards Tai O. Alight from Shek Pik Reservoir's west station. Go backwards up the Stage 8 of Lantau Trail to Tai O for about 30 minutes.
9. Hok Tau Campsite, Pat Sin Leng Country Park
If you like to be surrounded by woodlands and don't mind venturing further afield, head to Hok Tau Campsite, situated at the northern slope of Shek Au Shan. Enjoy a leisurely stroll along the Hok Tau Family Walk or explore local farms and reservoir before cooling down at the fresh water stream. Facilities include a barbecue site, seating and bathrooms with flushing toilets. Overall, a great option for families looking to stretch their legs and enjoy the great outdoors!
How to get there: Take minibus no. 52B from Fanling MTR Station and get off at Hok Tau Tsuen Terminus. Stroll along Hok Tau Road towards Hok Tau Reservoir for 15 minutes.
10. Tung Lung Chau, Tung Lung Island
For history buffs, set up camp in a location from a bygone era at Tung Lung Chau. Located a 20-minute walk from the pier, the designated Special Area measures three hectares in size and includes both the campsite and a Qing Dynasty fort, built over 300 years ago. Besides exploring the fort, you can also try out rock climbing along the rugged coastline. Facilities include barbecue pits, seating, information boards, rubbish bins and pavilions. If you run out of supplies, there are a few stores on the walk from the ferry to the camping area.
How to get there: Take kaito at Sam Ka Tsuen Public Pier in Lei Yue Mun and Shau Kei Wan Typhoon Shelter Landing No. 10 in Sai Wan Ho (service available on weekends and public holidays only). Before setting off, be sure to check travel updates at www.hketransport.gov.hk.