Come explore Cheung Chau! (Photography: Chi Kwong Chung via Flickr)
Wondering what to do in Cheung Chau? Whether you want to go film-crazy at cultural spots or indulge in seafood and local street food, this cool little island is the place to go.
Sitting at home or in the office 24/7 isn't always the greatest option for your physical and mental health. If you're planning your next Hong Kong day trips – think these gorgeous islands around Hong Kong such as Peng Chau and Tap Mun – then Cheung Chau should be on your list too. Find out what to do in Cheung Chau with our guide, and don't forget to make a visit to Sugarman to learn about the art of Chinese candy making.
How to get to Cheung Chau
Head over to Central Pier, and find Pier 5, which will take you directly to Cheung Chau. There are two ferry options: one is the ordinary ferry which will take you around 55 minutes, and the fast ferry which will take at least half an hour. Best of all, the ferries are really cheap, costing less than $30 one-way.
What to do in Cheung Chau: Our ultimate hit list
1. Grab a bike
Cheung Chau is an island of no cars, except for the odd small gas delivery truck and small hospital vehicle. Once you arrive on the island, turn right, and walk for a few minutes before you find a bike rental shop. You will be able to rent a bike for the whole day for less than $100 and ride around the entire island. Just make sure you watch out for pedestrians, as there are no designated bike paths!
Fan of cycling? Check out these scenic biking trails in Hong Kong.
2. Visit Yuk Hui Temple
Make a beeline for Yuk Hui Temple, also known as Pak Tai Temple, constructed in the 1700s. The Chinese temple was made to honour Pak Tai, the god of the sea in the Taoist religion. It's located directly in front of a large basketball court that is utilised during the fun and quirky Cheung Chau Bun Festival. Thousands attend this festival every year to watch people climb Chinese bun-decorated towers to retrieve the buns at the very top. It's exhilarating even for the audience, to say the least!
3. Head to Tung Wan Beach for a swim
Walk to the other side of the island from the ferry terminal to find Tung Wan Beach. The beach is a great spot to sit and read, get some sun, and go for a swim. Tung Wan Beach is usually less crowded than most other beaches in the city, so if your goal is to find a peaceful place to relax and enjoy the view, this is the place for you.
4. Walk around the backstreets
Take a walk around the backstreets of the Hong Kong island. Discover the quaint houses and small humble local shops, like stationary and snack stores, and admire the historic architecture around you. We recommend you put this on your list of things to do when visiting Cheung Chau, as these streets tend to have less tourists, and walking through them helps you truly experience what it's like on the ground.
5. Hike the Cheung Chau Family Trail
Whether you're with your family, friends, or going solo, a hike on the Cheung Chau Family Trail is a must-do. See if you can spot the "Mini Great Wall" while you take in the views of the island. The whole hike should only take about two hours – the perfect duration for when you're travelling with little ones or older folks. While on the hike, try to find some famous rock formations with funny names, such as Loaf Rock and Human Head Rock.
6. Experience the outdoor adventure playground at Saiyuen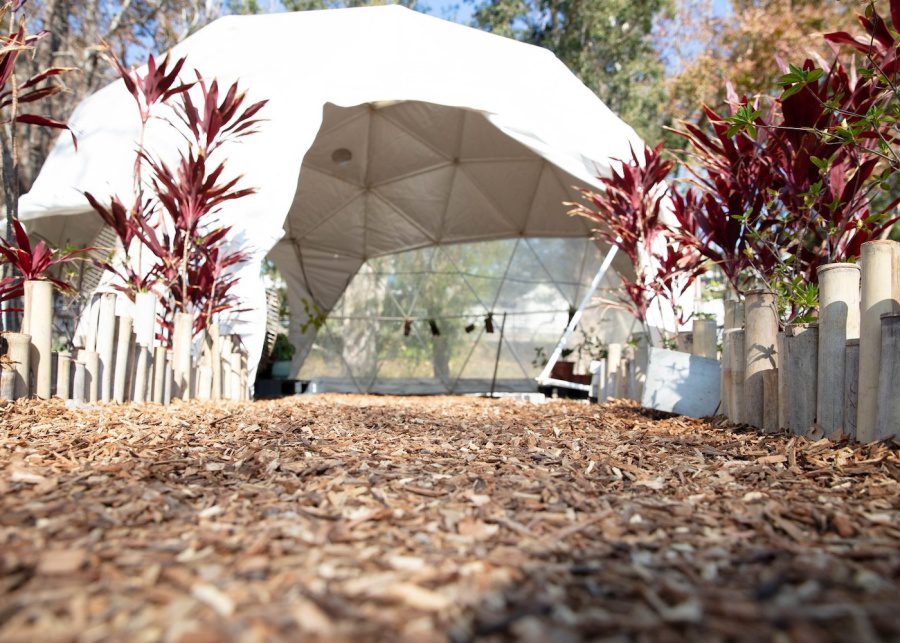 Over 11 acres of land on the Southwestern edge of Cheung Chau is taken over by Saiyuen, a popular outdoor adventure playground. If you have time during the day or have any kids to entertain, you should definitely check out the camping facilities, bubble soccer, abseiling, and more. With the wonderful greenery surrounding you, spending part of your trip to Cheung Chau in Saiyuen will make for the perfect opportunity for your family to reconnect with nature and create some memories together.
Saiyuen, DD CC Lot 12, Cheung Chau, Hong Kong, p. 2981 1010
Street food galore in Cheung Chau
1. Fish balls
You can't miss these bad boys! Fish balls are an iconic staple street food in Hong Kong, and in Cheung Chau, there are fish balls almost three times the average size. Unlike some street food vendors that offer faux fish balls made from flour, Cheung Chau is recognised for its tasty authentic boiled fish balls. Ask for some curry sauce for an extra kick or eat it as is – they're delicious either way!
Kam Wing Tai Fish Balls, G/F, 106 San Hing Street, Cheung Chau, Hong Kong
2. Chicken thighs
Are you looking for a filling and delicious snack? The large chicken thighs at this local store are boiled and marinated in sweet soy sauce. Enjoy the sweet and savoury chicken whilst holding it by the leg and walking around the island, or kick back and take a seat outside the street vendor to indulge in your snack.
新照記茶餐小食店, G/F, 18 Tung Wan Road, Cheung Chau, Hong Kong, p. 2981 3050
3. Red bean cake and ice cream
Head over to Hometown Members Club, a snack shop renowned for its red bean ice cream and red bean cakes. We definitely recommend you look out for this humble snack and dessert spot on the island, as these light tasty treats are generously filled with red beans. They're also incredibly Instagram-worthy!
Hometown Members Club, G/F, 17 Cheung Chau Church Road, Cheung Chau, Hong Kong, p. 2981 5038
Cafes and restaurants in Cheung Chau
1. The Pink Pig Music Bar & Restaurant
This bar and restaurant is a great place to take in the views of the sea and the small fishing boats docked at Cheung Chau. The Pink Pig Music Bar & Restaurant offers great deep-fried seafood and chips, as well as cold beers and amazing coffee. We definitely suggest you try the truffle fries – these salty chips dipped in mayonnaise and truffle are to die for.
The Pink Pig Music Bar & Restaurant, G/F, 11 Kin San Lane, Cheung Chau, Hong Kong, p. 5180 0692
2. Cheung Chau Bing Sutt
Cheung Chau Bing Sutt is a Hong Kong-style dessert and tea house that serves a wide range of Instagram-worthy desserts. Find colourful flour dough in rock-sugar soup, almond milk sweet soup, and colourful dough served with ice-cream, grounded peanuts, red beans, and much more. The only thing is that the menu is completely in Chinese, but the staff there are incredibly friendly and will be more than happy to help you order what you want.
Cheung Chau Bing Sutt, G/F, 19C Pak She Praya Road, Cheung Chau, Hong Kong, p. 2346 9831
3. New Baccarat Seafood Restaurant
Going to Cheung Chau means feasting on seafood and enjoying a cold beer. Cheung Chau is renowned for its seafood street (right next to the ferry terminal), where there are dozens of seafood restaurants to choose from to eat at. New Baccarat Seafood Restaurant is an affordable seafood restaurant that serves Guangdong-inspired dishes, including steamed scallops with soy sauce and garlic garnish, stir-fried pipis, deep-fried squid, steamed fish, typhoon crab, and more.
New Baccarat Seafood Restaurant, G/F, 9A Pak She Praya Road, Cheung Chau, Hong Kong, p. 2981 0606