Victoria Park in Causeway Bay is named after Queen Victoria and is a great spot for people watching!
These parks in Hong Kong are your serene escapes from the city...
From hitting the bike trail in Tai Wai to camping in Tap Mun or visiting Peng Chau, there are a great variety of outdoor activities that you can do on the weekend. But for those who consider themselves as a homebody, you can start with places that are a little bit more accessible and less energy-consuming – say exploring the coolest city gardens and parks in Hong Kong? Now go enjoy the calming green landscapes and peace-filled settings, and don't forget to wear sunscreen!
Where are the best parks in Hong Kong?
Victoria Park
Located in the heart of Hong Kong Island in Causeway Bay, Victoria Park is a diverse city hangout with accessible playgrounds and a wide selection of public facilities, such as tennis courts, basketball courts, roller skating rinks and a model boat pool which is a favourite for old and young. Have a seat at this lovely park when you feel tired from all the walking in shopping malls or when you want a quick break from all the noises and massive crowd in Causeway Bay. On Sundays, the park is buzzing with domestic helpers who like to catch up there on their day off.
Victoria Park, 1 Hing Fat Street, Causeway Bay, Hong Kong, 香港島銅鑼灣興發街1號
Kowloon Walled City Park
Kowloon Walled City Park sits on the site of the former Kowloon Walled City. After World War II, it was notoriously known as the hub for criminals, drug addicts, prostitutes and even unlicensed dentists; and in 1995, it was transformed into a park for residents to use. The Chinese-style gardens have preserved features from some of the original buildings, and it's a must-go for those who are into culture and history. Definitely one of our favourite parks in Hong Kong. 
Kowloon Walled City Park, Tung Tsin Road, Kowloon City, Hong Kong, 九龍城東正道九龍寨城公園
Hong Kong Park
Located in Admiralty, Hong Kong Park is one of the best parks in the city. Along with an artificial lake and a waterfall, there are also an array of modernised facilities, including a Tai Chi Garden for those who need space for practicing, an aviary for bird watching and the Vantage Point which provides a panoramic view of the park. Hong Kong Park also houses a selection of preserved historic garrison buildings that were built between 1842 and 1910, such as Flagstaff House, which was formerly the residence of the Commander-in-Chief of the British Armed Forces and is now a tea museum.
Hong Kong Park, 19 Cotton Tree Drive, Central, Hong Kong, 香港中區紅棉路19號香港公園
Sun Yat Sen Memorial Park
Sun Yat Sen Memorial Park is named after the father of modern China Dr. Sun to commemorate his contribution during the Xinhai Revolution. It's close to the city – approximately 15 minutes walk from Sheung Wan MTR – and a pleasant location for a quick picnic and a nice breath of fresh air. The Park also has a seven-a-side soccer pitch and two basketball courts for teens and children to get their muscles stretched and to sweat it out. It's one of the most accessible parks in Hong Kong to go on a picnic.
Sun Yat Sen Memorial Park, 16 Eastern Street North, Sai Ying Pun, Hong Kong, 西營盤東邊街北十六號中山紀念公園
Nan Lian Garden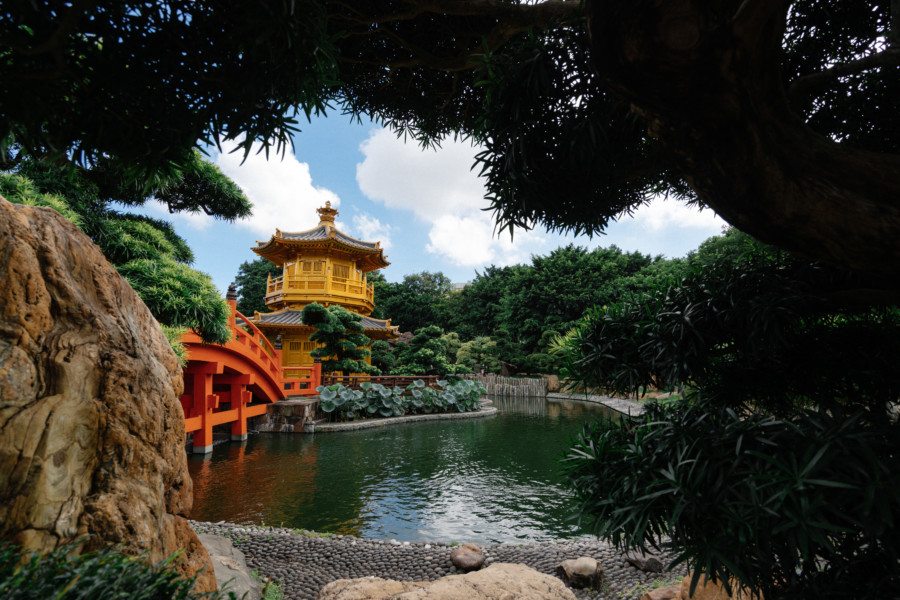 An oasis of calm in the busy city, Nan Lian Garden is a Chinese Garden in the Tang style that sits just next to Chi Lin Nunnery in Diamond Hill. Inside, visitors can walk around the beautifully curated space or spend time at the vegetarian restaurant. The garden is a photographer's dream!
Read more about Chi Lin Nunnery and Nan Lian Garden.
Nan Lian Garden, 5 Chi Lin Drive, Diamond Hill, Kowloon, Hong Kong, 九龍鑽石山志蓮道5號 
Yan Chau Tong Marine Park
If you don't mind going a bit further off the beaten path, located on the northeast coast of Plover Cove Country Park, Yan Chau Yong Marine Park consists of a variety of landforms, featuring bays, peninsulas, rock cliffs and sand pits. It's renowned for its abundant fishery resources, as well as its mangroves and seagrass bed serving as the ecological habitats for different sea animals. It's regarded as "Mini Guilin" (one of the most well-known scenic destinations in China) by locals in Hong Kong and is the perfect spot away from the hustle and bustle for sightseeing.
Yan Chau Tong Marine Park, Plover Cove Country Park Visitor Centre, Bride's Pool Road, Tai Po, Hong Kong, 新娘潭路船灣郊野公園印洲塘海岸公園