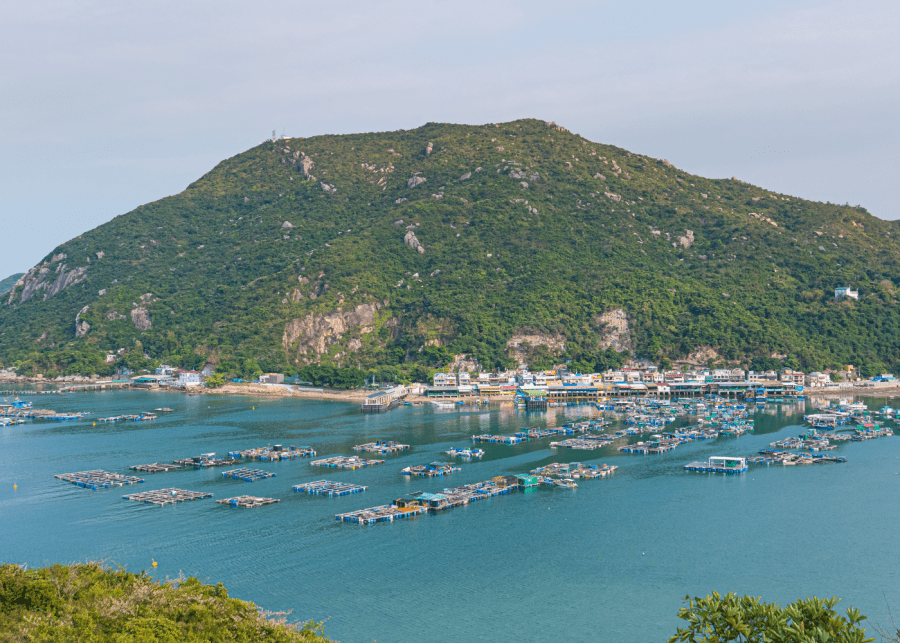 Seas the day at Lamma Island (Photography: Chunyip Wong via Getty Images Signature)
Discover all the foodie favourites, natural wonders, and activities in our Lamma Island guide.
The perfect antidote to the blinding lights and rapid pace of Hong Kong, Lamma Island sits quietly in the South China Sea, inviting you to slow down and take a deep breath. In our Lamma Island guide, we're going to introduce you to a different side of Hong Kong – a side that contrasts with the towering skyscrapers and buzzing markets you might be more familiar with. Welcome to Lamma Island, a serene oasis boasting seafront restaurants serving the freshest catch of the day, heavenly beaches that provide the ultimate relaxation spot, and a plethora of activities that will make you fall in love with the slow life.
Our neighbourhood guide to Lamma Island
Lamma Island guide: Where to eat
1. Sampan Seafood Restaurant
Let's kick things off with an absolute must-visit: the Sampan Seafood Restaurant. With its iconic white-red plaid tablecloths and lanterns, this place is more than just a dining spot – it's a beloved symbol of Lamma Island's vibrant community. The classic eatery is equally adored by locals and visitors alike, renowned for its fresh seafood and mouthwatering dim sum. For the early birds among you, make a beeline for the restaurant's morning dim sum service, but be warned: those delicious har gows fly off the trays pretty quickly!
Sampan Seafood Restaurant, 16 Yung Shue Wan Plaza Road, Lamma Island, Hong Kong, p. 2982 2388
2. Lamma Grill
Swing by Lamma Grill, a neighbourhood favourite known for its lip-smacking burgers, filling wraps, tender ribs, and hand-cut fries that have everyone keep coming back for more. The team has perfected their cooking techniques, especially sous-vide – a technique that involves cooking sealed food in a water bath slowly, at the perfect temperature. This ensures even cooking, so you can expect the fillings here to be juicy and incredibly flavourful. Above all, we love that Lamma Grill is more than just a restaurant – it's a welcoming haven where events like quiz nights and Christmas singalongs are held, so join in the fun!
Lamma Grill, G/F, 36 Main Street, Yung Shue Wan, Lamma Island, Hong Kong, p. 2982 1447
3. Little Thai
The charming Little Thai is a gem run by the dynamic mother-daughter duo, Bee and Bionee. This place serves up authentic Thai flavours that whisk you straight to the bustling streets of Bangkok. Craving the tangy, sweet, and spicy harmony of a good pad Thai, or perhaps the comforting heat of a creamy red or green curry? Maybe it's the sour and spicy kick of tom yum soup that calls to you? Whatever your Thai food preference, Little Thai has you covered with a menu that celebrates the classics. You'll be able to taste the love and dedication Bee pours into her restaurant and every dish she prepares, making each of your visits to Little Thai feel like a warm embrace.
Little Thai, 8 Yung Shue Wan Main Street, Lamma Island, Hong Kong, p. 6080 9195
4. Jing Jing Bar & Restaurant
Our Lamma Island guide continues at Jing Jing Bar & Restaurant, where a delightful blend of continental and Moroccan flavours awaits. With over 20 years of culinary experience and having been the Head Chef since 2004, Chef Marlon Merlin brings his creative touch to each dish. The menu boasts a diverse selection, combining classic Western staples with thrilling fusion creations. Popular items here include the chicken parmesan, full English breakfast, and chorizo pasta, as well as weekly specials that showcase Chef Marlon's culinary flair. In addition, the restaurant offers family-friendly facilities, including baby seats, a kids menu, and a big TV for sports enthusiasts. Whether you're dining with family or friends on Lamma Island, Jing Jing always provides a welcoming atmosphere.
Jing Jing, 54 Main Street, Yung Shue Wan, Lamma Island, Hong Kong, p. 6545 2447
5. Dale Candela
Dale Candela is a vibrant testament to the island's multicultural fabric. Known for its al fresco dining, the eatery has become a hub for casual meet-ups and honest Spanish cuisine since opening its doors in 2017. The moment you step into the restaurant, you're greeted with friendly smiles and the alluring aroma of authentic Spanish dishes. At the heart of their menu are traditional tapas: From the paella to the zesty tacos, to the fresh fish and vibrant salads, every dish carries a distinct dash of Madrid's culinary spirit. Adding onto that is a quirky and creative twist – think traditional Spanish fare with a playful, unexpected edge that surprises your palate!
Dale Candela, 23 Main Street, Yung Shue Wan, Lamma Island, Hong Kong
Lamma Island guide: Where to drink
6. The Beer Shack – Taproom
The Beer Shack is a pivotal chapter in Yardley Brothers' success story. From its humble beginnings as a takeaway kiosk, The Beer Shack has blossomed into the island's premier craft beer taproom and a beloved gathering spot for both residents and visitors. Yardley Brothers, now an acclaimed name in the craft beer industry in Hong Kong and beyond, still calls Lamma Island and The Beer Shack home. The taproom's nine taps serve a rotating selection of Yardley Brothers' limited-edition brews, alongside a variety of other local and international beers. Want something different? The cask ale, artisanal coffee, locally produced kombucha are worth a try, too.
The Beer Shack, 10 Sha Po New Village, Lamma Island Family Walk Trail, Lamma Island, Hong Kong, p. 6896 7856
7. Diesel's Bar & Restaurant
Diesel's holds a special place in the locals' hearts as one of the oldest running bars on Lamma Island. A vintage sports bar by origin, it was torn down and rebuilt in 2018, re-emerging as a contemporary family sports bar, effortlessly blending its rich history with a fresh, modern ambiance. But Diesel's is more than just a bar – it's a convivial hotspot that springs to life as the sun sets, filling with the hum of conversation, laughter, and the clinking of glasses. It's the kind of place where new friendships are sparked over shared cheers, where stories are spun, and memories are made.
Diesel's Bar & Restaurant, 51 Main Street, Yung Shue Wan, Lamma Island, Hong Kong, p. 2982 4116
8. Jaybird
Despite being a relatively recent addition to the area, Jaybird has rapidly won over both locals and tourists alike. Its stunning seaside view, which presents a breathtaking outlook over Yung Shue Wan, is among the best the island has to offer. Situated just a few steps away from a sandy beach, Jaybird is the perfect place to relax during the golden hour. Here, you can bask in the glow of the setting sun while sampling a wide assortment of cocktails and mocktails. However, don't be misled by the tropical surroundings. Jaybird is equally welcoming in the winter months, with a range of warm beverages for you to enjoy, including classic coffee drinks made by the talented barista, Nee. And if you're a dessert lover, don't miss out on the decadent hot chocolate. Topped with whipped cream and a drizzle of chocolate syrup, it's a treat you wouldn't want to miss!
Jaybird, 15A Main Street, Yung Shue Wan, Lamma Island, Hong Kong, p. 6349 2987
Lamma Island guide: Things to do
9. Hiking
When it comes to outdoor activities in Lamma Island, hiking stands unrivalled. The most cherished trail leads you on a 1.5-hour trek from Sok Kwu Wan to Yung Shue Wan, taking you through the heart of the island's two main villages. The journey is not merely a hike, but a walk through time, offering glimpses into the island's poignant past. Along this path, you'll come across the Kamikaze Cave. This unassuming place carries the weight of a somber chapter from World War II, when the Japanese concealed speedboats here, launching them on suicide missions against allied shipping. If you're a history enthusiast, the trail offers more. You'll encounter two 19th-century Tin Hau Temples, sacred sites that pay tribute to the revered "Goddess of the Sea". These temples serve as a testament to the island's rich maritime heritage, offering a touch of spiritual serenity in the midst of your journey. As you venture further along the path, the Lookout Pavilion awaits. Here, you'll be gifted with panoramic views of the surrounding islands – a sight that is sure to leave you awestruck.
10. Visit the beaches
For those who yearn for the soothing melody of waves and the soft touch of sand, Lamma Island's beaches are an absolute delight. The most frequented is Hung Shing Yeh Beach in Yung Shue Wan, where shops, restaurants, and barbecue pits enhance the seaside experience. If you're a dog owner seeking a friendly space for your furry friend, consider the Power Station Beach. Its lack of lifeguards makes it a haven for dogs to frolic freely (though this also means you need to be extra mindful of safety!). As for those in search of tranquillity, the isolated Shek Pai Wan offers a peaceful retreat. Here, you can bask in the serene beauty of nature undisturbed.
11. Get artsy
If you have a penchant for creativity and a love for the arts, Lamma Island offers you a thriving artistic community. At its heart is the Lamma Art Collective, an art centre located in Yung Shue Wan. This collective serves as a vibrant hub for artists to exchange ideas, share resources, and enhance their artistic prowess. Not only does it promote local artists and create work opportunities for them, it also enriches the island's cultural fabric by participating in major art exhibitions in Hong Kong. The collective regularly hosts a range of classes and events, from tea ceremonies to live drawing to watercolour painting classes, providing a dynamic platform for various art forms.
Adding to the island's artistic charm is the OSFO studio, a multifaceted space serving as a gift shop, gallery, design studio, and art studio. It showcases paintings from the American Hong Kong-based artist Aeerow and sells t-shirts designed by its in-house artist alongside prints, postcards, art supplies, and handmade candles. The studio also regularly hosts tattoo events, inviting prominent tattoo artists to showcase their craft.
Lamma Art Collective, 1/F, 23 Main Street, Yung Shue Wan, Lamma Island, Hong Kong
OSFO Studio, 92A Main Street, Yung Shue Wan, Lamma Island, Hong Kong, p. 5537 0705
12. Shopping
The vibrant creative community has also given rise to remarkable local brands. One standout is Lamma Brand, a homegrown streetwear company specialising in designs that are both locally inspired and produced. Its unique t-shirts are irresistible, and the shop itself emanates an inviting vibe that's further enhanced by a harbour-facing balcony, perfect for unwinding with a beer after your purchase.
For music enthusiasts, the island is home to the Lamma Vinyl Record Store, a treasure tucked between the sprawl of seafood restaurants and cafes. This second-hand record store is a haven of musical gems, offering not just vinyl records, but also CDs, DVDs, and even cassette tapes. Ming, the owner, is always eager to share the history and stories behind his vinyl collection with curious customers.
Lamma Brand, 75 Main Street, Yung Shue Wan, Lamma Island, Hong Kong, p. 6818 0181
Lamma Vinyl Store, 1/F, 45 Main Street, Yung Shue Wan, Lamma Island, Hong Kong, p. 2335 0601
13. Make friends!
Lamma Island's very own residents add character as unique as the natural beauty surrounding them. A handful of these colourful personalities have become as iconic as the island's landmarks themselves. One such individual is Nick, affectionately known as "The Book Guy." Recognisable by his long beard, Nick is often found at his bookstand, engrossed in a novel or engaging in friendly banter with passersby, his enthusiasm for books contagious.
Then, there's Uncle Yeung, renowned for his heartwarming companionship with his pet iguana. Their daily walks around the island, featuring the large, gentle iguana often lounging on Uncle Yeung's head, are truly a sight to behold. These characters, among others, contribute to the inviting community on Lamma Island, where making new companions is as simple as engaging in a friendly chat.