From fabulous false lashes to blissful Balinese massages with ocean views, take your beached-out bods to these top spas and salons in Uluwatu, Bingin, Balangan and beyond.
Uluwatu really has it all. There are white-sand beaches, breathtaking bays, five-star restaurants and clifftop hotels with views for fly for. But that's not all. The gorgeous area of Uluwatu – AKA 'the Bukit' – is also home to a flurry of fabulous spas and beauty salons. And we're not just talking simple massages either…
Right here in the Bukit (stretching from Balangan to Bingin, Padang Padang, Uluwatu and beyond) there are world-class wellness destinations, glamorous day spas and every hair and beauty treatment your Bali bod could ever dream of. And you guessed it – we hit the massage beds to bring you 10 of the very best spas and salons in Uluwatu for your Bukit list.
THE BEST SPAS & BEAUTY SALONS IN ULUWATU
1. Our Spa
From the same peeps who gave us Ours restaurant, Our Spa is just as fabulous as its foodie predecessor. Step inside this neighbourhood spa and it's white-washed tropical vibes all around, with glam mani-pedi stations lounges lining the walls. But it's behind the scenes where the magic really happens. Book in for a professional facial by Dermalogica or a medical facial from an internationally-qualified and certificated Indonesian aesthetic doctor. Or, enlist your tresses with a cut from a master L'Oreal stylist, trained in the USA, no less. Oh yes, Our Spa has got it all… post-spa brunch included!
2. The Istana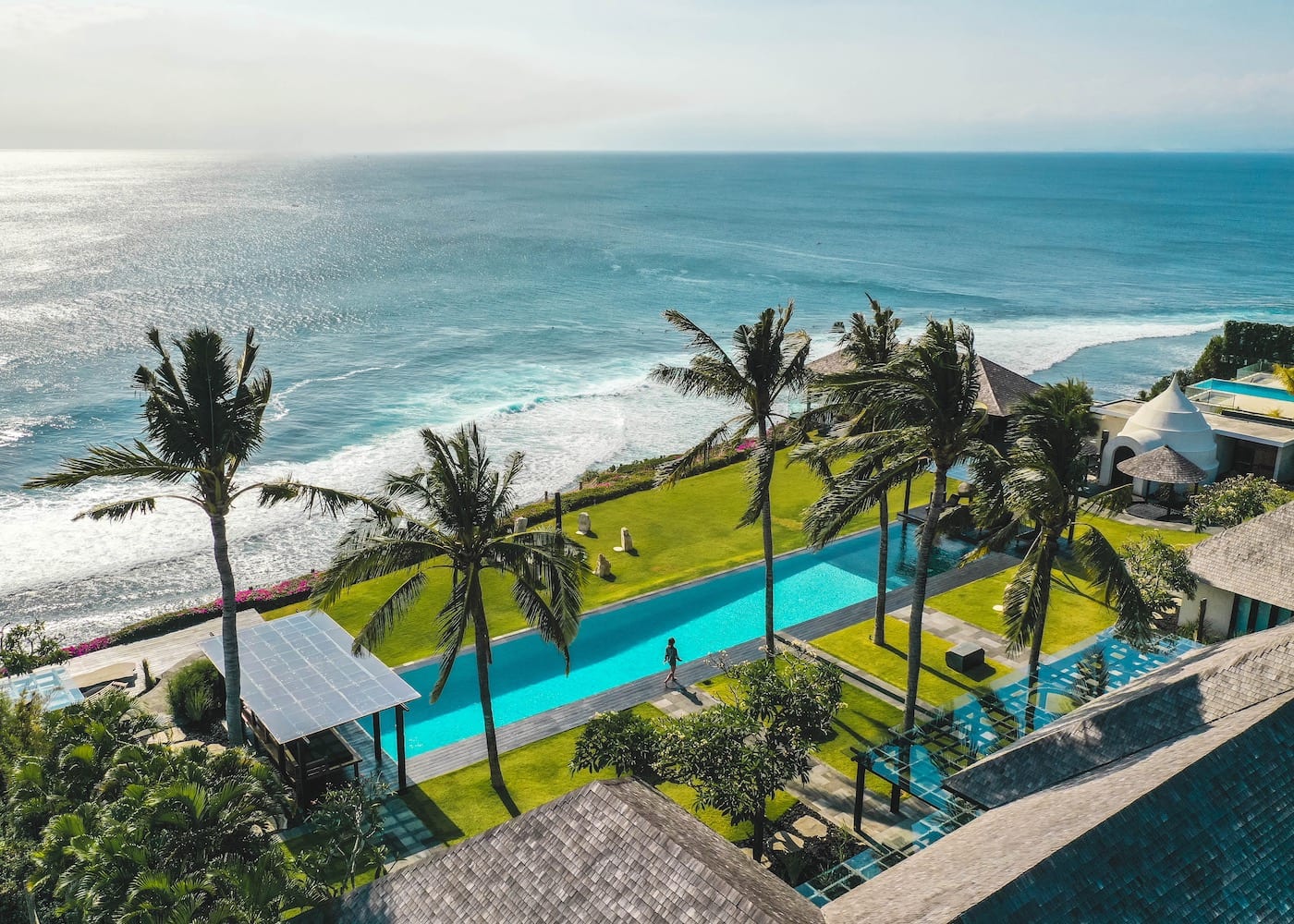 Words fail to describe the transformative spa and 'biohacking' experience at The Istana. It's perhaps the most advanced, boundary-pushing wellness destination on the entire island, offering everything from sensory deprivation tanks and meditation retreats, to cryotherapy, hyperbaric chambers and sound-dome saunas with infrared technology. It's also where you can spend multiple hours hopping from the steam room to the jacuzzi and cold plunge in the outdoor spa area, which just so happens to teeter on the edge of Uluwatu's iconic cliff-tops…
3. Lash Inc & Nail Inc
As the only beauty salon in the Bukit that concentrates on both eyelash extensions and nail art, Lash Inc and Nail Inc (Nail Inc is coming soon) is where you'll want to go if you're after high standards, quality imported products and internationally trained technicians. Located on the first floor of Sidewalk Mall (on the main hill heading into the Bukit), you'll spot this beauty duo by the chic decor, gleaming new equipment and smiling staff. Inside, it's all about top-notch German products and pampering your eyes and nails into submission. Watch this space, because these salons are to be the first of many, brought to Bali by the unstoppable Braga Group. And psst – right now it's 15% off for students and 20% off for employees! 
4. U Spa
Perhaps the best value spa in Uluwatu, U Spa is where it's at for fresh interiors, top-notch treatments and an incredibly affordable price-tag. It's also a one-stop beauty shop for all your spa-ing needs: think massages, mani-pedis, facials and even waxing. And with two locations in the Bukit (in Uluwatu and Pecatu), you're never too far from a U Spa bliss sesh.
5. Spa Alila at Alila Villas Uluwatu
Age-old beauty recipes and healing techniques are given a contemporary spin at Spa Alila, hidden within the ultra-luxe grounds of Alila Villas Uluwatu. And while we can't get enough of the world-class spa treatments here, we always make a beeline for the Cliff Edge Spa Cabana experience. It's an exclusive and open-air cabana for just two lucky spa-goers, sitting 100 metres above sea level with uninterrupted views of the Indian Ocean below. A signature 120-minute spa treatment is the name of the game here, starting with a refreshing foot soak, followed by a choice of Balinese or Therapeutic Massage, as well as sound healing and a rejuvenating eye ritual. And because this spa experience is exclusive to just you and your lucky spa companion, you won't be rushed out of your euphoric state after your treatment comes to an end. Bliss!

6. Esthetic Day Spa
As the OG Uluwatu spa, Esthetic Day Spa is a long-standing go-to for spa-goers in the Bukit. It's where Uluwatu's surfers and beach babes flock to for a head-to-toe spruce up. After all, the spa menu features everything from hair and makeup services, eyebrow threading and waxing services, to spa staples like facials, massages and body scrubs. We love the hydrating hair cream bath, while hubby regularly checks in for a beard trim!
7. The Spa at The Edge
Clinging to the cliffs and sitting a jaw-dropping 500ft above the sea, The Spa at The Edge is all about the views. For starters, the floor of the spa is water (yes, you read that right!) to bring that ocean horizon indoors, while the rooms are wall-less with floor-to-ceiling windows to soak in the endless panorama. Innovative and oh-so Insta-worthy, the spa menu is quite different to its chic design: it offers a quintessential Balinese spa experience. Think traditional Balinese massages and treatments inspired by the four basic elements of Balinese temple offerings: devotion, sacred flowers, holy water and rice. In short, it's the perfect balance of age-old Balinese rituals and twenty-first century finesse.
8. Mu Spa
Overlooking the ocean and a blissful Balinese temple, Mu Spa is a breezy and beautiful al fresco spa in Bingin for all things self-care. Step through this peaceful spa and you're faced with dazzling views of Bingin beach to your right and the famous Impossibles surf break to your left – a spectacular vista that's visible every time you lift your head from your massage bed. There's no air-con at this spa, or enclosed walls – just the gentle ocean breeze and the sweet sound of the rolling ocean below. As for the treatments? The Mu Spa therapists use only natural, organic oils and scrubs without chemicals, and every therapy closes with a ginger tea offering overlooking the ocean. You'll even find your very own bathtub sprinkled with petals for a post-massage soak… and yes, it's big enough for two!
9. Vela Spa
Sitting above the show-stopping Sundays Beach Club and on the manicured grounds of The Ungasan Clifftop Resort, Vela Spa is just as fabulous as its big-name neighbours. Our go-to ritual here is the Body Glow Skin Treatment, designed to hydrate, cleanse and polish with a scrub, body mask and gentle massage. The facials are also fabulous, topped off with ocean views from the treatment rooms.
10. HerSpot
Cheap, cheerful and yet home to one of the best gel manicures we've ever received, HerSpot is an affordable spa in Uluwatu that had us at Hello Kitty nail art. It's a cosy, pink-everything salon on the main hill into the Bukit, with every beauty treatment you might need. Hair colouring, reflexology and even teeth whitening – you name it, HerSpot does it.
Love the sound of these Uluwatu spas? Check out these spas in Canggu, Seminyak, Sanur and Legian too!