Who's up for a fiery Thai feast?
'Cause nothing hits the spot like good 'ol Thai food in Singapore.
Confession: we're pretty obsessed with Thailand. The islands, the mountains, the hip 'hoods, the shopping and, of course, the food – we love it all. Since travel's a no-go right now, tasty Thai food in Singapore is the next best thing. So if you need help narrowing down your choices (since we've got Thai restaurants in almost every corner of Singapore), bookmark this list right now.
Best restaurants in Singapore for Thai food
1. Koh Nangkam
Pop by for a home-style feast at this halal eating spot that focuses on Southern Thai fare. The portions are generous and dishes like the clear tom yum soup and chicken basil with rice are well executed. Be sure to keep room for the steamed seabass for the ultimate dinner treat.
Koh Nangkam, 4 & 6 Jalan Kledek, Singapore 199261
2. Sawadee Cuisine
Find yourself in old world Siam at Sawasdee Cuisine, a long-time Thai restaurant in Singapore. Dine in elegance within its woody interiors adorned with wall art, ornaments and inscriptions on the pillars with royal golden drapes on the ceiling. Expect classics with a twist, like the grilled Kurubota pork collar, sliced beef in green curry and Mao Shan Wang durian sticky rice.
Sawasdee Cuisine, 9 Tan Quee Lan Street, Singapore 188098
3. Time for Thai
Located in Bukit Timah, halal-certified Time for Thai is authentic as it gets. The menu includes all the classics you're familiar with – think phad Thai, beef soup and stir fry basil chicken – with unique ones we promise you'll be excited about. We're salivating just thinking about the mango sticky rice.
Time for Thai, 15 Cheong Chin Nam Road, Singapore 599739
4. Korat Thai Cafe
Never mind its seedy location (ahem, Orchard Towers), this joint is one the best Thai eateries in town. For flavours that pack a punch, get dishes like pineapple fried rice, clear tom yum soup, and stir-fried cashew nuts with beef. If you don't mind the calories, the super oily deep-fried omelette is a must-order – crispy around the edges and fluffy on the inside… just the way we like it.
Korat Thai Cafe, #03-28, Orchard Road, 400 Orchard Towers, Singapore 238875
5. Sabai Fine Thai Restaurant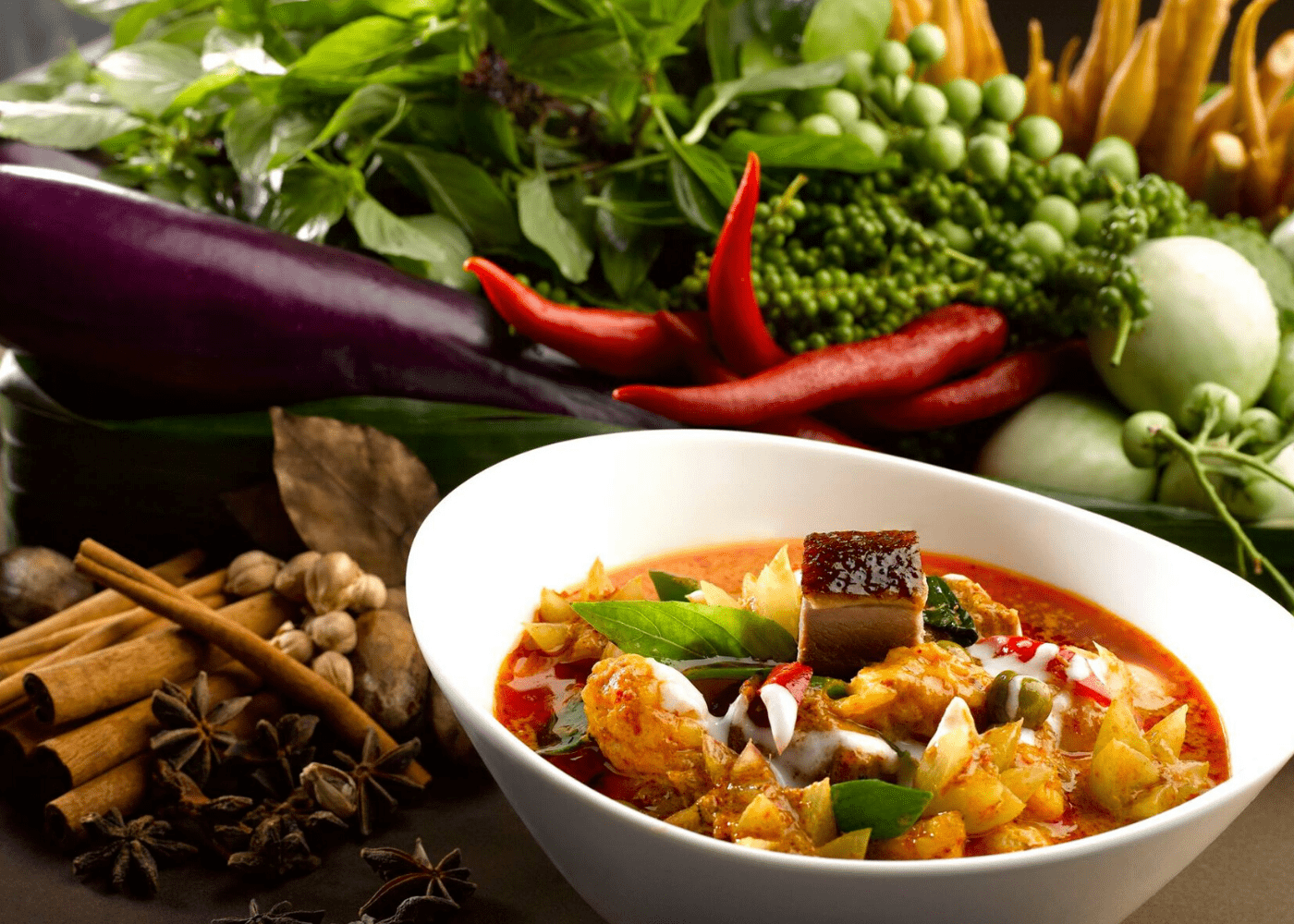 Overlooking the stunning Marina Bay skyline, the dining experience at Sabai Fine Thai is a feast for the senses! The philosophy of this resto is underpinned by the belief that only the best ingredients can invoke a real Thai culinary experience, and it definitely shows in the dishes. Start off your alfresco dining experience with a dish of pat gaproa moo: the spicy pork, peppercorns, and holy basil leaves will leave you a little giddy with its potent taste. For dessert, try the kao niew durian nahm gati – essentially a scoop of durian served atop sticky rice. Its savoury taste is a welcome surprise!
Sabai Fine Thai, #01-02, Customs House, 70 Collyer Quay, Singapore 049323
6. A-roy Thai
Serving up authentic Thai food for over 20 years, A-roy Thai is where it's at. If you're feeling brave and in the mood for fiery chilli, the green beef curry will certainly rile your tastebuds. The morning glory stir-fry is also worth our praise, as is the delish dessert of mango with sticky rice – a perfectly sweet ending to any meal!
A-roy Thai, multiple locations including Novena and East Coast Road
7. Blue Jasmine
Thai classics and street food staples are what Blue Jasmine is known for, with a menu of communal plates brimming with fresh flavours. Signatures include phad kee mao seafood and cha om fried egg. For a fuss-free meal at home, get the bento boxes and savour a little bit of everything. The pad Thai set features prawns, Thai fish cake, cha om fried egg, and a scoop of mango sticky rice. For a dish with a kick, try the basil chicken krapao set. Oh, and vegans can get in on the action with the basil krapao set consisting of plant-based OmniMeat.
Blue Jasmine, L5, Park Hotel Farrer Park, 10 Farrer Park Station Road, Singapore 217564
8. Took Lae Dee
All hail Bangkok's famous Thai restaurant. Meaning "cheap and good", Took Lae Dee has the most pocket-friendly prices in Singapore. Its star dish is pad krapow: minced chicken or minced pork tossed with fragrant Thai holy basil leaves. Other classics include boat noodles, papaya salad and Thai fried rice noodles.
Took Lae Dee, #01-34/35/K9, 18 Tai Seng Street, Singapore 539775
9. Joe's Thai Kitchen
One part of the husband and wife team, Thailand native Joe helms the kitchen at his namesake restaurant. Having worked at Parkway Thai Restaurant for six years, you can expect his authentic Thai dishes crafted with finesse. Highlights include green curry beef, vermicelli seafood salad, omelette with minced pork, basil leaf chicken and the fiery tom yum soup.
Joe's Thai Kitchen, #01-182, Block 125, Bukit Merah Lane 1, Singapore 150125
10. Noodle Cafe – Thai Boat Noodle
Traditionally sold by boat hawkers in Thailand's floating markets, Thai boat noodles can be found right here in Singers. Prices for a bowl start from $1.90 (yes, really!) and you can customise your order the way you like it (your choice of meat, soup or dry, level of spiciness).
Noodle Cafe – Thai Boat Noodle, multiple locations including Marina Square and Sim Avenye.
11. Jai Thai
A personal fave, Jai Thai offers all the dishes one needs for a quintessential Thai feast. We're fans of the fish dishes. Available in tilapia and sea bass, they come with bags of flavour of sweet and sour, tamarind, chilli sauce and pepper and garlic.
Jai Thai, multiple locations including Purvis Street and SingPost Centre
12. New Udon Mookata
Mookata (aka Thai barbecue steamboat) is the main idea so don't expect anything too fancy or glamorous. Grill well-marinated meats like chicken and pork on a lard-greased metal skillet and cook other ingredients (like the glass noodles) in the soup. Prices are a bit steep for a Mookata joint but trust us when we say it's worth it.
New Udon Mookata, #01-66B, Golden Mile Complex, 5001 Beach Road, Singapore 199588
13. Tamarind Hill
It's all about old-world charm – think high ceilings, candle-lit wall lamps and exquisite antiques galore – at this chic Thai resto perched atop Labrador Nature Reserve. Housed in a standalone restored colonial bungalow amidst lush greenery and quiet waters, Tamarind Hill serves up a mix of traditional and contemporary tantalising Thai dishes like red curry with a choice of beef, pork, chicken and veggies.
Tamarind Hill, 30 Labrador Villa Road, Singapore 119189
14. Nakhon Kitchen
Find Nakhon Kitchen and its incredibly delicious (and affordable) Thai food in the heartlands of Singapore. Practically every dish is flawless: mango salad, prawn cakes, tom yum, green curry, mango sticky rice… you'll be spoilt for choice!
Nakhon Kitchen, multiple locations including Bedok and Sengkang
15. Diandin Leluk
One of the largest Thai restaurants in Golden Mile Complex, Diandin Leluk has been a crowd favourite for the longest time. Order dishes like the stir-fried chicken with cashew nuts, claypot prawns with tang hoon, and hotpot oyster omelette to share with your pals.
Diandin Leluk, #01-67/68/69, Golden Mile Complex, 5001 Beach Road, Singapore 199588
16. Aroy-Dee Thai Kitchen
Aroy Dee is a great Thai joint that does amazing classics like pineapple fried rice and green curry. What we like about 'em? These folks don't hold back when it comes to spice. So if you can handle the heat, order items like the clear tom yum soup and say "extra spicy" for a real kick.
Aroy-Dee Thai Kitchen, Hotel G Singapore, 127 Bencoolen Street, Singapore 189637
Get ready to feast on amazing Thai food at these restaurants in Singapore!