Photography: Kabuke via Facebook
Tucked away in nooks and crannies, these hidden restaurants in Singapore serve up a little mystery with their mains.
Now that we've rolled out our guide to secret bars in the city, it's only natural for us to suss out hidden cafes and restaurants in Singapore that serve up tasty grub. Sometimes, you just want something different from your usual brunch hotspots and popular hawker fare, and we're here to help you hunt down the most enigmatic of eateries. Join us on a gastronomical food hunt as we sniff out these hidden gems.
Best hidden restaurants in Singapore
1. Shin Terroir
This hot new omakase concept is fronted by a blink-and-you'll-miss-it door tucked away in an alley. Step in and you'll be greeted by a stone-lined zen landscape before you enter the intimate ten-seater. The magic happens behind the custom-made three-tier grill from Osaka filled with kishu bincho coals. Get comfy in your seat and enjoy the 15-course menu by Singaporean chef Nicholas Lee and Hokkaido native Takeshi Nakayama, where you'll be presented with everything from chawanmushi to Miyazaki A4 wagyu to elevated yakitori skewers. Top it all off with sakes and a stunning wine list!
Shin Terroir, 80 Tras Street, Singapore 079019 (enter via the side lane at the shophouse corner)
2. Ceres Haus
We adore Circular Road for its various restaurants and bars, which include this hidden gem. Keep a lookout for a cup and an empty wine bottle at a nondescript entrance, where you'll climb a flight of stairs before entering Ceres Haus. This minimalist space operates as a cafe by day and a wine bar by night, with simple menus so that indecisive folks won't have to grapple with their orders. Plus, the moody vibes are 10/10.
Ceres Haus, 18A Circular Road, Singapore 049374
3. Yorimichi Yakitori Bar
Who knew there was an izakaya in Golden Mile Tower? Located in a quiet nook near the building entrance, this narrow joint truly resembles those watering holes in Japan. Don't forget to look up and check out the disco ball surrounded by cherry blossoms! Besides the standard grilled skewers, the restaurant offers sashimi, gyozas, and carby options such as unagi fried rice and mentaiko spaghetti. Choose from a selection of sakes, cocktails, and beers on tap to pair with your food.
Yorimichi Yakitori Bar, #01-02 & #01-04, Golden Mile Tower, 6001 Beach Road, Singapore 199589
4. Hub & Spoke Cafe
Don't be fooled by the address. It's not located inside Changi Airport. Instead, you'll find it next to Terminal 2 along the scenic Changi Airport Connector amidst lush greenery. It's a breath of fresh air compared to the concrete structures. The cafe is outfitted in a glasshouse, filtering in an abundance of natural light through floor-to-ceiling glass windows. Unwind over a cup of local coffee like kopi o and kopi c. The local theme also extends to the food menu with options like nasi lemak, laksa and mee siam. But if you're hankering for cafe grub, try the wagyu beef burger, truffle mushroom pasta or The Big Brekkie: buttermilk pancakes, brioche toast, streaky bacon and honey baked ham.
Hub & Spoke Cafe, #01-T2S-02, Singapore Changi Airport, 60 Airport Boulevard, Singapore 819643
5. Gardenasia
Escape the hustle and bustle of city life and make your way to the Kranji farm countryside. Essentially a getaway villa of colonial houses, Gardenasia also houses a bistro. Offering a unique farm-to-table dining experience (ingredients are sourced from nearby farms), the menu features dishes like assam fish chowder, pan-seared red snapper fillet, grilled rosemary chicken and more. For a full-on holiday, we recommend a staycation so you can soak in the rustic landscape.
Gardenasia, 240 Neo Tiew Crescent, Singapore 718898
6. Corduroy Palace
This swanky restaurant by the team behind Lucali BYGB is a hidden gem, to say the least. Find the entrance (that's shared by Proper Slice) in the back alley of Gemmil Lane. Step inside to find a dining space featuring hand-stitched antique rugs, high-gloss burlwood tables, contemporary art pieces and neon-lit wine coolers (the highlight). But before swigging vino, pad your stomach with luxurious dishes like caviar-topped xiao long bao, the signature prime rib, fresh oysters and chicken cordon bleu.
Corduroy Palace, 110 Amoy Street, Singapore 069930 (entrance at the back of Gemmill Lane)
7. La Ristrettos Coffee Roastery
Masked in an unassuming location on the eighth floor of a medical centre in Novena, this kitsch cafe is a treasure. With its cosy atmosphere and wooden interiors, it just makes you want to huddle up in one of the nooks with a hot cuppa and a good novel. Be sure to try the French toast and crab cakes!
La Ristrettos Coffee Roastery, #08-37, Novena Medical Centre, 10 Sinaran Drive, Singapore 307506
8. Kabuke
Despite being located in the bustling 'hood of Telok Ayer, Kabuke manages to stay under the radar. Hidden on the second floor of a heritage shophouse, the gastrobar invites you for an evening of good food and sake amidst a cosy ambience. The menu spotlights bar bites, rice bowls and seafood but the piece de resistance has to be the A4 Kagoshima wagyu striploin. Wash it all down with a selection of sake: glass, carafe or bottle. No judgment here.
Kabuke, 200A Telok Ayer Street, Singapore 068638
9. Coexist Coffee Co.
This cafe takes things up a notch – it's hidden on the rooftop of an unassuming industrial building in Hillview. Apart from boasting peak views of the vicinity, the space stands out for its aesthetic. Think symmetrical sections split into two polarising colours: red and white. On the menu, you've got hearty breakfast plates and locally-inspired dishes like rendang wagyu beef burger and sambal fish and chips.
Coexist Coffee Co., #08-00, 48 Hillview Terrace, Singapore 669269
10. Bincho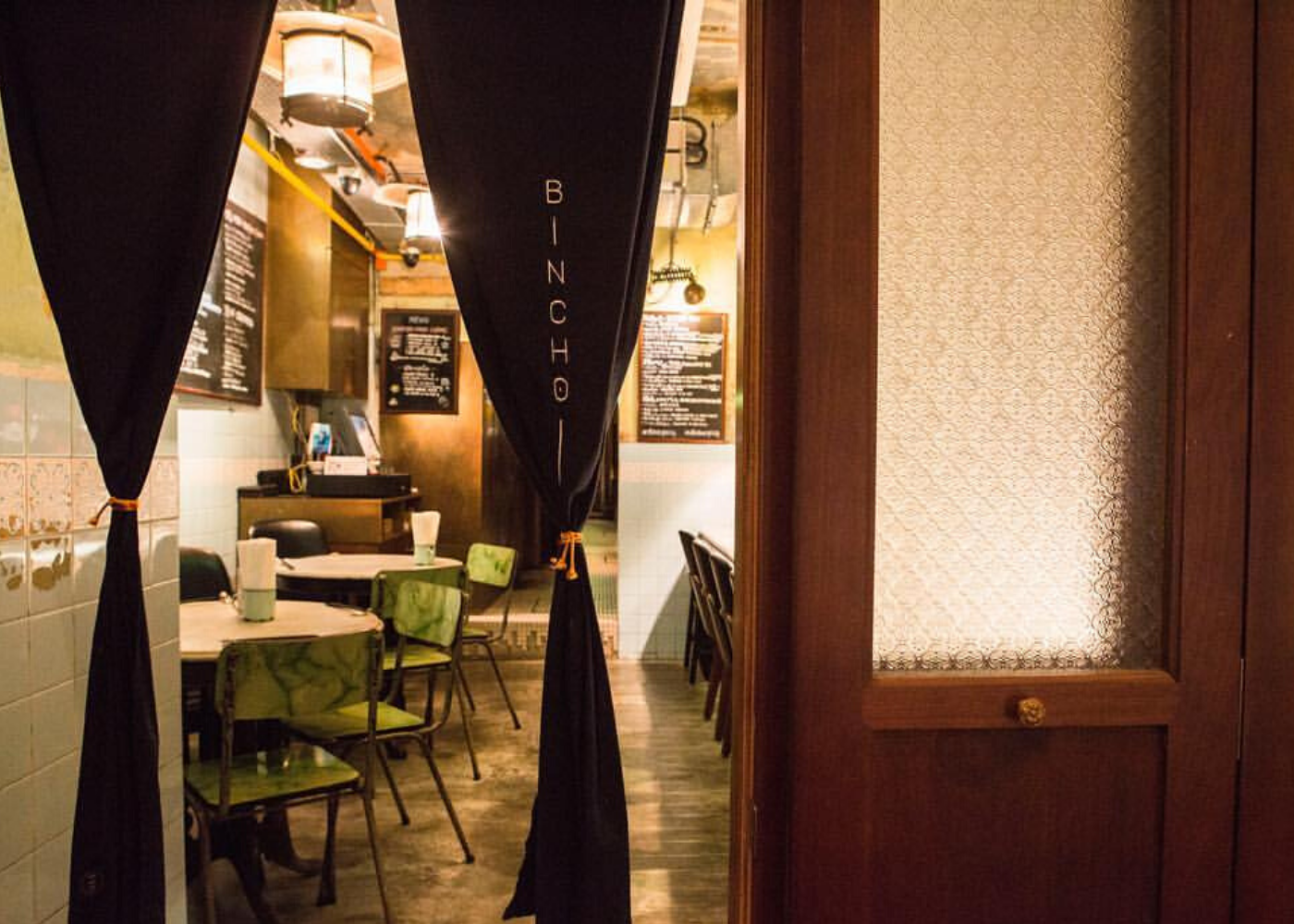 In the mood for yakitori skewers in a speakeasy (especially after watching Blade Runner)? Bincho has you covered. Hidden behind a 70-year-old mee pok stall – which opens in the day – this grungy open-concept yakitori restaurant in Singapore is run by chef Asai Masashi, who whips up stellar grilled chicken sticks. If you're here after the hawker has closed for the day, enter the establishment via its easy-to-miss entrance (look out for its gold-lettered sign) at the open-air carpark.
Bincho, #01-19, 78 Moh Guan Terrace, Singapore 162078
11. The Flying Squirrel
Squirrel your way through the side alley of Amoy Street and you'll stumble upon an eatery serving Japanese food. Nosh on sushi, sashimi, gyozas and rice bowls, and if you happen to be playing hooky from work, happy hour starts from 4pm!
The Flying Squirrel, #01-02, 92 Amoy Street, Singapore 069911
12. The Dragon Chamber
Located at an ordinary-looking kopitiam, this Chinese resto hides behind a beer fridge. It's like a modern version of Narnia, except the interiors and dim lighting give off total secret society vibes. The food is somewhat peculiar, with dishes such as the Dragon Claw of braised crocodile foot with Chinese herbs served in a bowl with a ring of fire (so extra!). If you want something familiar, the wagyu truffle hor fun will hit the spot. Either way, it's worth a visit, even if it's just to say you've been here.
The Dragon Chamber, 2 Circular Road, Singapore 049358
So, who's up for a little adventure hunting down these hidden restaurants and cafes in Singapore?
[This article was originally published in 2019 and updated in 2023 by Sufyan Saad.]