Photography: The Dragon Chamber via Facebook
Tucked away in nooks and crannies, alleyways and hidden entrances, these eateries serve up a little mystery with their mains.
Now that we've rolled out our guide to secret bars in the city, it's only natural for us to suss out hidden restaurants and cafes that serve up tasty grub. Sometimes, you just want something different from your usual brunch hotspots and popular hawker fare, and we're here to help you hunt down the most enigmatic of eateries. Join us on a gastronomical food hunt as we sniff out these hidden gems.
Burger Bar New York
If you're hanging out on Amoy Street and you find yourself craving a divine burger, head over to the back alley of Gemmill Lane where you'll stumble upon a neon-lit burger sign. Go through the door and velvet curtains and follow the aroma of grilled meats and deep-fried chips. It's all about simplicity here: Choose how you want your burger done, add your toppings (iceberg lettuce, tomato or onion) and pick your sauce (betcha the NYC branch doesn't offer Sriracha).
Burger Bar New York, #03-01, 115 Amoy Street, Singapore 069935
La Ristrettos
Masked in an unassuming location, on the eighth floor of a medical centre in Novena, this kitsch cafe is a treasure. With its cosy atmosphere and wooden interiors, it just makes you want to huddle up in one of the nooks with a hot cuppa and a good novel. Be sure to try the French toast and crab cakes!
La Ristrettos, #08-37, Novena Medical Centre, 10 Sinaran Dr, Singapore 307506
Riders Cafe
Get away from the hustle and bustle of the city and head to Riders Cafe (which is, in our opinion, the best thing you can get if you're thinking of a short 'country'-style escape). Tucked away in the lush greenery of Bukit Timah Saddle Club (yes, there are adorable horsies all around), this peaceful spot is idyllic for any meal of the day.
Riders Cafe, 51 Fairways Drive, Singapore 286965
Bincho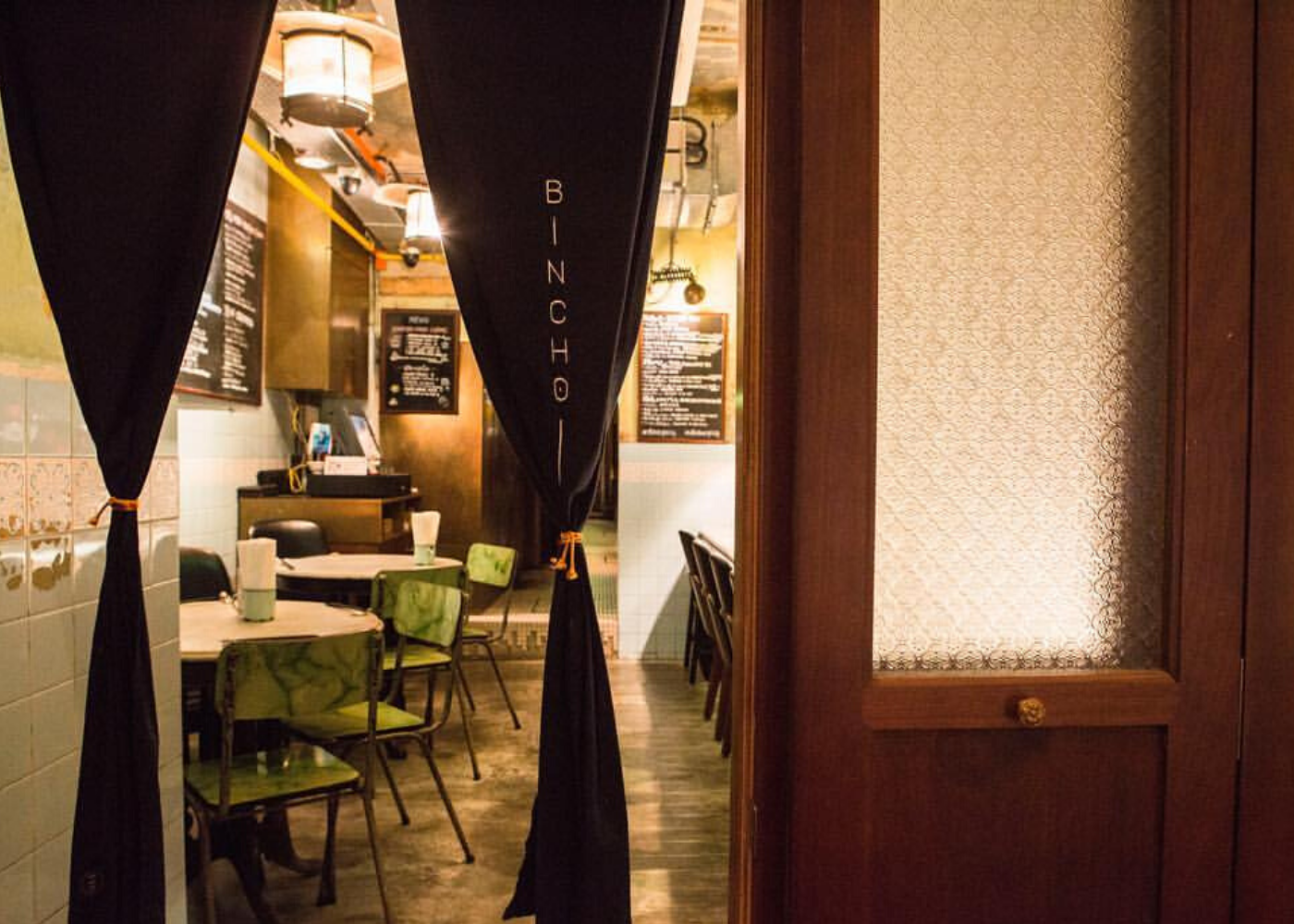 In the mood for yakitori skewers in a speakeasy (especially after watching Blade Runner)? Bincho has got you covered. Concealed behind a 70-year-old mee pok stall – which opens in the day – is this grungy open-concept yakitori restaurant-bar run by chef Asai Masashi, who whips up some stellar grilled chicken sticks . If you're here after the hawker has closed, enter the establishment via its easy-to-miss entrance (look out for its gold lettered sign) at the open-air carpark.
Bincho, #01-19, 78 Moh Guan Terrace, Singapore 162078
The Flying Squirrel
Squirrel your way through the side alley of Amoy Street and you will stumble upon an eatery serving Japanese food. Be treated to sushi, sashimi, gyozas and rice bowls here, and if you happen to be playing hooky, happy hour starts from 4pm!
Flying Squirrel, #01-02, 92 Amoy Street, Singapore 069911
The Dragon Chamber
Located in an ordinary-looking kopitiam, this Chinese resto hides behind a beer fridge. It's sort of like a modern version of Narnia, except the interiors and dim lighting give off total secret society vibes. The food here is somewhat peculiar, with dishes such as the Dragon Claw of braised crocodile foot with Chinese herbs served in a bowl with a ring of fire (so extra!). If you want something familiar, the wagyu truffle hor fun will hit the spot. Either way, it's definitely worth a visit, even if it's just to say you've been here.
The Dragon Chamber, 2 Circular Rd, Singapore 049358