Photography: The Great Madras
From luxury chic rooms to budget lofts, these stylish boutique hotels boast a one-of-a-kind experience.
What happens when wanderlust hits but there isn't time for another weekend getaway? You grab your overnight bag and head to one of Singapore's many hotels for a swish staycay. It makes perfect sense: You get to live it up in your plush room and maximise the hotel's facilities – and by that we mean lounging by the pool or enjoying your day at the spa. There's so much to do in the city – more than enough for your weekend to feel like a real holiday. But if you're a) tired of the big hotel scene and b) looking for alternative stays (without sacrificing lush comforts, of course), you've come to the right place. Keep reading for our guide to the coolest boutique hotels in Singapore, to suit everyone from modern minimalists to rendezvous-seeking couples.
Best boutique hotels in Singapore
Kesa House
Looking for a staycay or need temporary living space for a month? Imagine living at the heart of it all – with bars, restaurants and local eats including Pasta Bar, Olivia Restaurant & Lounge and The Old Man located just steps away. Ahh… sounds like heaven to us. You can have it all with Kesa House's flexible-living concept. Choose between Sky, Studio, Entertain or Cozy for various staying options in the 60-room building. Communal spaces like the KesaLobby and the Affogato Lounge make up an integrated check-in space and lounge where guests are served decadent affogatos and micro-batch ice cream. At KesaKitchen, you can sip on a cuppa from Sarnies and whip up a quick breakfast using the fully-equipped cooking stations. Plus, KesaTerrace is a social area with views of the Duxton Plain Park. Fancy a stay?
Kesa House, 55 Keong Saik Road, Singapore 089158
Hotel Soloha
Hotel Soloha, a play on the words "so" and "aloha", fits perfectly in the vibrant neighbourhood of Keong Saik. Alongside award-winning restaurants and bars, it stands out with its tropical modern motifs and hip mural art. The 45-room hotel offers 5 types of accommodations: Standard, superior, deluxe, loft and suite. All of 'em offer a smart cable TV, which makes for a perfect opportunity to stay in and catch up on your favourite Netflix shows. Take a look inside.
Hotel Soloha, 12 Teck Lim Road, Singapore 088387
Heritage Collection on Chinatown
Muraled walls welcome you into the retro-inspired furnishings of Heritage Collection on Chinatown. Tucked away in a historic shophouse, the newly refurbished rooms pay homage to the enclave they're in with shophouse murals sketched on the walls. Spot them in the Studio Premium rooms or the Premium Lofts! Conveniently located within walking distance of Chinatown and Telok Ayer MRT stations, there's no better place to have a staycay (or a short-term stay) while exploring these storied streets. And you have all the amenities you need for a cosy stay: all rooms feature an ensuite bathroom with rainfall shower, an Apple TV, a fully-equipped kitchenette and more.
Heritage Collection on Chinatown, 227 South Bridge Road, Singapore 058776
The Great Madras
Undoubtedly one of Singapore's coolest boutique hotels, The Great Madras is a millennial dream come true. Not only is it housed in one of Little India's most unique conserved buildings, it's also decked out in every 'grammable design trend imaginable. Think neon letter lights (with an inspirational quote, no less), rich shades of deep blue and green, tropical printed wallpaper and retro furniture. The 34-room property boasts categories from deluxe spaces (no bunk beds, just king-sized ones) to The Great Suite, which is fitted with an en-suite circular bathtub.
The Great Madras, 28 Madras Street, Singapore 208422
Ann Siang House
Taking the place of the former Club Hotel is Ann Siang House. This hot property is furnished to perfection – its electric blue facade and gold windows should serve as an indication. Rooms, as well as common areas on every floor, are all about sumptuous leathers, gilded mirrors and geometrical tables and stools. Only 20 rooms are available, each equipped with the Hypnos "Firenze" bed, said to be the comfiest in the world. We'd recommend the executive room, as it comes with a massive tub, or the junior and wellbeing suites that open up into a private balcony.
Ann Siang House, 28 Ann Siang Road, Singapore 069708
Amoy
Don't be fooled, this is no museum. Amoy is a heritage site boutique hotel along our fave Telok Ayer 'hood. Inside, it offers 37 intimate rooms and a stellar combination of heritage interiors and state-of-the-art amenities. Located near the bustling CBD, Amoy is surrounded by a wide array of restaurants and bars that guests can check out – perfect for visiting vacationers, we must say.
Amoy, 76 Telok Ayer Street, Singapore 048464
Hotel G
Okay, so maybe we're a little biased 'cause this hotel is home to Ginette: An affordable French resto we've repeatedly raved about. But food aside, the hotel deserves its own fanbase. Though rooms (sized between 11 to 27 sqm) are petite, the eclectic interiors are one-of-a-kind, with grey walls, wooden furnishings and bright accents. Bonus points for its in-house gym and convenient location between Dhoby Ghaut and Bugis.
Hotel G, 200 Middle Road, Singapore 188980
Hotel Clover The Arts
The brand might have several properties around the city, but Hotel Clover The Arts has a spot on this list thanks to its artsy vibes and recognition of local talent. Located in the clubbing mecca that is Clarke Quay, the breathtaking mural on the hotel's exterior is just a teaser of what you can expect inside. All 44 rooms are embellished with murals hand-painted by local artists, featuring a range of styles including manga, street art and line art. Psst: The painting of the macaw in its Superior Queen room is quite the visual treat.
Hotel Clover The Arts, 58 South Bridge Road, Singapore 058689
Wanderlust
Wanderlust Hotel was one of the pioneers in cutting-edge boutique hotels in Singapore, breathing life to the city's 'themed hotels' scene. The place has since undergone a revamp. Blending old world charm with contemporary style, all 29 rooms and suites are now decked in sleek natural finishes and smart textural overlays. Our pick: The Loft, which comes with a cosy kitchenette and workspace.
Wanderlust, 2 Dickson Road, Singapore 209494
Park 22 Little India
The black and white heritage building of Park 22 stands out starkly from the vibrant Little India neighbourhood, and we think it's the perfect location for dipping your toes in this cultural mecca. Yes, the rooms are compact, but it's a great stay for couples and backpackers alike. And should you need a tour 'round the hood, the hotel would be happy to host you on a free walking trail.
Park 22 Little India, 60 Kerbau Road, Singapore
Porcelain Hotel
From awesome eateries to a cool indie bookshop, there's plenty to do around Porcelain Hotel's prime location in Chinatown. But first, let's talk about this little hideaway. The interior and exterior of the hotel (which is housed in a series of adjoining shophouses) is clad in traditional Chinese porcelain and chinoiserie patterns from the Qing and Ming dynasty… with a contemporary twist. You'll find recurring porcelain patterns in all rooms, but we'd pick the Theme Suite for its minimal white aesthetic. And not to mention, that bathtub in the en-suite bathroom.
Porcelain Hotel, 48 Mosque Street, Singapore 059526
The Quincy Hotel
Sure, the award-winning Quincy Hotel may lack the themed rooms of other boutique hotels in Singapore. But what it does have in spades is affordable luxury coupled with a quirky boutique hotel charm that makes it a perfect romantic getaway spot for lovebirds. Quincy's rooms bear all the hallmarks of trendy designer hotels. Yup, we're talking feather beddings, large bay windows and lush city views. Tempted yet?
The Quincy Hotel, 22 Mount Elizabeth, Singapore 228517
The Warehouse Hotel
Formerly an iconic warehouse from 1895, the meticulously restored property boasts a sleek, modern design. Its rooms feature double high ceilings, peaked roofs and authentic industrial details. And don't miss the rooftop infinity pool! It's the perfect spot to people-watch and take in views of the riverbank.
The Warehouse Hotel, 320 Havelock Road, Singapore 169628
Lloyd's Inn
Sleek, airy and wonderfully minimalist, Lloyd's Inn is one of the most Instagrammed-to-death boutique hotels in Singapore to date. All thanks to its unconventional design, central location and affordable rates. While the hotel's facilities are rather limited, we can't refuse its clean, mostly white palette (which brilliantly juxtaposes the surrounding foliage), abundant sunlight and quiet residential locale. We'd recommend The Big Skyroom for its inviting loft-like vibes – and that precious adjoining open-air space for a million photo ops.
Lloyd's Inn, 2 Lloyd Road, Singapore 239091
Naumi Hotel
Despite its central location, Naumi Hotel isn't your run-of-the-mill business hotel with cookie-cutter layouts and decor. Its five room categories – spread across 73 rooms – are uniquely themed, with plush fittings and luxe designs. Fashion mavens are bound to have a soft spot for the Gabrielle and Camellia room. Inspired by Coco Chanel, the space is decked out in a monochrome colour palette and features artworks of the designer's favourite flower. Couples on the hunt for indulgent city respites have the Eden and Nirwana suite as a stellar option – its large, round tub for two is perfect for romantic romps.
Naumi Hotel, 41 Seah Street, Singapore 188396
Studio M Hotel
A favoured and unofficial party hotel among the younger crowds, Studio M ranks high on our list of relaxing boutique hotels in Singapore. And its location in Robertson Quay offers the best of two worlds. It's right smack in the middle of riverside cafes and quiet brunch spots, and it's a mere walk away from Clarke Quay's hottest clubs. But its key feature is the loft rooms. Spread across four categories, all of them are kitted out in minimalist designs, plush beddings and panoramic views of the city from large bay windows. We love the Executive Lofts as their corner locales offer maximum privacy, larger lounge areas and cosy comfort for stay-in staycays.
Studio M Hotel, 3 Nanson Road, Singapore 238910
The Vagabond Club
Three words: Parisian swank factor. The Vagabond Club is knocking the boutique hotel game out of the park. For starters, each of the 41 rooms is a super swish, boudoir chic haven of tranquillity. To help you scratch your arty itch, regular pop up events – like macaron-making and crinoline classes by French designer Mireille Minier – are held.
The Vagabond Club, 39 Syed Alwi Road, Singapore 207630
The Sultan
Taking up 10 shophouses, The Sultan is a hip tribute to Singapore's colourful heritage. Be sure to check into The Sultan Loft. It's fit for royalty, with its double-storied set-up comprising a living area on the first floor and a bedroom on the second. And it's jazzed up with timber roof beams, wide arcs and full-length shuttered windows. Plus, its location in Kampong Glam makes it perfect for a day of adventure!
The Sultan Hotel, 101 Jalan Sultan, Singapore 199002
Hotel Indigo Singapore Katong
Hotel Indigo is no average boutique hotel. The charming space, housed in the former Joo Chiat Police Station, pays homage to the neighbourhood's Peranakan heritage. Its interiors boast everything from vintage-style tiles and artwork to antique furnishings. Meanwhile, its restaurant Baba Chews and Eatery serves cuisine from The Straits of Malacca. Its Katong location is also a major plus in our books. We recommend taking a whole afternoon to explore the street art, pre-war shophouses and coffee shops and restaurants that contribute to the neighbourhood's thriving, historic culture.
Hotel Indigo Singapore Katong, 86 East Coast Road, Singapore 428788
The Scarlet Singapore
Perhaps one of the oldest hotels on this list, The Scarlet Singapore first opened in 2004 to much fanfare. Sensual, intimate and dripping with opulence, the hotel's rooms feature arresting hues of precious stones and lavish decor (we're talking leopard print, patent leather and python). To cap off your sexy staycay, pop over to nearby rooftop bars for breezy cocktails and nibbles before you descend to your love nest's private jacuzzi tub (only available in the Passion Suite) for a snuggle… and more.
The Scarlet Singapore, 33 Erskine Road, Singapore 069333
Hotel 1929
At this boutique hotel made up of five shophouses, guests will find that no two rooms are alike. Everything from furnishing and beds, right down to the clear glass bathrooms, is unique. Hotel 1929 also offers specially-designed suites with outdoor baths set in tropical roof gardens, which overlook the bright lights and bustling streets of charming Chinatown. Hip and cosy, this stylish boutique hotel in Singapore is notches above your typical budget hotel.
Hotel 1929, 50 Keong Saik Road, Singapore 089154
M Social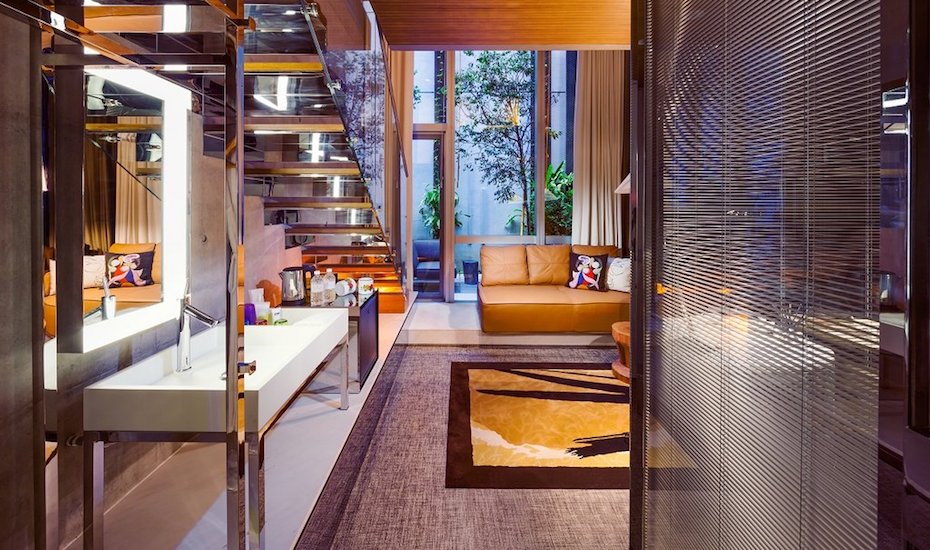 Geared towards the millennial globe-trotter, M Social is a cool player on the Robertson Quay hotel circuit. Comfort is king at this hip hotel: Its chic interiors are the brainchild of renowned designer Philippe Stark. You might never want to leave your room, as each space is a calming enclave of warm colour tones, with lush textures of plush pashmina throws and soft carpeting. In line with its theme, the hotel offers a mix of communal areas for mingling and high-tech amenities like self check-in kiosks. No need to suffer through the night in your heels for fab cocktails! Simply head down to the hotel's in-house resto, Beast & Butterflies, where expert mixologists can easily shake up an artisanal one as you chat up other young travellers. Here's a look at our stay in this swanky hotel.
M Social, 90 Robertson Quay, Singapore 238259