Singapore's Civic District is the city's arts and cultural hub.
What's good in Singapore's Civic District? Get acquainted with our guide.
Located in the crux of downtown Singapore, the Civic District is fondly known as the arts hub thanks to its proximity to museums, heritage buildings and craft shops. Explore the gritty yet remarkable precinct for fine eateries, bars and shopping. Bookmark our guide for the best recommendations!
Guide to the Civic District in Singapore: Things to do, see and shop
1. National Gallery Singapore
Home to the largest public collection of local and Southeast Asian art in the world, it's no surprise that the National Gallery of Singapore is a national treasure. Step into the breathtaking building, explore the interior and its state-of-the-art facilities. Then, rest your legs at one of the F&B establishments including rooftop bar Smoke & Mirrors.
National Gallery Singapore, 1 St. Andrew's Road, Singapore 178957
2. National Museum of Singapore
Dating back to 1887, this sprawling building is our nation's oldest museum. Inside the 19th-century colonial exterior, you'll find modern multimedia exhibits that showcase our rich history and culture. We love the annual Singapore Night Festival that brings the museum to life with exciting light displays and art installations.
National Museum of Singapore, 93 Stamford Road, Singapore 178897
3. St. Andrew's Cathedral
The oldest Anglican church is hard to ignore, what with its white Neo-gothic structure amongst modern buildings. Built in 1852, it was also used as an emergency hospital during the Japanese Occupation. If you're around the vicinity, be sure to step inside to check out the various memorials and dedications.
St. Andrew's Cathedral, 11 St. Andrew's Road, Singapore 178959
4. Raffles Singapore
An absolute icon, Raffles Singapore opened in 1887 – making it the most storied hotel in the city. Old world romance meets luxury at this colonial-style hotel, which has greeted some of the world's biggest celebrities and personalities, including the Duke and Duchess of Cambridge. Only suites are available here, each offering elegant period furnishings and views of lush tropical gardens within the vicinity. Make sure to try the Singapore Sling which was born right here at Long Bar.
Raffles Singapore, 1 Beach Road, Singapore 189673
5. Chijmes
Not only is it a gastropub of notable restaurants, Chijmes goes way back to the 50s. The neoclassical building used to be a convent school. Today, the place has been declared a national monument. A great dinner spot with charm? Yes, please! Oh, and be sure to check out the lawn that's bedazzled with dreamy fairy lights.
Chijmes, 30 Victoria Street, Singapore 187996
6. National Library
The National Library is our city's largest public library with 16 storeys of reading material, and endless collections of Singapore's literary and publishing heritage. There's also a drama centre, exhibitions spaces, as well as a function and events space on the 16th-storey rooftop.
National Library, 100 Victoria Street, Singapore 188064
7. Mint Museum of Toys
The museum is temporarily closed.
Relieve your childhood memories through 50,000 vintage playthings and collectables at the Mint Museum of Toys. The toys are brought in from over 40 countries, dating from the 1840s to 1980s. Walk through four thematic levels – Outerspace, Characters, Childhood Favourites and Collectables.
Mint Museum of Toys, 26 Seah Street, Singapore 188382
8. Bras Basah Complex
If there's one place to get crafty, it's Bras Basah Complex. The old-school five-storey building boasts craft supply shops, printing services and bookstores. No wonder it's called the book city of Singapore! FYI, it also makes a great spot for your IG shots.
Bras Basah Complex, ​​231 Bain Street, Singapore 180231
9. Bugis Street
This gritty street takes us back to shopping in Bangkok with hundreds of shops waiting for you. You'll find it chock full of affordable blogshop style apparels, piercing and tattoo shops, street food and souvenirs. Expect crowds during weekends and peak hours.
Bugis Street, 3 New Bugis Street, Singapore 188867
10. Funan
Funan used to be a mecca for electronics but has since transformed into a lifestyle mall. This isn't your ordinary shopping centre, though. It inspires learning, creativity and connection by adopting six themes – tech, craft, play, fit, chic and taste. Look out for local brands like Love, Bonito, Green Collective SG and the Wild Rice theatre. There's also an Urban Farm by Edible Garden City on the seventh floor. Staying true to its farm-to-table concept, Japanese restaurant Noka uses herbs and vegetables from the garden in its dishes.
Funan, 107 North Bridge Road, Singapore 179105
11. The Bike Settlement
Make a pitstop at this bike shop for all your cycling essentials. Featuring brands like Cateye, Factor, Lake and Mint, it houses everything from helmets to bike accessories.
The Bike Settlement, #01-06, Waterloo Centre, 261 Waterloo Street, Singapore 180261
12. The Green Collective
So you wanna take the first step in leading a planet-friendly lifestyle? Get yourself acquainted at The Green Collective, an emporium for small sustainable brands. Take home bamboo toothbrushes, gardening and composting pits, plant-based food, beauty products, plastic-free food storage items, sustainable homewares and more.
The Green Collective, #02-18, Funan, 107 North Bridge Road, Singapore 179105
13. Street Art
Of course, what's an arts district without fabulous murals and street art to marvel at? Whip out your phones for murals at 222 + 51 arts center by the 222 Queens Street building and the entrance of 51 Waterloo Street to find artworks by Yip Yew Chong and Yuen Kum Cheong.
Guide to the Civic District in Singapore: Where to eat
14. Hospoda Microbrewery
Say cheers and make merry with an ice cold glass of Czech beer, brewed right here in this brewpub. The humble spot serves up reasonably priced pints with pub grub like Hospoda pork sausage, burgers and BBQ chicken chop.
Hospoda Microbrewery, #01-19, Village Hotel Albert Court, 180 Albert Street, Singapore 189971
15. Herbivore
The name says it all – this vegetarian restaurant puts a cool spin on Japanese cuisine using organic ingredients. Tuck into chef Yasui Masa's vegetarian plates like reimagined sushi, "pork" tonkatsu, ramen and gyoza. The restaurant is located in Fortune Centre, the unofficial haven for vegetarians.
Herbivore, #01-13/14, Fortune Centre, 190 Middle Road, Singapore 188979
16. Nobu-ya
For a great catchup with loved ones, Nobu-Ya is the place to be. The quaint restaurant serves izakaya plates including sashimi, octopus, grilled fish and karaage. There's just one rule – everyone at the table has to drink booze.
Nobu-ya, #01-05, Fortune Centre, 190 Middle Road, Singapore 188979
17. Artichoke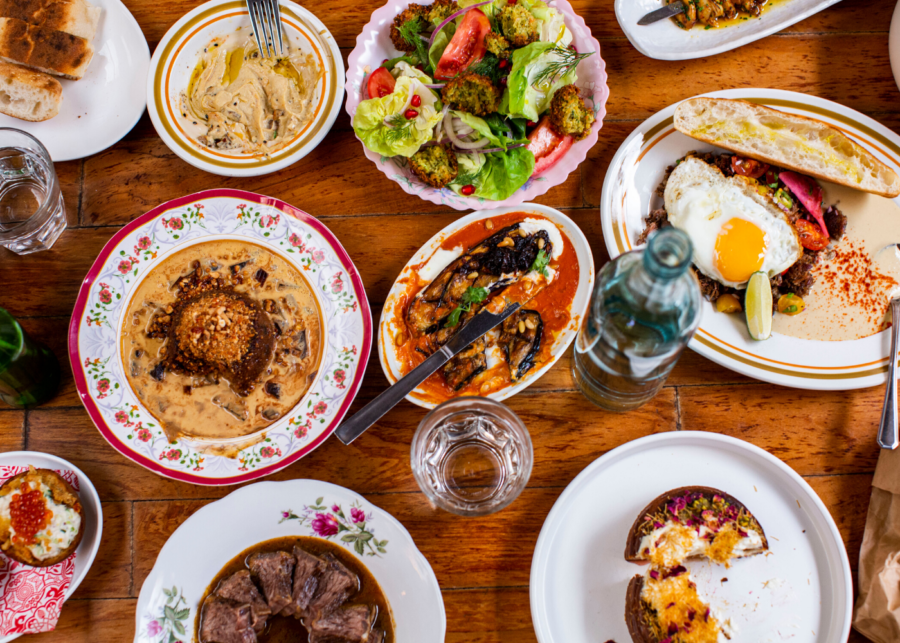 Helmed by chef Bjorn Shen, Artichoke is known for being the "least authentic Middle Eastern restaurant". Basically, it's a modern take on classics. Great for sharing, the menu rotates every now and then, slinging out flavour-packed dishes like jeweled hummus, roasted cauliflower and haloumi, green harissa clams, slow-roasted lamb, and black Angus flank. Enjoy the date pudding with smoked custard, cashew and coffee to end your meal.
Artichoke, 161 Middle Road, Singapore 188978
18. Kurasu Singapore
Hailing from Kyoto, this cafe doles out house blends and brews from specialty roasters across Japan. Yup, the coffee beans are shipped in every week so you can expect fresh brews every time you visit. The cafe has recently started serving pancakes so come with an appetite.
Kurasu Singapore, #01-24, Waterloo Centre, 261 Waterloo Street, Singapore 180261
19. Clinton Street Baking Co. & Restaurant Singapore
This diner from the Big Apple is a hotspot for breakfast and brunch fare in the civic district. The star of the show has to be its pancakes! Fluffy as a cloud, a stacked plate of blueberry, banana walnut or chocolate chunk pancakes with warm maple butter will put you in a better mood.
Clinton Street Baking Co. & Restaurant Singapore, 31 Purvis Street, Singapore 188608
20. Tom's Palette
This ice cream parlour is always sprawling with patrons and for good reason. It's the best spot in the Civic District to cool down with a scoop. Bestselling flavours include tang yuan (glutinous rice gelato with sesame swirl), melt and sizzle (brown sugar gelato with berry compote and chocolate-coated popping candy), and butterbeer and crack candy.
Tom's Palette, #01-01, 51 Middle Road, Singapore 188959
21. Salted & Hung
Chef Drew Nocente is the man behind the scrumptious cured meats and offal in this Australian restaurant. Enjoy the best bites of the restaurant with the creative degustation menu. You'll be pleased to know the menu heavily focuses on zero-waste ingredients and sustainability.
Salted & Hung, 12 Purvis Street, Singapore 188591
Explore the fun and hip arts hub of the Civic District in Singapore.