Breezy and homely, Olivia Restaurant & Lounge reminds us of a casual seaside bistro. Photography: Amelia Ang
Olivia Restaurant & Lounge will school you in damn fine Catalan cuisine, including a burnt cheesecake we're living for.
Joining our slew of Keong Saik hangs with incredible food (have a look at our feasts at Gaston Bistro and Pasta Bar), we dish on Olivia Restaurant & Lounge's deliciously diverse experience.
Thought this restaurant served Spanish cuisine? Well, it's more than that. Olivia Restaurant & Lounge brings the spirit and cuisine of Barcelona to our shores which, as COO Miguel Sabria points out, is a cosmopolitan city boasting an equally diverse culinary experience. Expect an eye-opening menu that doesn't shy away from spotlighting elements of Mediterranean, Japanese, and other cuisines in its creations.
The interior was created and shipped almost entirely from Spain (this restaurant wouldn't look out of place in the country itself), save for some artwork from New York and two wooden dining tables from Bali. Did we mention that it looks absolutely gorgeous and reminds us of the white and blue palette of Santorini? Swoon.
In typical fashion of Spanish hospitality – Miguel says his mother taught him never to leave their doors closed – there are no walls to sanction off private dining rooms, just an open dining space where the cacophony of chatter becomes the cheerful background sound to a homely meal.
But first, a drink
Head bartender Ganesh started us off with Olivia's Brindis, a house concoction that got us hooked, starting with the scent and sweetness of passionfruit that piqued our interest. Then there's the tiniest hint of mint alongside the subtle velvety flavour of the creme de cacao before the familiar burn at the back of the throat reveals the presence of vodka.
The day we discovered spherical olives
Wait, aren't all olives spherical? Well no, they're usually oval and not round, which is why the Spherical Olives from Olivia looks a little unusual at first glance. Pop it in your mouth and it'll explode with a bite, letting out the salty, pickled flavour stored within. Each of these olives is served with a mushroom croquette, featuring an equally intense taste of truffle within the creamy filling.
How Catalunya (or Catalonia) does sushi
The Homemade "Catalunya" Lobster-Avocado Roll demonstrates the cosmopolitan spirit of Barcelona's brand of eats. Pieces of shredded lobster are complemented by the buttery avocado slices, with the fish roe enhancing the briny flavours of the sea. The accompanying ponzu sauce with sesame oil breaks up the taste of seafood with a subtle tanginess which we welcomed.
Gourmandising with steak and caviar
Steak tartare and caviar come together with the Classic Tenderloin Steak Tartare with Avruga Caviar. The beef was fresh and fatty, while the caviar was salty and not at all fishy… what more could one ask for? The answer is fries. Yes, this gourmet special was served with thick cut, piping hot fries and a generous dollop of mayo.
We've never had tuna like this
Ever had tuna drenched in beef juice and olive water? The Japanese Tuna Cheek with "Marmitako" Sauce is one love or hate dish that you have to try for yourself. The tuna is so tender it melts, leaving behind the intense taste of the ocean. Simultaneously, the sauce (so rich it was almost a stew) provides an unexpected dash of meatiness that we'd never think to pair with a fish.
How to make spinach fancy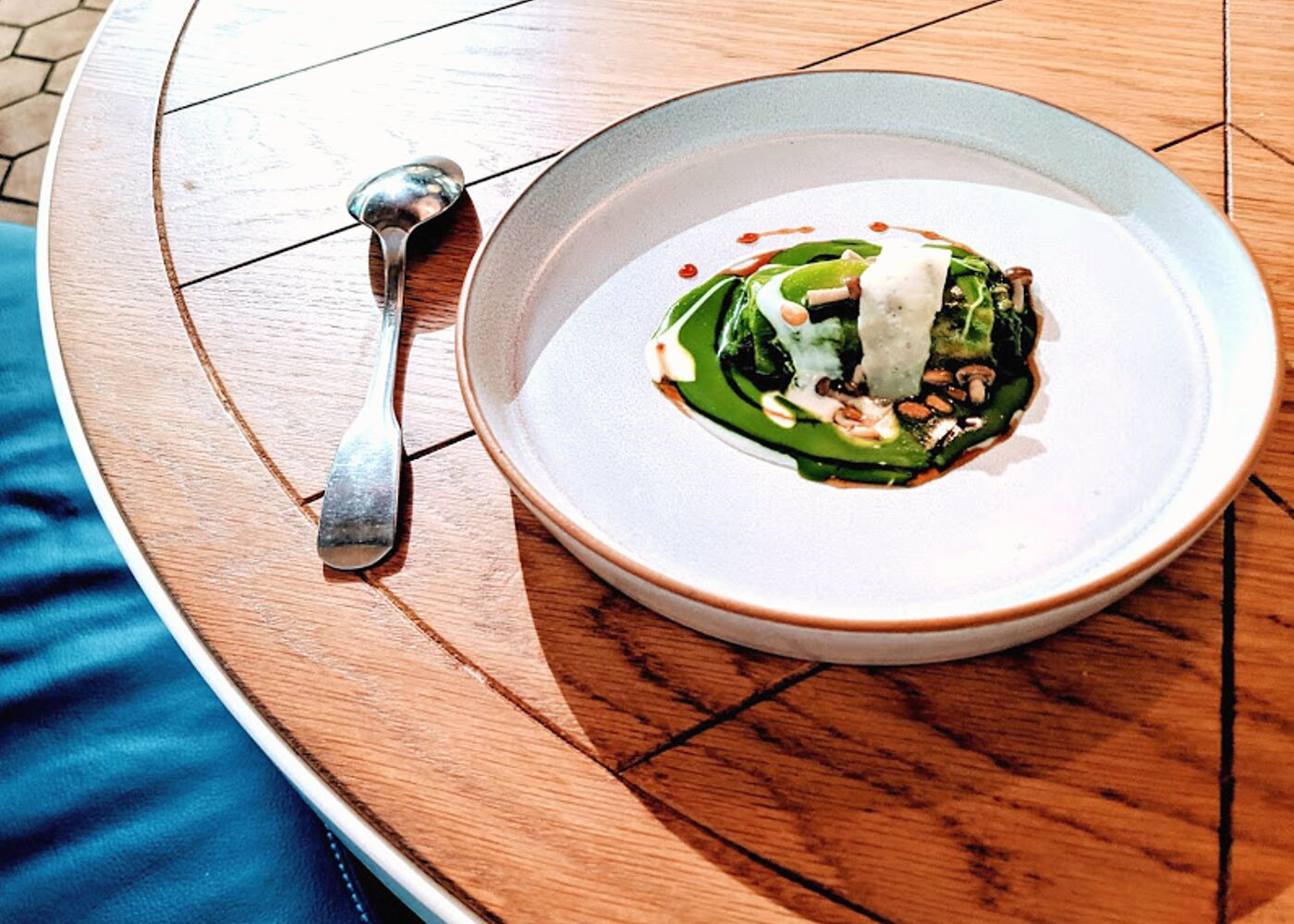 Catalan-style spinach brings in pine nuts and parmesan to make veggies a delectable course. Here, this traditional recipe is turned into a crepe, with the softest spinach leaves you can imagine (cooked almost to the point of mush), plated with a rich green sauce that's made from the same vegetable. If you think a spinach crepe with a spinach-based sauce sounds like overkill, it isn't. The creamy sauce injects richness to the mild taste of the spinach, punctuated by a tinge of sweetness from the reduction of PX wine.
Cheesecake, but make it burnt
Ah, yes. Olivia's Creamy Homemade Cheesecake. It's almost unheard of to leave the restaurant without getting a slice of this famous dessert. With five to seven per cent blue cheese, expect an intense hit from the melty filling that was reminiscent of cream cheese, except way richer and silkier. This went stunningly well with the smokey notes of the burnt shell and the grittiness of the biscuit base. So addictive, you might be tempted to get the whole cake.
Spanish, not French, toasts
Torrijas are a Spanish bread that's commonly thought of as a Spanish take on French toast, bread pudding, or a bit of both. Drench it in a citrusy kumquat confit, add a scoop of ice cream, and you have the brioche-like delight that is Olivia's Spanish "Torrija" with Ice Cream. Oh, and those bits that look like paper? They're made of milk and vanilla, and give a mildly sweet crunch to round off your meal.
Olivia Restaurant & Lounge, 55 Keong Saik Rd., Singapore 089158