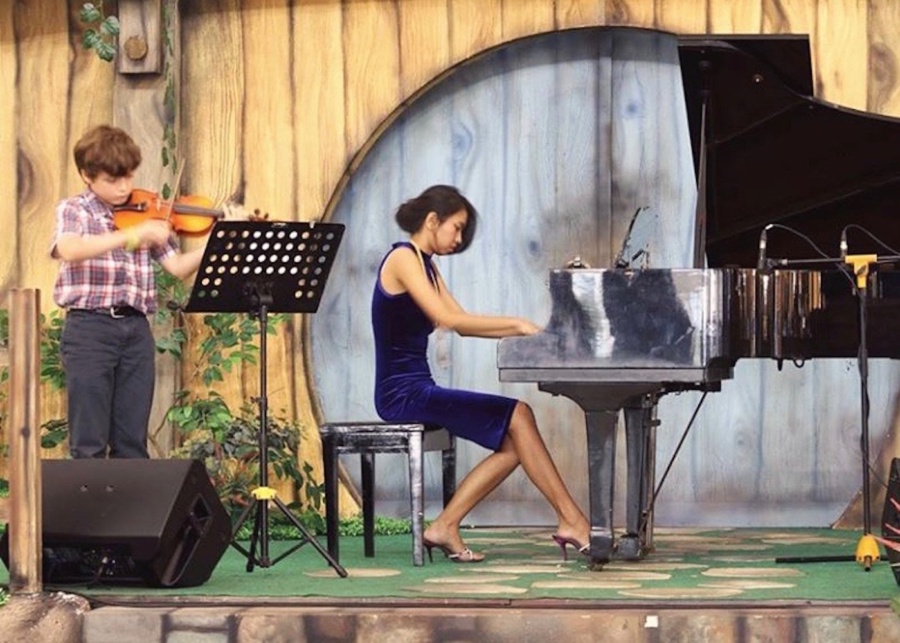 Wanna learn how to sing, play the piano, guitar or violin? Sign up to Ensiklomusika Music School for group and private classes for all ages
Bali is packed to the brim with tours, attractions and beachside hangout spots for tourists – but what about the fun and educational activities for kids and families who either live in Bali, or have ticked off everything on the usual Bali bucket-list? 
That's where Ensiklomusika Music School steps in – a musical facility that specialises in music education and immersion for children as young as 3 months old (yes, you read that right!). It started in Jakarta seven years ago, and after garnering a loyal following of both international and intercultural families, it has made itself a home here in Bali, with two studios on the island in Sanur and Canggu.
Providing professional music lessons to kids of all ages (including adults!), Ensiklomusika Music School is run by Canggu-based and professionally-trained music teacher, Rosa, who offers one-on-one and group music classes in the studio or at your hotel or villa. Here's what you can expect from a music class at Ensiklomusika Music School.
You'll love it because… Ensiklomusika Music School doesn't simply reproduce "Mozart robots". Instead of teaching a copy-and-repeat curriculum, this school is all about shaping a student's character both in and out of the classroom – all the while keeping things enjoyable. Ensiklomusika also continually offers training to its teachers, both in music and teaching, to support musical instruction with pedagogical teaching methods. As such, Ensiklomusika Music School can sit your kids in the British and globally-recognised ABRSM exam (Associated Board of the Royal Schools of Music).
Look out for… the lineup of group and private music classes for toddlers, children, and adults. There's the Tiny Tunes and Mini Melody classes for infants and children up to 3 years old (using plush toys, singing, dancing and playing little instruments) as well as the Little Mozart private classes for 4 to 6 year-olds that lets younger starters learn in a fun and playful environment. There are even family classes available to get everyone involved – family band practice coming up!
Come back for the… Ensiklomusika Music School Summer Camp. This summer, from June to July 2019, you can sign your kids up to an amazing musical journey of summer classes. With programs for each age group (from 3 months – 3 years old, 4-6 years old, elementary, high schoolers and even adults) this summer get ready to sing to the sound of music!
Ensiklomusika, Canggu: Jl Pantai Berawa & Sanur: Dewata Asih Commercial Area, By Pass Ngurah Rai Street No.9,p. +62 818 0219 5999, e. [email protected]