This is your ultimate guide to the Southern Ridges.
Panoramic vistas, exotic birds and forest adventures... the Southern Ridges is a stunning trail to trek in Singapore.
We love exploring the outdoors. There's nothing quite like fresh air and walking amongst tall trees to take our mind off life's stresses. Think of it as a form of therapy. That's why we're shining a spotlight on the Southern Ridges for a hike in the city. Connecting Mount Faber Park, Telok Blangah Hill Park, HortPark, Kent Ridge Park and Labrador Nature Reserve, the 10km trail has plenty to offer for hikers (including panoramic views). It's also perfect for beginners 'cos you can get off the trail anytime and continue another day. FYI: different routes take you to different end points, so plan ahead. Time to get those hiking shoes out!
How to walk the Southern Ridges in Singapore
1. Mount Faber Park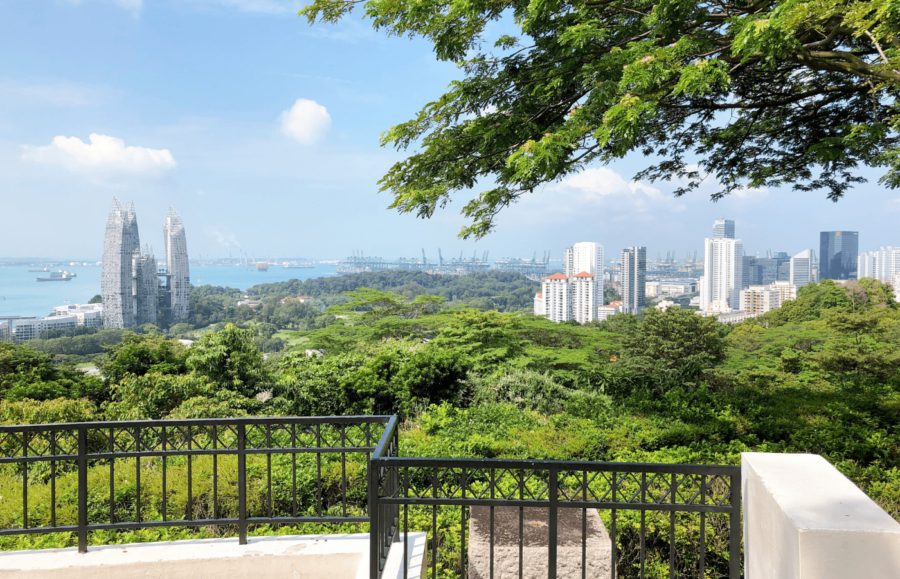 The hike begins fairly easily at the cable car and dining destination, Mount Faber Peak. Tip: if you can't pass up a good view, head up to the top of Mount Faber for spectacular sights. Walking downhill to Faber Walk (at the top of Marang Trail, which is conveniently located near HarbourFront MRT station), you'll pass by restaurants like Arbora Hilltop Garden and Bistro. Don't forget to snap a pic with the colourful stairs at the bottom!
Next, take a detour down a hilly trail leading to Telok Blangah Rise. Here, you'll find a stunning bird's eye view of the nearby neighbourhood and cityscape amongst lush foliage. Hit pause for a bit to breathe in the fresh morning air, and stretch those muscles out before heading back up to Faber Walk and continuing your way to the next destination.
2. Henderson Waves
Anyone who's ever been to Henderson Waves will agree: this 274m-long wood-panelled bridge is a marvel. The award-winning, wave-like structure is made up of seven curved 'ribs' for shelter and is the highest pedestrian bridge in Singapore. This one's an easy, breezy walk. Come after dusk if you're looking to catch night city views and see the bridge lit up with LED lights (from 7pm to 7am). It's also a great spot to watch the sunset.
3. Telok Blangah Hill Park
Next on your hike? Sembcorp Forest of Giants, where you'll find towering trees, and The Alkaff Mansion, a gorgeous building home to Wildseed Cafe and Una. Feel free to pop by for a quick refresher! After this short detour, you'll find yourself on Forest Walk above Telok Blangah Hill Park. The elevated walkway takes visitors on a 1.3km trail through secondary forest canopy.
If you'd like to venture into the forest at ground level, climb down the steel structure's steps and explore the Earth Trail. But the terrain below is rough and may be muddy (depending on weather conditions). Word of advice: don't leave your perch on the treetops if you've got brand new trainers on.
4. Alexandra Arch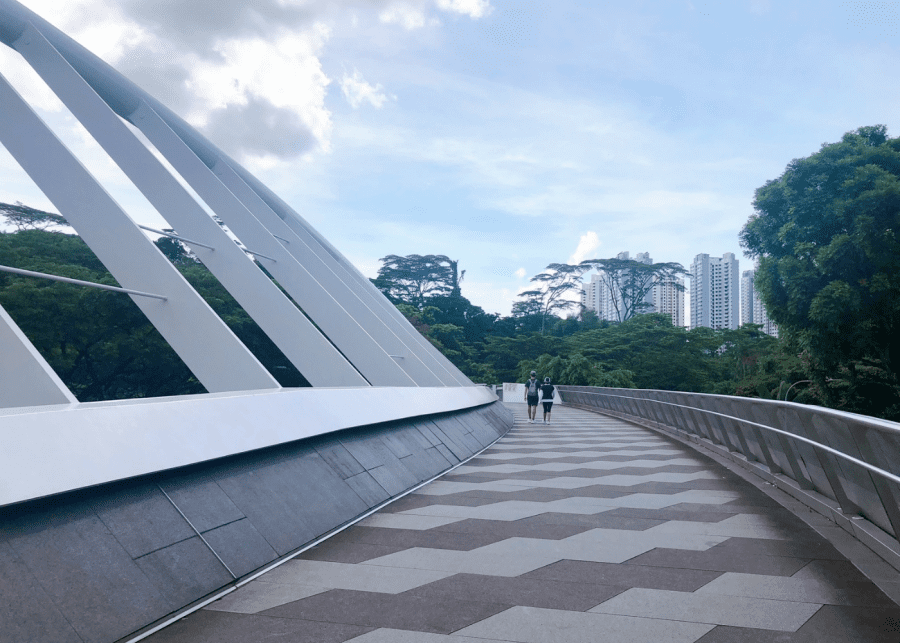 At the end of Forest Walk, you'll step onto Alexandra Arch, an 80m-long bridge that resembles a leaf opening up over the road. It's a quick and easy stroll, but if you happen to be here during dusk, linger a little while longer for a vibrant display of colour-changing LED lights.
5. HortPark
Step aside, Singapore Botanic Gardens. HortPark is a major contender for the most beautiful park in the city. Entering the 23-hectare park, you'll find yourself at the well-manicured HortLawn. It sits next to the Greenhouse, which displays lovely plants and gardening items for sale. You can also grab a drink at the popular Canopy cafe and watch the world go by.
Walk further in and you'll find a slew of gorgeous themed gardens including ones filled with butterflies, edible greens, playgrounds and nostalgic elements. There's even a therapeutic one for the elderly with a stunning variety of flora and greenery on display.
6. Canopy Walk
From the end of HortPark, continue trekking upslope to a park connector that leads to Kent Ridge Park. It's been quite a hike but don't give up just yet! Make your way to Canopy Walk, a 280m-long elevated boardwalk that offers another secondary forest experience. You'll be rewarded with sweet views of the nearby landscape.
7. Kent Ridge Park
Once you're done immersing yourself in nature, pop into the newly-revamped Reflections at Bukit Chandu. Here's where you can learn about Singapore's WWII history in an immersive experience that tells the story of the Malay Regiment in the Battle of Pasir Panjang. Next, follow the trail to Kent Ridge Park, where one of the final battles for Singapore took place during WWII. Go bird-watching, mountain biking or simply enjoy the natural beauty of the park. Don't miss out on the pond on the east side – it's home to turtles and fish!
8. Berlayer Creek
For an alternate route of the Southern Ridges, skip HortPark and go in the direction of Berlayer Creek after Alexandra Arch. You'll trek past a pavilion next to Labrador Park MRT station and find yourself immersed in one of the two last mangroves in southern Singapore. Peer out the sides of the trail to spot flora and fauna, and watch as the waters grow more crystal clear as you approach the sea.
9. Labrador Nature Reserve
Ah, the beauty of fresh air and sea breezes. Keep an eye out for iconic structures such as Dragon's Teeth Gate, Red Beacon and the Old Fort Entrance for a glimpse of history. Oh, and wave hello to Sentosa Island across the waters! Once you reach Labrador Nature Reserve, you'll come across coastal cliffs and rocky shores. Explore the diverse variety of habitats and savour scenic landscapes before you end your hike.
Alternatively, if you're up for more outdoor adventures, go beyond the Southern Ridges trail and make your way towards Harbourfront Walk for a hearty meal (and cool air-con!) at VivoCity.
Now, who's ready to explore the sights and sounds of the Southern Ridges?