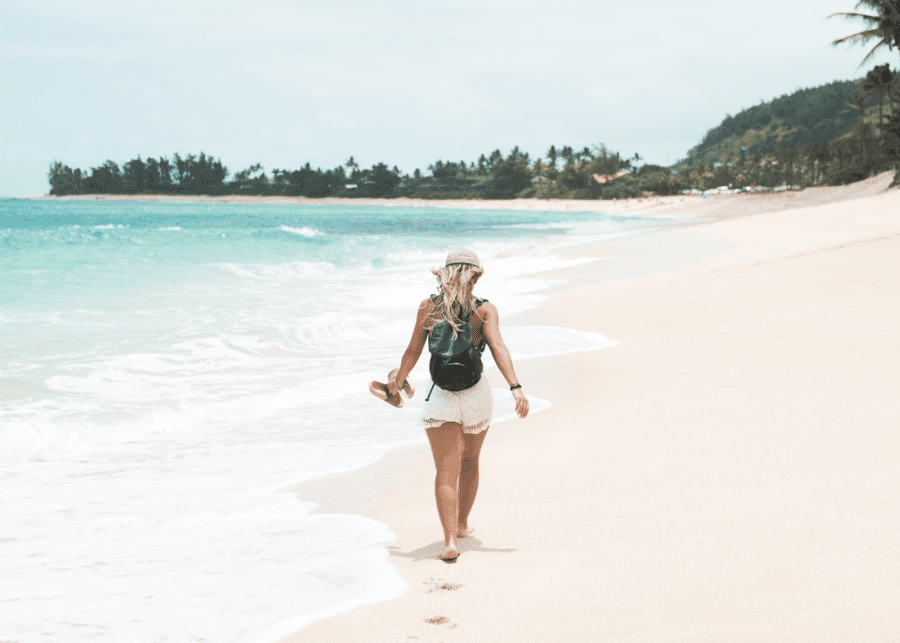 Photography: Brady Knoll via Pexels
Need a short break? These beautiful islands near Singapore have the best beaches, resorts and rustic village life.
Here in Singapore, it's easy to get caught up in the fast-paced rat race. For times when city living gets too tough, we're giving you permission to check out of daily life… and check into a private island resort. You don't even need a ton of vacation days. Research has proven that short breaks are better for you to recharge (but do you really need a reason?). If you need some ideas, pick one of these stunning islands near Singapore (including luxurious private ones), with some as near as 30 minutes away.
Gorgeous islands near Singapore for a short getaway
1. Joyo Island
Private island
Sometimes you wanna live the island life without having to rough it out in the forest for a couple of days. And that's totally fine, we get it! For luxury seekers, we recommend hitting up Joyo Island. The resort is surrounded by white sand beaches framed by clear blue water. Besides laying out in the sun to work on your tan, you can book massages, go fishing, or have a friendly game of beach volleyball with the fam. Meals are often served up family style, so gather everyone for dinner while watching the sunset.
Travel time: 45-minute ferry ride to Bintan followed by a one-hour drive to a private jetty and a 30-minute speedboat ride to the island
2. Karimun Island, Indonesia
If you've already explored most of Bintan and Batam, how about a trip to Karimun Island in Riau Archipelago? If you love the feeling of warm sand between your toes, you're in luck. One of the most popular things to do here is island hopping. You can also take a dip into the ocean at local diving spots and even hike up Mount Jantan for that glorious view. Once you've worked up your appetite, head to any local establishment to enjoy fresh seafood. Psst: This spot is not to be mistaken for Karimun Jawa Island.
Travel time: Two-hour ferry ride from Harbourfront Centre to Tanjung Balai ferry terminal
3. Koh Samui, Thailand
There's a lot to love about Koh Samui, and we're not just talking about its beautiful palm-fringed beaches. Hit up Ang Thong National Marine Park to explore hidden waterfalls, coves and mangroves. Or head to Bophut to enter a haven of tranquillity. You'll find a majestic 12m-high golden Buddha statue and market shopping at the Fisherman's Village Walking Street. Some old Chinese shops and even houses still remain! Alternatively, book a stay at Koh Tao (also known as 'Turtle Island'), which boasts the clearest waters teeming with marine life.
Travel time: Fly for one hour and 45 minutes from Singapore to Koh Samui
4. Rawa, Malaysia
We don't use the term "slice of paradise" very often, but that's exactly what Rawa is. Popular with families, the coral island boasts powdery white shores and turquoise waters. Only two resorts are found here for maximum privacy. Both properties are made up of rustic wooden chalets on stilts and boast unobstructed sea views. The only thing on your to-do list? Beach and water sports: think everything from seaside volleyball to stand-up paddleboarding.
Travel time: Drive or take a coach or private limo from Singapore to Mersing for about three hours; Rawa Island is an hour's ferry ride from Mersing
5. Bintan, Indonesia
Less than an hour away by ferry, Bintan is the quick weekend getaway we always have on rotation. The island's luxe factor has increased tenfold, thanks to the opening of resorts like The Residence Bintan and The Sanchaya. And we'll always love Banyan Tree. Despite its popularity with the Singapore crowd for its buzzy beach life, the island also holds many treasures. This includes a mountain, hidden waterfalls and sea gypsy villages.
Travel time: 45 minutes by ferry from Singapore to Bintan
6. Gili, Indonesia
Made up of three tiny islands (Trawangan, Meno and Air) the Gili Islands beckon you to unleash your inner hippie. Leave your fancy beachside frocks at home and put on a sarong for your trip. Stay in a traditional Indonesian beach hut and prepare to spend your days hitting the quiet sandy shores in Meno. Or explore the coral reefs at Gili Air with affordable dive packages. Party it up in Trawangan before stuffing your face with BBQ seafood. One word for your time in Gili? Chill.
Travel time: Fly for two hours and 45 minutes from Singapore to Bali; next, take a two-hour fast boat ride from Benoa Harbour to the Gilis
7. Bali, Indonesia
You've probably heard the phrase "Bali is always a good idea" time and again. As Bali regulars, we're inclined to agree. For starters, the island has something for everyone: azure seas in Uluwatu, awe-inspiring active volcanoes, buzzy beach bars and cool home decor stores. You have a varied choice of stays, too. The island is packed to the brim with all-inclusive swanky resorts, private pool villas and cool boutiques. Check out our sister site Honeycombers Bali if you need more reason to book a flight, stat.
Travel time: Fly for two hours and 45 minutes from Singapore to Bali
8. Cebu, Philippines
Finding a serene beach in the Philippines is easy as pie – it has over 7,000 islands to its name. As an introduction to Filipino island life, head to Cebu, home of white sandy beaches and exciting dive spots. For a dose of culture, Cebu delights with a multitude of temples, forts and shrines for you to explore.
Travel time: Fly for three hours and 45 minutes from Singapore to Cebu
9. Tioman Island, Malaysia
This tiny pear-shaped island off the coast of Malaysia is a haven for both aquatic lovers and budget travellers. Its waters aren't the bluest or clearest in the region, but it has a vibrant coral reef. And the waters are easy to navigate for beginner divers. The volcanic island is covered in rainforest and has a rustic, laidback way of life.
Travel time: A three-hour coach from Singapore to Tanjong Gemok Jetty, then board a one-and-a-half-hour ferry ride to Tioman Island
10. Bawah, Indonesia
Private island
Set in a playground of five gorgeous islands, Bawah is the epitome of eco-luxury. Only accessible via seaplane, Bawah is surrounded by three crystal clear lagoons. Not to mention powdery white beaches and a lush jungle canopy teeming with exotic wildlife. Sustainability is key here. The wooden resorts are made from eco-friendly bamboo, conservation efforts are aplenty, and meals are only sourced from fresh local environments.
Travel time: 3.5 hours for a car ride to the ferry terminal; fast-track through immigration; and a 70-minute seaplane ride that lands directly outside your suite
11. Telunas, Indonesia
Put Telunas on your vacay radar. The tiny tropical gem just 50km south of Singapore is the plush getaway you need without the fuss of aeroplane travel. Take your pick from the private island or beach resort. The former is made for romance. Think spacious over-water sea villas, wide-angle views of the azure sea, and an infinity pool and bar. The latter is best recommended for those with a soft spot for slow island life. You have four choices in what bungalow you'd like to stay in, complete with unobstructed views of the beach. Bonus: this is where you can enjoy a digital detox and really unwind. No Wi-Fi here!
Travel time: Get on a one-hour ferry ride from Singapore's Harbourfront Terminal to Sekupang Port in Batam; next, board a wooden longboat ride to Telunas in an hour and 40 minutes
12. Phuket, Thailand
Known as the party island of Thailand, Phuket is far more than its reputation. If it's serenity you seek, avoid Patong – it's filled with raucous nightlife, restaurants and hordes of tourists. The island is home to 30 unspoiled white beaches with clear blue waters, ranging from lively (like Kata and Karon Beaches) to hidden beauties like Freedom Beach. The island is also the main spot from where you can island-hop to unspoilt gems like Racha and Coral Islands.
Travel time: Fly for one hour and 45 minutes from Singapore to Phuket
13. Pulau Pangkil, Indonesia
Private island
Located off the Southeastern corner of Bintan, Pulau Pangkil is only accessible via ferry. At Pangkil, you'll receive the whole package. Accommodation, snorkelling equipment, a bar, speedboats and a staff of over 20 to cater to assorted whims and fancies. Several driftwood palaces (wooden bungalows on stilts) are available for guests. Situated close to the beach, they're made of logs salvaged from the sea and feature large four-poster beds and adjacent bathrooms. While there's plenty to keep you active outdoors, we suggest refuelling by spending your days sun-lounging and napping in hammocks.
Travel time: Board a one-hour ferry ride from Singapore to Bandar Bintan Telani in Northern Bintan; take the one-and-a-half-hour land transfer to Pama Jetty; finally, get on a 15- to 30-minute ride to Pangkil
14. Langkawi, Malaysia
Langkawi is an idyllic and serene archipelago sequestered 30 km away from Malaysia's mainland coast. It's a triple threat with a charm that'll appeal to beach lovers, foodies and adventure seekers. All around you lie emerald waters, with paddy fields and jungly hills as the main backdrop. With so many choices, choosing a district for your stay can be a mind-boggling process. But if you've got the dime, splash your cash on one of the many upscale resorts on the island.
Travel time: Fly for one hour and 25 minutes from Singapore to Langkawi
15. Pulau Tengah, Malaysia
Private island
Crowded beaches are unheard of at Batu Batu, a private island resort located in Malaysia's uninhabited Pulau Tengah. Set amongst coconut groves and rocky outcrops, it's the only property on the island. Guests enjoy unparalleled privacy to frolic on the pristine beaches. Plus you can dive and snorkel around with marine life or kayak around its perimeter. The resort is a pure gem, as it organises active conservation missions like Turtle Watch Camp, and practices sustainable policies.
Travel time: Drive for three hours or take a coach or private limo from Singapore to Mersing; Mersing to Pulau Tengah is accessible via a 20- to 30-minute speedboat ride
16. Cempedak, Indonesia
Private island
From the same folks behind Nikoi Island comes Cempedak, a dramatically designed private island resort. You're not likely to see anything like it near Singapore, as the eco-friendly resort boasts crescent-shaped roofs (made of local grass) atop its bamboo made villas. Within these, you'll find private plunge pools, decks and spacious living spaces. Explore this stunning natural wonder, with its shoreline of white sandy beaches, granite boulders and rainforest inhabited by local birds. Other residents of the island – besides humans, of course – are pangolins and otters.
Travel time: 2.5 hours from Tanah Merah Ferry Terminal
17. Lombok, Indonesia
Bali's quieter cousin may look a lot like the Island of the Gods. But make no mistake, they're as different as chalk and cheese. For starters, Lombok lacks a healthy cafe scene, buzzing beach clubs, and world-renowned restos. But what it does have in spades is raw charm. Like the Bali of decades ago, this island near Singapore consists of untouched landscapes and traditional markets.
Travel time: Fly for two hours and 40 minutes from Singapore to Lombok
18. Batam, Indonesia
Batam may not be as fancy as Bintan, but it's still a paradise for foodies and thrill-seekers who want to get in on some action. Book a stay at Montigo Resorts in Nongsa, overlooking shimmery blue waters for an afternoon by the beach. Head out and fill up on delish street food like sate padang, roti bakar, ketoprak and mie lendur. If you're looking for fun, you've got to try out water sports. We're talking adrenaline-filled activities like flyboarding, parasailing and jet-skiing!
Travel time: 30 minutes by ferry from Singapore to Batam
19. Isle East Indies, Indonesia
Private island
A luxury getaway awaits you on this private island near Singapore. Tucked away on Thousand Islands in Indonesia, Isle East Indies is the epitome of supreme luxury and spectacular service. Sink your toes into pristine white sand, or go snorkelling and kayaking across crystal clear waters. You'll unwind in a magnificent villa with colonial-style interiors. Plus, it comes with a team of staff from butlers to private chefs to make you feel like royalty. Add on a spa experience, lay back and relax. Now, this is the good life, we say.
Travel time: Fly for two hours from Singapore to Jakarta; take a four-hour cruise from Jakarta's Ancol Marina Harbour to reach the private island
Get ready for fun and relaxation at these islands near Singapore that are perfect for your next getaway.