Photography: 49 Seats via Facebook
Struggling to find an affordable meal in Singapore? Bookmark this list of budget-friendly restaurants!
Singapore is one of the most expensive cities in the world, no doubt. But if you take a closer look at our nooks and crannies, we're actually pretty affordable. From exploring the city on a budget to free and fun things to do on weekends, there's something for everyone. To help you make the most of your hard-earned money and expand your horizons beyond fast food and hawker grub, we've rounded up a list of affordable restaurants in Singapore. Check out these vegetarian-friendly bites, great burgers and other top-notch meals under $15 (disclaimer: we're basing this on one meal per person).
Best affordable restaurants in Singapore
1. 49 Seats
Located at the back of The Centrepoint, 49 Seats offers value-for-money dining deals. A good majority of the menu items are below $15, including the popular smoked duck aglio olio. And during lunch hour, you can get a main course, soup and drink at $14.90. Want to know the best part? There's no service charge!
49 Seats, #01-49, The Centrepoint, 176 Orchard Road, Singapore 238843
2. Tanuki Raw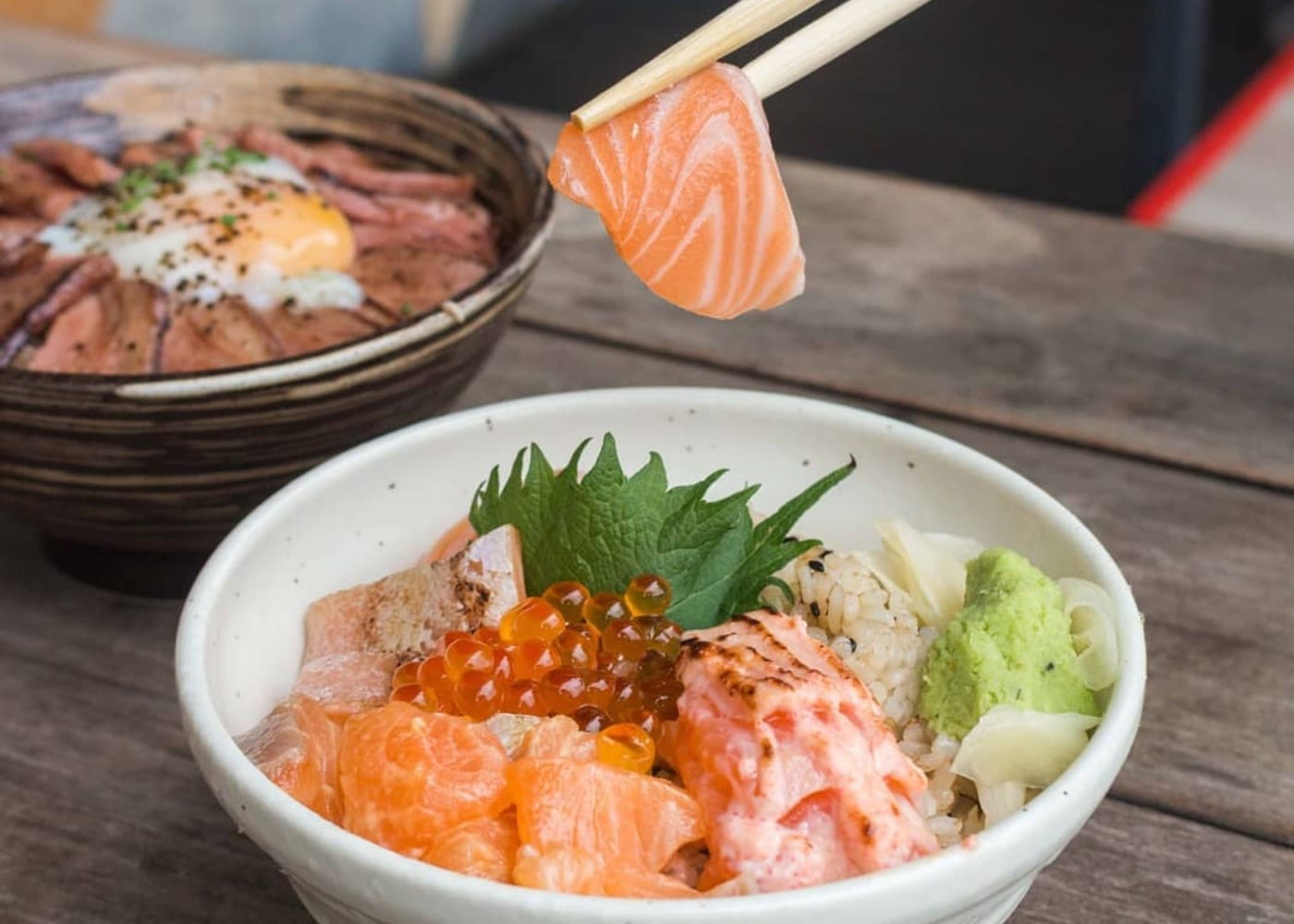 This is one of the affordable restaurants in Singapore to get your sashimi fix, in our opinion, since price tags don't go above $10! Yes, only at the Orchard Central branch, from Monday to Thursday during lunch hour, you can tuck into a bowl of Japanese rice replete with thick cuts of salmon sashimi. Not into raw fish? Get the beef bowl or the Impossible meat bowl, also available at the National Design Centre.
Tanuki Raw, multiple locations including Orchard Central and National Design Centre
3. Ordinary Burgers
Don't give up on your love for burgers just 'cos you're on a budget. Ordinary Burgers is here to save the day (and your bank account). Despite the fact that it seems to have no social media presence whatsoever, this burger joint has been sneakily grilling up mouthwatering goodies at modest prices. The spicy fried chicken ($5.30) hits all the right spots and you definitely can't go wrong with the beefy double cheeseburger ($10.20).
Ordinary Burgers, multiple locations including City Square Mall and Amk Hub
4. Poke Theory
A healthy meal doesn't have to cost a lot and this poke joint proves that. Fully customise your bowl with a vast selection of fresh ingredients, including pickled beetroot, wakame seaweed, kimchi and pineapple – it's a great way to eat your colours! Top it off with your choice of spicy mayo salmon, spicy garlic sesame tuna, sous vide dashi chicken or avocado. And instead of Japanese sushi rice or crunchy romaine lettuce, you can even switch your base to nutty lemon herb quinoa. All this will set you back $9.90 for a small portion and $12.90 for the regular one.
Poke Theory, multiple locations including Novena Square and 111 Somerset
5. VeganBurg
Vegans can join in the frugal fun at the world's first 100% plant-based burger joint. Since it dishes out delish burgs in classic and local flavours like creamy shrooms ($9.90), smoky BBQ ($11.90) and char-grilled satay ($11.90), you'll be doing your wallet and the planet a favour by dining here.
VeganBurg, 44 Jalan Eunos, Singapore 419502
6. Blu Jaz Cafe
A place that needs zero introduction, Blu Jaz Cafe has established itself as the go-to amongst jazz connoisseurs and hip bar-hoppers looking for great live music and drinks. But what you may not know is that it serves an array of cuisines at affordable prices. Yes, you can get BBQ pork ribs, chicken parmigiana, butter chicken or beef lasagne at $13.90 each.
Blu Jaz Cafe, 11 Bali Lane, Singapore 189848
7. Rebel
If sammies are your go-to lunch, hit up Rebel, a hidden spot in Somerset. Inspired by Vietnamese banh mi, the budget-friendly eatery puts out creations like Hot Chick sub (loaded with juicy chicken fillets) and the Original sub (stuffed with chicken patties, chicken pate and Asian slaw) at $7.90 each. For plant-based eaters, we recommend the Vegan H.A.L.T ($8.50), which sees a spicy Quorn patty sandwiched between buns.
Rebel, #01-08, 111 Somerset, 111 Somerset Road, Singapore 238164
8. Kim Dae Mun Korean Food
Thanks to Kim Dae Mun Korean Food, we can satisfy our K-drama-induced cravings without breaking the bank. This isn't a showy Korean restaurant with fancy creations and pretentious-sounding menu items. Expect only simple, authentic Korean dishes like kimchi soup, bean paste soup, grilled pork and bibimbap. A good chunk of menu items cost about $10 on average.
Kim Dae Mun Korean Food, #01-03D, Concorde Shopping Mall, 100 Orchard Road, Singapore 238840
9. Two Men Bagel House
Breakfast aficionados, skip the bougie weekend brunches for something equally decadent but affordable. We're talking about OTT bagels at Two Men Bagel House. The Novena can get pretty crowded on weekends, but the wait is totally worth it. Tempting choices include Pork-gasm (smoked bacon, sunny side up, avocado, tomatoes and garlic aioli), Lox (smoked salmon, pickled cucumbers, onions and capers) and Beckie (bacon, scrambled eggs, cheddar and spicy ketchup). Or you can head over to its Holland Village branch for the store-exclusive Mademoiselle Chantal, which is packed with corned beef, honey baked ham, eggs, Swiss cheese, bechamel and mustard. Don't worry, all the aforementioned dishes are below $15.
Two Men Bagel House, multiple locations including Holland Village and Novena
10. Jai Thai
What if we said you can enjoy a full Thai meal under $15? Enter affordable restaurant Jai Thai. There are plenty of authentic classics to choose from: tom yum and green curry rice sets are $8.80 each, while pad Thai and beef noodle sets go for $7.80. These meals include a choice of homemade drinks as well, so you can cool off your tongues without forking out extra on a drink.
Jai Thai, multiple locations including SingPost Centre and Dhoby Xchange
11. TingKat PeraMakan
Peranakan food isn't necessarily cheap but at TingKat PeraMakan, you can satisfy your cravings without busting your budget. This affordable restaurant in Singapore offers individual set meals with a choice of main, two sides, drink and dessert starting from $12.80. Highlights include babi pongtay (pork in fermented bean sauce), ayam kleo (chicken in coconut gravy) and Nyonya pork ribs. For your two sides, try the cinchalok omelette and deep-fried tofu topped with minced pork. Yum!
TingKat PeraMakan, multiple locations including Owen Road and Paya Lebar Quarter
12. Nusantara
Taking its name after the ancient Javanese term for the Indonesian Archipelago, Nusantara is the place to be when you're hankering for a hearty meal of nasi padang. For easy ordering, the menu features rice bowls that spotlight iconic dishes like asam pedas ($10), beef rendang ($10) and ayam kicap buah keluak ($8). The bowls come with your choice of sides such as sambal goreng, sayur lodeh and garlic kailan. Oh, and don't miss out on the sardine and potato curry puffs ($1.50)!
Nusantara, #02-16/17, Frasers Tower, 182 Cecil Street, Singapore 069547
13. Ayam Penyet Ria
Ask anyone in Singapore about ayam penyet, and they'll most likely suggest this dining spot. One of the pioneers in Singapore, the joint dishes out authentic ayam penyet plates at wallet-friendly prices. Crispy fried chicken, tempeh, tofu and the spicy yet addictive chilli alongside a bowl of rice for just $7.90? We're sold. The beef variation ($8.90) is equally good, too.
Ayam Penyet Ria, multiple locations including Jurong Point and Lucky Plaza
14. Wolf Burgers
A truly great burger under $15? We like a good challenge. After a little snooping, we found Wolf Burgers. A cult favourite amongst bun-and-patty lovers, the eatery lets you wolf down burger creations like wagyu beef ($13.90), teriyaki chicken ($7.90) and the meat-free Impossible ($13.90) on a shoestring budget.
Wolf Burgers, multiple locations including Funan and Pasarbella at Suntec
15. Refuel
If you've been to enough cafes, you'll know that a meal at these hangouts can easily go above $20. But at this heartland spot, you can easily get a stack of fluffy pancakes for $10.90, a slow-cooked pulled pork burger for $12.90 and baked chicken stew for $14.90. Almost all the brunch items on the menu don't go above $15.
Refuel, #01-3029, 744 Bedok Reservoir Road, Singapore 470744
The next time you're dining out on a budget, these affordable restaurants in Singapore have your back.