Photography: Shardar Tarikul Islam
Everyone's favourite guilty pleasure: good ol' fried chicken. Tuck into this grand list of the best in Singapore.
We love indulging in junk food on occasion, but we're not talking about cakes and sweet treats right now. Ditch the utensils and table manners 'cos we're craving juicy fried chicken and we've found some of the best in Singapore – from Korean to Southern style. With this list, you'd best believe we'll be popping by for a bucket full of wings more than "once in a while"!
Best fried chicken in Singapore
1. Waker Chicken
Another Korean fried chicken joint in Singapore? Yes, but honestly, we can't get enough of them. The menu is lean, with only four flavours to choose from – original crispy, sweet spicy, soy sauce, and honey butter. Psst: we're told the honey butter is the most popular option among diners! Each chook is fried to order, so you can expect them to be succulent and juicy every single time.
Waker Chicken, multiple locations including Bukit Batok and Tampines
2. Wicked Wings
True to its name, the fried chicken at this joint is wickedly delicious. Come and indulge in ultra-crispy chicken that's served in myriad Asian-inspired flavours. Think tender, juicy wings slathered in salted egg yolk sauce, peanut satay sauce, or kecap manis. We also recommend ordering the cheddar cheese sticks coated in golden bread crumbs on the side – because who can resist a good cheese pull?
Wicked Wings, 59 Jalan Pemimpin, Singapore 577218
3. Southern Soul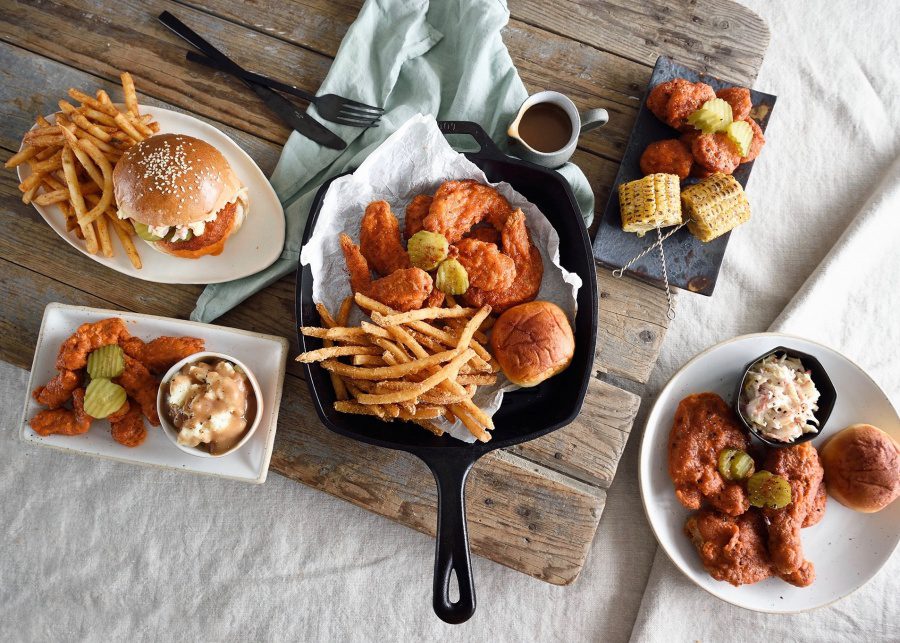 You know the fried chicken's good when it's made with a dose of Southern soul. Expect generous servings of Nashville soul food at this restaurant. Pair your crispy fried chicken wings and tenders with its time-honoured hot sauces. Don't forget to get the coleslaw salad and mashed potatoes. After you try the serious stuff, we bet you won't be going back to a certain chain anytime soon.
Southern Soul, #02-01, Stall 9, 1 Claymore Drive, Singapore 229594
4. Birdfolks
The only side chick you need is the fried chicken from Birdfolks. This cafe serves American-inspired fried chicken with an Asian twist. Get a hefty mentaiko chicken burger and wash it all down with an ice cold beer. Or order the chicken and pancakes for brunch, and get a piping hot cup of Nanyang kopi on the side.
Birdfolks, #01-75, Newest Singapore, 1 West Coast Drive, Singapore 128020
5. Ah Tan Wings
If you're on the hunt for superb prawn paste fried chicken, Ah Tan Wings makes the cut. Before opening his stall in Yishun, owner Tan Wee Yang, one of a handful of young Gen-Y hawkers, made his mark on the pop-up circuit with his crisp-on-the-outside and fall-off-the-bone tender chicken wings. Make it a meal by pairing the wings with rice and a sunny-side-up egg.
Ah Tan Wings, #01-40, Yishun Park Hawker Centre, 51 Yishun Avenue 11, Singapore 768867
6. Chix Hot Chicken
Need your fix of spicy, hot Nashville chicken? You don't have to get on a plane because you can get it right here in Bugis. This chicken shop serves the famous fried chicken that comes sprinkled with a dash of the world's spiciest peppers. Can't take the heat? Cool down with soda in flavours like cola, mango and lime.
Chix Hot Chicken, #01-01, 1 Jalan Pisang, Singapore 199069
7. Oven and Fried Chicken
Don't get confused when you see "rice chicken" on the menu. It actually refers to the chicken pieces fried with rice flour for a decadent, extra crispy crust. While you can simply dip the chicken into the sauce, a popular option is to have the chicken pre-coated with spicy, jambalaya, soy or padi garlic sauces. A lazy eater? Get the boneless version!
Oven and Fried Chicken, multiple locations including Bukit Timah and Telok Ayer
8. Earlybird
You can bet that Earlybird welcomes a good crowd of cafe-hoppers. If you're over the chicken and waffles craze, here's another to get on: chicken and pancakes. This delish dish comes drizzled with chilli maple syrup for an added kick. The cafe is also bird-themed, so you can expect a bevy of chicken and egg dishes. In other words, perfect brunch grub.
Earlybird, 17 Jalan Pinang, Singapore 199149
9. Kko Kko Na Ra 
We love a plate of KFC (Korean Fried Chicken, that is). And no one seems to do it better than Kko Kko Na Ra. Get the combo chicken set for great value and chow down on nine pieces of chicken in four flavours: original, sweet and spicy, hot, and soy garlic.
Kko Kko Na Ra, 68 Tanjong Pagar Road, Singapore 088489
10. Yardbird Southern Table & Bar
Soaring amongst the elite establishments of MBS is Yardbird Southern Table & Bar. It's famed for its Chicken 'n' Watermelon 'n' Waffles, which is made with a 100-year-old family recipe. The kitchen also whips up tried-and-tested renditions of shrimp and grits, buttermilk biscuits and other comfort foods from the American South.
Yardbird Southern Table & Bar, B1-07, Galleria Level, The Shoppes at Marina Bay Sands, 10 Bayfront Avenue, Singapore 018956
11. Swee Choon Dim Sum
Sure, it may be a dim sum restaurant but the menu spans beyond steamed goodies. The no-frills supper hangout offers noodles, stir-fried veggies, fried rice and some pretty amazing prawn paste fried chicken. Fried chicken and an open tab of never-ending dim sum? Bliss.
Swee Choon Dim Sum, 191 Jalan Besar, Singapore 208882
12. Wingstop
This Texan fried chicken chain sure made a good decision when it picked chicken-crazy Singapore to be an overseas chain. With a handful of delicious flavours – including garlic parmesan and atomic buffalo wings – there's something for everyone on that menu.
Wingstop, multiple locations including Jurong Point and Our Tampines Hub
13. No. 5 Emerald Hill Cocktail Bar
This place does a mean plate of its signature wings marinated in shrimp paste and Chinese wine. They're arguably one of the best in town! While you're at it, sip on cocktails and cold beer at this spot right in the heart of Orchard.
No. 5 Emerald Hill Cocktail Bar, 5 Emerald Hill Road, Singapore 229289
14. 4Fingers
Korean fried chicken is known to be double-fried for that extra crunch. At 4Fingers, it's also tasty and juicy from being slathered with special sauces. As the ultimate quick and finger-lickin' good fast-food guilty pleasure, it's no wonder you find super long lines at its outlets.
4Fingers, multiple locations including Tiong Bahru and Ang Mo Kio
15. Ponggol Nasi Lemak
A stellar plate of nasi lemak is made up of aromatic rice, spicy chilli and… fried chicken, of course! It's safe to say Ponggol Nasi Lemak has mastered all of the components, including the amazingly crispy bird. Just a word of caution, be prepared to suffer the carb food coma from all that rice afterwards.
Ponggol Nasi Lemak, 965 Upper Serangoon Road, Singapore 534721
16. Arnold's Fried Chicken
This under-the-radar homegrown halal joint should be your first choice for a fuss-free meal of fried chicken. The skin is crispy, the spices pack a punch and it all comes with old-fashioned soft buns and mash. With just a few outlets across Singapore, Arnold's is perhaps one of the best underrated fried chicken joints in town.
Arnold's Fried Chicken, multiple locations including Bedok and Jurong
17. Chir Chir
The main star of this Korean fried chicken joint has to be the Nest Snow. This dish is served in a pool of creamy, rich sauce, and the chicken tenders are piled over a sweet coleslaw-like salad. The oddest addition is a dollop of whipped cream on top, but we salute its audacity! Of course, if that's too edgy for your traditionalist sensibilities, you can always opt for less adventurous options like the garlic chicken tenders.
Chir Chir, multiple locations including 313@Somerset and Bugis Junction 
18. Eng Kee Chicken Wings
This hawker stall is usually bustling with repeat customers. With crispy yet tender wings coated in a well-marinated batter, we're not surprised why. At $1.80 per piece, these gems at Eng Kee Chicken Wings are surely a must-try. Have yours a la carte or pair 'em with bee hoon or kway teow.
Eng Kee Chicken Wings, #01-711, Sin Kee Heong Eating House, 117 Commonwealth Drive, Singapore 141091
19. Jinjja Chicken
This is our kinda KFC. Jinjja ticks all the Korean fried chicken boxes: juicy, crispy and packed with so much flavour. Take your pick from three sauces. There's soy garlic (a vegan-friendly sweet and savoury sauce), yangnyeom (a sticky sweet and spicy soy sauce) and monster sauce (yup, you guessed it – a mouth-numbing spicy blend).
Jinjja Chicken, multiple locations including Northpoint City and Westgate
20. Chicken Up
Temporarily closed.
The Korean joint is known and loved for its piping-hot, freshly-made plates of fried chicken – marinated for 12 hours and fried only to order. You've got several flavours to choose from, including the sweet and spicy wings (yangnyum) and our fave: soya-flavoured (ganjang) wings. If you happen to be here with a group, make sure you order the watermelon soju punchbowl. You'll be served half a watermelon with its insides slushed up and mixed with a whole bottle of soju.
Chicken Up, 48 Tanjong Pagar Road, Singapore 088469
Keep some tissues handy. It's gonna be messy sinking your teeth into some of the best fried chicken in Singapore.