Photography: The Alley via Facebook
Whether you're all about zero-sugar drinks or 120% sweetness with all the toppings, there's a bubble tea brand in Singapore for you.
Cakes, ice cream, local desserts… these are a few of our favourite sugary things. Trends may come and go, but our sweet tooth remains. No matter if you're a tea or coffee person, there's a good chance you've sampled at least a couple of drinks from bubble tea stalls in Singapore. Especially since it's so easy to snag a cup these days – the temptation to get in line lurks around every corner. But that also means we're inundated with choice, which isn't ideal when it comes to something as low on the healthy chart as bubble tea. Fret not! We've got you covered with our guide to the best boba brands that make every sip worth your while. All in moderation, of course. Oh, and BYO reusable cup and metal/bamboo straw please, because we're all about that #lowwaste life.
Best bubble tea spots in Singapore
1. Bober Tea
Want artisanal tea that's inspired by flavours from Taiwan, Japan and China? Bober Tea brings you irresistible fusion drinks. Its latest series of fruity teas include rose lychee coconut shake and chizu strawberry. You can also find classics like caramel milk tea and matcha milk tea. To treat yourself, pair your bubble tea with gelato options like brown sugar creme brulee and taro latte.
Bober Tea, multiple locations including Bedok and Bishan
2. Socitea
For bubble tea dosage that won't empty the wallet, make Socitea your go-to. Prices start from as low as $2.50 for jasmine green tea, but it doesn't compromise on taste. Its three simple categories are pure teas, milk teas, and fruity and creamy drinks. Indulgent topping choices include brown sugar and white pearls, while healthier choices feature chia seeds and yoghurt.
Socitea, #01-04, 41 Bencoolen Street, Singapore 189623
3. Chicha San Chen
A popular Taiwanese brand serious about its tea, Chicha San Chen makes each brew fresh upon order using sleek Teapresso machines similar to those usually reserved for coffee. There's even a tea appreciation counter where you can sample cups of Lishan Qingxin oolong tea in varying roast levels. Drinks can be customised by choosing a base from green tea or osmanthus oolong, flavours such as cream or honey, and extras such as konjac jelly and pearls. If you're patient enough to brave the perpetually long lines, we'd recommend our faves: Dong Ding oolong tea and hot bubble milk tea!
Chicha San Chen, multiple locations including 313@Somerset and Clarke Quay Central
4. Mong Cha Cha
Taking boba into the plant-based realm, this new cafe wants to satisfy your cravings and save the earth at the same time. It uses environmentally-friendly compostable cups, lids and straws, but encourages customers to bring their own to reduce waste too. Vegans and lactose-intolerant drinkers can head here since the store offers organic plant "mylk" alternatives like oat and soy. On the menu, you'll find caffeinated and non-caffeinated options such as oolong, Earl Grey and golden flower tea.
Mong Cha Cha, #01-75, 79E Toa Payoh Central, Singapore 315079
5. Tiger Sugar
A name synonymous with brown sugar fresh milk, Tiger Sugar is best known for giving the already-decadent drink a dessert twist with cream mousse. You can't adjust the sugar or ice level though, so keep this for one of your splurge days. Good news, too: the queues have died down since it expanded across the island.
Tiger Sugar, multiple locations including Northpoint Shopping Centre, Serangoon and Paragon
6. The Whale Tea
Hopping on board the trendy route, this brand from Nanjing, China, uses slightly unusual ingredients like peach gum, spirulina and wuliangye (a type of Chinese liquor) in its concoctions. For an IG-worthy drink, order the whale crystal series, or browse through the "volcanic" collagen series for fiery-looking beverages layered with the likes of blue spirulina, white coconut milk and amber peach gum. Trying to stick to your diet? Opt for the osmanthus green tea.
The Whale Tea, multiple locations including Jurong West Central, Ang Mo Kio and Lot One Shoppers' Mall
7. Chun Fun How
Chun Fun How is known for its picture-worthy sweet potato bubble tea showcased in pretty floral cups. The brand imports ingredients to concoct signatures from its aloe vera and winter melon series. Not sure what to try? Aim for one of the top six: sweet potato black tea latte with pearls, winter melon lemonade with pearls or winter melon oolong, Sugarcane green, orange grapefruit, purple potato pearl and aloe vera honey.
Chun Fun How, #02-13, Esplanade Mall, 8 Raffles Avenue, Singapore 039802
8. JLD Dragon
Another fresh addition to the drinks scene, JLD Dragon is known for its signature brown sugar milk, made of 1646 traditional Okinawa brown sugar and topped with whipped cream and creme fraiche for that perfect mix of sweet and creamy.
JLD Dragon, multiple locations including Star Vista and Waterway Point
9. Xing Fu Tang
This bubble tea brand in Singapore is most known for its brown sugar pearl milk and Damascus rose tea with lemon. Jasmine and oolong teas are available too, along with peach blossom tea and lemon black tea to quench your thirst for boba.
Xing Fu Tang, multiple locations including Northpoint City and Takashimaya
10. The Alley
Brown sugar fresh milk drinks get a kick of flavour at The Alley with matcha and cocoa options, but if you're more of a fruit tea person, try the Lulu series of strawberry or orange infusions. To get that Insta-worthy glow, opt for the Aurora line of colourful, swirling goodness.
The Alley, multiple locations including Clementi and Jewel Changi Airport
11. Heytea
You may not think cheese foam and tea go together, but we assure you that sweet and savoury mix is addictive once your taste buds get used to it. Heytea also whips up a selection of fruit teas (you gotta try the grapefruit one!) and quirky ice cream flavours like salted egg yolk.
Heytea, multiple locations including Ion Orchard and Westgate
12. R&B Tea
If you're walking past an R&B kiosk and you can't resist getting a cuppa, try the signature mighty luffy, a refreshing fruit-infused tea filled with watermelon and an assortment of citrus fruits. Or sip on 23 oolong tea, which tops its brew with tea cream or cheese cream. Indulgent, indeed.
R&B Tea, multiple locations including VivoCity, Wisma Atria and The Shoppes at Marina Bay Sands
13. Milksha
Cool down from the scorching Singapore sun with concoctions like the refreshing orange green tea or zesty lemon green tea at Milksha. It prides itself on using natural ingredients without any preservatives or artificial colourings. For creamier options, order the black sesame milk, azuki matcha milk or fresh taro milk.
Milksha, multiple locations including Suntec City, Funan Mall and Paya Lebar Quarter
14. Teafolia
Instead of the usual milky flavours, Teafolia goes the route of fruit teas. While you can still get your usual chewy pearls with your choice of drink, it also has taro cubes, mashed kiwi, apple slices and pineapple pulp in its selection of toppings to keep things on the (slightly) healthier side.
Teafolia, multiple locations including Tampines and Aljunied 
15. Playmade
Tired of regular tapioca pearls? Here's introducing Playmade's unconventional range of toppings, which include pearls in pink cactus, black sesame, burnt caramel and chrysanthemum varieties. It's flavour central here, but you can still get classics like green tea lattes and Earl Grey milk teas.
Playmade, multiple locations including Tiong Bahru and Chinatown Point
16. Woobbee
This homegrown joint only uses raw sugar in its tea, which means fewer calories and a more natural taste. It's all about classic flavours and chewy pearls, which are perfect for that post-lunch treat before you trudge back to the office. Plus, there's even a range of herbal teas and cough syrup-infused creations, just in case you need to justify treating yourself when you're under the weather.
Woobbee, multiple locations including Chinatown Point and Bishan
17. Koi Thé
This local favourite needs no introduction. It consistently serves up classic milk teas to bubble tea fanatics across Singapore, which makes the familiar sight of its stalls a comforting one.
Koi Thé, multiple locations including Ion Orchard, Bugis+ and Millenia Walk
18. Muyoo
Muyoo grabs your attention with its fun, quirky colours and prints. Once you're hooked, it keeps you coming back for more with its creamy cheese froth toppings, cold brews and fruit teas.
Muyoo, multiple locations include Jurong Point and Northpoint City
19. Partea
Say yes to more fruity sips at Partea, which blends black tea and fresh fruit for ice-cold concoctions that beat the heat. Besides milk tea and cheese tea, you can also try the recommended rose pu'er fruit tea for a floral treat, or satiate your curiosity by sampling the range of rainbow and sunrise teas.
Partea, multiple locations including Century Square, Suntec City and Ang Mo Kio
20. TenRen's Tea
Hot and cold teas are given equal love here, in all sorts of aromatic varieties like honey black tea, pu'er milk tea, kumquat green tea and osmanthus oolong. If you're feeling a tad overwhelmed by the selection, try signatures like 913 King's Oolong or the can't-go-wrong choice of black milk tea with pearls.
TenRen's Tea, #01-07, 133 New Bridge Road, Singapore 059413
21. Gong Cha
When those bubble tea cravings hit and you need instant gratification, Gong Cha's probably your best bet. We're all familiar with its bestsellers by now: Earl Grey milk tea, mango green tea and alisan milk tea, among others. But if you're trying to cut out sugar from your diet, go for the black tea or the plum green tea.
Gong Cha, multiple locations including Bugis Junction, Funan and Serangoon
22. Liho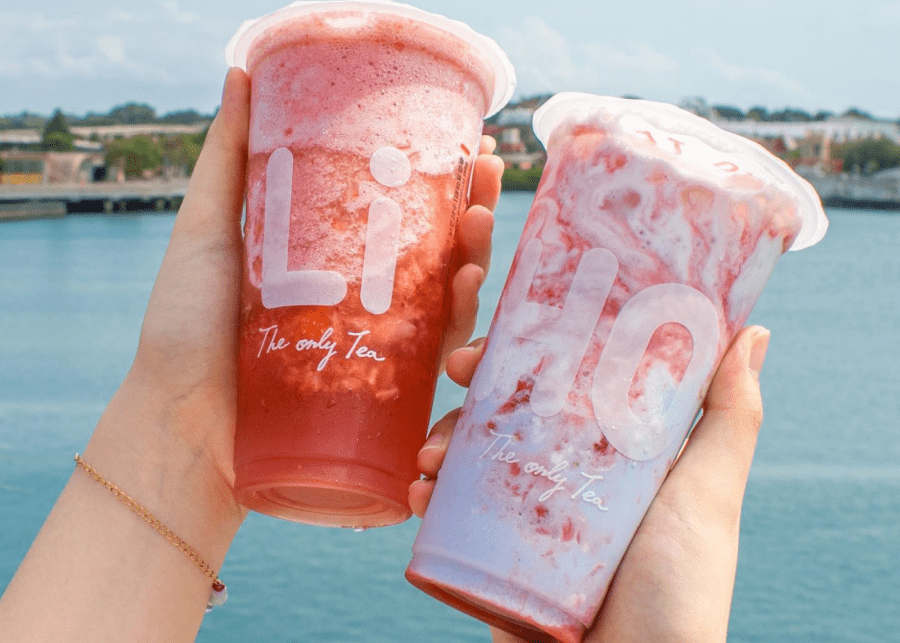 When homegrown name Liho first launched in Singapore after Gong Cha retreated, bubble tea drinkers were torn between their intrigue over its line of cheese teas and their loyalty to the departed brand. Let's just say, curiosity eventually won out. Granted, it's not the most popular now, but it still draws in a regular crowd and keeps things fresh with limited edition drink series launches like taro and mango.
Liho, multiple locations including Raffles City and Suntec City
23. Each-a-cup
This OG store has been around since the bubble tea craze began in Singapore years ago, but if you think nothing's changed, think again. To keep with the times, the brand has actually started going on a health kick, offering beverages for energy boosts and even ones for weight watchers. So if you're looking for an affordable sugar rush with a splash of nostalgia, go old school.
Each-a-cup, multiple locations including Plaza Singapura, Holland Village and Bukit Merah
Go ahead and treat yourself to your choice of bubble tea in Singapore!