Photography: NajlaCam via Unsplash
Can't live without your donut fix? We found the best ones in Singapore.
In the world of desserts, donuts typically fly under the radar, thanks to cakes, cookies, brownies and macarons hogging the spotlight. But if you're a fan, you'll know what it means to have your cravings satisfied by a particularly good treat. Looking for your next go-to spot? Donut worry, we've got you covered with the most delish donuts in Singapore.
Best donuts in Singapore
1. Simple Cafe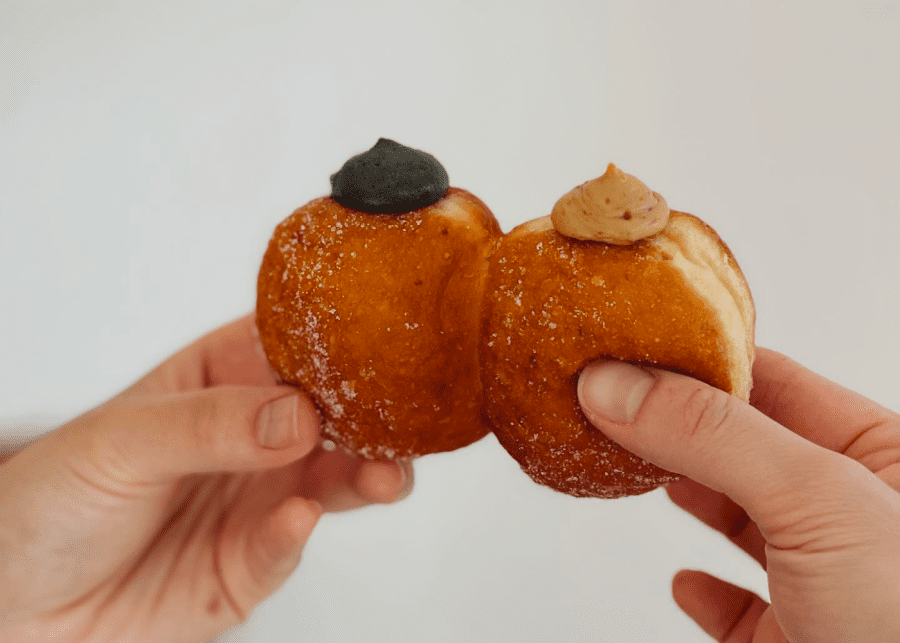 Known for dainty Taiwanese-style pastries, Simple Cafe dishes out some of the loveliest desserts. They come in the form of hojicha cheesecake slices, cendol swiss rolls, and winter melon cream puffs. You can order the donuts online in a box of four, and they come in vanilla and lemon flavours. Psst: look out for special bonus donut flavours each month too!
Simple Cafe, order online and at #01-73, 462A Crawford Lane, Singapore 191462
2. Kobashi
Founded by two friends during their years at the Culinary Institute of America, Kobashi is all about constantly evolving the foodie experience. The signature donuts are nothing short of magical. Get them in boxes of four, six, or 12. Sink your teeth into indulgent salted chocolate, fruity lychee and raspberry curd, and nutty cashew butter fillings. The bakes here get snapped up fast because they're baked in limited quantities, so fastest fingers first.
Kobashi, order online and at 157C Tamarind Road, Singapore 806107
3. Mister Donut
We're sure this famed donut shop hailing from Japan needs no introduction in this list. Mr Donut is the veritable who's who of donut shops around Singapore. It still attracts a queue of people to its storefront thanks to its popularity. A must-try is the signature pon de ring donut, a glazed mochi donut in a unique and eye-catching shape. We always go for the plain ones, but you can get them with strawberry or chocolate glazes.
Mister Donut, multiple locations including Novena Square and Bishan Junction 8
4. Sourbombe Artisanal Bakery
The first in Singapore to spotlight the artisanal sourdough bomboloni – a combination of sourdough and bomboloni. This bakery's creativity knows no bounds. It's helmed by Genevieve Lee, runner-up of the first-ever MasterChef Singapore in 2018. Each treat is a light and fluffy flavour bomb with a variety of flavours. Milo, basque burnt cheesecake, chocolate hazelnut, the list goes on. Best of all, the brand has opened a physical store at Park Mall. It offers cold brew coffee, house-made kombucha and dairy-free tea lattes to complement its bomboloni bites.
Sourbombe Artisanal Bakery, order online and at multiple locations including Penang Road and Jewel
5. The Fat Kid Bakery
Set up by a self-taught baker in 2020, The Fat Kid Bakery whips up croissants, eclairs and sourdough bombolonis worth all the calories. Indulge in a box full of flavours like chocolate, vanilla, and earl grey. You won't regret it. They've recently launched a series of savoury flavours too. Think along the lines of spicy egg mayo, torched mentaiko cream, and roasted garlic mascarpone.
The Fat Kid Bakery, order online and at 39 Amoy Street, Singapore 069865
6. Fluff Bakery
We love Fluff for its signature cupcakes, but the donuts have totally stolen our hearts, too. Come tea time, we're always dreaming of these desserts in flavours like dark chocolate, New York cheesecake, and durian. Order a few for the fam, 'cause you won't wanna share.
Fluff Bakery, order online and at 795 North Bridge Road, Singapore 198763
7. Burnt Ends Bakery
A big fan of the Michelin-starred resto Burnt Ends? You'll love its bakery concept, which offers a selection of bread, pastries and pantry staples. If you want a wickedly good brioche donut, order a whole box. Be sure to get a mix of flavours like pandan, lemon meringue, Nutella or smoked yuzu. You can either pick your donuts of choice or opt for the Slayer's Pick with five flavours picked out for you.
Burnt Ends Bakery, order online and at #01-01, 7 Dempsey Road, Singapore 249671
8. Doughnut Shack
Donuts and bombolonis. This donut specialty shop has what we crave, and we're obsessed. Orders come in assorted boxes with all sorts of flavours. Think peanut butter jam, creme brulee, pistachio ganache, dark chocolate… oh, we could go on forever! Flavours rotate every few weeks, so check back on its social media sites for the latest picks.
Doughnut Shack, order online and at 151 Kitchener Road, Singapore 208526
9. Nassim Hill Bakery Bistro Bar
A firm favourite with brunch lovers and sweet tooths, Nassim Hill's baked goods never disappoint. For your donut fix, order the sugar-coated brioche donuts that come in a box of four with two flavours. Then sit back and enjoy the fantastic flavours as you lick up the kaya and chocolate cream.
Nassim Hill Bakery Bistro Bar, order online and at #01-03, 56 Tanglin Road, Singapore 247964
10. Haritts
With roots in Japan and branches across Taiwan, this donut joint is famous for being different. In a good way, of course. Every bite is chewy, pillowy and flavourful without going overboard on sugar levels. Small batches of donuts are made with utmost care, and each star familiar favourites. Think the likes of Nutella, pistachio, and cream cheese. Pre-orders usually get snapped up pretty quickly, so keep tabs on Haritts' Facebook page for updates.
Haritts, #01-08, Havelock II, 2 Havelock Road, Singapore 059763
11. Korio
Famous for its sammies and donuts, Korio aims to please with its hearty comfort fare. First, fill up on grilled cheese or tuna melt sandwiches. Next, continue your #cheatday with fluffy donuts that are glazed, slathered with honey and smoked sea salt, whipped honey butter and cinnamon sugar, or milk chocolate with hazelnuts. Each bite is a delectable delight.
Korio, order online and at #01-03, 135 Amoy Street, Singapore 049964
12. Puffs and Peaks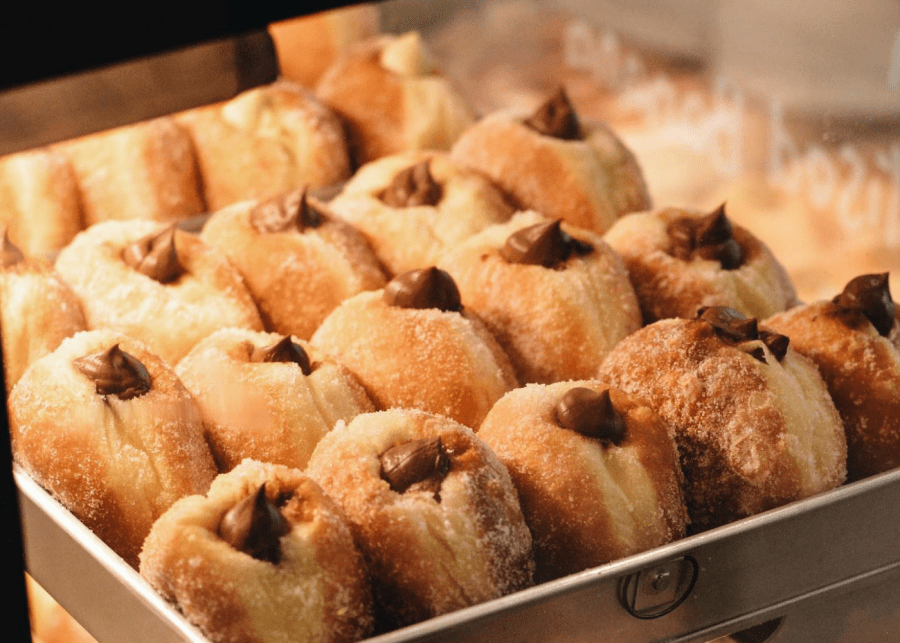 The mother-daughter duo behind this cosy bakery specialise in classic desserts. We're talking fudgy brownies, chewy cookies and banana loaf slices. For your donut fix, choose between simple cinnamon ones or put in your orders for chunky creations packed full of flavours. The vanilla bean, chocolate, matcha, and earl grey custard are oh-so delicious.
Puffs and Peaks, order online and at #03-03, Tampines Central Community Complex, 866A Tampines Street 83, Singapore 521866
13. City Donuts
Want your donuts infused with familiar local flavours? Donuts here are delectably handmade and baked fresh every day. Check out this store and eat your fill of pulut hitam, Milo dinosaur, orh nee (yam), and black sesame treats. Of course, we can't forget other flavours like peanut butter, speculoos, or dark chocolate. Pair it with a piping hot coffee and that's your tea time fix sorted.
City Donuts, order online and at 2 McCallum Street, Singapore 069043
14. Bakes by NY
From hobby to home baker business, this husband-and-wife duo offers bakes that run the gamut of desserts from cakes to cookies to pastries. The stuffed donuts, overflowing with a variety of flavours like durian, mango passion fruit and vanilla custard, will certainly leave you wanting more of that sugary perfection. This brand pops up at the occasional bazaar around Singapore. But keep your eyes peeled for their physical location that's currently in the works.
Bakes by NY, order online
15. Doughter Bakery
Fresh bakes ahead! Helmed by a mother-daughter pair, this online bakery is beloved for its mochi muffins and cookies. And let's not forget those luscious mochi donuts. The chocolate treats come with toppings like caramel crumble, Ferrero Rocher with gold flakes, and dried flower petals. Oh, and these babies are baked, not fried. Plus, they're made with exquisite Belgian chocolate. What a treat.
Doughter Bakery, order online and at Blu Coral, 127 Lorong L Telok Kurau, Singapore 425562
16. Delish
For pillow doughnuts in fun, pastel-coloured fillings, turn to Delish. The team behind these delicious pillows of joy keep things fuss-free with just a single offering. Yes, donuts. But these aren't your usual sourdough bombs. Enjoy fillings like Nutella, lemon cream cheese, raspberry jam, passionfruit mango, matcha and the locally-inspired durian pengat.
Delish, order online
17. Kind Kones
Searching for donuts that cater to your allergies? You've come to the right place. Ice cream parlour Kind Kones dishes out gluten-free goods for those on a vegan diet. Baked instead of fried, the chocolate donut contains almonds, flax seeds, apple sauce, agave and pistachio toppings – a perfect pairing with a frosty scoop of your choice.
Kind Kones, order online; multiple locations including Forum The Shopping Mall and Paragon
18. J.Co
Feeling peckish? Munch your way through donuts with generous fillings and toppings for an afternoon treat. Cheesecake, avocado chocolate, green tea, strawberry fondue – these folks have it all.
J.Co, available for delivery via GrabFood; multiple locations including Paya Lebar Square and Tampines Mall
19. Dunkin' Donuts
You can't have a list of the hottest donuts in Singapore and leave out this OG American brand. Some things are classic for a reason, which is why a box of goodies from Dunkin' Donuts are just fab when your cravings hit. The options are endless, with variations of vanilla latte, black forest, salted caramel chocolate, cinnamon and matcha.
Dunkin' Donuts, order online; multiple locations including Ion Orchard and Jewel Changi Airport
20. Krispy Kreme
This iconic brand needs no introduction. Who can forget the craziness it caused when it first debuted its donuts in Singapore? Admittedly, the queues have since died down, but our love for Krispy Kreme never will. Besides the original glazed creations, you can't go wrong with a sugar rush from cookies and cream, New York cheesecake, rocky road and speculoos cookie butter.
Krispy Kreme, available for delivery via GrabFood, Deliveroo and Foodpanda and at multiple locations including Wisma Atria and Suntec City
Go on, get your hands on these delish donuts in Singapore!