Photography: Fluff Stack via Facebook
Flour, milk, eggs – action! These are the best stacks of pancakes in Singapore, from fluffy to savoury to wobbly.
Pancakes are synonymous with breakfast. If you're a firm believer that maple syrup belongs to its own food group, you're in the right place. We love them sweet and savoury, drizzled with Nutella and fresh fruits, or served with crispy bacon and scrambled eggs. Feeling hungry? Ditch the sad boxed pancake mix and head to these joints that serve up the fluffiest, tastiest pancakes in Singapore.
Best pancakes in Singapore
1. Fluff Stack
Available for delivery via Deliveroo and Foodpanda.
By pancake enthusiasts, for pancake enthusiasts. Fluff Stack brings you light and fluffy pancakes that will take you to cloud nine. Think warm stacks soaked in salted caramel sauce, or brilliant local flavour combinations like pancakes served with pandan coconut sago and creamy ondeh ondeh gelato. We guess heaven really is a place on Earth.
Fluff Stack, multiple locations including Suntec City and Northpoint City
2. Flipper's
Available for delivery via Deliveroo, Foodpanda and GrabFood.
Expect fluffy, pillow-soft pancakes at Flipper's. This renowned souffle pancake chain in Japan has made its way to our shores. So you like your pancakes sweet? Dig your forks into the melty chocolate Kiseki pancakes, made with 55% cocoa chocolate truffles and served with chocolate ice cream and decadent chocolate sauce. So good.
Flipper's, multiple locations including Bugis Junction and Ngee Ann City
3. Seiwaa Okonomiyaki & Teppanyaki Restaurant
You might not expect to find pancakes at an okonomiyaki and teppanyaki restaurant, but Seiwaa offers just that. We love how you can have a go at flipping your own souffle pancakes, too! Get them with gula melaka sauce to satisfy your sweet tooth, or with cheese if you're more of a savoury kinda fella. Looking for more fun? Try flipping your own okonomiyaki and takoyaki here.
Seiwaa Okonomiyaki & Teppanyaki Restaurant, 72 Dunlop Street, Singapore 209400
4. Pancake Place by Royz et Vous
This Muslim-owned joint serves halal pancakes and fragrant coffee for the perfect breakfast fix. Its version of salmon royale consists of generous layers of sour cream dill topped with smoked salmon slices and a runny poached egg. Delish! For something sweet, try the s'mores pancakes with hazelnut chocolate sauce and gooey marshmallow fluff.
Pancake Place by Royz et Vous, 56 Kandahar Street, Singapore 198904
5. Group Therapy
Available for delivery via Deliveroo and Foodpanda.
Pancakes can be therapeutic. At least that's our experience at Group Therapy. From traditional pancakes with fresh fruits, honeycomb and maple syrup to savoury pumpkin ones paired with poached eggs and smoked salmon, you'll be feeling full and happy after a meal. Want a mix of savoury and sweet? The blueberry and bacon pancakes do the trick.
Group Therapy, multiple locations including Katong V and Cross Street Exchange
6. Common Man Coffee Roasters
Available for delivery via Deliveroo, Foodpanda and GrabFood.
Common Man Coffee Roasters is known for its cup of joe. But don't skimp on its breakfast menu, especially when it comes to pancakes. Served all day, the pancakes are fluffy and sweet. They're accompanied by caramelised bananas and walnuts, nutty crumble, berry coulis and salted caramel sauce. Yeah, you'll need another cup of coffee to combat the impending food coma after you're done with all that.
Common Man Coffee Roasters, #01-00, 22 Martin Road, Singapore 239058
7. Clinton Street Baking Company & Restaurant
Available for delivery via Deliveroo and Foodpanda.
Hailing from the Big Apple, this diner has its only Southeast Asian outpost in Singapore. A hotspot for breakfast fare, this is one joint where you shouldn't pass on the pancakes. It's been dubbed "Best in the City" by New York Magazine and we concur! Each layer is soft and fluffy like a cloud, probably due to the generous use of egg whites and buttermilk in the recipe. Topped with a choice of blueberries, banana walnut or chocolate chunks, the stacks come with a butterscotch-like maple butter sauce. They're basically what sweet dreams are made of.
Clinton Street Baking Company & Restaurant, 31 Purvis Street, Singapore 188608
8. Earlybird
Available for delivery via Foodpanda and GrabFood.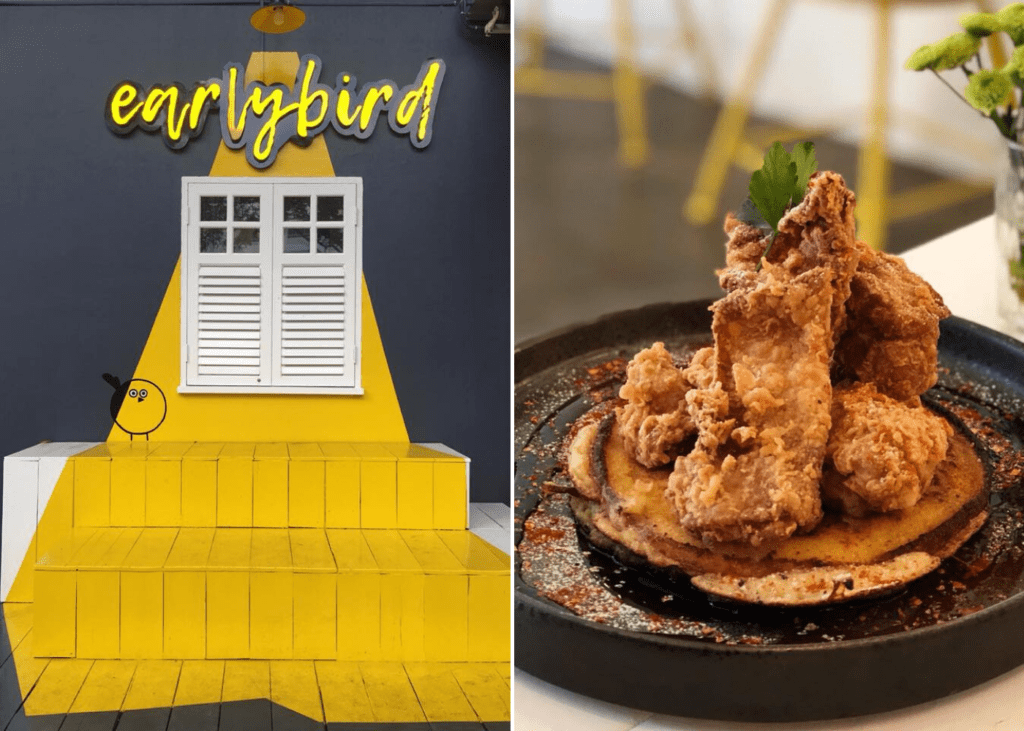 While sweet pancakes might be the norm, Earlybird's savoury pancakes might just turn you into an early riser. Its melt-in-your-mouth pancakes and crispy fried chicken combo is the dream. This meaty stack comes surrounded by swirls of chilli maple sauce – just enough heat to flirt with the palate without throwing you off.
Earlybird, 17 Jalan Pinang, Singapore 199149
9. Wild Honey
Available for delivery via Deliveroo.
A popular spot amongst breakfast fanatics, Wild Honey has two pancake choices (think quality over quantity). The Canadian is a fluffy pile of buttermilk pancakes served with candied bacon, hibiscus berry compote and Canadian maple syrup. Meanwhile, the Tahitian is a coconut-based pancake that comes with fresh mangoes, passion fruit, yoghurt and maple syrup. It's almost too pretty to eat!
Wild Honey, multiple locations including Mandarin Gallery and Scotts Square
10. Prive
Looking for a little respite from the hustle and bustle of the city? Prive's alfresco outlets offer scenic views of Singapore, and fuss-free dishes like burgers and pizzas as well as refreshing cocktails. But for your pancake fix, try the flourless banana and oat pancakes that come with a side of raspberry preserve and peanut butter.
Prive, multiple locations including Chijmes and Keppel Bay
7. Belle-Ville Pancake Cafe
Available for islandwide delivery.
From the Land of the Rising Sun, Belle-Ville boasts a different type of pancake – millefeuille. Made from scratch, these soft, meringue pancakes are spread with rich cream and fruits sandwiched in between. Go for the strawberry and mixed berry pancake for a decadent sweet treat. Or wolf down the eight-layered set if you're feeling peckish.
Belle-Ville Pancake Cafe, multiple locations including Bugis Junction and 100AM
11. Slappy Cakes
Now closed.
This kid-friendly joint lets you create pieces of edible art. With five batter choices – chocolate, peanut butter, buttermilk, wholegrain and zucchini – alongside different mix-ins, you get to go wild making your own pancakes on built-in griddles at your table.
Slappy Cakes, #03-02, Plaza Singapura, 68 Orchard Road, Singapore 238839
Life is indeed batter with pancakes!