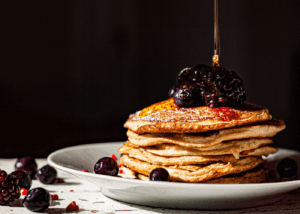 Photography: Duncan Kidd
Flour, milk, eggs – action! Here are the best stacks of pancakes in Singapore, from fluffy to savoury to wobbly.
Pancakes are synonymous with breakfast and if you're a firm believer that maple syrup belongs to its own food group, then you're at the right place. Ditch the sad boxed pancake mix and head to these joints that serve up the fluffiest to the tastiest pancakes in Singapore.
Best pancakes in Singapore
Group Therapy
Order online for delivery.
Pancakes can be therapeutic, at least that's been our experience at Group Therapy. From the traditional pancakes that come with fresh fruits, honeycomb and maple syrup to the savoury pumpkin ones paired with poached eggs and smoked salmon, you'll be feeling full and happy after a meal here. Want a mix of savoury and sweet? The blueberry and bacon pancakes do the trick.
Group Therapy, various locations.
Common Man Coffee Roasters
WhatsApp +65 9739 0704 or call +65 6836 4695 for delivery; or order via Deliveroo, Foodpanda and GrabFood.
Brought to you by Australia's Five Senses Coffee and the Spa Esprit Group, Common Man Coffee Roasters is known for its cup of joe. But don't skimp on its breakfast menu, especially when it comes to pancakes. Served all day, the pancakes are fluffy and sweet, and accompanied by caramelised bananas and walnuts, nutty crumble, berry coulis and salted caramel sauce. Yeah, you'd definitely need another cup of coffee to combat the impending food coma after you're done with all that.
Common Man Coffee Roasters, #01-00, 22 Martin Road, Singapore 239058
Clinton Street Baking Company & Restaurant
Available for delivery via GrabFood.
Hailing from the Big Apple, this diner has set up shop in Singapore – its only outpost in Southeast Asia. A hotspot for breakfast fare, this is one joint where you shouldn't pass on the pancakes, as they've been dubbed "Best in the City" by New York Magazine and we concur! Each layer is soft and fluffy like a cloud, probably due to the generous use of egg whites and buttermilk in the recipe. Topped with a choice of blueberries, banana walnut or chocolate chunks, the stacks come with a butterscotch-like maple butter sauce. They're basically what sweet dreams are made of.
Clinton Street Baking Company & Restaurant, 31 Purvis Street, Singapore 188608
Earlybird
Available for takeaway and delivery, call or WhatsApp +65 9788 6856 to order.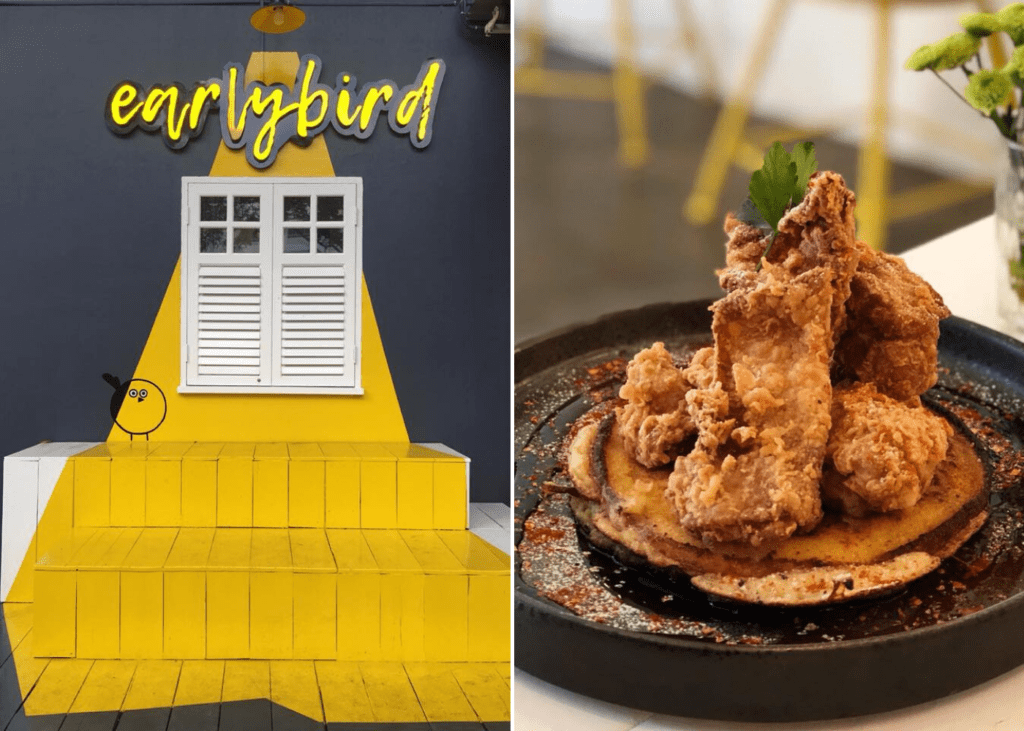 While sweet pancakes might be the norm, Earlybird's savoury pancakes might just turn you into an early riser. Its melt-in-your-mouth pancakes and crispy fried chicken combination is the dream. This meaty stack comes surrounded by swirls of chilli maple sauce – it has just enough heat to flirt with the palate without throwing you off.
Earlybird, 17 Jln Pinang, Singapore 199149
Wild Honey
Available for takeaway and islandwide delivery, call +65 6235 3900 or WhatsApp +65 9449 0873 to order.
A popular spot amongst breakfast fanatics, Wild Honey has two pancake choices (think quality over quantity). The Canadian is a fluffy pile of buttermilk pancakes served with candied bacon, hibiscus berry compote and Canadian maple syrup, while the Tahitian is a coconut-based pancake that comes with fresh mangoes, passion fruit, yoghurt and maple syrup – it's almost too pretty to eat!
Wild Honey, various locations.
Little Farms Cafe
Available for islandwide delivery.
Little Farms stands out for its organic produce, free-range poultry and gourmet treats. But did you know its cafe also slings out wicked pancakes? The buttermilk babies are dusted with powdered sugar and served with berry compote, maple syrup and, in true Little Farms fashion, the exquisite hand-churned Pepe Saya butter. Leave it to these folks to add an artisanal touch to good old pancakes.
Little Farms Cafe, #01-21 to 23, Valley Point Shopping Centre, 491 River Valley Road, Singapore 248371
Prive Cafe
Pancakes with a picturesque view? Count us in. Prive's Keppel Bay branch offers homestyle pancakes served with fresh strawberries and bananas, whipped cream, honeycomb and a choice of maple syrup or gula melaka. On a diet? Go for the flourless banana and oat pancakes that come with a side of raspberry preserve and peanut butter.
Prive Cafe, 2 Keppel Bay Vista, Singapore 098382
Belle-Ville Pancake Cafe
Available for takeaway and islandwide delivery, WhatsApp +65 9296 8162 to order.
From the Land of the Rising Sun, Belle-Ville boasts a different type of pancake – millefeuille. Made from scratch, these soft, meringue pancakes are spread with rich cream and fruits sandwiched in-between. Go for the strawberry and mixed berry pancake for a decadent sweet treat, or wolf down the eight-layered set if you're feeling peckish.
Belle-Ville Pancake Cafe, multiple locations including 320 Victoria Street, Singapore 188024
Slappy Cakes
Order online for pickup or islandwide delivery.
A fave amongst Honeykids' writers, this kid-friendly joint lets you create pieces of edible art. With five batter choices – chocolate, peanut butter, buttermilk, wholegrain and zucchini – alongside different mix-ins, you get to go wild making your own pancakes on built-in griddles at your table!
Slappy Cakes, various locations.