Photography: Chad Montano via Unsplash
If you're not one to turn down a good, juicy slab of beef, ready your appetite and hit up these steak restaurants for the best sirloin, ribeye and more.
Looking for the best steaks in Singapore? Indulging in a steakhouse meal is great for everything from special occasions like date night to dinners with your large group of friends. Our beefy picks include splurge-worthy favourites, premium beef cuts with fantastic sides and even a couple of steakhouses that are easy on the wallet. Who's ready to feast on sublime steaks?
Bedrock Bar & Grill
Available for delivery.
Meat-obsessed foodies, make a beeline for Bedrock Bar & Grill. This stylish steakhouse is one of our favourite places to hit up for fine beef cuts like the Bedrock pepper steak and Australian grass-fed ribeye. It also has a great selection of whisky labels, so take your pick. And oh, don't forget to order the side of truffle mac and cheese!
Bedrock Bar & Grill, #01-05, Pan Pacific Serviced Suites Orchard, 96 Somerset Road, Singapore 238163
The Feather Blade
Available for takeaway and delivery.
What was once a pop-up concept is now a permanent establishment along the bustling Club Street. Starring the flat iron beef cut from the side of the shoulder, aka the feather blade (hence the name of the restaurant), the menu infuses its dishes with intense flavours, allowing you to savour this alternative cut without forking out a fortune. To pad your meal, order the sinful potatoes, which are deep-fried in beef fat.
The Feather Blade, 90 Club Street, Singapore 069458
Butcher's Block
Available for takeaway and delivery.
Taking up the space formerly occupied by Long Bar Steakhouse at Raffles Hotel, Butcher's Block offers top-notch sustainable meats. Our choice pick? The cote de boeuf (ribeye steak), which practically melts in your mouth, thanks to its superb marbling score of 7. Pair it with the grilled radicchio that has a delish XO sauce coating. If you're looking for something truly different, book the three-metre oak table for a chance to try exquisite cuts of meat that are off the menu. Think of it as a meat omakase!
Butcher's Block, #02-02 to #02-07, Raffles Arcade, 328 North Bridge Road, Singapore 188719
Black Marble by Otto
Chef Otto Weibel's philosophy, "keep it simple with perfection", is lovingly reflected in the steak dishes here. Take the dry-aged Angus ribeye, for example. Served medium-rare, it's so good on its own that you don't need any sauce to go with it. Other stellar cuts to dig into include Australian wagyu rump and A4 Japanese Kagoshima wagyu beef sirloin.
Black Marble by Otto, #02-01, Raffles Holland V Mall, 118 Holland Avenue, Singapore 278997
New Ubin Seafood
Available for self-pickup and delivery.
Meat lovers know an excellent cut of steak will set you back no matter what, but if you're willing to get a little creative with your meaty experience, New Ubin Seafood might just save you a pretty penny. This unpretentious restaurant is home to the legendary steak fried rice. While it may sound like an odd way to serve steak, the result speaks for itself. Your steak gets chopped up and served in cubes on a wooden board, perfect for fuss-free sharing in groups. The magic here is found in the fried rice, which makes use of trimmed beef fat to impart some charred beefy goodness to the dish.
New Ubin Seafood, multiple locations
The Black Swan
We're major fans of this glamorous hotspot in the CBD – the Art Deco-styled chophouse and bar serves up seriously drool-worthy premium proteins. Hardcore steak lovers, opt for the delicious 30-day dry-aged T-bone steak to share with a couple of friends. To sweeten the deal, each steak order comes with a personal touch as guests can choose from a selection of unique vintage steak knives sourced from across the globe.
The Black Swan, 19 Cecil Street, Singapore 049704
Skai
Tucked up high on the 70th storey of Swissôtel The Stamford, this exquisite contemporary grill is home to artisanal beef cuts – all grilled to perfection in a Josper charcoal oven. The menu boasts a variety of fantastic cuts, from the likes of Japanese Miyazaki wagyu A4 and Australian Wylarah wagyu MB8 to American Aspen Ridge, Angus USDA prime and Welsh dry-aged organic Angus. Everything's so good, it's almost rude to have it with anything else – though the choice of black truffle, red wine and Asian spice sauces are welcome.
Skai, Swissôtel The Stamford, Level 70, 2 Stamford Road, Singapore 178882
Cut by Wolfgang Puck
Trust celebrity chef Wolfgang Puck to serve some of the best steaks in town. The American and Australian wagyu cuts are perfect if you like your steak juicy and a little on the fatty side. But for the ultimate mouth-watering option, there's the pure breed wagyu beef from the Miyagi prefecture in Sendai, Japan.
Cut by Wolfgang Puck, #B1-71, The Shoppes at Marina Bay Sands, 2 Bayfront Avenue, Singapore 018956
Ruth's Chris Steak House
The choices on this steakhouse's menu are pretty classic and straight-forward. Petite filet, T-bone, New York strip, ribeye – take your pick! There's also a great porterhouse cut, which is good for two.
Ruth's Chris Steak House, Level 4, Parkroyal Collection Hotel, 6 Raffles Boulevard, Singapore 39594
Wolfgang Steakhouse
If dry-aged steaks, seafood and wine are what your heart desires, look no further than Wolfgang Steakhouse. Hailing from New York and helmed by Wolfgang Zwiener, the restaurant is famous for its USDA prime black Angus beef that is dry-aged on-site for 28 days. So yes, you can expect an explosion of flavours with every bite.
Wolfgang Steakhouse, #02-01, Intercontinental Singapore Robertson Quay, 1 Nanson Road, Singapore 238909
Fat Belly
Available for takeaway and delivery.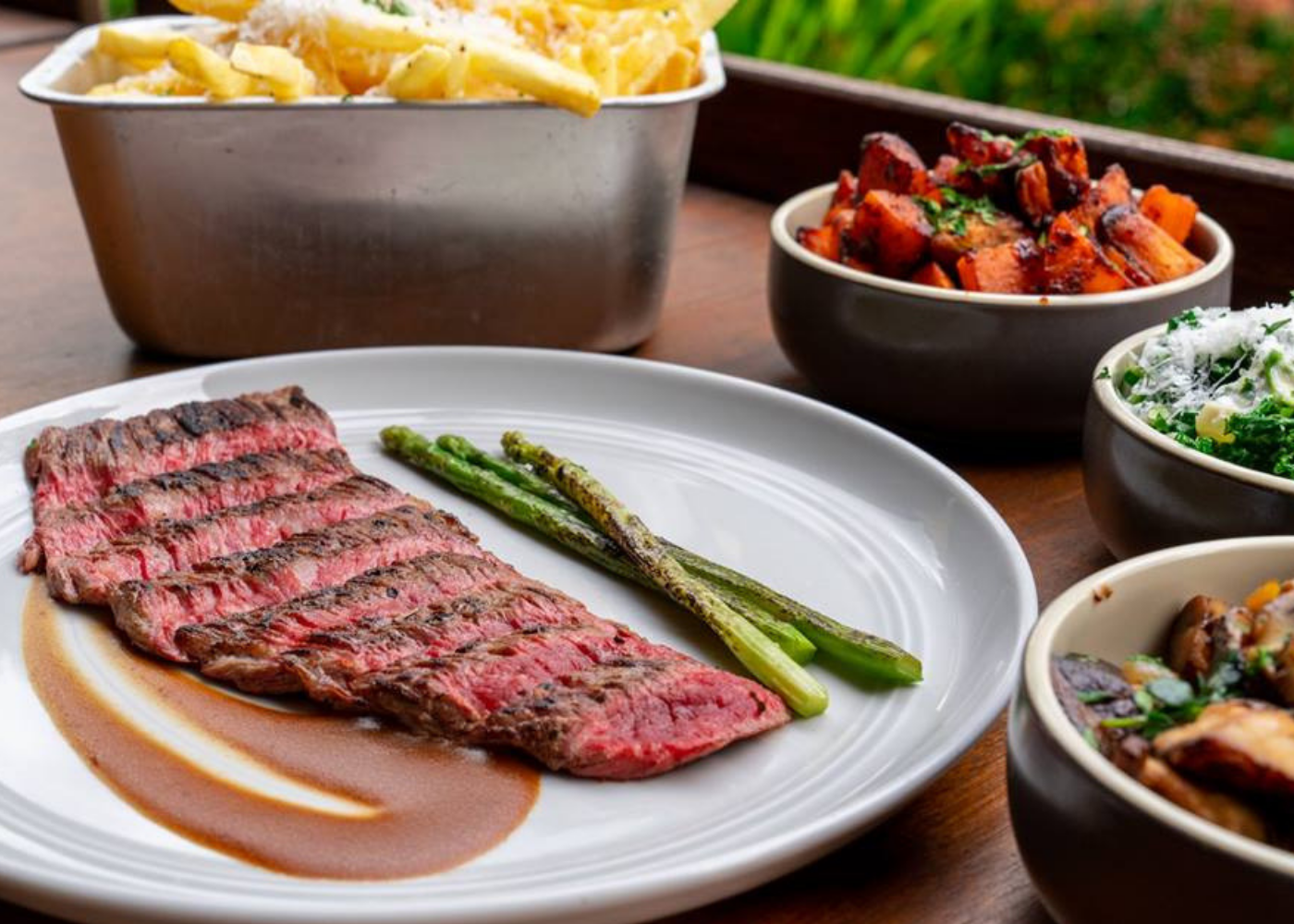 Though we don't mind splurging every now and then, a superb steak meal doesn't always have to cost an arm and a leg. Case in point: Fat Belly's juicy and tender steaks. At $22, you get a perfectly grilled 150-day grain-fed Angus flat iron steak. Complete it with a glass of red (the menu has excellent wine pairings) and delish sides such as creamed kale and truffle fries.
Fat Belly, #01-04, Serene Centre (inside Sugarhaus), 10 Jalan Serene, Singapore 258748
Morton's, The Steakhouse
Get a slice of the good stuff here at Morton's. Choices like the boneless USDA prime rib, porterhouse steak, and the five peppercorn-rubbed prime strip steak don't come cheap, but they sure are worth the hefty price tag.
Morton's, The Steakhouse, Level 4, Mandarin Oriental Singapore, 5 Raffles Avenue, Singapore 039797
Les Bouchons
Available for delivery and self-pickup.
Love that classic steak and fries combo? Pop by Les Bouchons for an awesome meal. The beef cuts are mainly priced below $40, and they come with free-flow (yes, really!) duck fat fries. The latter's certainly not for the faint-hearted (or health-conscious).
Les Bouchons, multiple locations including Ann Siang Road and Robertson Quay
Lawry's The Prime Rib
Available for self-pickup and delivery. Call +65 6836 3333 or WhatsApp +65 9277 7792 to order.
Lawry's is one of those long-standing dining establishments that never goes out of style. Red and gold is the primary colour scheme, and everything's just really fancy and posh in the classy space. You can't go wrong with the signature USDA prime ribs of beef – this baby's aged 21 days so you can expect a perfectly roasted, tender treat!
Lawry's The Prime Rib, #04-01/31, Mandarin Gallery, 333A Orchard Road, Singapore 238897
Bistecca Tuscan Steakhouse
Available for takeaway and delivery.
Another option for Fiorentina-style steak to share is Bistecca's massive 1kg T-bone offering. Perfect for three hungry meat lovers, the steak is served with a trio of sauces (though it's good enough on its own, trust us) and your choice of sides. Its quaint heritage shophouse premises and subtle lighting make this a prime spot for date night.
Bistecca Tuscan Steakhouse, 26 Mohamed Sultan Road, Singapore 238969
Opus Bar & Grill
Available for delivery and self-pickup.
Serving up some of Australia's finest beef from Rangers Valley, Opus Bar & Grill will impress even the most discerning carnivores. Made for date dining, the menu features several sharing dishes that will make your inner caveman rejoice. For the ultimate indulgence, order the signature 1kg black Angus bone-in ribeye or the wagyu and lobster. Both of these prime cuts are made for two to share.
Opus Bar & Grill, Hilton Singapore, 581 Orchard Road, Singapore 238883
Wooloomooloo Steakhouse
Available for delivery and self-pickup.
This steakhouse with a view is simply amazing. You can go for something like the Australian Angus beef filet mignon or the wagyu tomahawk (to share), but if you really want a royal treat, order the beef wellington. Think Australian filet mignon with mushroom duxelle, covered in parma ham, topped with foie gras and wrapped with puff pastry. Diet? No such thing here.
Wooloomooloo Steakhouse, Level 3, Swissotel The Stamford, 2 Stamford Road, Singapore 178882
Fat Cow
Available for delivery and takeaway.
Japanese-inspired steakhouse, Fat Cow, is the one to choose when it comes to authentic Japanese wagyu beef. Its range comes from various regions in the country, so you know you're getting the real deal. The succulent and tender Miyazaki Grade A4 Striploin is served lightly salted with an intense flavour that simply melts in your mouth. Dip it into shoyu sauce for a hint of sweetness.
Fat Cow, #01-01/02, Camden Medical Centre, 1 Orchard Boulevard, Singapore 248649
Skirt
Available for delivery and takeaway.
What sets this restaurant apart from the rest? The kitchen uses a parilla grill to prepare the meats, so expect perfectly smoky and juicy steaks. The wagyu options are always great, but if you're feeling ravenous, go for the tomahawk steak.
Skirt, W Singapore, Sentosa Cove, 21 Ocean Way, Singapore 098374
L'Entrecote
Available for takeaway at Duxton Hill branch and delivery.
This Parisian Bistro on Duxton Hill has only one main course on its menu, and it's damn (pardon our French) good. Its Plat du Jour is the signature steak frites, smothered in its secret sauce and paired with deliciously seasoned fries and fresh salad. The decadent Coulant Caramel Au Beurre Salé, a salted caramel lava cake, is great for afters.
L'Entrecote, multiple locations including Customs House and Duxton Hill
Burnt Ends
Available for delivery and self-pickup.
Don't expect ordinary beef at this one Michelin-starred Aussie-style restaurant. It serves slabs of meat grilled over open flames to give you a charred exterior and the taste of juicy tenderness once you bite into it. Steaks are also smoked, slow and hot roasted, baked, grilled, cooked and seasoned well not only to give you that intensely rich flavour, but to make sure they're tasty to the bone.
Burnt Ends, 20 Teck Lim Road, Singapore 0883911