Photography: Daria Shevtsova via Pexels
It's always a good time for cake... even better when it's delivered to you anywhere in Singapore!
Got a special occasion coming up? Or perhaps you just feel like indulging in dessert? Move aside, cupcakes, brownies and cookies. We're looking at cake delivery services in Singapore that satisfy your cravings without the hassle. Whether you love cheesecakes, chocolate cakes, red velvet ones or custom-made creations, these fantastic bakeries have it all.
Best cake delivery services in Singapore
1. Whyzee: For affordable, artisanal cakes
When it comes to finding the perfect birthday cake, most of us are looking for amazing taste, beautiful design and affordability. Call off the search because Whyzee delivers on all three. This homegrown bakery is run by a team of highly skilled bakers with decades of experience, whipping up Instagram-worthy designs that are sure to wow whoever you're preparing a surprise for!
From rainbow cake to lemon meringue to the classic chocolate fudge, take your pick from the delicious selection. Wanna take things up a notch? Get a cake bundle with flowers, balloons and other add-ons of your choice for the perfect celebration. And if you need an order in a hurry, the same-day cake delivery option will have you covered.
Whyzee, available online
2. Zee & Elle: For exquisite cakes inspired by nature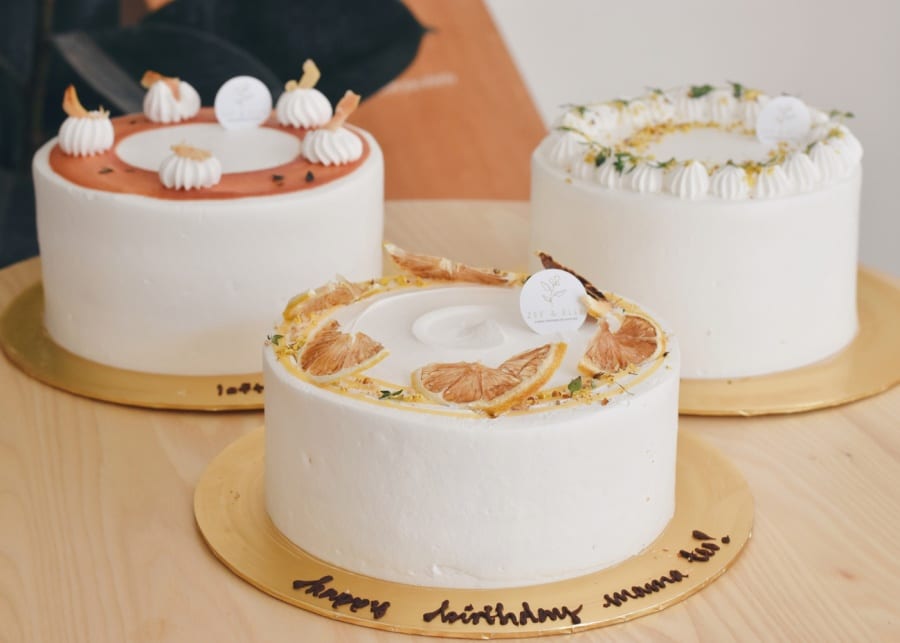 We're in love with this boutique cake shop's fabulous designs that take inspiration from the beauty of nature. Just get your hands on the signature honey yuzu fresh cream cake and you'll know what we're talking about. Made of yuzu curd and manuka honey-infused cream, it's light and refreshing – perfect for a sweet treat at any time of the day. Another must-try on the menu? The bestselling guava lychee cake that combines guava-infused sponge and fresh cream with lychee bits. So good! Just checkout directly online for islandwide delivery from $10.
Zee & Elle, available online and at 524 Macpherson Road, Singapore 368215
3. Dig in Cakes
Forks out! You're gonna want to dig into these artisanal cakes from Dig In Cakes (pun intended). Aside from same-day cake delivery in Singapore, the e-dessert shop also offers express islandwide delivery and night delivery (from 9pm to 11.45pm) options for all your last-minute requests. Select from a delish range of cheese (we're eyeing the Speculoos Biscoff cheesecake right now), chocolate, coffee, durian, fruit and rainbow cakes for every occasion. Bonus points for its competitive pricing too! Make it extra special by upgrading your orders with pretty flower bouquets and customised balloons.
Dig in Cakes, available online
4. The Durian Bakery: For decadent durian cakes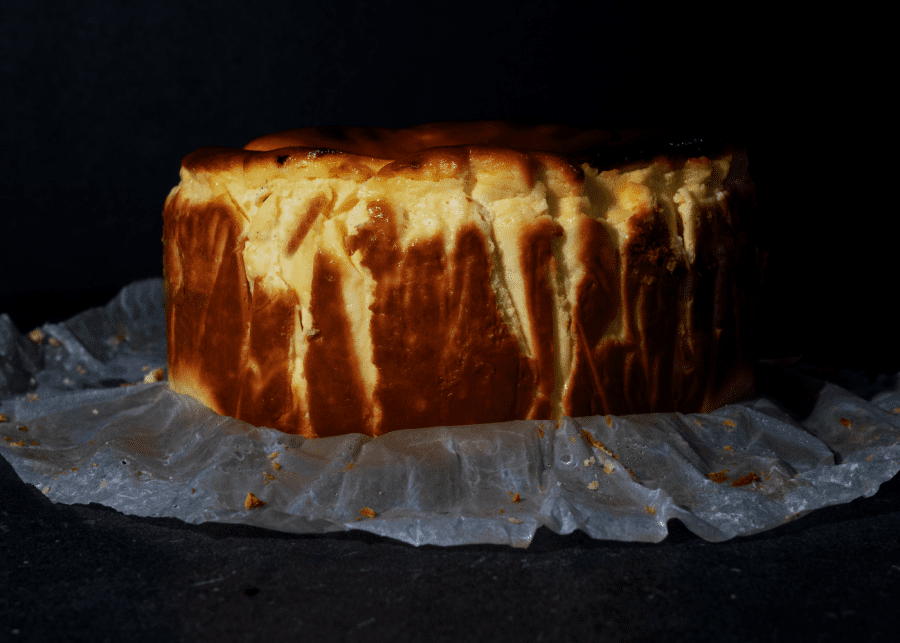 Durian cakes delivered right to our doorstep? Yes, please! The Durian Bakery specialises in —you guessed it— durian-infused bakes, ranging from crepe cakes and swiss rolls to burnt cheesecakes and classic faves like chocolate fudge. If seeing too many cakes is giving you a sugar rush, you'd be pleased to know that the folks here use premium ingredients, including Mao Shan Wang (MSW) SilkyGold Durian Puree to complement all that sweetness. Made with 100% Grade A MSW and blended through a special process, the puree finds its way into the core of its delicious cakes. The result? A pleasure to the eyes and palate as you cut into Durian Bakery's creations. We're eyeing the oreo ice cream cheese cake which hides a creamy MSW filling within. And the best part is, you can enjoy same-day delivery for free! So who's craving durian-flavoured cakes?
The Durian Bakery, available online and for self-collection at #02-26, The Commerze @ Irving, Singapore 369546
5. Honeypeachsg Bakery: For whimsical cakes
Taking cues from whimsical fairytales, Honepeachsg Bakery is all about OTT dreamy cakes made with top-notch ingredients. Expect intricate designs like misty butterflies, white swans and fairies that adorn its cakes. Flavour-wise, there are classic options like double chocolate, chocolate salted caramel and cookie butter. Alternatively, take the creative route with choices like matcha white chocolate, vanilla raspberry and earl grey lavender to complement the innovative designs. But the icing on the cake (no pun intended) has to be the fact that you can get your cake sitch sorted out from the comfort of your home – simply order online and enjoy free delivery, too! Guess you can have your cake and eat it after all!
Honeypeachsg Bakery, available online and at #B1-64, The Promenade @ Pelikat, 183 Jalan Pelikat, Singapore 537643
6. Flor Patisserie: For Japanese-inspired cakes
Blending the best of Japanese and French worlds, Flor Patisserie takes pastry to the next level with its top-notch natural ingredients. Its cakes are light and fluffy, giving you a sweet end to your meal without weighing you down. Yes, it's famous for cheese tarts, though you can't help but love the divine cakes. Add a layer of sweetness to your celebrations with the strawberry shortcake, mango souffle or chocolate ganache.
Flor Patisserie, available online and at multiple locations including Duxton Hill and Siglap
7. Little House of Dreams: For celebration cakes
This pastel cake specialist has been around the block since 2008, and it's home to a wide selection of desserts. The signature cake range includes rose lychee, speculoos cookie butter and Snickers cheesecake pie. You can also get adorable mini animal cakes or rose lychee sheet cakes to write your personalised message on. If you're feeling festive, the celebration cake range spotlights beautiful creations with dreamy florals, buttercream art and charming designs for the little ones.
Little House of Dreams, available online and at #01-15, 58 Seng Poh Road, Singapore 160058
8. Bob The Baker Boy: For low-sugar cakes
Wanna have your cake and eat it (with less guilt)? Check out Bob The Baker Boy for diabetic-friendly cakes that are touted to be lower in sugar. These healthier flavours include Belgian chocolate, salted caramel chocolate and cookies and cream. The shop is also known for hopping on board trends like drinkable bubble tea cakes, money pulling cakes and photo-printed cakes. Or get your dream cake tailor-made and delivered to you for a one-of-a-kind celebration.
Bob The Baker Boy, available online and at #01-03, 369 Sembawang Road, Singapore 758382
9. Pantler: For beautiful bakes
Elegant is the word that comes to mind when we think about Pantler. Moving from Telok Ayer to River Valley, the bakery's cakes are second to none – in both looks and taste. You can't say no to must-tries such as strawberry shortcake, hazelnut and dark chocolate Yatsura, and the classic cheesecake. Get 'em delivered to your bestie for a special surprise!
Pantler, available online and at 474 River Valley Road, Singapore 248359

10. Sinpopo: For artisanal local flavours
This homegrown brand makes classic cakes with a Singaporean twist and delivers them to your door. You'll find familiar favourites made contemporary in cake creations such as mao shan wang durian, pulut hitam, pandan kaya and putu piring. The well-loved burnt cheesecake also makes an appearance here, if you're in the mood for something luscious and creamy.
Sinpopo, available online and at multiple locations including Paragon and Joo Chiat Road
11. Cake Spade: For delish tofu cheesecakes
Cake Spade is loud and proud about its love for sweets and we're so here for it. Besides the beautiful line-up of cupcakes, cookies, brownies and tarts, you'll find sliced and assorted cake platters online. For a truly scrumptious special occasion, order the popular whole cakes. Think strawberry tofu cheesecake, lychee rose, speculoos cookie butter cheesecake and Mississippi s'mores. Customised cakes are also available for delivery in Singapore, should you want something unique to you.
Cake Spade, available at 83 Tanjong Pagar Road, Singapore 088504; call +65 6444 3868, WhatsApp +65 8585 8660 or e-mail [email protected] for delivery
12. Edith Patisserie: For gorgeous, minimalist designs
Popular for its stunning cakes, brownies and tarts, Edith Patisserie has been making sweet tooths happy since 2013. For tried-and-tested recipes, feast your eyes on the bestseller collection. It's home to cakes like Earl Grey chocolate, cookie dough speculoos chocolate and honey lemon chamomile. But if you'd like something special, customise your message and cake flavour or order a bespoke creation. Mini treats like brownies, cupcakes and macarons are available, too.
Edith Patisserie, available online and at 772 North Bridge Road, Singapore 198740
13. LeTao: For light and fluffy cheesecakes
Love creamy, Japanese-style cheesecakes? You've gotta get your hands on LeTao's tromage burnt cheesecake, an umami delight made with three types of cheese. The signature double fromage and its chocolate version are unmissable, too. Order a couple and get free delivery if you spend over $150.
LeTao, available online and at #B1-K7, Ion Orchard, 2 Orchard Turn, Singapore 238801
14. Baker's Brew: For lovely classic cakes
A fan of Earl Grey lavender? Can't get enough of chocolate? You've come to the right place. Baker's Brew serves up beautifully decorated cakes and delivers them to your home. Local flavours like chendol and ondeh ondeh are on the line-up, too. Dessert lovers can also get six slices of the bakery's best flavours in one cake to enjoy. To make it a unique one, customise your order from the series of designs.
Baker's Brew, available online and at multiple locations including Plaza Singapura and Paragon
15. Ciel Patisserie: For heavenly French treats
Looking for sleek, sophisticated individual cakes that stand out on their own? This patisserie takes inspiration from French sweets to give you fabulous creations. The Exotique is made of coconut bavarian cream, passion fruit cremeux and coconut joconde. Meanwhile, Rose features the sublime flavours of raspberry, rose, lychee and white chocolate. Plus, you'll find whole cakes like strawberry shortcake, tiramisu and Oreo cheesecake on the menu.
Ciel Patisserie, available online and at #01-1444, 124 Hougang Avenue 1, Singapore 530124
16. Locaba: For gluten-free, keto and vegan cakes
For guilt-free indulging (as much as possible), Locaba's desserts are low-carb, diabetic-friendly and made without refined sugar. Those on a keto or vegan lifestyle will be happy to find treats you can savour. We're talking about vegan tiramisu, keto carrot cake, gluten-free chocolate cake and more – all delivered across Singapore.
Locaba, available online and at #01-08/13, CT Hub 1, 2 Kallang Avenue, Singapore 339407
17. Nesuto Patisserie: For classic, comforting cakes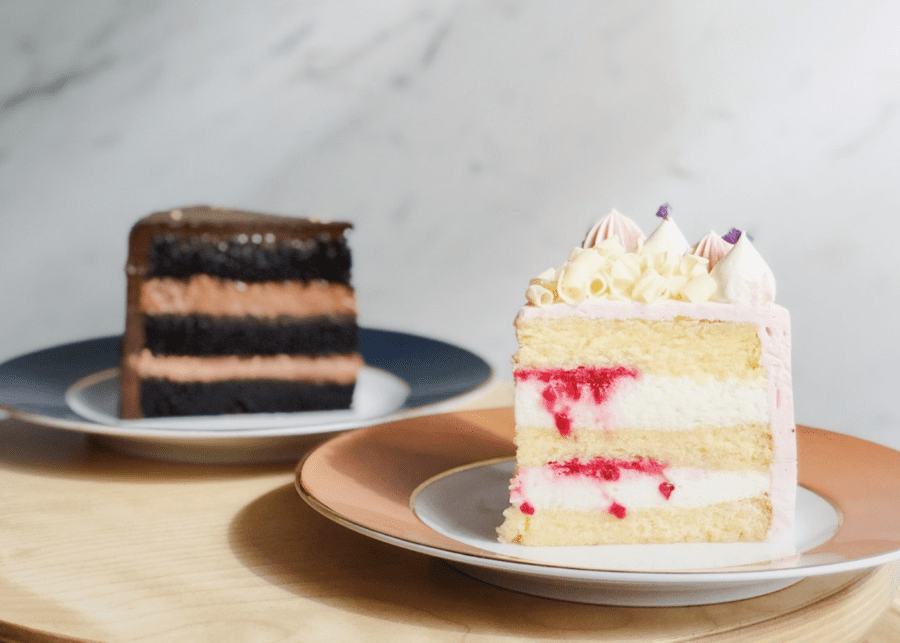 Chocolate calling out your name? Fret not, Nesuto Patisserie is here to satiate all your cravings. Its signature selection also features flavours such as hojicha and yuzu raspberry. All crafted intricately, of course. Get yours delivered when you order 24 hours in advance!
Nesuto Patisserie, available online and at 53 Tras Street, Singapore 078992
18. Ugly Cake Shop: For natural goodness
Despite its name, there's nothing ugly about these minimal-looking babies. Even better, Ugly Cake Shop avoids artificial flavours and colouring in its bakes, choosing natural ingredients instead. So live out your chocolate fantasies with Ferrero Rocher and peanut butter dark choc creations. Or celebrate birthdays in style with cute animal designs and personalise your own buttercream dream.
Ugly Cake Shop, available online and at #01-06, GB Point, 535 Kallang Bahru, Singapore 339351
19. Patisserie Cle: For French desserts
Founded by a pair of pastry chefs, this homegrown brand whips up amazing tarts and cakes for delivery in Singapore. Each creation is a delicate beauty! Try the tangy Daisy (mango, vanilla, passion fruit), the fruity Pink Lady (rose, vodka-soaked lychee, strawberry) or the decadent Noisette (chocolate, hazelnut).
Patisserie Cle, available online and at multiple locations including Paya Lebar and Lucky Court
Time to indulge in sweets with these cake delivery services in Singapore!