Photography: Choo Yut Shing
Here are the best places to eat, shop, get pampered and even explore nature's finest.
Locally regarded as an exclusive and posh district of Singapore, Bukit Timah is way more than that. This beautiful lush enclave is filled with hidden gems that cater to everyone. From food and drinks to beauty salons, art jamming and even sports, this swanky area has it all. Check out our Bukit Timah guide and discover what's hot in this thriving neighbourhood.
Things to do in Bukit Timah: Restaurants and cafes
Peperoni Pizzeria
If you're looking to feed a large group of people without breaking the bank, book a table right now. Peperoni serves pizza in XXL portions (21 inches, good for four to six people). With pies this affordable and delicious, do expect a crowd on the weekends. Oh, and the pasta dishes are just as stellar! We love the carbonara that comes with a generous serving of creamy sauce.
Peperoni Pizzeria, Hillcrest Park, 6 Greenwood Avenue, Singapore 289195
Greenwood Fish Market and Bistro
Located deep in Bukit Timah, Greenwood Fish Market and Bistro has ostreaphiles from all over Singapore pouring in every Tuesday for its irresistible oyster promotion. Order a main course from the bistro's menu and get as many oysters as you can cradle in your stomach at just $1.95++ a piece.
Greenwood Fish Market and Bistro, 34/38 Greenwood Avenue, Singapore 289236
Al Azhar
This bustling open-air eatery is frequented by both students from nearby universities and famished folks from all corners of the isle. If you visit, order the creamy butter chicken masala with a side of naan bread to dip in, or ask for a prata plaster and watch as the sunny-side-up is served sizzling on your prata.
Al Azhar, 11 Cheong Chin Nam Road, Singapore 599736
Acqua e Farina
Co-founders and executive chefs, Roberto Galbiati (former owner of Galbiati Gourmet Deli) and Antonio Manetto (former owner of Pizza Bella and Pasta Bella) have teamed up to bring this authentic Italian resto to Rail Mall. Fancy your Neapolitan-style pizzas? Chef Antonio, a native of the South of Italy (near Naples), handmakes his dough and allows them to rise for 30 hours. The authenticity goes beyond pizzas – chef Galbiati applies his Milanese cooking style to his handmade ravioli, fettuccine and agnolotti.
Acqua e Farina, Rail Mall, 400 Upper Bukit Timah Road, Singapore 678050
Plain Vanilla
The sort of ingredients you'll find in Plain Vanilla's cakes and bakes consist of French butter, pure Madagascar bourbon vanilla, Belgian chocolate, fresh fruit and eggs. Find cakes and pastries that are too pretty to eat, plus cupcakes in a plethora of flavours like red velvet, salted caramel, earl grey lavender and vanilla bean. And let's not forget, Plain Vanilla does fantastic coffee too.
Plain Vanilla, #01-03A, Cluny Court, 501 Bukit Timah Road, Singapore 259760
Bukit Timah Market & Food Centre
Located right beside Beauty World MRT station, this bustling hawker centre has a fair mix of underrated local delights like satay bee hoon and Penang laksa, as well as usual suspects like carrot cake, satay and chicken rice. After a fulfilling hike at Bukit Timah Hill, this is probably the best spot to fuel up.
Bukit Timah Market & Food Centre, 116 Upper Bukit Timah Road, Singapore 588172
Atlas Coffeehouse
An acronym for At-Land-Air-Sea, Atlas Coffeehouse truly embodies a more zen-inspired concept. High ceiling, big glass windows and spacious dining area… what's not to like about this cafe at Bukit Timah? Helmed by the splendid team behind Assembly Coffee, it's no wonder Atlas Coffeehouse also delivers a great selection of food and bevvies. It uses coffee beans from Two Degrees North Coffee Co – a blend of Brazilian and Guatemalan beans – so you can expect flavourful tones from the coffee. As for food, the cereal prawn pasta is certainly worth a try, but if you ask us, the summer chicken stew with sourdough is the bomb.
Atlas Coffeehouse, 6 Duke's Road, Singapore 268886
Vicky's Cakes
If you're a cake person, this is the place to be. We're in love with the exterior of this cosy cafe. And also its list of hand-crafted cakes, including the signature chocolate fudge, carrot, tiramisu, strawberry forest, dark velvet and even banana gula melaka butterscotch! Find cupcakes, cookies and coffee to compliment your sweet treats at Vicky's Cakes.
Vicky's Cakes, #02-K47, Bukit Timah Plaza, 1 Jalan Anak Bukit, Singapore 588996
Riders Cafe
Get away from the hustle and bustle of the city and head to Riders Cafe. In our opinion, it's the best thing you can get if you're thinking of a short "country"-style escape here. Tucked away in the lush greenery of Bukit Timah Saddle Club (yes, there are adorable horsies all around), this peaceful spot is great for any meal of the day.
Riders Cafe, 51 Fairways Drive, Singapore 286965
The Living Cafe
Joined at the hip with holistic wellness centre Balanced Living, The Living Cafe serves raw and unprocessed organic foods. Its healthy burgers and pizzas, fresh juices and smoothies, and homemade cakes come at incredibly affordable prices. There are plenty of mains on the menu, but leave some space for dessert: The raspberry brownie is a must-try.
The Living Cafe, 779 Bukit Timah Road, Singapore 269758
Bar Bar Black Sheep
If you're looking to drink yourself silly, catch live EPL screenings, and munch on fusion beer grub spanning cuisines from spicy Thai to izakaya Japanese, head to Bar Bar Black Sheep. It also has other outlets beyond Bukit Timah in Robertson Quay and Kent Ridge.
Bar Bar Black Sheep, 879 Bukit Timah Road, Singapore 279892
Meat n' Chill
In the mood for the 'meanest pork ribs', steak, smoked pork belly, beef brisket, lamb ribs and the like? Book a table at Meat & Chill. Word has it, these folks have the secret marinade for some of the best ribs in town. Carnivores, assemble!
Meat n' Chill, #01-04, 6th Avenue Centre, 805 Bukit Timah Road, Singapore 279883
Choupinette
Have a slice of Paris at this lovely French cafe along Bukit Timah Road. Popular breakfast items include the famous egg benny – one of the best in town – and the croque monsieur. Before you leave, make sure to pick up freshly made croissants and deliciously sweet pastries like danishes and macarons for an extended brunch at home.
Choupinette, #01-01, 607 Bukit Timah Road, Singapore 269708
One Thing Coffee Kids Cafe
With an indoor playroom, free WiFi and a great selection of Korean bingsu, this family-friendly cafe is a great place to chill during the weekend (or any time of the week). The hot-seller is its matcha patbingsu served in a lab-like glass beaker – how cute! Otherwise, you can try its flavourful raspberry bingsu for a sweet treat.
One Thing Coffee Kids Cafe, #B2-17, Bukit Timah Shopping Centre, 170 Upper Bukit Timah Road, Singapore 588179
Carpenter & Cook
Your camera definitely eats first at Carpenter & Cook, thanks to its vintage furniture and home decor. And then it's on to the daily bakes like pastries, scones, croissants, tarts and cakes. Tuck into brunch plates like croque monsieur, crab cakes, pulled pork ragout and white bolognese pasta. It's the perfect spot to gather the fam for Sunday brunch.
Carpenter & Cook, #01-06, 19 Lor Kilat, Singapore 598120
Fat Belly
A stellar steak meal doesn't always have to cost an arm and a leg. Just try Fat Belly's juicy and tender steaks and you'll know what we're talking about. At $22, you get a perfectly grilled 150-day grain-fed Angus flat iron steak. Complete it with a glass of red, housemade sauces and delish sides such as creamed kale and truffle fries.
Fat Belly, #01-04, Serene Centre (inside Sugarhaus), 10 Jalan Serene, Singapore 258748
---
Things to do in Bukit Timah: Shopping and beauty
Cluny Court
If there's one place that'll make you forget you're in Singapore for a second, it's sitting along one of the alfresco cafes at Cluny Court. The quaint mall may be small in size but it doesn't fall short on character. Explore Singapore-based indie labels like Simone Irani, Rosalie Pompon, The Linens Company, The Children's Showcase and Hyggerium, as well as hair, nail and beauty salons.
Cluny Court, 501 Bukit Timah Road, Singapore 259760

Kew Organics
For a little perk-me-up and me time, pop by Kew Organics in Cluny Court for bespoke organic facials and quick organic treatments. The chic and minimalist facial treatment room is a great sanctuary to let off some steam and get your monthly facial fix.
Kew Organics, #03-03, Cluny Court, 501 Bukit Timah Road, Singapore 259760
Ikeda Spa
Ever wondered how geishas get their flawless skin? Two words: Nightingale droppings. It has been an open secret since ancient Japanese times when kabuki actors and geishas discovered it as the ultimate beauty elixir. And now you can try it for yourself with the Geisha Organic Facial at Ikeda Spa. It uses authentic nightingale droppings, along with traditional Japanese ingredients such as rice bran, azuki red beans and camellia oil. Worthy of all the hype? We think so!
Ikeda Spa, 787 Bukit Timah Road, Singapore 269762
Change
Fans of the classic Scandinavian aesthetic, this one's for you. Local boutique Change is a treasure trove of Danish-designed lingerie and swimwear that flatter women of all shapes and forms (we're talking bra sizes from A to K cup!). We also love that Change offers a free fitting service.
Change, #02-08, Cluny Court, 501 Bukit Timah Road, Singapore 259760
Simone Irani
Ladies, welcome to resort wear heaven! Simone Irani is a multi-label boutique with a distinctly 'gypset' vibe – think bohemian gypsy-chic for jet setters. Apart from its in-house label, Simone Irani offers effortlessly stylish swimwear, dresses, kaftans and accessories sourced from all over the globe. If you love vibrant colours, bold prints and playful designs, you're in for a treat.
Simone Irani, #02-17, Cluny Court, 501 Bukit Timah Road, Singapore 259760
The Big Blow
Say hello to The Big Blow: A mobile hairstyling, nail and makeup service. Got a fancy party to attend? Give these fairy godmothers a call and they'll transform you in the comfort of your home. If you're out and about, drop by the swanky salon for a quickie Perfect Blowout. It uses premium Moroccan oil products – it's wash, condition, blow and go in under an hour!
The Big Blow, #02-21, Cluny Court, 501 Bukit Timah Road, Singapore 259760
---
Things to do in Bukit Timah: Grocery shops
The Source Bulk Foods
Your zero waste journey just got more accessible thanks to The Source Bulk Foods. Whole foods in bulk, healthy snacks and organic goodies – this store will be the highlight of your grocery shopping routine. Bring your own containers and bags, roam the aisles and shop away!
The Source Bulk Foods, #01-05A, Cluny Court, 501 Bukit Timah Road, Singapore 259760
Meat the Butcher
From German bratwursts to wagyu beef, shabu shabu to Iberico jamon, this delicatessen certainly has all your meat needs covered. But if you fancy a little fromage to go with your Sunday roast (who doesn't?), Meat the Butcher doesn't disappoint. There's French brie, Swiss emmenthaler, Danish feta, parmigiano regiano and provolone… just take your pick.
Meat the Butcher, 615 Bukit Timah Road, Singapore 269716
The Cheese Ark
There's nothing biblical here – unless of course, you take your cheese very seriously. Either way, The Cheese Ark satisfys aficionados and neophytes alike with its mind-boggling range of cheeses sourced from Italy, Switzerland, France and The Netherlands. With over 50 types to choose from (gorgonzola! raclette! reblochon!), you're bound to find something that'll pique your fancy.
The Cheese Ark, #01-489, 49 Stirling Road, Singapore 141049
Balanced Living
While offering some of the purest organic health food, Balanced Living can also be dubbed "the reservoir of vitamins". You'll discover a plethora of supplements, focusing on different health concerns like energy boosters, anti-ageing, rejuvenation and more. Shop online or pop by the store.
Balanced Living, 779 Bukit Timah Road, Singapore 269758
---
Things to do in Bukit Timah: Nature and activities
Singapore Botanic Gardens
A crown jewel for our urban jungle, Singapore Botanic Gardens became our first Unesco World Heritage Site in 2015 and the first tropical botanic garden to be on the list. The Bukit Timah entrance is located right across the street from Cluny Court and just a few hops away from Botanic Gardens MRT station – very easy to spot! Enter the foliage-filled pathway and you'll soon come across the Eco-Garden and Eco-Lake, the Ethnobotany Garden, Foliage Garden, Jacob Ballas Children's Garden and Trellis Garden.
Singapore Botanic Gardens, 1 Cluny Road, Singapore 259569
Bukit Timah Saddle Club
An approved British Horse Society, Riding School and Livery Centre, Bukit Timah Saddle Club (BTSC) caters to both serious equestrians (with a strong focus on show jumping and dressage) and leisure riders. Small group lessons are available, plus pony rides for kids on weekends. BTSC is also the only cross-country course in Singapore and includes a variety of obstacles including steps, drops, ditches, trakheners, logs, tyre jumps and ski jumps.
Bukit Timah Saddle Club, 51 Fairways Drive, Singapore 286965
Bukit Timah Nature Reserve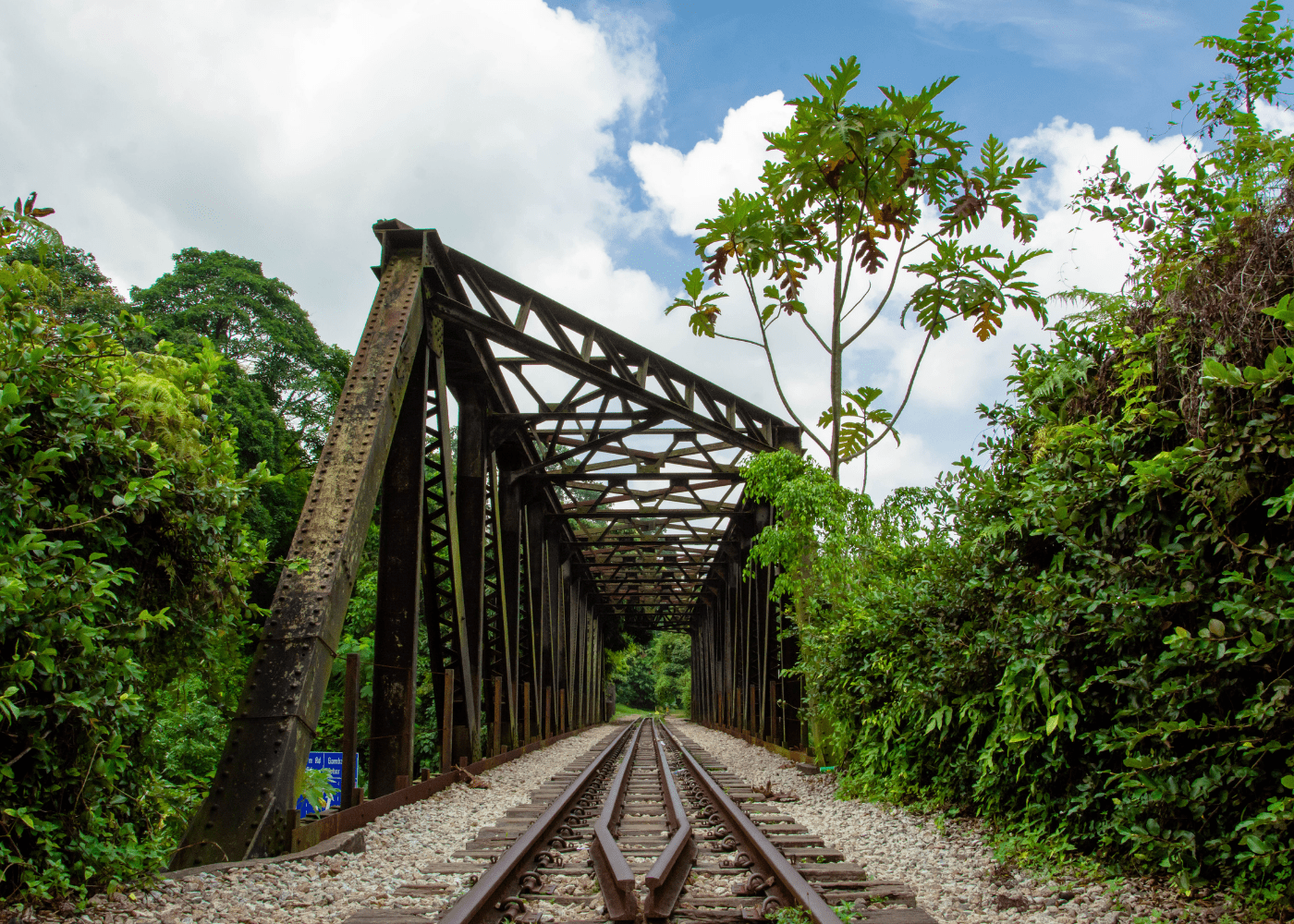 It's no Everest, that's for sure, but you'll certainly give your calves a workout as you make your way to the summit of Singapore's highest peak. Keep your eyes peeled, and you might spot some of Singapore's more elusive wildlife like the Sunda Pangolin and the Blue Bronzeback snake. The hill also retains historical significance, being the spot of the British military's final stand against the invading Imperial Japanese Army.
Bukit Timah Nature Reserve
Sunny Heights
This doggy daycare looks after your dogs and aims to foster socialisation through games and activities. There are even pool parties for furry friends! Don't be alarmed if your pooch wants to party on after you pick it up. Longer-term accommodation in air-conditioned pens is also offered.
Sunny Heights, 110 Turf Club Road, Singapore 288000
The Green Corridor
Once a railway track, The Green Corridor has since been repurposed into a hiking trail. Much like the Southern Ridges, this trail serves as a connector between several parks, like Bukit Timah and Kranji Wetlands. Along the way, you'll find grasslands, streams and marshes that are teeming with life, thanks to the area being relatively untouched.
The Green Corridor
ARThaus Singapore
Carolyn Law, the founder of ARThaus, believes painting helps the healing of the soul. With that in mind, her airy space provides a warm, comfortable environment where you can express your (hidden) talents in an art-jamming workshop.
ARThaus Singapore, 901A Bukit Timah Road, Singapore 589619
Better Bodies Boot Camp
The programmes at Better Bodies will get you to your goal – but be prepared to sweat every minute of it. If you're the sort who needs to be pushed (they're tough here), this is the boot camp for you. Do note that training gets increasingly harder, so check out the schedule before you head down. You really don't want to start on week four.
Better Bodies Boot Camp, 21 Evans Road, Singapore 259366
Champion's Golf
In addition to the nine-hole course, this place boasts a 66-bay driving range and a team of PGA coaches including Alan Murray, a three-time Rolex Masters Champion. The course's central location and the fact that it's open 365 days a year makes setting up regular practice sessions a breeze.
Champion's Golf, 60 Fairways Drive, Singapore 286966
Congrats! You've made it to the end of our guide to Bukit Timah. Now, who's ready to explore the neighbourhood?