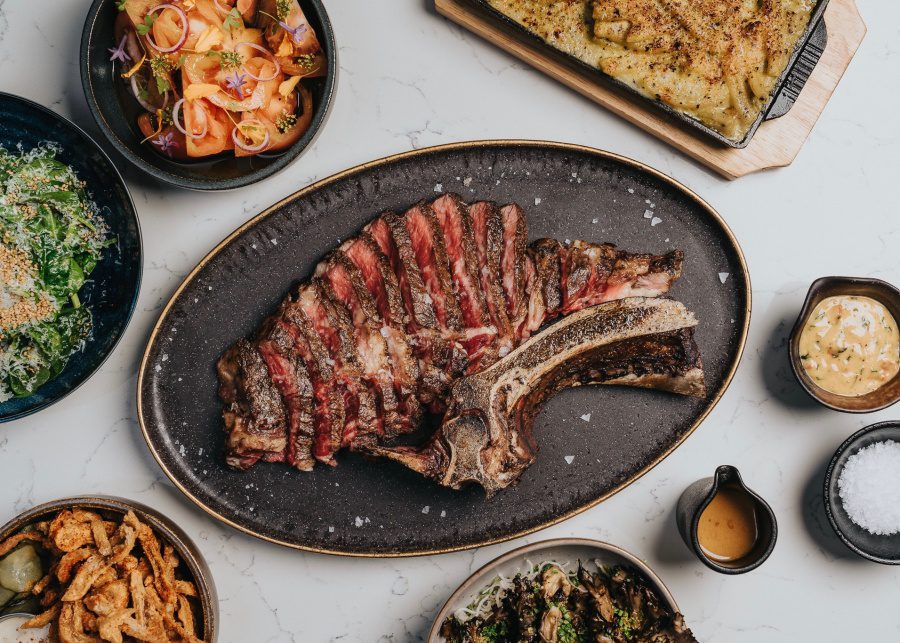 Photography: Meadesmoore
Bold, unexpected and playful food at Meadesmoore – this charming steakhouse in the heart of Telok Ayer has us wanting more.
If you're a meat lover (like me), you know it takes a lot to stand out from the crowd in Singapore. After all, we've already got a long list of steak restaurants offering only the best meat-centric dishes. But the newly rebranded Meadesmoore (formerly Fat Belly Social) rises to the challenge. Unusual is the name of the game at this modern steakhouse. Though you'll find its focus on secondary cuts of meat, its dishes are second to none.
Located in the heart of Telok Ayer, this charming resto exudes sophistication and an ambience that harks back to steakhouses of the early 1900s. When I walked in, I first noticed its dark teal walls, leather seats, and the light flooding in from arched shophouse windows. Perfect for date nights and celebratory occasions? Check and check.
Dishes for the adventurous
Meadesmoore's kitchen is helmed by executive chef Victor Loy. If you know him from the days of Fat Belly Social, you'll know his knowledge of uncommon cuts of meat runs deep and he's not afraid to use it.
In fact, one of the starters is breaded pig's head ($18) that pays homage to our local favourite, kway chap. It's made with slow-braised pig's head meat shaped into nuggets. I'm not usually one for adventure (especially when it comes to offal), but the nugget was in front of me and it was too late to back out. So I went ahead and took a huge bite. And… I've gotta say, it sounded more intimidating than it tasted. The nuggets were delightfully savoury. With the addition of tangy preserved lemon mayo on the side, its taste was akin to breaded seafood and reminded me of sun, sand and sea. Definitely worth a try – it'll probably make a great conversation starter at the table.
If that's not enough, try Meadesmoore's version of bone marrow ($18). In case you're not familiar, it's the spongy stuff you find in the centre of bones. Chef Victor serves it with house-smoked Hokkigai clams and a topping of fried garlic gremolata. It's rich, creamy, and perfect atop toasted sourdough.
Rich, beefy flavours that linger
Of course, you can't go to a steakhouse without indulging in steak (duh). At Meadesmoore, you'll find large format sharing steaks big enough to feed up to four diners. They're also reasonably priced and sourced from award-winning producers in Australia, Spain and the US.
You can choose from cuts such as the prime rib, prized for its generous marbling and cap of fat; or the rib cap, known for its luxurious marbling and umami finish. "Every cut of beef we serve provides a slightly different eating experience depending on the type of cattle and how it's cooked. These cuts are also appreciated for their stronger flavour," chef Victor says.
We tried the 30-days dry-aged Galician MS 2/4 prime rib ($280), charcoal-grilled to bring out its natural flavours. Meadesmoore takes this cut from free-range dairy cows that have been allowed to mature to at least 60 months old. Think juicy steak with a bit of bite, and a memorable rich, beefy flavour that lingers in your mouth. It's served with three sauces that are made from scratch, including a salsa verde, choron sauce, and a briny scampi butter (chef Victor's take on the classic clam butter that used to be served at steakhouses of the past).
Got room for some sides? The ones at Meadesmoore astound, even if they don't take centre stage. I'm not one for raw vegetables, yet I enjoyed the spinach salad ($16) that was tossed in a punchy anchovy dressing and grated grana padano – it was a welcome break in between bites of steak. But the highlight was really the gratinated mac and cheese ($18). Expect a generous serving of casarecce (ridged pasta) coated in a rich sauce made with leeks, white wine and cheese, and topped with a blanket of freshly grated truffle. Despite its creaminess, this wasn't too heavy – I could actually imagine just having a whole bowl of it to myself.
Bring your sweet tooth
Dinner culminates in stellar desserts at Meadesmoore. Chef Victor impresses with Chocolate, Chocolate and Chocolate ($16). "I didn't know what else to call it," he says rather sheepishly, but its name truly reflects this triple chocolate threat. Think chocolate ganache, custard, crumble and tuile, paired with a heady chocolate and whisky sorbet. It's thick, it's decadent, it's so good it's almost criminal.
If chocolate isn't your cup of tea, indulge instead in the Eton mess ($16), Meadesmoore's seasonal take on the classic British dessert. This sweet treat is a delightful tumble of rose and raspberry marbled chantilly cream, meringue kisses, and fresh raspberry and lychee. It's so light and creamy, I found myself digging my spoon into it over and over again.
There are definitely more hits than misses at Meadesmoore, making this up-and-coming restaurant one to watch on the steakhouse scene in Singapore.
Meadesmoore, 21A Boon Tat Street, Singapore 069620